Doogee Valencia 2 Y100 Pro camera
HONOR Launches HONOR Academy, Leveraging Great Technology to Bring Knowledge, Creativity and Fun to Everyday Life
Global technology brand HONOR today announced that it is launching the HONOR Academy Program for overseas markets. HONOR, as a leading tech brand for global youth, was born during the growth of mobile internet and shaped by groundbreaking technology. The HONOR Academy Program is a brand new initiative program, dedicated to helping young people and students to stay productive, master new skills and unleash their creativity by offering exclusive learning and development opportunities. Through the program, HONOR will be partnering with a range of leading online learning platforms and cultural institutions to enrich young peoples' lives.
Sparking Creativity and Connecting People Through Technology and Culture
To kick off the HONOR Academy launch, HONOR is partnering with Dalí Paris to offer art fans an exclusive access-all-areas sneak peek of the private collection which houses over 300 original artworks by the prolific Spanish artist Salvador Dalí, powered by the high performance, ultra portable HONOR MagicBook 14 and HONOR 9X PRO.
Dalí is one of the most celebrated artists of the 20th century and his surreal artwork continues to inspire art lovers around the world today. Notable artworks including Lady Godiva with Butterflies, Alice in Wonderland and Nobility of Time are among the pieces on display at Dalí Paris, a permanent exhibition space in the heart of Montmartre, Paris, which is dedicated to the artist's three-dimensional work, many of which were inspired by his paintings. This is the flagship museum of Dalí Universe®, which owns the largest private collection of Dali artworks and bronze sculptures around the globe.
Teaming up with communication manager of the museum Pascal Gauzes, the hour long session will be streamed live on @honorglobal at 7pm on 5th June. Kicking off with a behind the scenes sneak peek of the collection, broadcast via the HONOR 9X PRO and featuring a range of HONOR smart life devices, including the HONOR MagicBook 14, HONOR MagicWatch 2 and HONOR Magic Earbuds, the livestream will be an opportunity for Dalí fans and art and design enthusiasts to pose questions to Pascal and to discover more about the life and times of the fascinating surrealist artist.
To get people's creative juices flowing ahead of the session, HONOR will be teaming up with @muradosmann , HONOR's Creative Experience Officier, who will be going live on 3rd June at his Instagram account to teach people how to maintain creativity and explore the fun of art. By combining Murad's featured #followmeto posture with Dali's signature artwork, a creative world is further introduced by Murad and HONOR MagicBook 14. The fun step by step online tutorial will give everyone a flavor of how they can get creative at home with the help of the HONOR MagicBook 14.
Unleash Your Creativity with HONOR Co-Design Series Bundle
From early June, laptop sleeves for the HONOR MagicBook 14 featuring limited edition designs will be available on hihonor.com. Featuring an array of striking designs from some of the hyped names on the world's of art, fashion and graphic design, including Jacky Tsai and Giovanni Ozzola, these fashionable accessories are the perfect companion for your laptop.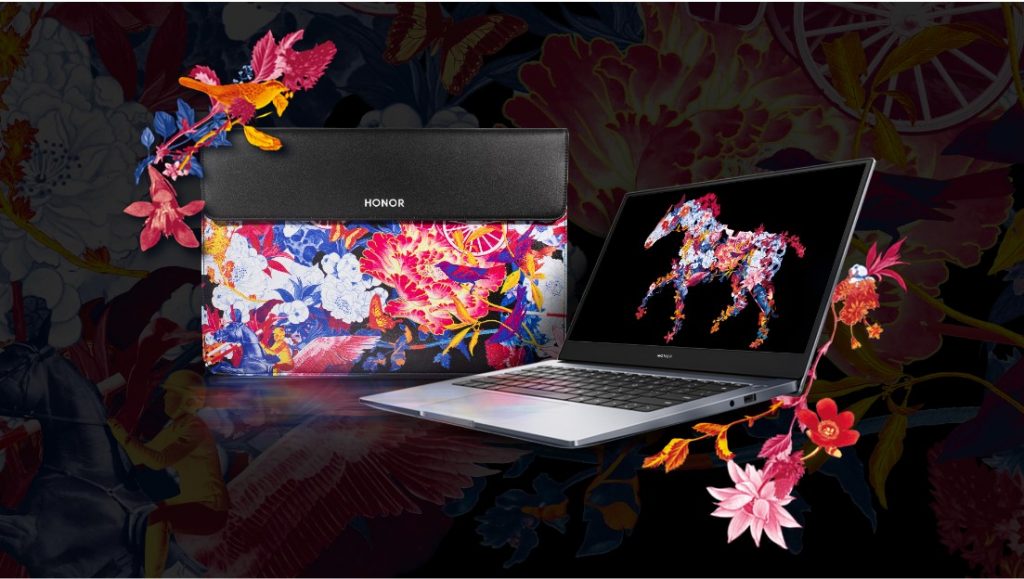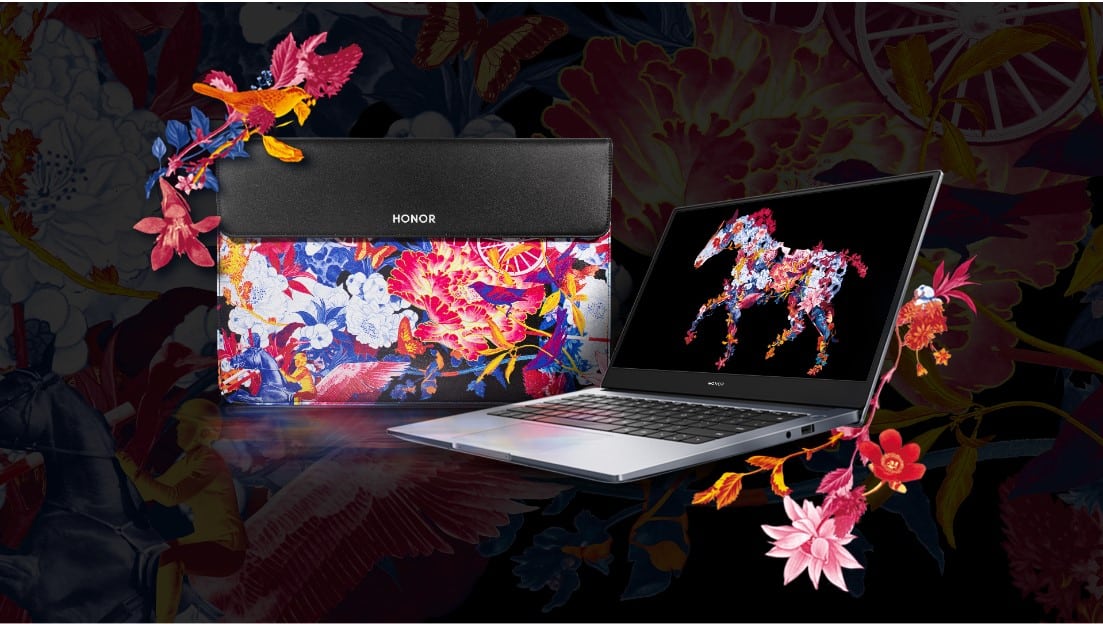 Superior Features and Functionality at an Affordable Price Point
Whether you're working remotely or are looking to virtually connect with friends and family, laptops have never been more important than they are now. The HONOR MagicBook 14 is pre-installed with Microsoft Windows 10 Home and is designed for young professionals and students who seek superior features and functionality without the hefty price tag.
Featuring HONOR Magic-link 2.0 for seamless multitasking between all your go-to devices and a handy pop-up webcam which is discreetly hidden underneath the keyboard, the HONOR MagicBook 14 effortlessly takes you from day to night, with a range of entertainment capabilities including a Full HD 14" display and four speaker for rich, multi-dimensional cinematic sound.
Explore the latest exciting deals and offers on hihonor.com.
NEC develops touchless, multimodal biometric authentication terminal with the world's highest level of precision
NEC Corporation announced the development of a multimodal biometric authentication terminal incorporating face and iris recognition technologies that have been recognized as the world's No.1 in benchmark tests for identification technologies conducted by the U.S. National Institute of Standards and Technology (NIST), and are core technologies of NEC's multimodal biometric authentication brand, "Bio-IDiom".
This reinforces NEC's ability to provide high levels of authentication accuracy and convenience for users throughout a wide range of environments.
In recent years, biometric authentication, which analyzes the physical or behavioral characteristics of individuals, such as facial and iris features, has been rapidly expanding throughout the world, including biometric authentication with smartphones and entryways to a wide range of facilities.
NEC has implemented more than 1,000 biometric authentication systems in approximately 70 countries and regions around the world. The high levels of accuracy, convenience and security of these systems enable them to be reliably deployed as an important part of social infrastructure supporting the safety and security of daily life, ranging from corporate applications to entertainment and personal use.
NEC's multimodal biometric authentication, which combines multiple biometric identification technologies, such as face and iris recognition, is easy for individuals to use and achieves high levels of authentication accuracy.
NEC's newly developed multimodal biometric authentication terminal integrates face recognition technology with iris recognition technology that have each been recognized as the world's most accurate.
This enables stable, high-precision and high-speed authentication in large-scale systems that need to respond to numerous physical characteristics and in usage environments that require strict identity verification.
Multimodal biometric terminals are expected to be widely used for a variety of applications, including systems targeting large numbers of users, access to and exit from offices that require high levels of security, access to food plants that require hygienic clothing and masks, clean rooms in factories, medical facilities, as well as identification of customers at ATMs and prompt payment at stores.
NEC aims to begin offering this terminal for payment and access control by the end of FY2021.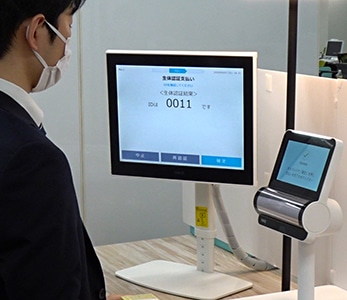 Multimodal biometric authentication terminal features: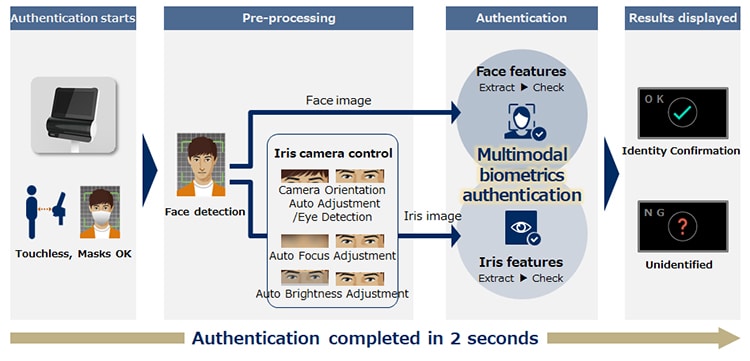 1. High-precision authentication that achieves a false accept rate of less than one in 10 billion
NEC's proprietary algorithm integrates the matching results of face and iris recognition, enabling authentication with a false accept rate (4) of less than one in ten billion (5).
By performing authentication using biometric information from three sources, face information and iris information from the left and right eyes, NEC has achieved high-precision authentication.
2. High-speed identification by simultaneous acquisition of face and iris information
The built-in camera of this authentication terminal automatically adjusts its tilt according to the height of a user, detects the face and the iris at the same time, and identifies individuals based on the integrated results of the matching scores.
In order to reliably and accurately capture iris information, which is difficult to obtain in comparison to face information, NEC developed a technology that quickly and accurately locates the position of the iris based on face information, then automatically adjusts the focus and lighting instantaneously.
This enables high-speed authentication in approximately 2 seconds without imposing a burden on users, even if they are different heights.
3. Successfully recognizes individuals wearing face masks
The application of multimodal biometric identification technology utilizing face and iris information enables touchless identification of individuals to be achieved, even when gloves and face masks are worn or when both hands are occupied with baggage.
Experience the Next Level of Mobile Computing with Galaxy Book S
Samsung brings Intel's hybrid processor to its leading Galaxy Book S, alongside seamless connectivity, mobile design and an expansive ecosystem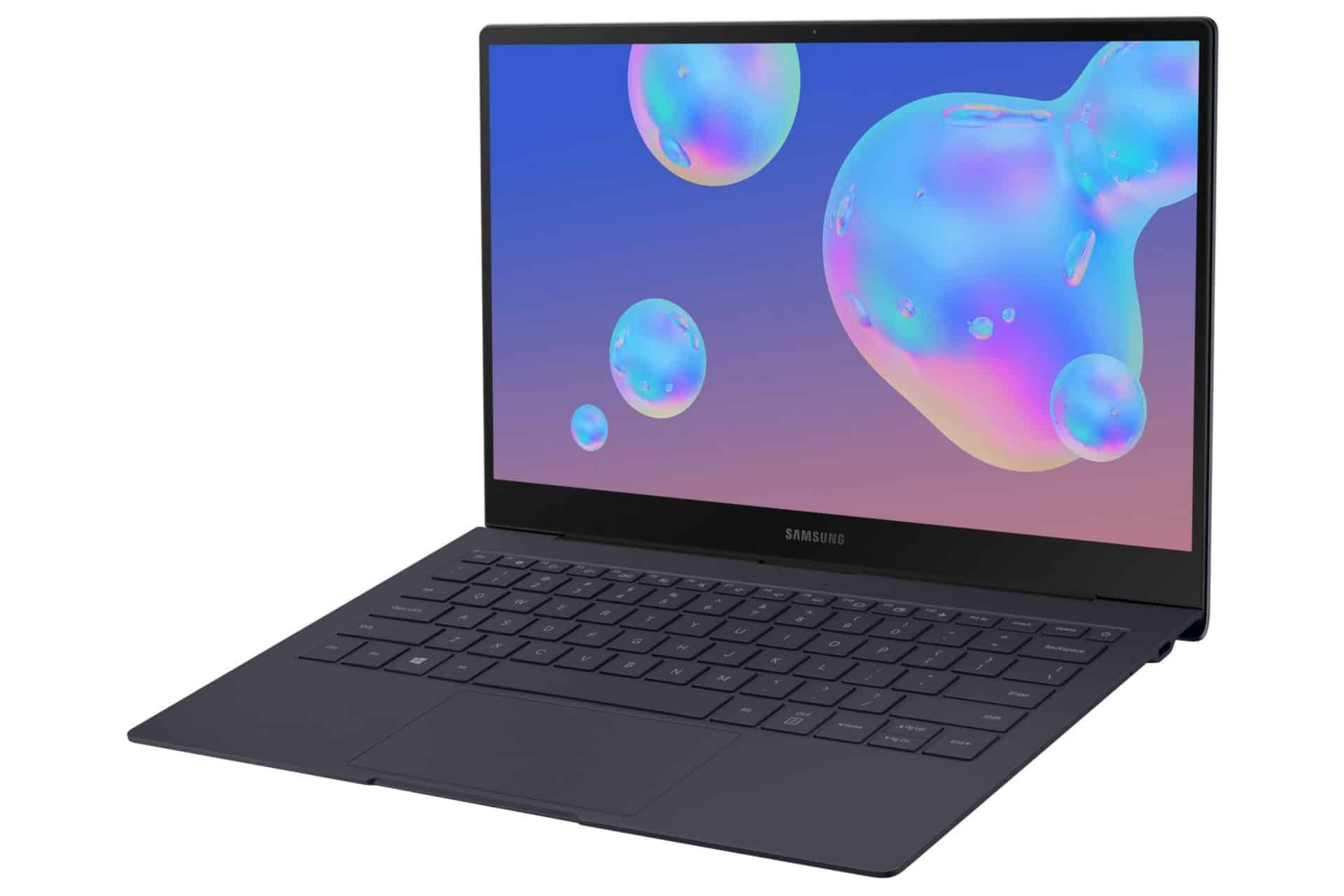 Samsung Electronics announced the availability of Galaxy Book S with Intel processor, the latest addition to its leading computing device family. To ensure consumers have access to a wide range of computing devices to best fit their lifestyle, Samsung introduces the Galaxy Book S powered by the new dynamic Intel® Core™ processor with Intel® Hybrid Technology. Galaxy Book S joins other previously announced premium mobile laptops, designed to offer a seamless and connected experience across devices. Galaxy Book S is built for the next generation of users who are looking for a computing device that provides outstanding productivity, wide-ranging connectivity, enhanced mobility and expansive continuity across devices and operating systems to help them get more done in less time.
"The way we work has shifted and it's important we have computing devices that can adapt to this new working style. Users utilize multiple devices throughout their day to accomplish tasks, and demand that those devices provide them with enough flexibility to remain on the move and available," said Woncheol Chai, SVP and Head of Product Planning Team, Mobile Communications Business, Samsung Electronics. "With our new computing devices like the Galaxy Book S, we are providing users with an exciting opportunity to be productive, efficient and connected."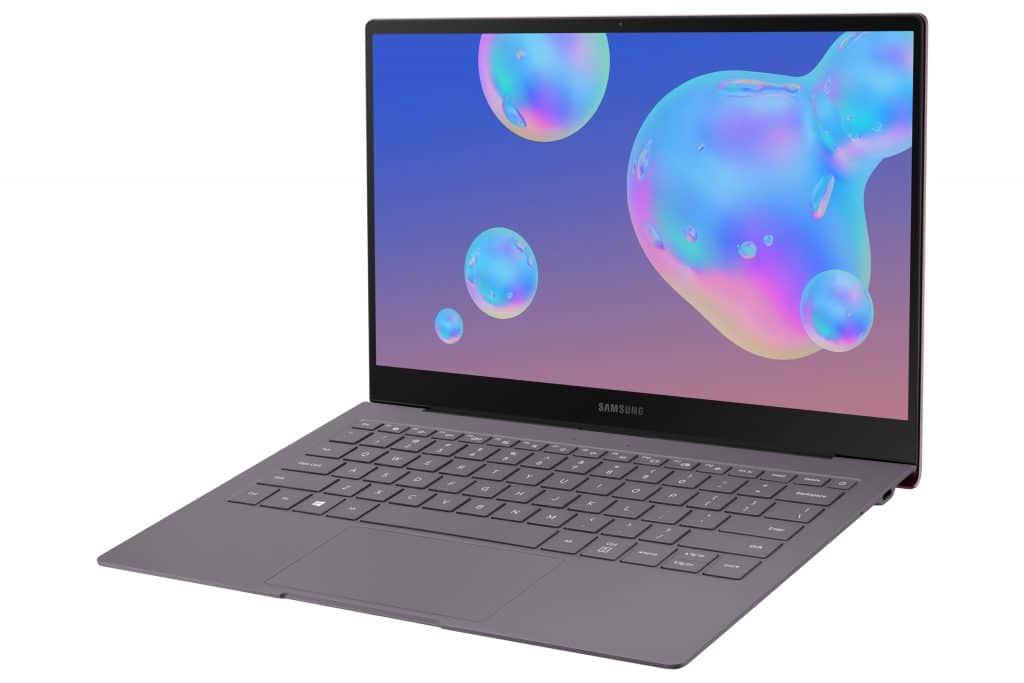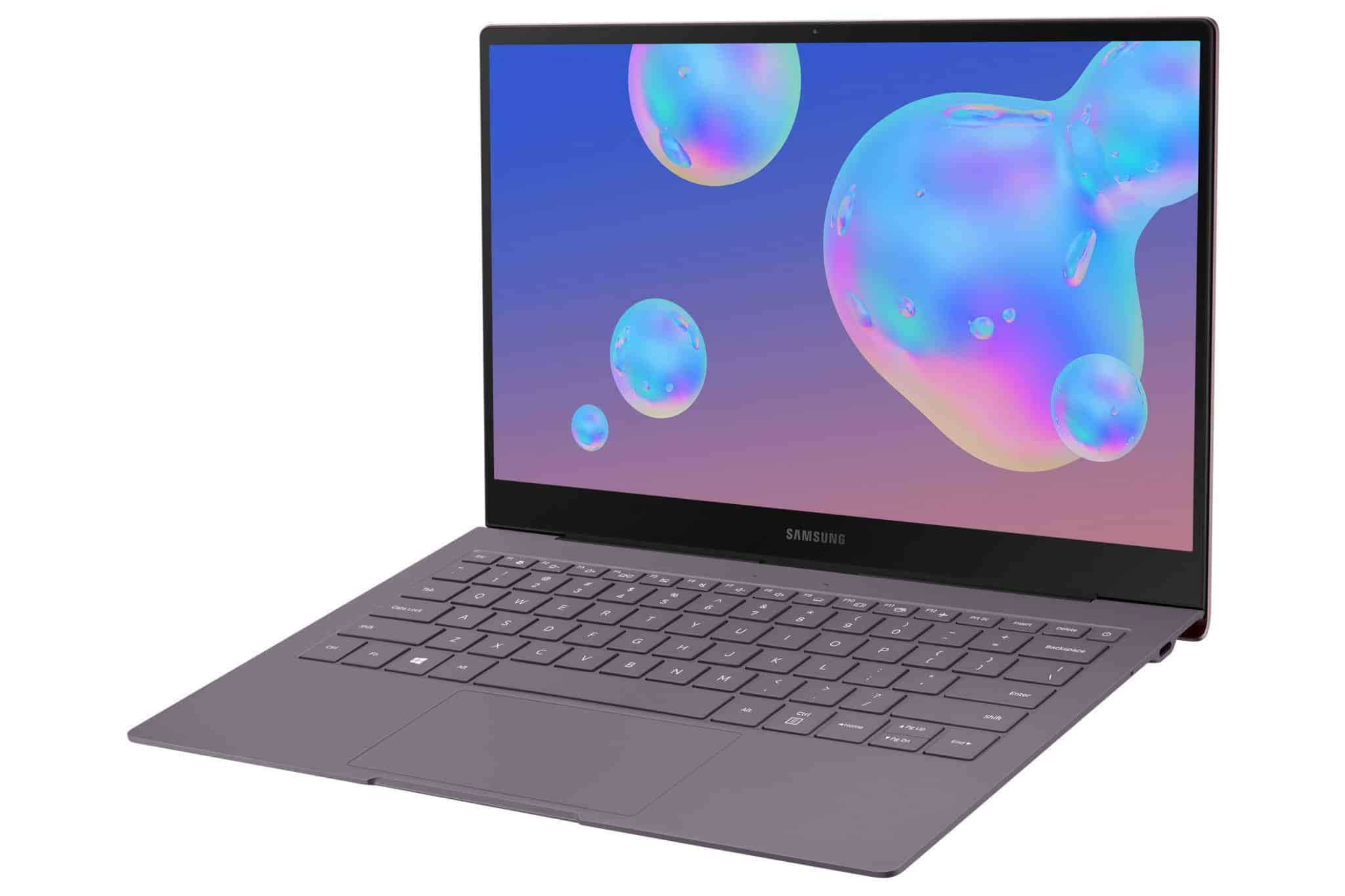 Dynamic Performance
To improve performance and efficiency, Galaxy Book S features an impressively designed internal component setup powered by the new Intel® Core™ processor with Intel® Hybrid Technology. Galaxy Book S is the first ever device to offer this unique processor with Intel's Foveros 3D stacking technology and a hybrid CPU architecture. With this processor, Galaxy Book S efficiently provides an exceptional laptop performance. The processor delivers full Windows 10 application compatibility and intelligently balances multiple high-performing processes during use while conserving battery when not in use, powering your creative, commerce and business programs. Galaxy Book S features a long-lasting battery1 and offers up to 512GB of storage, so you don't have to waste time worrying about losing power or running out of space.
"The introduction of Samsung Galaxy Book S, the first device to offer the Intel Core processor with Intel Hybrid Technology, builds on our long history with Samsung. Today, we showcase what can be achieved when we bring great engineering talent together to work towards a united vision for new computing experiences of the future," said Chris Walker, vice president and general manager of Mobile Client Platforms at Intel.
Always Ready Connectivity
With Samsung's new computing devices, you can enjoy nonstop connectivity. Galaxy Book S features Wi-Fi 6 (Gig+), the next generation of Wi-Fi that empowers efficient, speedy internet without competing for a network connection with other devices, while always-on LTE lets you enjoy gigabit internet access without searching for a network. When you need to access your device immediately, Galaxy Book S' instant touch-to-wake capability ensures you can reach important files, share videos and respond to texts within seconds.
Design That Works Everywhere
The Galaxy Book S is designed for taking with you and carrying around all day. Lightweight at just 950g and only 11.8mm at its thickest point, the ultra-slim profile means you can slip the Galaxy Book S into a small bag, portfolio or just carry under your arm with ease. A fan-less design allows the Galaxy Book S to be slimmer than traditional laptops and helps it to run noiselessly, even during sustained and intense periods of work. Galaxy Book S features a light clamshell design built with a durable metal body, so you can have the stability you need on a desk or on your lap. If you're looking to get some fresh air while scrolling, Outdoor Mode on Galaxy Book S will instantly boost brightness to 600 nits using a two-key shortcut. With a bright screen that also supports touch interactions, you will feel more connected to your device than ever and free take advantage of seamless and productive working style.
Uninterrupted Device-to-Device Continuity
The new Galaxy computing devices like the Galaxy Book S unify the computing experience with seamless connectivity between devices. Thanks to our partnership with Microsoft, you can enjoy your favorite Android operating system on your Windows PC for a seamless and continuous device-to-device experience. With Microsoft's Your Phone feature, you can sync your mobile device to receive notifications, messages, cross-device copy & paste and photo transfer, all on your Galaxy Book S device.
Galaxy Book S is available in two shades, Earthy Gold and Mercury Gray. For more information about Galaxy Book S, visit news.samsung.com/galaxy, www.samsungmobilepress.com.