5G – Is faster really better?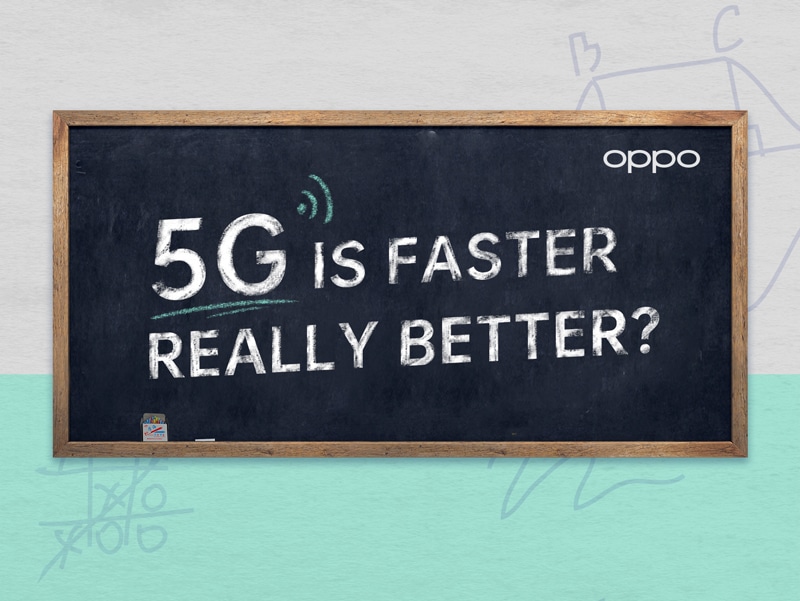 In the blink of an eye, download a 4K or 8K Ultra HD movie or transfer hundreds of high-resolution photos; experience live sporting events and performances via Ultra HD video streaming as if you were physically there…
All these experiences have become reality with 5G technology.
This is just the beginning. The significant speed lift by the 5G will enhance interactive and immersive user experiences, and completely revolutionize the way we consume and share content.
5G brings more possibilities to new application scenarios
Nowadays, many of you may already realize the practicality of Augmented Reality in our everyday lives. For example, when shopping for clothing, accessories, or cosmetics, AR try-on tools empower us to bring online products into our physical lives, all in the comfort of our own home.
At last year's OPPO INNO DAY, OPPO showcased its AR Glass by giving us a tour of the solar system "up close". With the AR glass, we can explore the planets and use hand gestures to zoom in, zoom out, rotate, navigate, or interact with objects in our solar system.
Fundamentally, AR consumes much more data than traditional display experience. To make AR more applicable, speed is the key. By significantly increasing loading speeds, 5G connectivity untethers us from the burden of downloading content in advance, freeing us to enjoy seamless AR experiences with direct connection to the cloud. This means that AR, complemented by 5G speed, stands to shape how we interact with everything in a more immersive experience. 5G would greatly boost AR applications in areas such as education, surgery or car navigation.
Another huge application of 5G technologies is cloud gaming. How is it different from previous gaming experiences on smartphones or consoles? At MWC 2019, attendees were able to experience 5G cloud gaming at 1080p resolution on the OPPO Reno 5G smartphone. The ultra-smooth gameplay on a phone is virtually indistinguishable from that on a gaming console. For cloud gaming, 5G is indispensable in providing seamless and exhilarating user experience. By eliminating the limitations of processing data locally, the super-fast and stable connections of 5G brings compute-heavy, previously console-only gaming experience to users' fingertips on smartphones, at anytime and anywhere.
The advent of the 5G era will take even so-called "traditional" video content to the next level on mobile internet. People love to express themselves and share their lifestyles through ever more distinctive videos with higher definition. To meet consumers' growing enthusiasm for videos in 5G era, OPPO 5G smartphones able to create a seamless experience covering video shooting, optimizing, and editing for users with innovative technologies and applications, such as SoLoop smart video editor app which have successfully optimized the process of filming, editing, viewing, and sharing. This allows us to easily produce original and imaginative content and share videos with one click, ushering in a new streamlined video production process.
So how close are we to actually experience the fast speed?
In 2019, OPPO tested its 5G smartphone for 5G connectivity at the Telstra headquarters in Sydney and exceeded 2Gbps in speed. As 5G networks are being deployed worldwide, early adopters of OPPO 5G phones have been enjoying real-life speeds averaging 1Gbps. With speeds that rival Wi-Fi connections, 5G is more than capable of enabling ever more diversified and engaging new applications.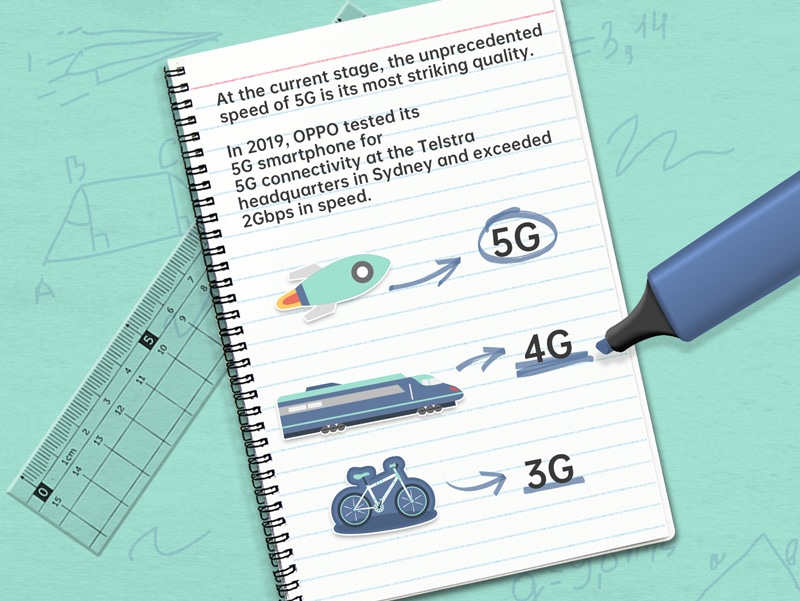 In general, the lightning speed that 5G provides is just further optimization of the previous generation of mobile network technology. It is the most fundamental of experiences that 5G technology provides and the most perceptible in our daily lives.
Above are just a few early examples, with revolution in basic fundamental technologies such as 5G, the new applications may be things that we could have never imagined. Looking back at the early days of 4G, who would have thought of the prevalence of new applications such as mobile payments and short videos. The future is not clearly defined and that's why it is exciting.
As 5G is deployed across the world, it will further drive the development of IoT, VR/AR, smart city, self-driving technology and so on. 5G will become an important force for change in society. The convergence and co-evolvement of 5G with other cutting-edge technologies such as AI, AR/VR, and cloud computing will usher us into a smarter era of Internet of experience.
For you, taking that first step forward means getting your hands on an OPPO 5G smartphone. Be among the first to experience its blazing speed.