Elephone S7 Review – Best Galaxy S7 Edge clone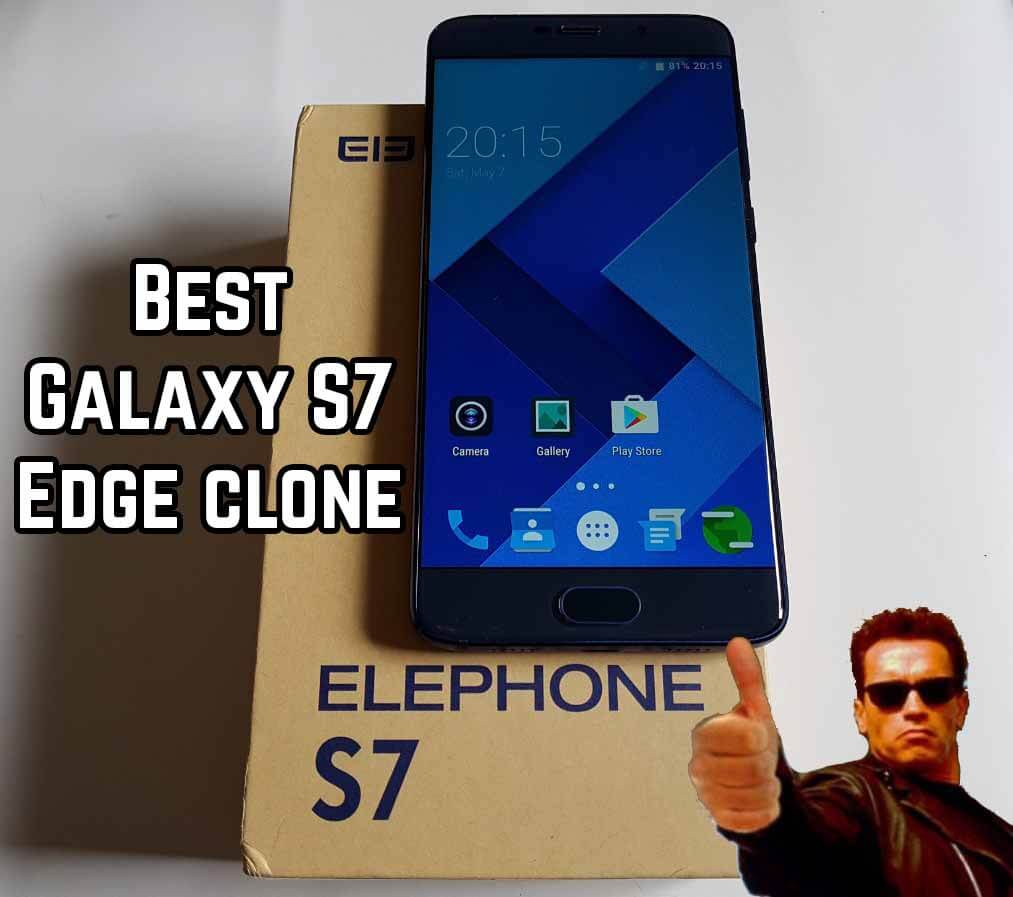 At this moment China has huge number of different smartphone companies, and one of them is definitely Elephone. Which is actually very popular, and they have many different devices at this moment. But especially Elephone S7 which is very popular because for many people this smartphone is actually Samsung Galaxy S7 Edge clone.
Although they do not advertise in that way like some other Chinese companies. Also we must admit you that three out of pleasantly surprised with build quality and features, so we suggest you to stay current and see in our review how good is this smartphone.
The price is now around $185 for 4GB RAM version, which we also bought at Gearbest. In addition, the price is very low considering 4GB of RAM with 64GB ROM.
Build quality & Display
Believe us we had many different smartphones from China from $50 to several hundred dollars. Because of that we have huge experience and without exaggeration we can tell you that Elephone S7 offers high build quality for every detail. For the start we can say that the case is completely made from metal with premium feeling. But this is not all because it is stylish with really cool effect. You'll get an eyecatching S7 edge clone.
Especially the last or backside gives you the special effects depending from what angle you are looking. Besides that this smartphone does not have the back button because all functions are integrated in home button including intelligent fingerprint scanner. It is very similar technology to Meizu which is actually called E-touch 2.0. So you have ability to go back, go to home screen, recent tasks, and other. Below you can see what options you have, but don't worry because it is very easy to use.
Elephone S7 is not too big and not too heavy so you can normally hold it in one hand. When we speak about display it has 5.5 inch curved screen same as Galaxy S7 Edge. The screen offers full HD resolution which is actually a perfect combination because we have also smartphones with 2K resolution, and believe us there is no huge difference. Also 2K smartphones consume more battery.
So at this moment Full HD is great choice, but if you ask us how good the screen is. Then we can tell you that this display is perfect. Sharpness is high including visibility from every angle also outside at strong sun. Also according to the company the screen is protected with Corning Gorilla Glass 3.
Performance and benchmark testing
It is not surprising that in this dual-sim smartphone has flagship hardware. So we can tell you that it is based on MediaTek helio X20 MT6797 deca core CPU with powerful Mali T880 GPU. But when we speak about memory actually there is available several different models 3GB/32GB and 4GB/64GB. For review we have model with 3GB of RAM and 32 GB of storage space. But don't forget if you need more space than you can upgrade with microSD card up to 128GB.
Of course we have tried many different things from playing games, watching movies, and of course every day use. As conclusion we can tell you that this S7 Edge clone is really a beast. Because everything works as it should without any problems and lags. We actually tried 4K movies, 2K movies, and some games which are very popular at this moment. Also we have tested the device read several different benchmark apps and below you can see scores.
Benchmarks test results
GPS
Everybody knows that Chinese smartphones in the past had problems with GPS. But now more or less this problem is fixed because still today sometimes some Chinese devices still have problems. In this situation Elephone S7 works just fine with precision of 6 m. But it is recommended that for the first time you connect your phone to the Wi-Fi or mobile data connection. It can work independently. Below you can see GPS test.
Playing games

Watching 4K videos
Camera Quality
This dual-sim smartphone has 13 megapixel rear camera while the front facing camera is 5 megapixel. It is also unknown which camera sensor they use, but nevertheless some companies advertise that their smartphones have Sony camera sensors and still produce poor quality photos. So in other words this is not too important, actually the most important part is photo quality.
So we have tested the phone is several different locations to see how camera works. In our opinion photo quality is very good or we are giving score 4/ 5 which is very good score. Because photos are realistic, but sometimes one angle of photo is is a bit blurred. So overall the camera is great for taking photos, and below you can see camera examples.
Photo Test Samples
Battery life
According to the company Elephone S7 should have built-in battery with capacity of 3000mAh. But according to our battery tester and calculations it has approximately 2581mAh. Please don't be confused because this is quite normal with Chinese smartphones. Because actually there are just a few Chinese companies which provides accurate information for battery.
From other information we can tell you that it support quick charging, and you will receive fast charger 5V 2A. Actually this is a good feature because it needs approximately 60 minutes to charge your phone from 50% to 100%, or in other words you don't need to wait too long to get fully charged smart phone. Then we speak about every choose, we can't give you are correct information because no one is using the phone in same way, but if you need know it can last approximately two days with average use.
46% to 100% = 1394mAh
54% = 1394mAh
1% = 25,81mAh
100% = 2581mAh
Conclusion and price info
Okay we believe that Elephone S7 is good quality smartphone with powerful hardware and features. Besides that it is beautiful with very similar design to Galaxy S7 Edge. It gives you premium feeling, and you will able to do anything you want from gaming and watching movies thanks to strong hardware. Also the screen is curved with full HD resolution.
At this moment the price for 4GB/64GB verson is $179 here.
Any questions or comments are welcome 🙂 .