Vphone i6 – iPhone 6 clone Test and Review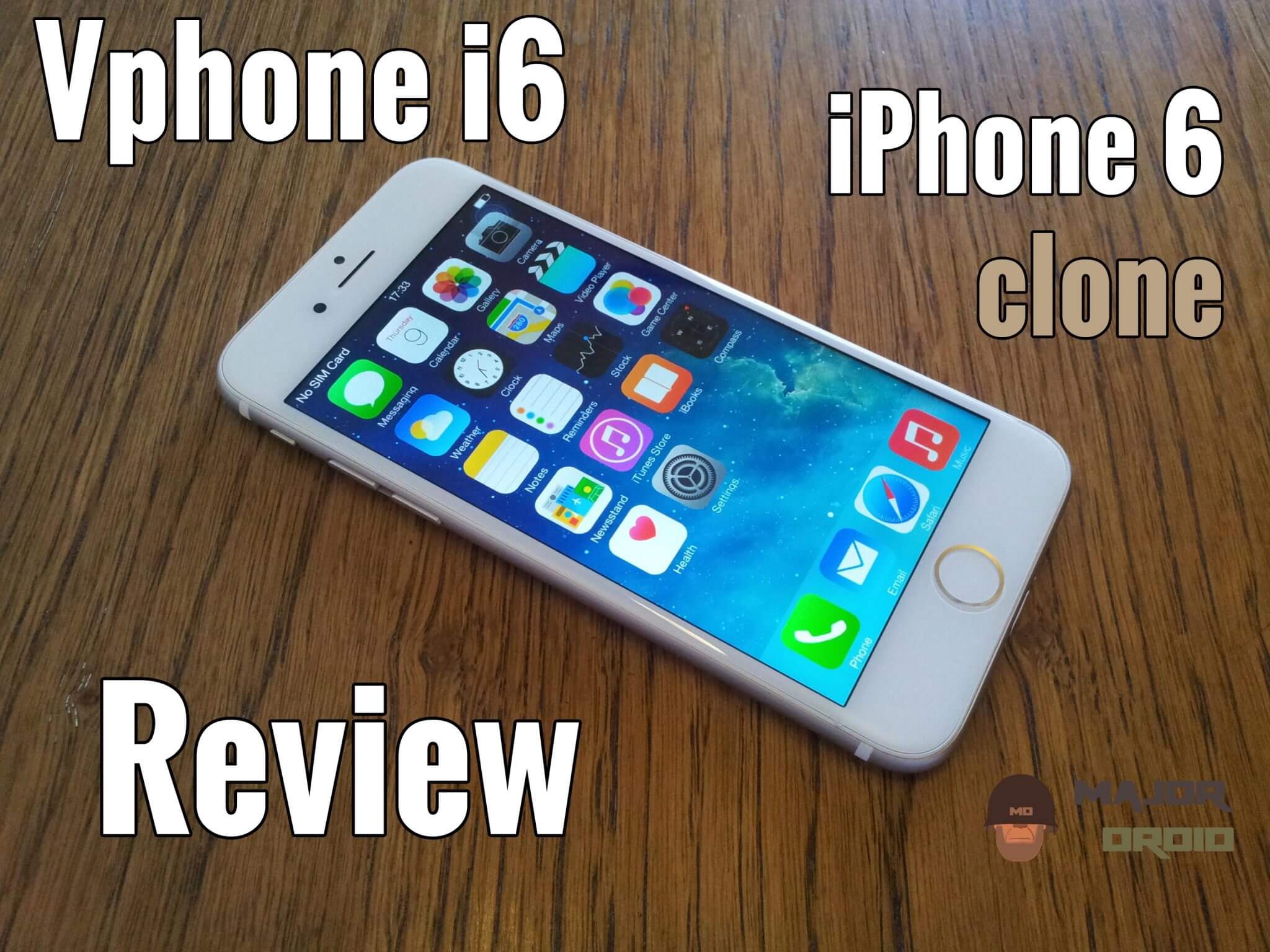 Before iPhone 6 was released, Chinese already has done a job with their smart phone called Vphone i6. So Vphone i6 is a iPhone 6 clone with much much more lower price. In other words, Vphone i6 review is coming.
So let's see how good is Vphone device. In this review I will show you everything what I can find and learn about this clone phone.
Vphone i6 review
Lately many Chinese mobile companies gives the same accessories so I will not waste your time on this too much because besides the phone you will get USB cable, charger, screen protector and short user manual.
Design
Let's see how much is the same Vphone i6 clone compared to iPhone 6. First of all when I am comparing the dimensions and weight, for example iPhone 6 weights 129g and Vphone is 130g. Talking about the dimensions iPhone is 138.1 x 67 x 6.9 mm and Vphone is 137.5 x 67 x 7mm, from this you can see that there are very similar.
The body is made of metal same as on iPhone, all buttons and ports are on same places as original. The only difference between them is that it does not have any Apple logos. Overall I am very satisfied with build quality for this price range which is several times less than original.
Display
Okay let's go to the next chapter about display. Therefore, I will make a comparison also here. For example Vphone i6 has 4.7 inch screen same as on Apple iPhone 6. I6 has screen with resolution 1280 x 720 pixels and Apple iPhone 6 has 750 x 1334 pixels. So the resolutions are very similar, iPhone 6 has slightly better. Both screens are IPS and multitouch. IPhone 6 has screen protection in form of Shatter proof glass and oleophobic coating while Vphone does not have any protection for the screen so it is advisable to use screen protector if you want to.
Also I must admit that clones screen is excellent, really it is because comparing to iPhone's screen I don't see any future difference. Furthermore, the sharpness is strong enough, callers are very natural and vividly angles are good and they are as they should to be. Also digitizer or screen response is also normal so for using is needed only a slightly touch. Overall Chinese company Vphone did a great job with the screen. On the negative think about it is a lack of protection.
Performance
Let's see how strong is iPhone's 6 clone from China comparing to original. On first site I really don't see any huge hardware difference because for example both devices has 1 GB of RAM, also Vphone i6 has MT6582 quad core CPU at speed 1.3 GHz while iPhone has Dual-core 1.4 GHz Cyclone CPU. Chinese clone has Mali-400 MP GPU while Chinese original has PowerVR GX6450. For storage iPhone has several models from 16 GB up to 128 GB and it does not have memory card slot.
For memory card slot it's the same situation with i6 but it has less storage memory, it has 16 GB of memory and approximately 12 GB is free for user. I tried many applications, games and many other staff with Vphone and for now I did not find any problems. Also I tested the device with many popular benchmark tests apps and the results are more or less expected. I also played several games and all games worked as they should work. So overall this phone is very good in its class, I am not disappoint. Below you can also see the benchmark test results.
Benchmarks results
AnTuTu Benchmark v5.0 Beta1: 19239
AnTuTu 3D Rating Benchmark: 2047
Vellamo: 2248/746
Software
Vphone i6 comes with Android 4.2.2 with iPhone theme, so the external appearance or user interface is 99% the same as on iPhone 6. Icon's, widgets, wallpapers, and other appearance is the same. The system is complete fluid and works really fast. I like it, it is really cool and for someone who loves Apple products this is great.
GPS
GPS on Vphone works poor unfortunately. When I first tried GPS without network and Wi-Fi help, it didn't work at all or to be precise it has not connected to any satellite or it did not find any satellite. After that I have connected him to Wi-Fi and it worked. I6 connected to 5 or 6 satellites with precise of 5 m. So I was curious and I disconnected the Wi-Fi and again I started GPS test app to see it will work or not and surprise it worked. So every next time the GPS worked with out GPS and Wi-Fi but precision is maximum 5 m with five or six connected satellites. So as you can see this is not enough to have GPS navigation completely precise. Obviously the GPS antenna is not completely properly installed, thats why it has a weak signal.
Camera
According to the company Vphone i6 has 16 megapixel main camera while the front camera is 5 megapixel. This sounds great but from my experience most the time the camera on the clones has less megapixel sensors then for real. I tried the camera in all possible conditions and I can say that this clone has better main camera than other clones in this price range. I am really pleasantly surprised because the main camera produce really good quality photos. They are most the time completely sharped and colours are almost natural. This is a definite advantage because many other devices in this group has a lower quality cameras.
Battery
When I received this iPhone 6 clone, it said in description that it has built in battery with capacity of 2800mAh. I was at first excited because if the capacity is genuine, then is great for this kind of device. But when I started to use i6 I noticed that it discharge very quickly and I become suspicious about capacity. Because of that I searched for more information on other websites about this smartphone and I have found that some sites are saying that this clone has 1600mAh battery. I think this capacity is more realistic then first one because it can last maximum one day with average use. This is not something new about faking battery capacity, I have see it before.
Pricing and conclusion
In conclusion, I can say that Vphone i6 is overall very good clone smartphone. It has pretty good build quality. It has metal body, of course very nice design, excellent screen and decent hardware performance. Main camera produce photos with good quality. Furthermore, user interface has iPhone theme, it iworks really fast and fluid. As far for bad things, the battery can last maximum one day with average use. Another complaint goes on GPS signal which is also poor, most likely the antenna is not properly installed.
Vphone i6 is low budget smart phone and you cannot expect that all features and functions works perfect. We need to be realistic and we also need to know that this is mid range device. In other words, it is not high-end smart phone. So when I put all together in my opinion it is really a good clone which you can buy it for $170. If you want to you can buy it here. So if you want to have a low-budget smart phone with iPhone appearance this is really good buy in my opinion. If you have any questions please ask.