Kingsing S2 – LG G2-G3 clone Review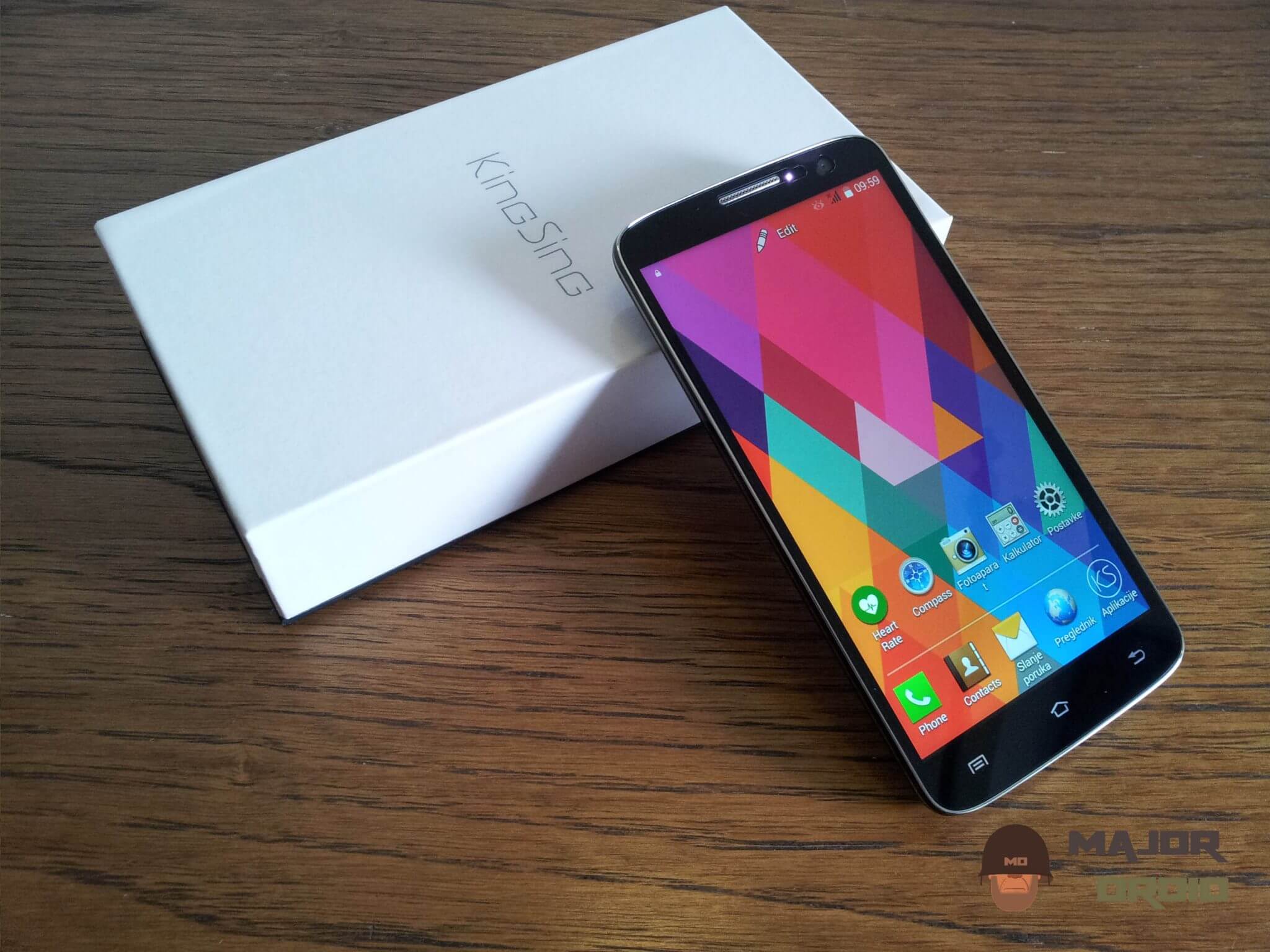 Kingsing is a newer company from China and recently they released a new smartphone called S2. So I'm very happy to have an opportunity to introduce to you. You need to know also that this phone is a clone or copy of LG G2 G3. So from my experience this is the first clone for LG G2.
Okay, when I received the package I was very curious what I will get except of course the phone. And I was 50% surprised because you get USB charger, USB cable and screen protector. But you don't get a common USB cable, you get slim flat USB cable which looks really cool. And I'm very happy about that because they didn't just bought some ordinarily cable in the box. In this way they shall that they care about what they sell and this is really would sign from them.
Design
In beginning I have told you that Kingsing S2 is a clone of LG G2 G3. So you can approximately expect how the phone looks. I must admit that phone looks beautiful, it is much smaller than competition with same size of screen. The complete body is made of plastic. It has 1.6mm ultra narrow frame, also screen area accounts for 76.4% of the phone front area. It does not have any buttons on edges. All buttons are located on the back of the device below main camera. There are buttons for power on off and volume. It has also heart rate monitor next to the main camera. Overall, S2 is really beautiful phone and I personally love it.
Display
Kingsing S2 has 5 inch screen with QHD resolution or to be precise 960 x 540 pixels. Some of you will tell that this resolution is probably lower for this kind of screen. But please believe me the screen is perfect in one word. I also was suspicious before the phone arrived but the screen is really great. The sharpness is enough strong, viewing angles are also great because of IPS technology. Digitiser works as it should work, it is very precise. So please don't worry.
Performance
So let's go to the next step, on this step I will talk about hardware and performance of Kingsing. So let's see what's this phone hides under the hood . The phone has same hardware as most mid-range devices. It has 1 GB of RAM, MediaTek MT6582 quad core CPU at speed 1.3 GHz and graphics are taking care by Mali-400. So, this is very common hardware combination for mid range phone. Because it enables production to be cheaper and at the same time it is good hardware for everyday use and for most functions. With Kingsing S2 you will be able to do every day staff like checking your email, listen to the music, going to the you tube. Of course you will be able to play most of the games like Subway surf, GTA San Andreas and many other games. But we need to be also realistic because this is low budget phone and you cant expect powerful hardware. I have made several benchmark tests and the results are from this price range okay.
Benchmarks results
AnTuTu Benchmark v5.0 Beta1: 18093
AnTuTu 3D Rating Benchmark: 2242
Software
S2 comes out of box or it have installed Android 4.4 KitKat. So you don't need to wait for some updates or you don't need to look on the Internet for some custom roms at least not in beginning. You can also notice that it has user interface similar to LG and some widgets and icons are really similar also to Samsung. User interface is complete fluid and you have also possibility to update by Wi-Fi if in some future there will be some updates.
Connectivity, and other functions like Heart rate monitor
S2 is dual sim smartphone, it has all standard features like Wi-Fi, GPS, Bluetooth. But it has also some new features like heart rate monitor, compass, eye tracking, thisdance sensor and weight sensor. Of course it has gesture control functions which works great I have tested many times now and every time it works as it should work.
Camera
Kingsing has eight megapixel camera with led flashlight. It has several standard features in camera settings. There are also some new functions. I tried all functions and as conclusion I can say that S2 has solid main camera. Because sometimes the photos are not completely sharp, maybe with some updates they will repair this or improve it. But in this moment as my opinion I can say that camera is tot positive side of this device. I think that they could put the better camera or prepare better camera. And to be honest with you you cant really expect great camera at this price range because please remember this is really low budget Chinese phone. Examples you can see below.
Battery
Kingsing S2 has battery with capacity of 2000 mAh. This is according to the producer and I think they did not go wrong with this battery because it can offer one and half day with average use. And with heavy use it can last one day which is really good for this price range.
Pricing and conclusion
And at the end as conclusion I can say that Kingsing S2 is best clone or copy so far from my experience. It has great build quality, gorgeous design, excellent screen, decent hardware, innovative functions and low price. As for bad side of this smartphone I can say that the camera is only negative thing, all other functions or characteristics of the device are good or very good. But you cannot complain too much about camera because this is a low-budget phone. The price for this phone is approximately $120 depends on the shop. So if you want to buy LG G2 G3 clone, this is a great opportunity because in my opinion this is the best clone ever. For more information you can visit the official website here.