UMi will release new MTK6732 phone called Hammer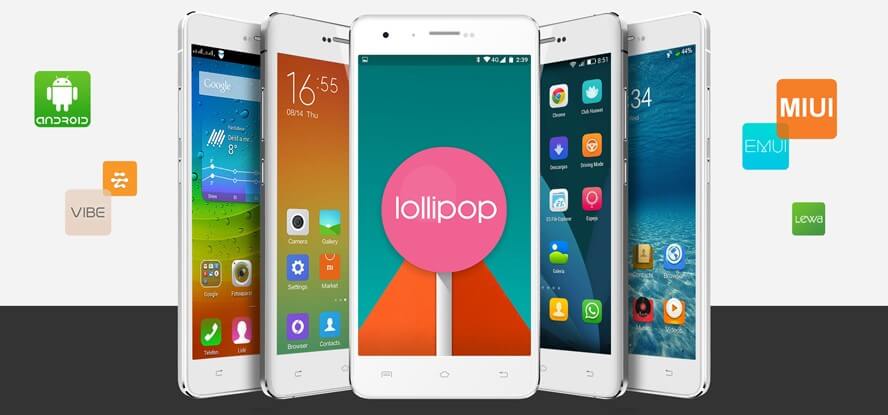 Chinese company UMI will release a new model called Hammer. This is the first smart phone from this company with 4G LTE support. It has really nice design with aluminium metal frame. The screen has dual glass, so this phone is more durable than ever. Also the screen is protected with Gorilla glass protection.
For this smart phone I have a coupon code: UMIHAMMER which gives you a additionally $10 off.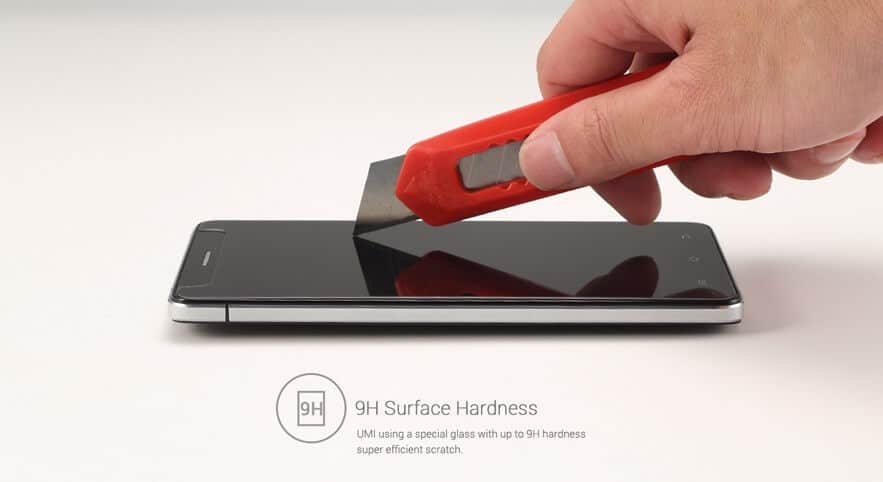 Except the beautiful and durable design the UMI Hammer is also very powerful device. It is based on 64 bit CPU MTK6732 and it has 2GB of RAM. For storage space they have prepared a 16 GB of memory which can be extended with memory card up to 64 GB.
From other information I can say that the Umi Hammer will have 13 megapixel primary camera with dual LED flash. So in the darkest places you will be able to take photos. Overall sounds great and I'm looking forward test it.
If you want to buy this device using the coupon code you should definitely visit Coolicool shop.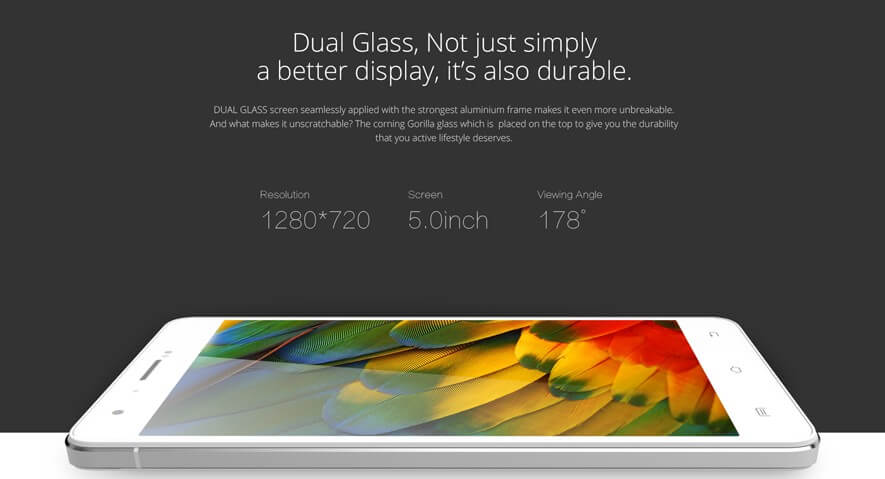 7 OPPO Smartphones that Shaped the Decade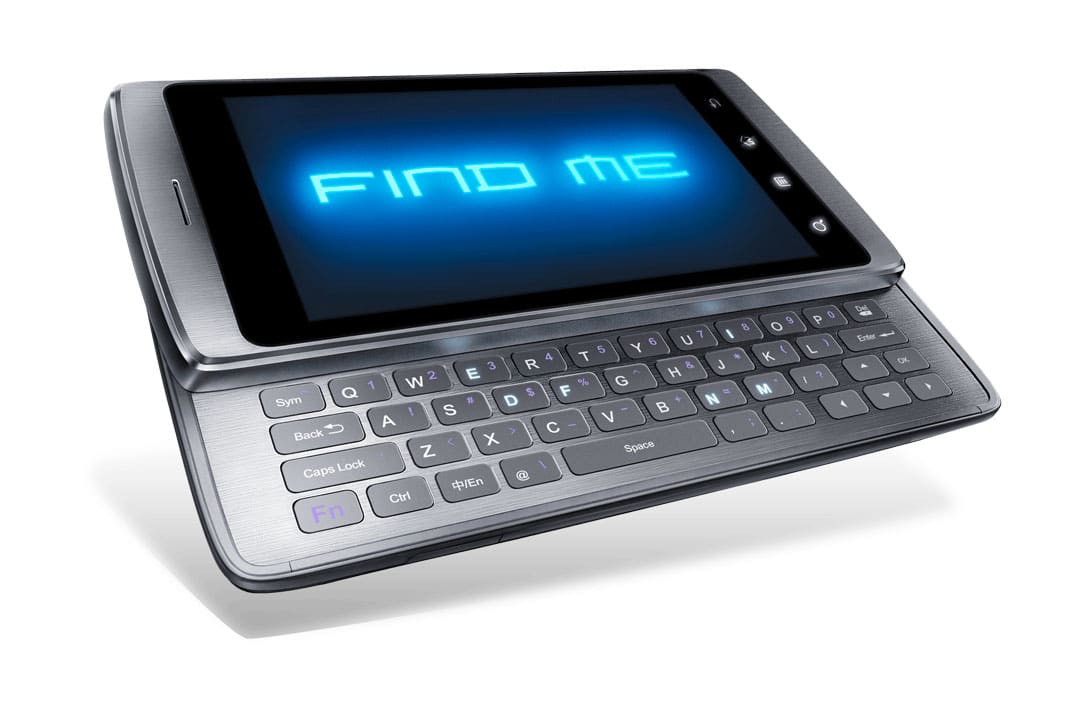 As the 2010-2019 decade has come to an end, we thought it would be fun to look back on the past 10 years to highlight key OPPO smartphone technology developments. Join us in appreciating the many innovations and smartphone trends that have taken place in just the past several years and wondering about the many more innovations soon to come! 
OPPO Find – 2011
In 2011, OPPO launched the OPPO Find, also known as the X903 smartphone. It featured a sideslip cover, full keyboard, and the Android operating system; considered fairly new and revolutionary smartphone technology of the time. Despite its exemplary workmanship and fresh user-orientated interface, it was one of the thickest phones OPPO had produced. the OPPO Find had to be reworked to something thinner and lighter – something like…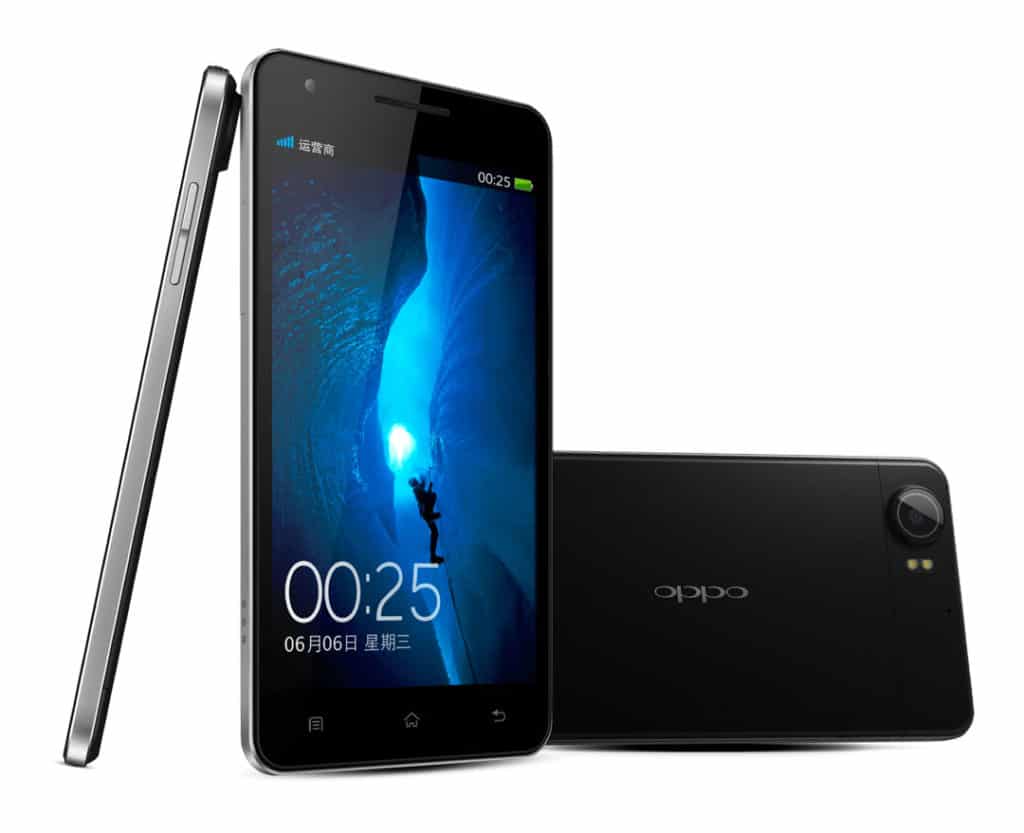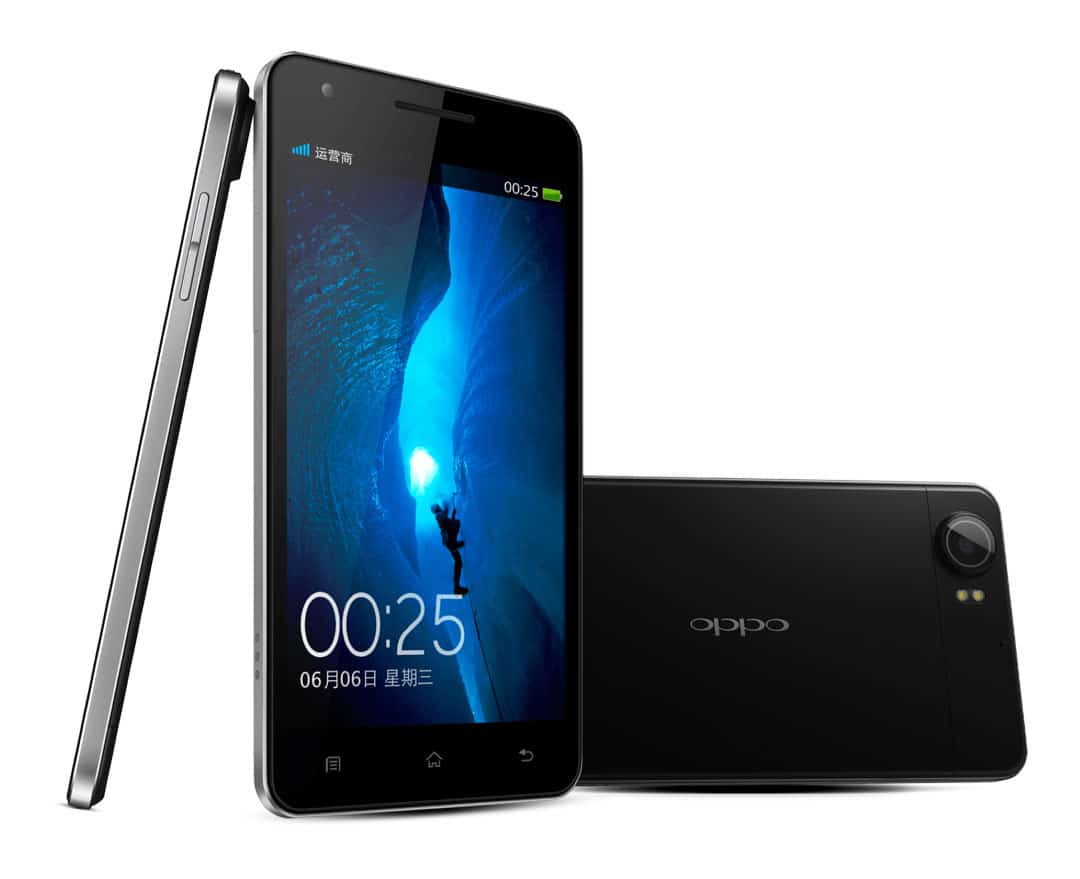 OPPO Finder – 2012
Following the feedback on the thick OPPO Find and focusing on a better user experience a special development team focusing on lightness and thickness was setup and the OPPO Finder was born.
This ultra-thin smartphone made a huge turnaround for OPPO between the Find and Finder. OPPO Finder received international coverage from the likes of CNN, who marveled at its 6.65mm thickness and superior performance.
Following the OPPO Finder's success, ultra-thinness became an important product design factor for many smartphone brands – effectively commencing a "race" to create the most effective ultra-thin smartphones.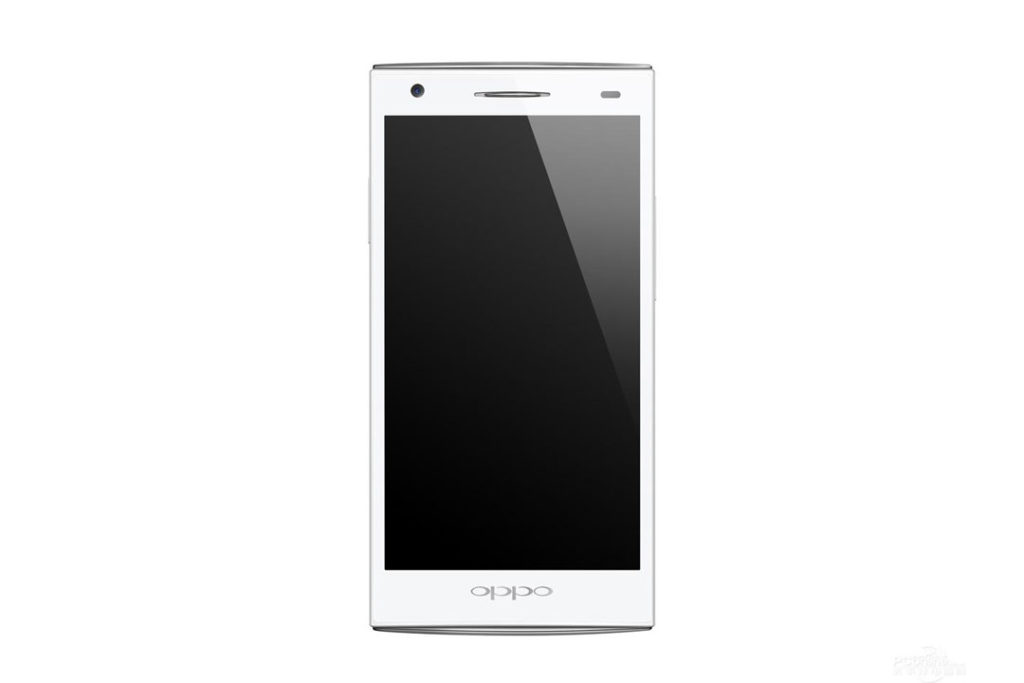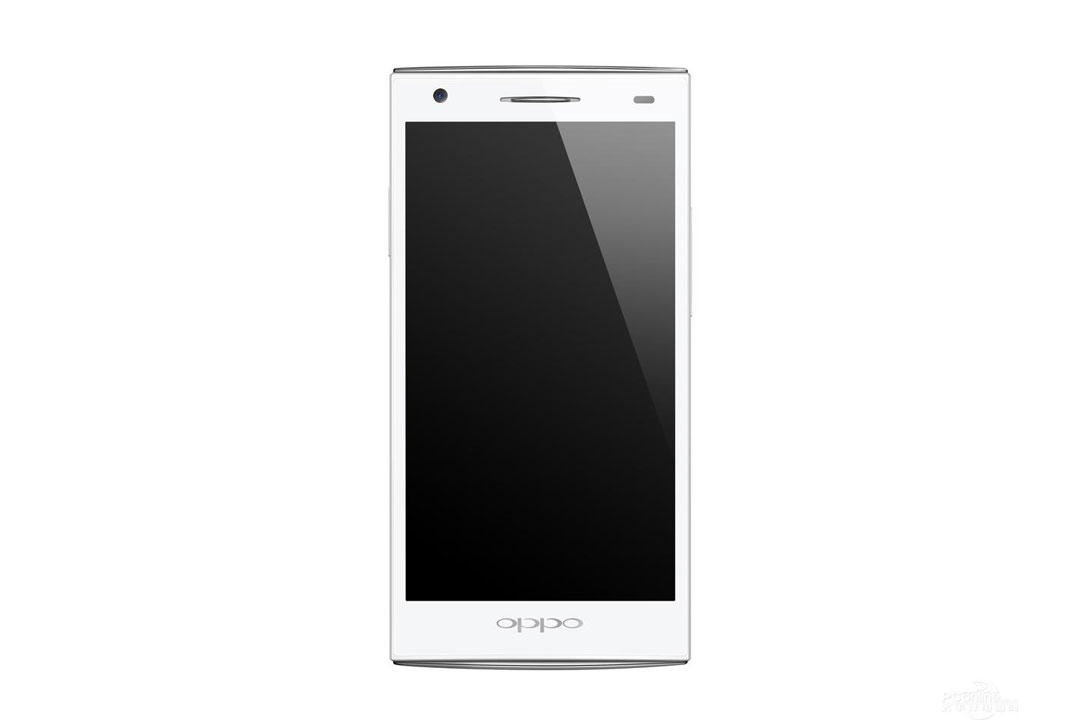 OPPO Ulike2 – 2012
Ulike2 marks the beginning of the "Era of Beautified Selfies." One of OPPO's designers put forth the idea of not only designing OPPO phones to take clear photos, but also makes them appear more beautiful.
OPPO Ulike2 became the first OPPO device with a 5MP forward-facing camera, in addition to its Beauty 2.0 algorithm. When enabled, it automatically applies a beautification effect which produces ideal selfies.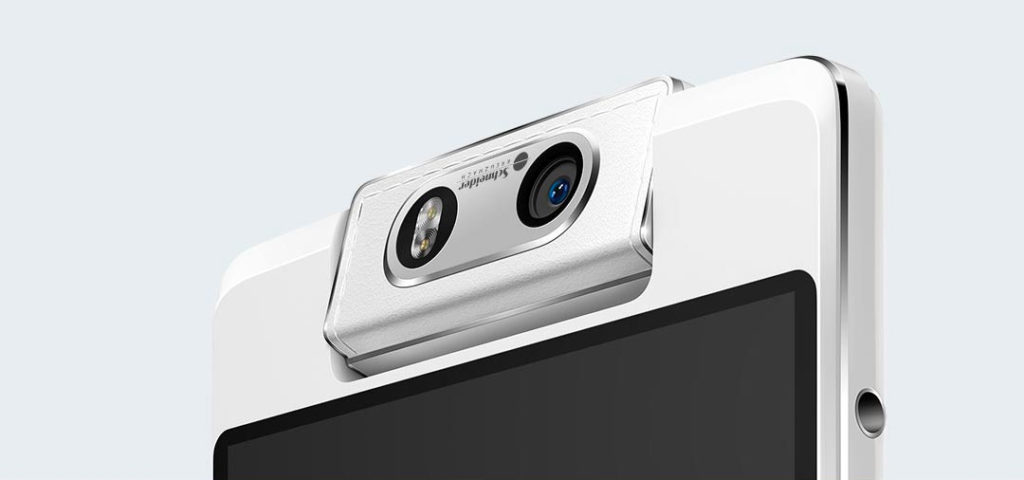 OPPO N3 – 2014
Nicknamed the "Camera Master," the OPPO N3 was the first phone launch which revolutionized the concept of rotating smartphone cameras.
This was the first OPPO device to feature an electric rotating camera with elegant execution. Additionally, it featured a 16MP lens and cutting-edge graphics engine, marking it as one of the strongest performing smartphones of 2014.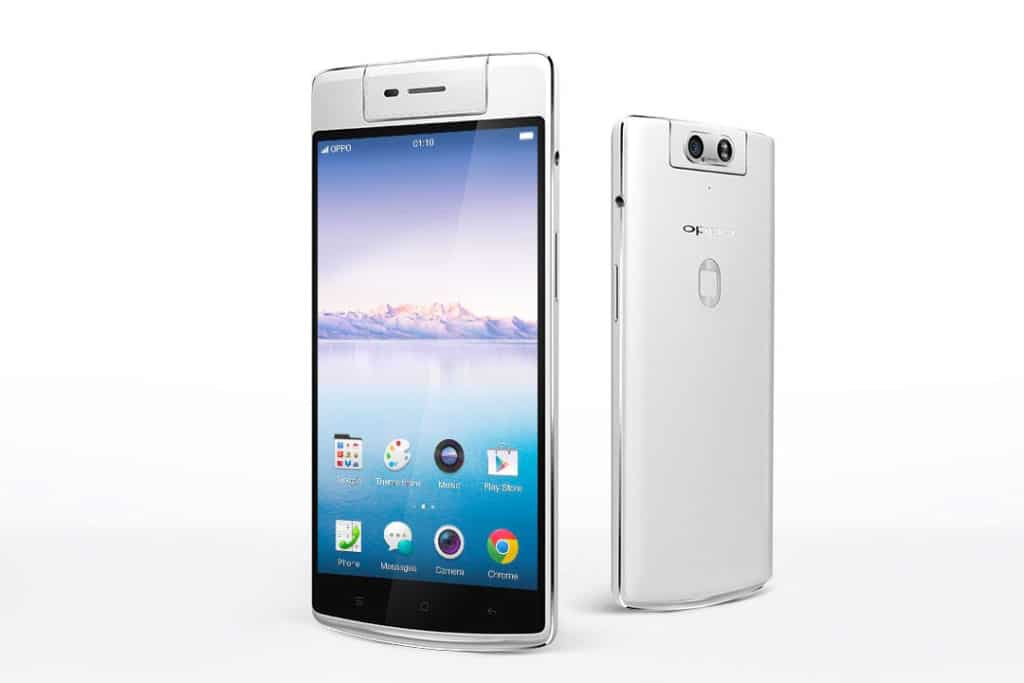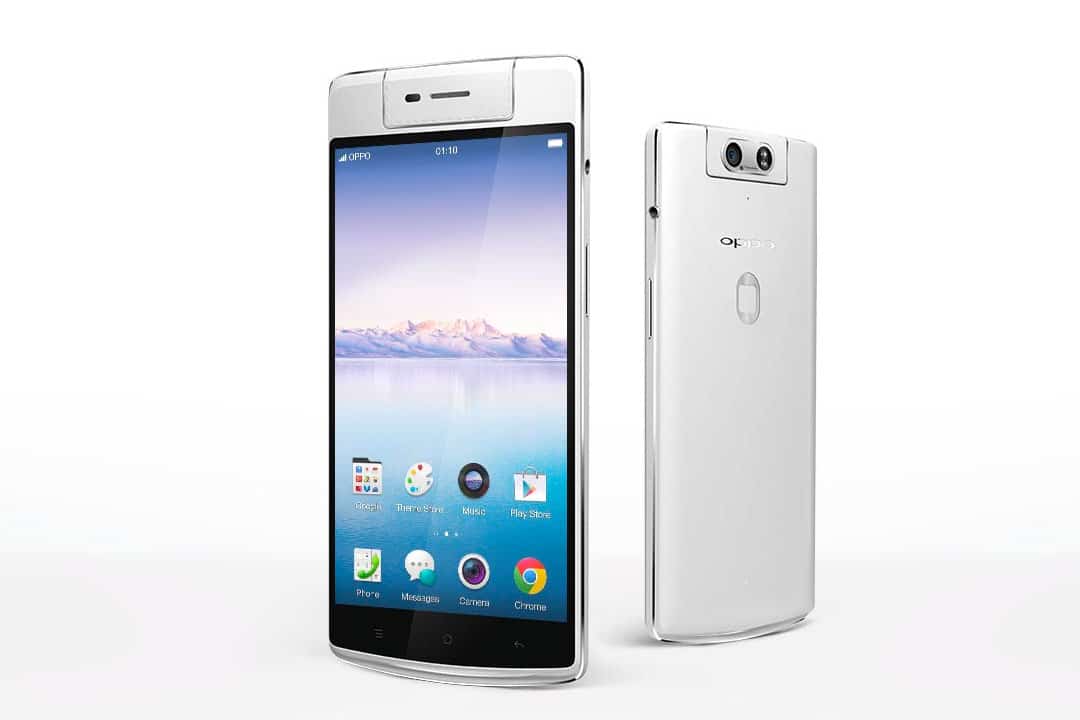 Size and subtle design cues including a side positioned charging port made the device comfortable in the hand and great for multimedia use such as video playback and gaming. The OPPO N3 was even supplied with 'O-click' a seperate keychain remote that could activate camera rotation and take photos.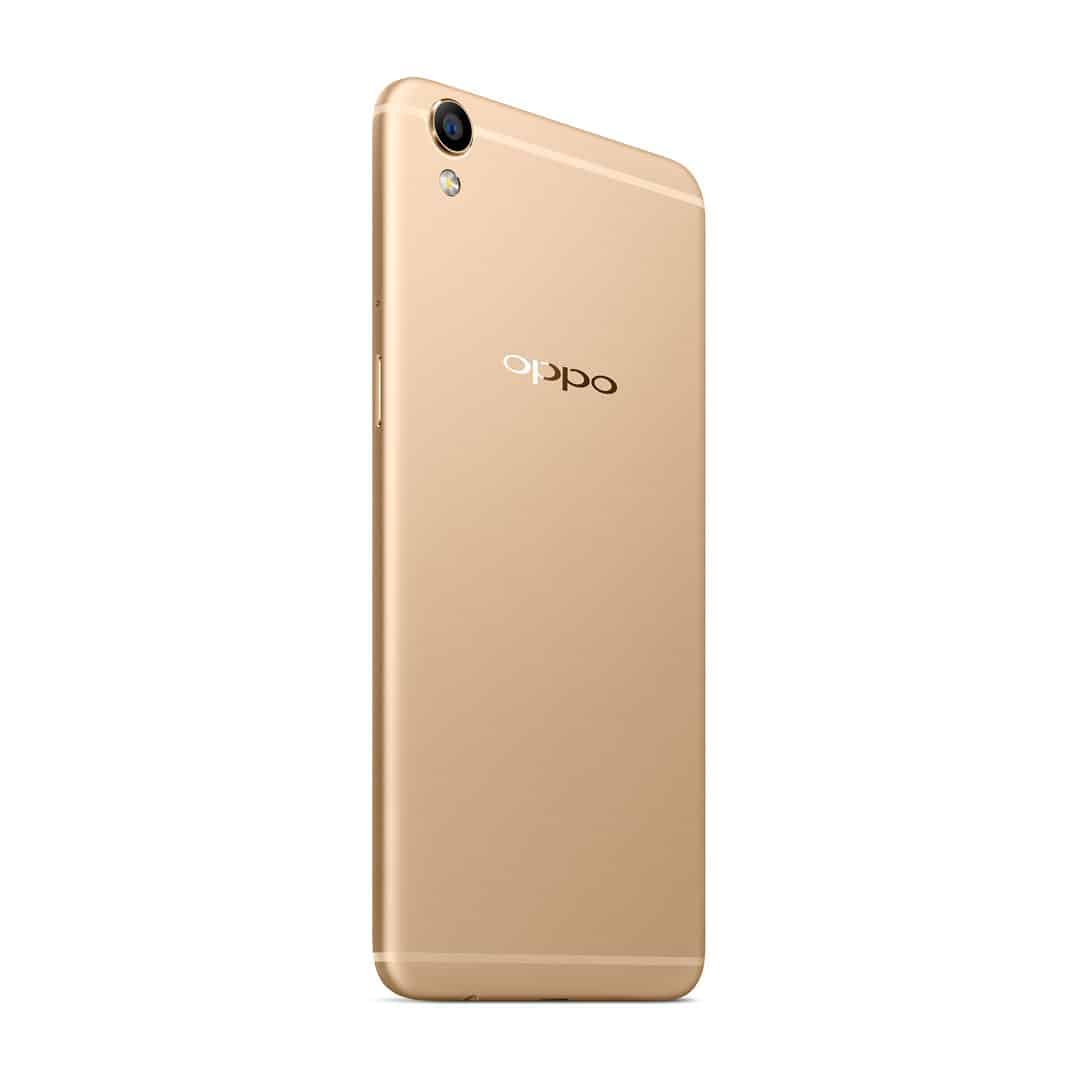 OPPO R9 – 2016
In 2016, OPPO established a brand-new flash charging system that has since made massive waves – VOOC.
Equipped with VOOC flash charging, OPPO R9 can provide 2 hours of calling time with just a 5-minute charge. It sold nearly 20 million copies, took up 4% of the mobile phone market share and became the largest seller in the Chinese mobile phone market. On November 1st, 2016, it won the Swan Award – the highest honor in mobile phone design and application innovation available in China. 
OPPO Find X – 2018 
A revolutionary screen design; OPPO Find X found its home as the first perfectly seamless full-screen smartphone. Thanks to its curved surface panoramic screen and hidden front-facing camera, Find X established itself as the industry's highest screen ratio phone.
Find X commenced yet another "race" within the smartphone industry – the race to create the most effective full-screen smartphone. The release of OPPO Find X reflects their commitment to the vision, "Dare to Break Through and Dare to Innovate."
OPPO Find X went on to win the Best Design Award in Tech YouTuber MKBHD's smartphones of the year 2018.
OPPO Reno 5G – 2019
Finally, we come to 2019 – when OPPO introduced its newest series – OPPO Reno. Reno 10x Zoom and Reno 5G (adding 5G connectivity) featured the advent of 10x Hybrid Zoom technology and a pivot rising camera enabling a notchless screen design. The OPPO Reno 10x Zoom goes above and beyond in photography, equipped with a full-focal length tri-lens rear camera, including a 48MP primary lens, a 13MP telephoto lens, and an 8MP wide angle lens. OPPO Reno became recognized as the go-to series for photographers and creatives all over the world. OPPO Reno 5G additionally was the first 5G smartphone to go on sale in Europe, first sold in Swisscom shops across Switzerland.
Deep Dive: 120 Hz Fluid Display – the best you'll lay eyes on in 2020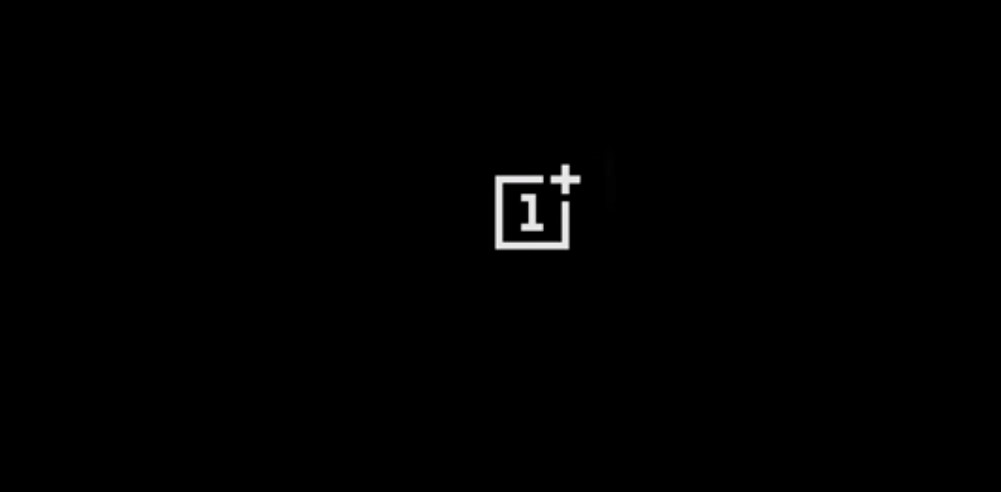 OnePlus believe that every part of device should provide the best experience possible to their users. With the OnePlus 7 Pro, they started pushing the envelope in display experience by introducing our 90 Hz Fluid Display, finely tuned to achieve a record-breaking A+ Top Tier Display Rating from DisplayMate. Today, they have finished the development of their next-generation display.
The spirit of "Never Settle" is not about specs alone. The smoothest smartphone display must also be able to deliver a superior visual quality and viewing comfort. We're sure that OnePlus's new 120 Hz Fluid Display will be the best you'll lay eyes on in 2020.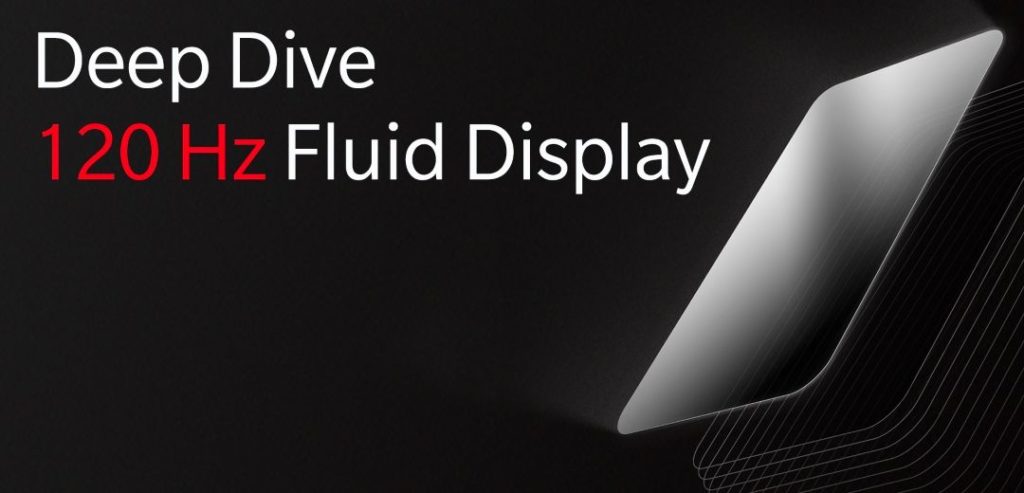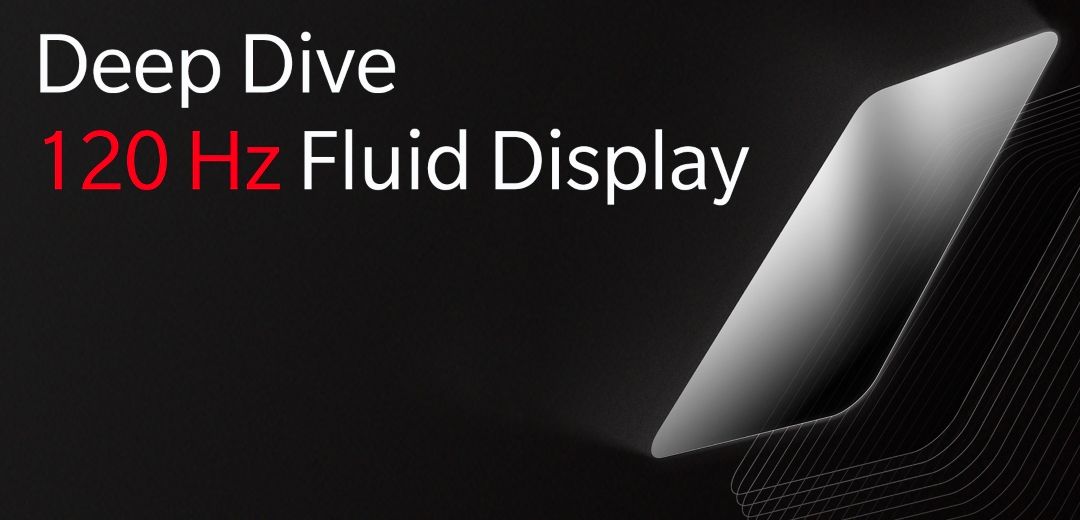 Engineering the most advanced 120 Hz display panel in the industry
Following the 2K+ 90 Hz Fluid Display of the OnePlus 7 Pro, OnePlus has once again cooperated with Samsung Display to tailor a unique AMOLED display with the most rigorous specs in the industry, including a breathtakingly smooth 120 Hz refresh rate. The display uses the latest generation of organic light-emitting materials, with a peak brightness of more than 1000 nits and a much longer lifetime. In addition, they've raised the touch sampling rate to an industry high of 240 Hz for a more responsive touch experience.
R&D team also developed an exclusive optimization solution that can increase the rendering speed of a single frame with 7%. In testing, OnePlus's 120 Hz display has yielded significantly better results than other existing high refresh rate displays in the industry on measures of click response, scroll response, and accuracy.
Unprecedented smoothness in video playback
After numerous system optimizations, many major apps will now be able to take full advantage of the new 120 Hz refresh rate. But, for videos, there's an additional hurdle. Most video content is still produced at either 24fps or 30fps, with a small portion of content in 60fps.
To address this problem, they're including MEMC technology to deliver smoother video playback. MEMC is a technology featured in high-end TVs that uses real-time algorithmic adjustments to insert additional frames to a video file, enabling something shot at 24 or 30fps to play at 60 or even 120fps.
MEMC technology is more demanding in terms of computational power and algorithm processing, making it very difficult to simply carry over from TVs to smartphones. But by using a hardware-based MEMC solution, OnePlus has managed to elevate frame rates to 60 or even 120fps with low power consumption, providing a seamless, more fluid viewing experience for users.
True-to-life color display and support for up to 1 billion shades of color
With a display that offers greater color accuracy, users will see colors as they are meant to be seen. For designers, photographers, and all creators, top-notch color accuracy is essential for creative work.
JNCD, which means "Just Noticeable Color Difference", is an indicator for measuring color accuracy used by companies including DisplayMate. Current professional displays can achieve a JNCD of less than 2, with some high end models achieving less than 1. By professionally tuning the color display, OnePlus was able to achieve an industry-leading JNCD ratio of less than 0.8 for every single 120 Hz Fluid Display. With a near-perfect display performance rating, users and creators will be able to edit and render images with absolute confidence.
OnePlus's 120 Hz Fluid Display also provides support for 10-bit color, providing 1,024 shades of each primary color and 1.07 billion possible colors. This is 64 times as many colors than are supported on mainstream smartphone devices, giving users fuller, more natural gradients when viewing content, and creators more confidence to accurately display the intended color spectrum.
In order to reach industry-leading color accuracy standards, OnePlus has added an additional automatic color calibration machine to the production line. By adding an extra 30 seconds to the production time, each display panel is automatically calibrated for color accuracy before it's released.
OnePlus's upcoming 120 Hz Fluid Display is part of their commitment to "Fast and Smooth."
Introducing the OnePlus Concept One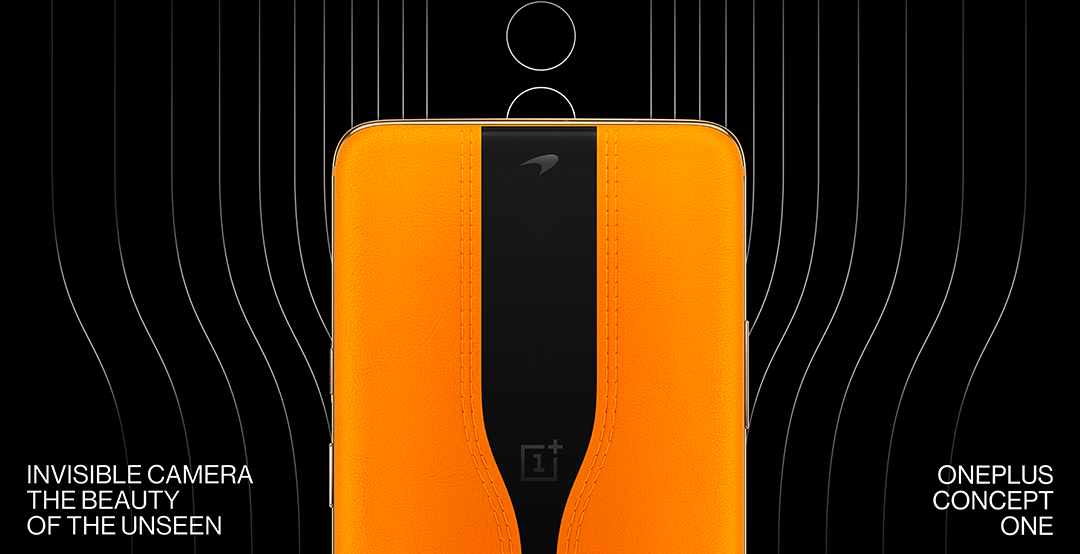 Today, OnePlus finally unveiled their first-ever concept phone, the OnePlus Concept One, at CES 2020. The OnePlus Concept One is the first phone ever to use color-shifting glass technology (electrochromic glass technology), giving it an "invisible camera." The device marks a breakthrough exploration in smartphone CMF (color, material, finish) design and lays the foundation for future smartphones with radically new designs and capabilities.
The glass of the OnePlus Concept One uses organic particles to create changes in transparency so that the glass covering the camera lenses can shift in an instant from opaque black to entirely clear. Presenting a clean, unbroken surface when not in use, the "invisible" design is a manifest example of OnePlus' "burdenless" design philosophy. This optimal solution is what they call "Electronic CMF"—a new approach in industrial design.
But the glass also provides a practical benefit, doubling as a built-in polarizing filter for the camera that allows users to achieve sharper, more finely detailed shots under strong light.
OnePlus collaborated with their partner McLaren on the concept phone's design, drawing inspiration from similar technology used in McLaren's 720S luxury sports car, which features a glass roof panel that can alter its tint and control the amount of light allowed through. Additionally, the OnePlus Concept One design integrates both glass and leather, using the same stylish, premium quality leather specially tailored for McLaren's own cars.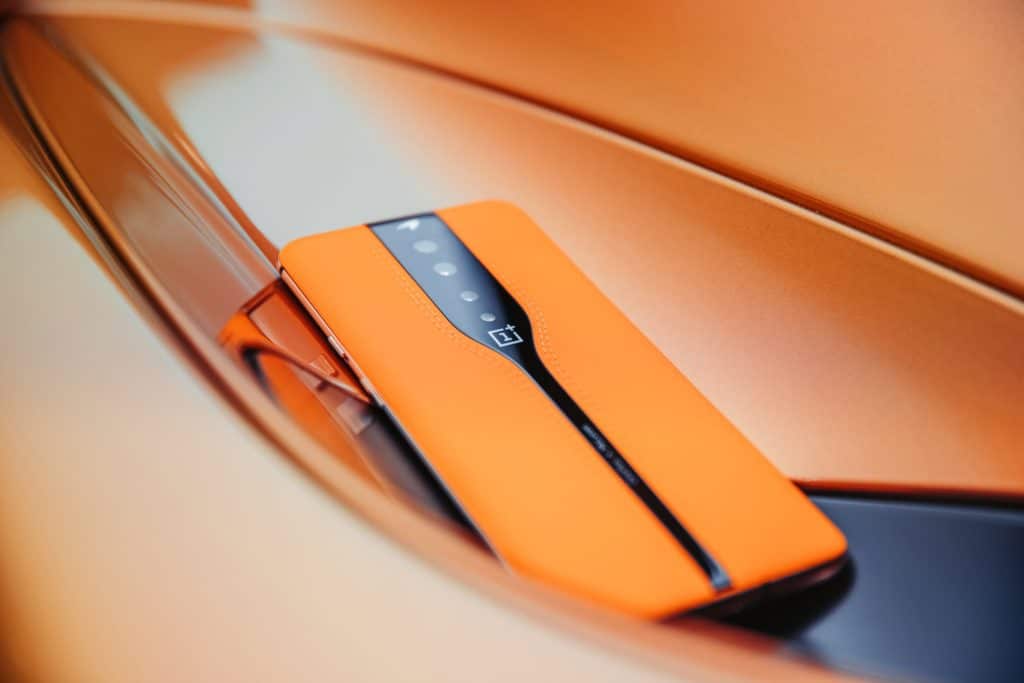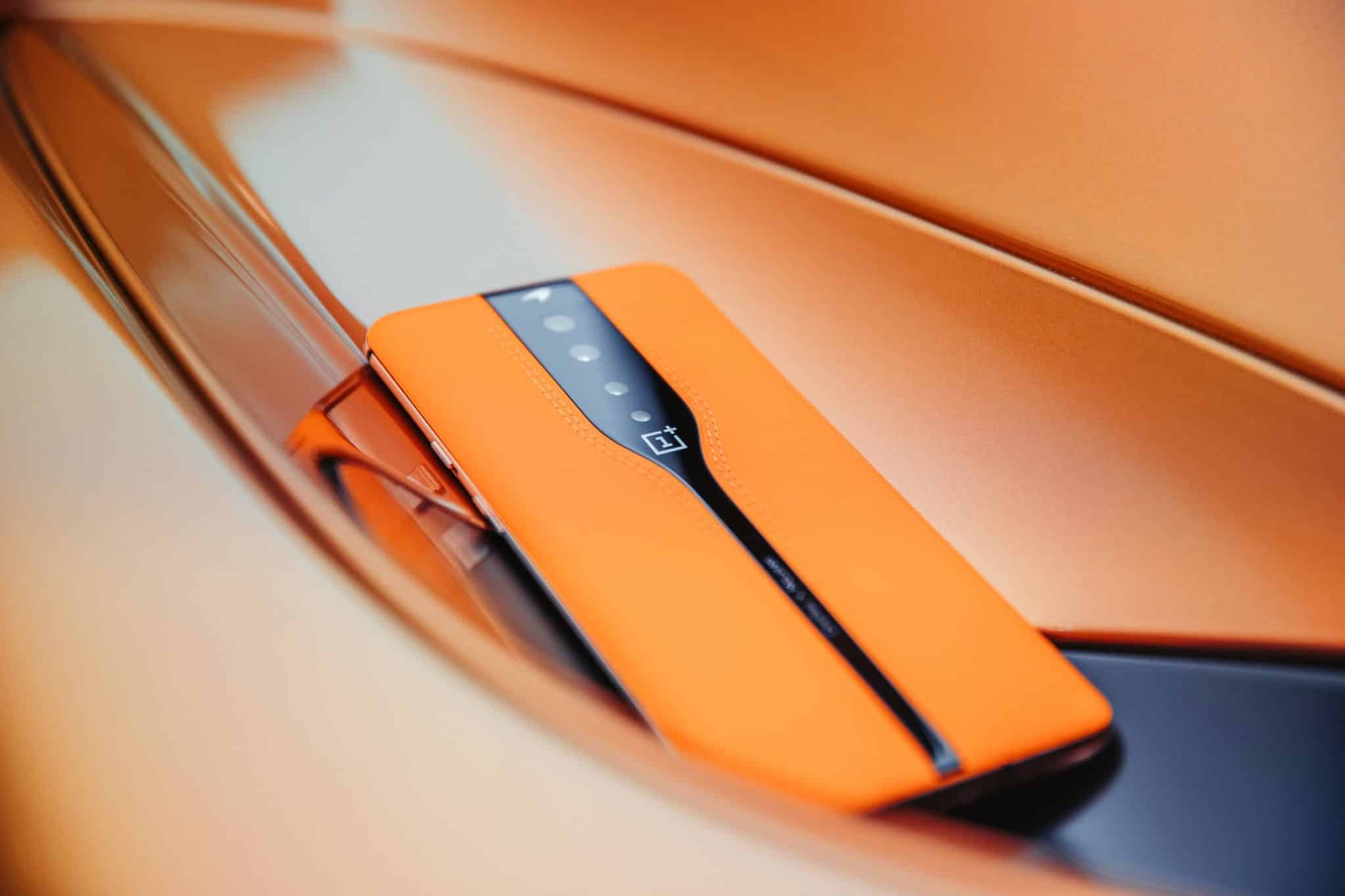 Jo Lewis, Colour and Materials Design Manager at McLaren Automotive, said of the Concept One:

"At McLaren we select the best quality leathers produced in the UK, Ireland and Scotland. The soft grained semi-aniline leather, is soft to touch, and due to the nature of the natural grain this creates a beautifully silky haptic.Leather exudes luxury therefore was one of aspects of this OnePlus concept device that we were keen to offer our input. Our design at McLaren embraces the natural features of the leather through the subtle grain variation which adds character to each car – making each McLaren completely unique and therefore making this OnePlus concept device follow in a similar unique path."​
Although electrochromic glass has already been put to use in some limited applications in cars and in planes, miniaturizing the technology for use in phones took some extraordinary work on the part of OnePlus' R&D team.
The Most Advanced Electrochromic Glass Ever Made
One of the outstanding challenges was that the glass needed to be made exceptionally thin and light without leaving it fragile. Electrochromic glass is usually composed of two panels of glass with a color-shifting material in between them. For the OnePlus Concept One, company managed to achieve something far thinner than industry average: the glass panels are just 0.1mm each, for a combined total of only 0.35mm. That's as thin as a display glass protector film.  
Fast Color Shifting – Only 0.7s 
For the best, most effortless experience possible, the Concept One's invisible camera was rigorously tested and calibrated for speed.  The OnePlus Concept One takes a mere 0.7s for the glass to transition from solid black to fully clear, faster even than the camera itself takes to fully activate, and it uses almost no power. OnePlus spent nearly eight months and tested more than a hundred different options before settling on the best solution for looks, speed, and power consumption. 
Great Feel – No Detail Is Too Small
 Our hands are amazingly sensitive to even the most subtle differences in texture, and so a light, comfortable feel is a requisite for every product OnePlus make, including the OnePlus Concept One.  
The leather covering across the back of the phone creates a sense of lightness, both visually and tactilely.  
With this unique invisible camera, OnePlus aimed at creating an elegant solution to the challenges of camera design in smartphones today. After setting a new benchmark for smartphone displays by creating the industry's first 90 Hz QHD+ AMOLED display, the OnePlus Concept One now marks one more step into the future of the smartphone industry, and is proof of OnePlus's commitment and leadership in innovation.