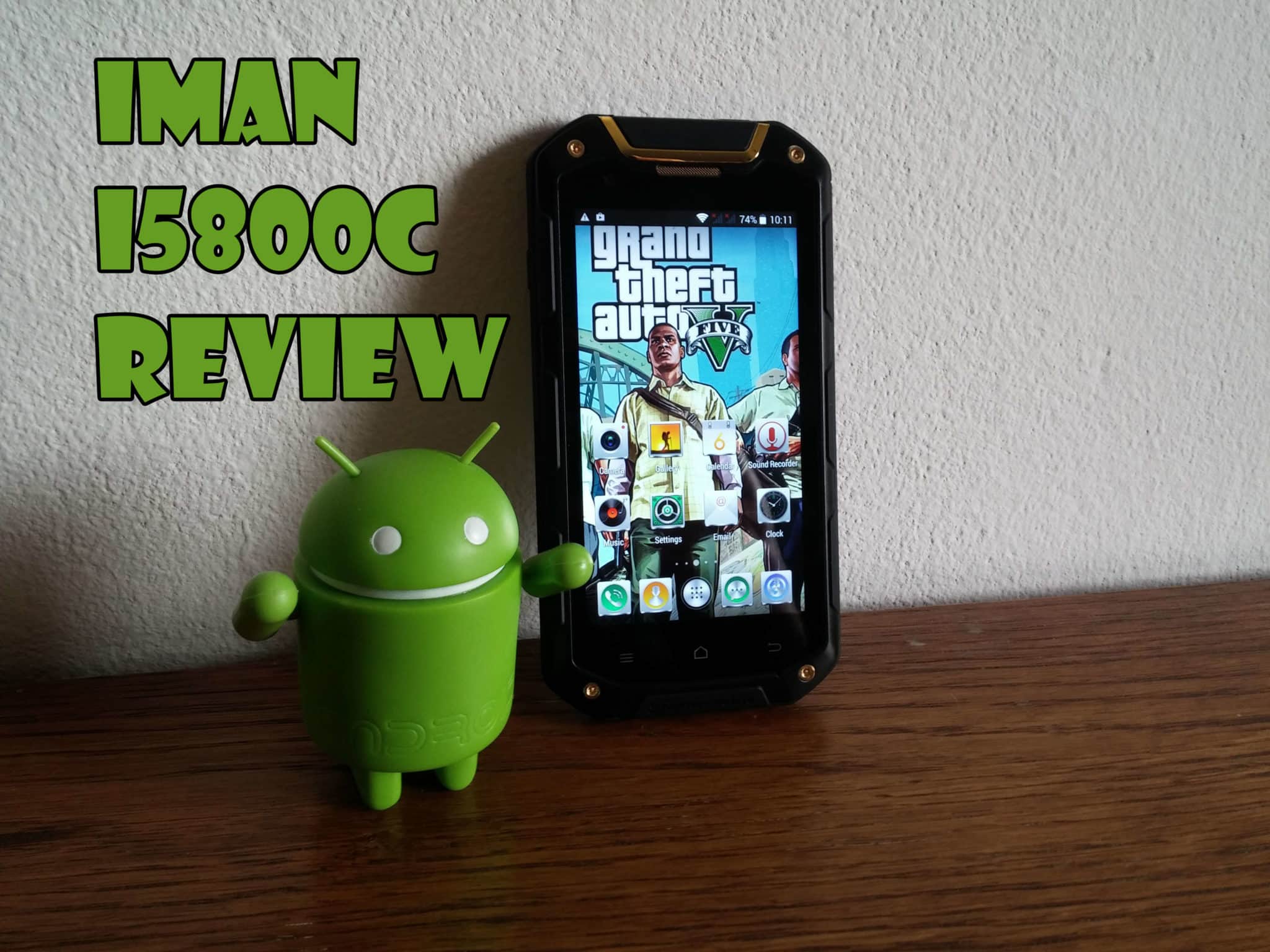 I noticed increase in the number of users of rugged smartphones, so I thought it would be cool to write review for another rugged phone and I decide to do for the IMan i5800C. This time It is much cheaper rugged smartphone then for example Vchok M9 because the price is around $120. So I think it will be more available to potential buyers. Most important feature is definitely IP67 certification, so in other words it has protection from harmful dust (6) and it is protected from immersion in water with a depth of up to 1 meter (or 3.2ft) for up to 30 mins (7).
Unboxing
From what I can see you will get the usual equipment like USB cable, charger, battery and short user manual. Of course you will get battery cover removal tool. I noticed also that the USB cable has a longer connector because the case of the phone is much bigger.
Design and build
The IMan i5800C is available in two versions which are completely black and in yellow black combination. The rugged phone is not too much bigger than usual smartphone, where the case is made from high quality rubber. The case is a really tough and all buttons are made from rubber where the ports are placed inside. The back cover is fastened with screws, so when you will need to open the back cover then you will need to use battery cover removal tool. Overall it looks really cool and the build quality is great.
Display
I noticed that many rugged smartphones has 4.5 inch screen with qHD resolution as has the i5800C. I don't know is this some coincidence but it is what is. Maybe the screen is not too much important for rugged phone users. Anyway for the screen size qHD resolution is really ok and display is surprisingly good. From every angle you can normally see the screen and the touch also surprisingly works precise. The screen is placed inside the case so it is protected from any unwanted situation.
Performance and benchmark testing
It has medium strong hardware because it is based on quad core CPU Mediatek MT6582 with speed 1.3 GHz where the GPU is Mali-400MP. IMan I5800C has 1 GB of RAM and 8 GB storage space which you can expand up to 32 GB.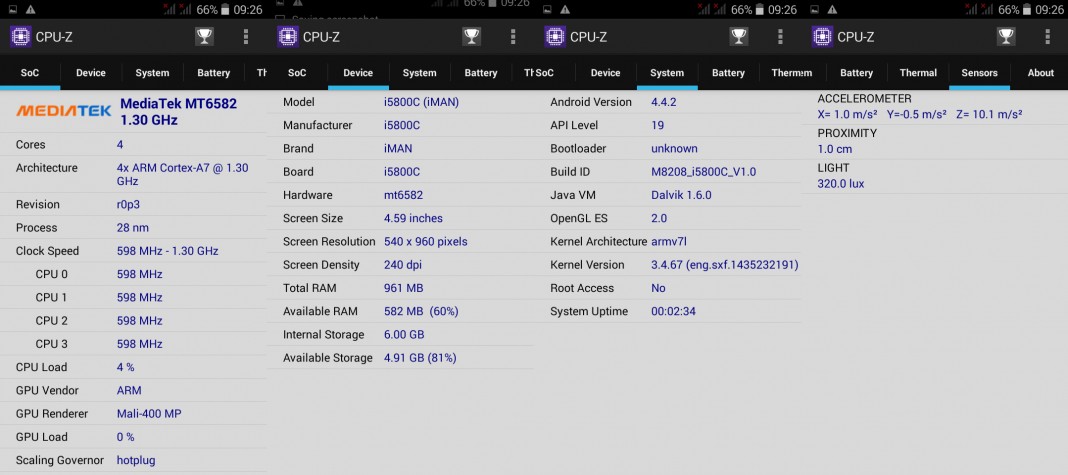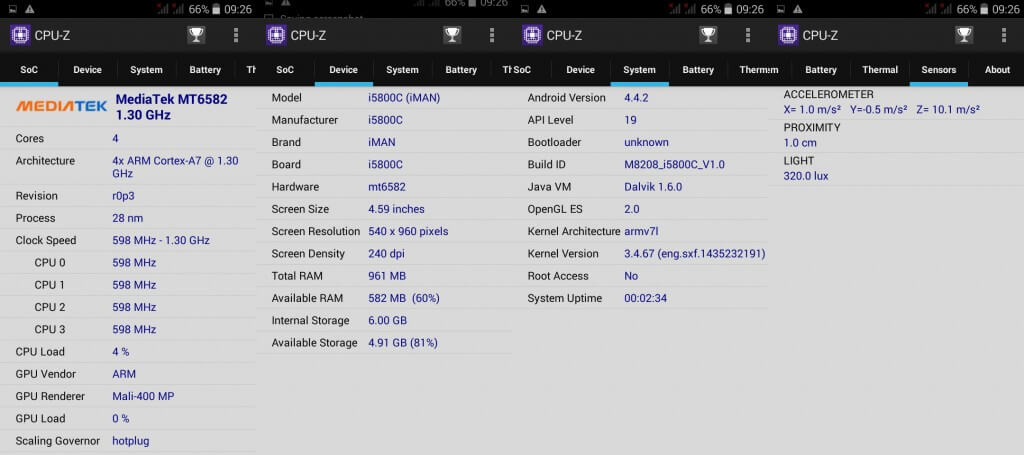 These days for some users these hardware is maybe not enough but from what I see it is working pretty good including gaming. I tried several different things including playing games and everything was working good without lags. Below you can see benchmark test scores including hardware information.
Software
These rugged phone surprisingly for me it comes with older version of Android, to be precise it comes with Android 4.4.2. It has all standard applications and the system is fast and fluid. During use I did not encounter any problems and for now I did not get any information for updates.
Connectivity and GPS
The IMan i5800C supports 2G, 3G, Wi-Fi, Bluetooth and GPS. I personally tried all functions and all are working as they should to work. But I just noticed that the Wi-Fi has little weaker signal and I think this is because of huge rugged case. But nothing major just a few meters comparing with other every day smartphones, also the GPS works with precision of 3 m without Wi-Fi and mobile help. There is also SOS button and all settings can be edited in phone for these purpose.
Camera Quality
The front facing camera is two megapixel while the rear camera is five megapixel equipped with led flash. The led flash is pretty strong and it will be good for night photos or you can use it for flashlight function. Photo quality is really just medium and below you can see photo samples.
Photo Samples
Battery life
According to the IMan company it has 2900mAh battery. It does not support quick or fast charging. With my average use the battery lasts one and half day, which is quite okay score. During these period I was mostly connected to Wi-Fi and network, several times I was playing games and watching movies. And rest of time I was online.
Conclusion
There are many rugged phones on the market and really sometimes you cant decide which model you should buy. For me the IMan i5800C is very good device in these price range which is actually around $120. Because it has very good build quality, medium strong hardware, many useful connectivity features and of course IP67 certification. Comparing with other similar devices it is not too much bigger than usual phone. GPS is working with precision of 3 m. Anyway if you want to know more information about it, then you can visit official website.