NEC develops touchless, multimodal biometric authentication terminal with the world's highest level of precision
NEC Corporation announced the development of a multimodal biometric authentication terminal incorporating face and iris recognition technologies that have been recognized as the world's No.1 in benchmark tests for identification technologies conducted by the U.S. National Institute of Standards and Technology (NIST), and are core technologies of NEC's multimodal biometric authentication brand, "Bio-IDiom".
This reinforces NEC's ability to provide high levels of authentication accuracy and convenience for users throughout a wide range of environments.
In recent years, biometric authentication, which analyzes the physical or behavioral characteristics of individuals, such as facial and iris features, has been rapidly expanding throughout the world, including biometric authentication with smartphones and entryways to a wide range of facilities.
NEC has implemented more than 1,000 biometric authentication systems in approximately 70 countries and regions around the world. The high levels of accuracy, convenience and security of these systems enable them to be reliably deployed as an important part of social infrastructure supporting the safety and security of daily life, ranging from corporate applications to entertainment and personal use.
NEC's multimodal biometric authentication, which combines multiple biometric identification technologies, such as face and iris recognition, is easy for individuals to use and achieves high levels of authentication accuracy.
NEC's newly developed multimodal biometric authentication terminal integrates face recognition technology with iris recognition technology that have each been recognized as the world's most accurate.
This enables stable, high-precision and high-speed authentication in large-scale systems that need to respond to numerous physical characteristics and in usage environments that require strict identity verification.
Multimodal biometric terminals are expected to be widely used for a variety of applications, including systems targeting large numbers of users, access to and exit from offices that require high levels of security, access to food plants that require hygienic clothing and masks, clean rooms in factories, medical facilities, as well as identification of customers at ATMs and prompt payment at stores.
NEC aims to begin offering this terminal for payment and access control by the end of FY2021.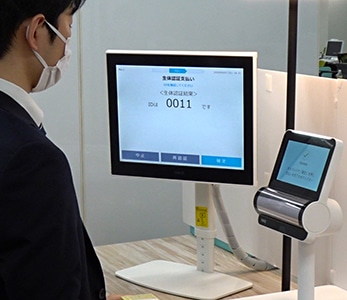 Multimodal biometric authentication terminal features: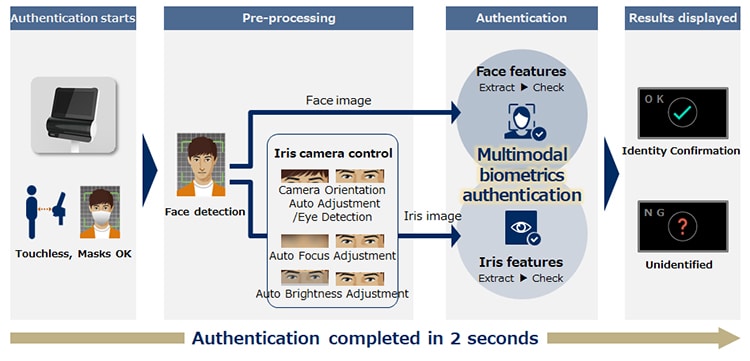 1. High-precision authentication that achieves a false accept rate of less than one in 10 billion
NEC's proprietary algorithm integrates the matching results of face and iris recognition, enabling authentication with a false accept rate (4) of less than one in ten billion (5).
By performing authentication using biometric information from three sources, face information and iris information from the left and right eyes, NEC has achieved high-precision authentication.
2. High-speed identification by simultaneous acquisition of face and iris information
The built-in camera of this authentication terminal automatically adjusts its tilt according to the height of a user, detects the face and the iris at the same time, and identifies individuals based on the integrated results of the matching scores.
In order to reliably and accurately capture iris information, which is difficult to obtain in comparison to face information, NEC developed a technology that quickly and accurately locates the position of the iris based on face information, then automatically adjusts the focus and lighting instantaneously.
This enables high-speed authentication in approximately 2 seconds without imposing a burden on users, even if they are different heights.
3. Successfully recognizes individuals wearing face masks
The application of multimodal biometric identification technology utilizing face and iris information enables touchless identification of individuals to be achieved, even when gloves and face masks are worn or when both hands are occupied with baggage.