OPPO's Top Ten 2020 Innovations (So Far)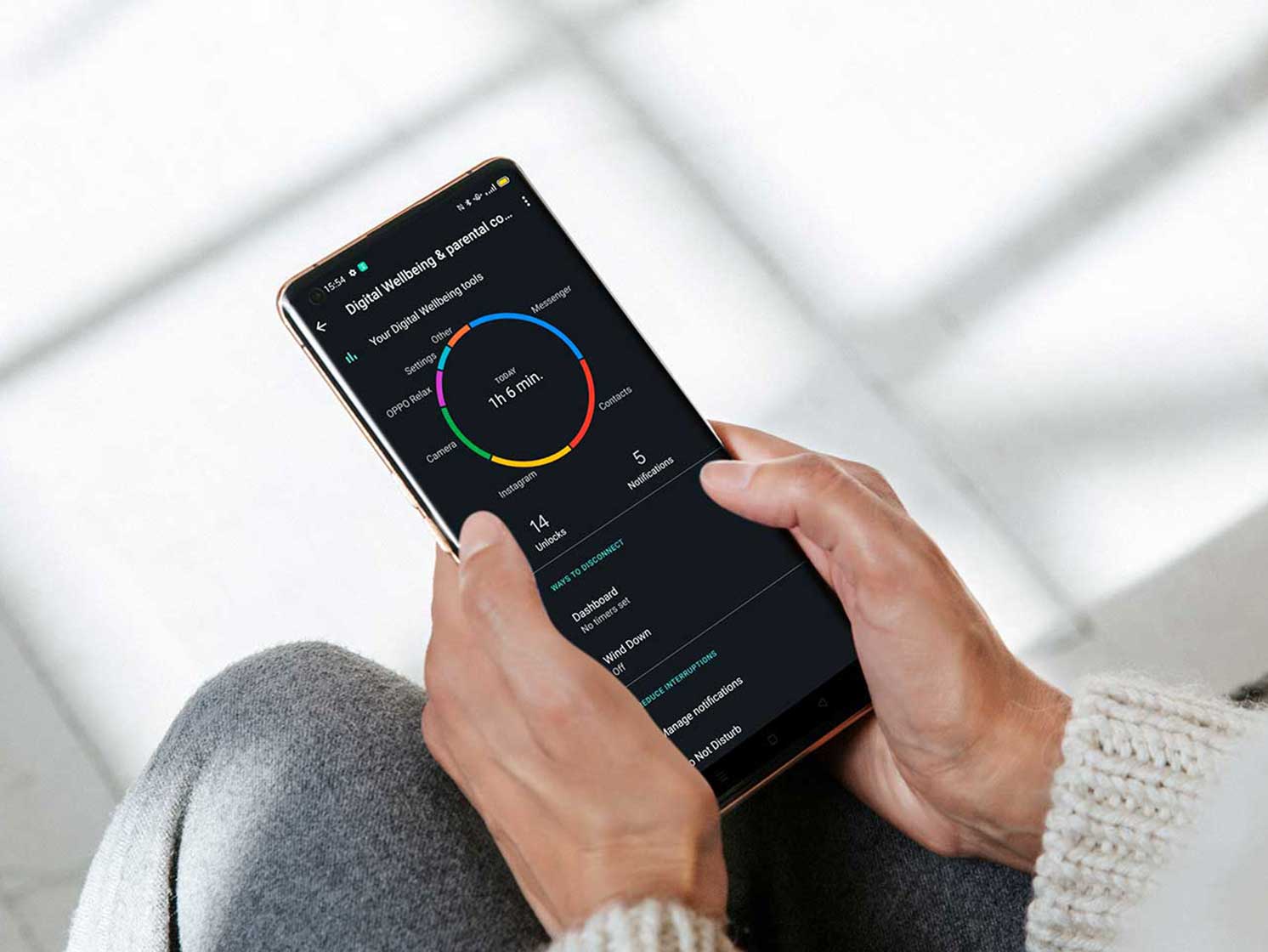 10. Digital Wellbeing Controls
With the increasing need to work from anywhere, and to stay connected with our friends and family from a distance, OPPO knows we all need to keep the rest of our screen-time in line with our own health and wellbeing. That's why OPPO has introduced digital wellbeing controls that help users keep track of how much time they spend doing various activities on their phones.
How often do you switch applications when you receive a push notification? Kids spending more time gaming than remote learning? Need to improve your productivity, pay more attention to the conversation, or go to sleep earlier for that important meeting? OPPO smartphones with ColorOS are here to help. #stayhome, stay safe, stay healthy with OPPO.
9. OPPO Relax
We all know that life can be stressful. Whether you need some assistance with mindfulness training, relaxation, concentration, sleep, or even meditation, OPPO has you covered. OPPO Relax for ColorOS helps you to meditate and soothe your body and mind with breath coaching, music, and a range of Dolby ambient sounds; tough days and anxious nights just got easier with OPPO and ColorOS.
8. Color OS
OPPO's world famous smartphones run on Color OS, A highly-customized, efficient, intelligent, and richly-designed Android-based mobile OS by OPPO. Color OS 7.2 brings the newest generation of features to OPPO's Reno smartphone series. Now users can enjoy longer than ever battery life, innovative nighttime power saving features, and intuitive touch controls that make work or play more natural than ever. Whether you're reading and scanning documents or switching between WhatsApp and PubG, Color OS is getting you there in style.
7. Increased Refresh Rate
OPPO has pushed the limits of the gorgeous, 3D borderless display of the Reno4 Pro by increasing the refresh rate to a blazing 90 Hz. The increased refresh rate combined with a 180 Hz touch sampling rate ensures that visual smoothness is evident with the Reno4 Pro; whether you're gaming or scrolling your socials, Reno4 Pro is bringing you a new level of fluidity.
6. Ultra Steady Video
OPPO's FindX2 Pro with Ultra Steady Video 2.0 is one of the best anti-shake technologies available, with Ultra Steady video and Ultra Steady video Pro. Ultra Steady Video Pro mode brings users a broader anti-shake video experience, matching professional motion cameras. So even in shaky scenarios like mountain biking or skateboarding, the Find X2 Pro helps you capture more action-packed moments with incredible smoothness. Video just looks better #ShotonOPPO.
5. Hybrid Zoom
OPPO Reno4 Series and OPPO Find X2 Series have ushered in the second-generation of hybrid zoom technology. Leveraging multiple front cameras with different focal lengths, hybrid zoom uses OPPO's new OIS chip, independent image color sensors, multi-focus image fusion, and ultra-resolution algorithm; this ensures consistency of color and white balance between multiple front cameras, and makes the zooming process look naturally smooth.
4. Keep Your Information Safe with OPPO's FindX2
OPPO's FindX2 and FindX2 Pro provide the ultimate in mobile flexibility without compromising information security. Now users can assign multiple accounts on their FindX2 with different security permissions, the same way they might on a personal computer. Users can also control which applications can retrieve information, allowing the FindX2 to send blank data to an app, ensuring that the app still runs without interruption. Also, the FindX2's Private Safe can protect user documents, pictures, and videos from being detected or accessed by any applications.
3. AI Implementation in Reno and Find Series
AI is the future of smart devices, from our smartphones to the increasing importance of the Internet of Things. It's no surprise that OPPO is leading the way, from our groundbreaking work to bring true 5G SA networks to fruition, to new AI features packed into our Reno and Find smartphone series. OPPO's new AI features improve the convenience and creativity of mobile browsing, snapshots, videos and portraits, and even augmented reality.
AI Photo Imaging
The revolutionary AI night shooting modes included in OPPO's Reno4 Pro smartphones give users the ability to get the best out of their nights, without losing the detail or color of those once in a lifetime moments. Night Flare and Ultra Night Selfie modes shoot stunning portraits and selfies and deliver unbelievable color and clarity. OPPO's AI uses longer exposure times, burst shots with multiple exposures, and even bokeh blurring, to compensate for shaking hands or shooting a moving subject.
The results are clear: the Reno4 Pro and OPPO's AI create dynamic, vibrant nighttime shots from the palm of your hand.
2. Reno4 Pro: Stronger and More Efficient
Despite it's 90Hz Borderless Sense Screen with 3D display, 65W SuperVOOC 2.0 charging, and array of innovative photography tools, OPPO has designed the Reno4 Pro to be lighter and more comfortable than ever. Thinner and lighter than its counterparts, the Reno4 Pro weighs in at a mere 161g and an ultra-slim 7.7mm. Now you can keep the perfect grip on your gateway to the world with the #Reno4Pro.
1. Super VOOC Charging
The Find X2 Pro sets the bar for super fast charging. With its 65W SuperVOOC 2.0 charger, the Find X2's 4260 mAh battery can be charged to 40% power in 10 minutes, and fully charged in just 38.
2020 also saw the release of OPPO's 125W flash charge technology, which set a new charging speed record for mobile phones. In only 5 minutes, the 125W flash charge can charge a phone's 4,000mAh battery up to 41%, and to 100% in just 20 minutes at the fastest rate. OPPO's SuperVOOC chargers are certified by TÜV Rheinland, in recognition of their ultra-safe charging capabilities.
#Flashforward with OPPO's suite of cutting edge Super VOOC flash chargers. Watch below as OPPO's 125W Super VOOC charging technology fully charges a 4,000mAh battery in just 20 minutes:
Here's a first look at 125W Flash Charge technology in action. It can fully charge a 4,000mAh battery in 20 minutes. 🤯 #FlashForward pic.twitter.com/EWtfGcsL4m

— OPPO (@oppo) July 15, 2020