Review: How to choose, install and use an infra-red patio heater?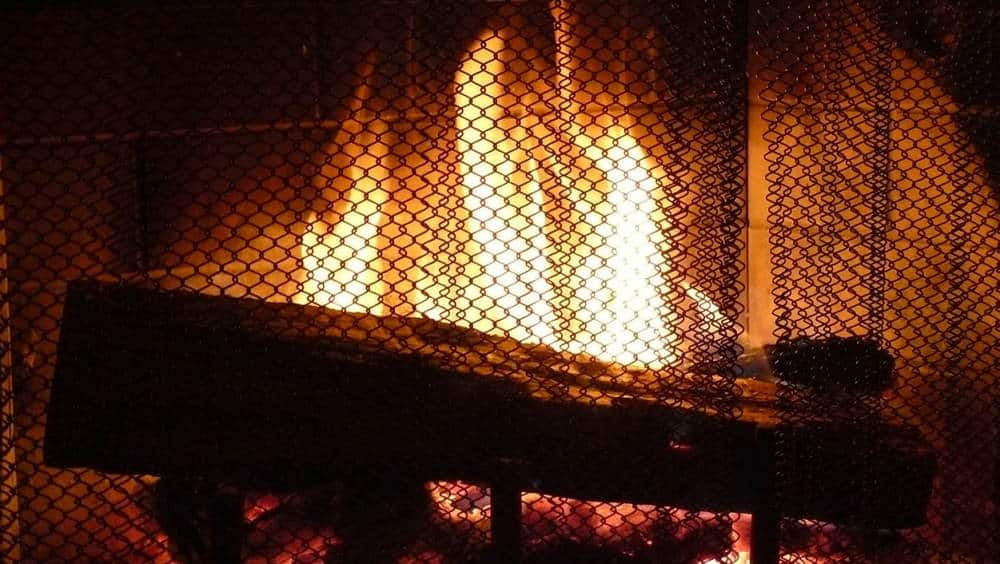 Learn how to choose and install an infra-red patio heater. If you feel unconfident, it is probably a good idea to hire a licensed professional. For some models, you won't need any help and all work you can do by yourself.
Let's see how exactly an infrared patio heater works, and how to use one for your comfort.
An infrared patio heater has an element that heats and emits infrared light. Infrared light we hardly see, but we can feel how warm it is. Infrared patio heater warms surfaces instantly, but only those surfaces placed directly to infrared light.
To make it more efficient, manufacturers deliver smart design with reflecting surfaces above the heating element. That way all the heat goes in the direction we want.
How exactly infrared heaters work?
Infrared heaters work by converting electric energy into radiant heat. Infrared light is part of the electromagnetic spectrum. The heat we feel is the same feeling of warmth as the winter sun on your face and the heat from a coal fire.
We can say that the infrared is the direct transfer of heat from the heater to the objects nearby. This means that air in between won't be heated. The infrared wavelength is most efficiently absorbed by the body. This way of heating is 100% safe and natural.
It is important to know that infrared heaters work instantly. These heaters are quiet and healthy. Infrared heaters are cost-efficient and environmentally healthy. They don't require any maintenance.
Now it is time to give some infrared patio heater reviews.
Infrared patio heater reviews
First, we are going to show a few outdoor infrared patio heater models. These are well known and proven infrared patio heaters in the US.
JIYU infrared patio heater review
This one delivers a 1500W, and it is suitable for outdoor use. The infrared outdoor heater comes with an Oscillation function, and most importantly it has Tip-Over Protection.
This infrared outdoor heater produces infrared thermal light that shines directly to a surface. Infrared thermal light not only heats things more efficiently, but it also doesn't cause you to overheat and sweat. You should know that infrared thermal light is easily absorbed by the skin.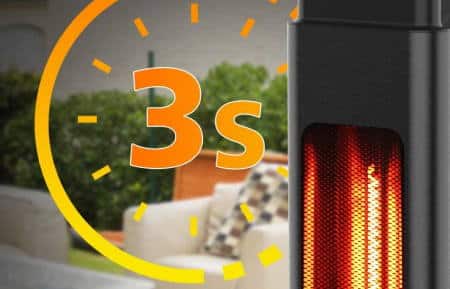 The oscillation function allows more people nearby to feel warm. The infrared heater is super quiet, producing zero noise while keeping you warm. Hidden Simple Handle is useful when the heater is not in use. Just pick up your heater whenever you need to use it and easily move the heater to different areas. Tip-Over Protection shuts off the heater automatically if you accidentally dump it. This option is more than welcome for people with small children or pets. JIYU Infrared heater comes fully assembled in the box. There is no need for a partial installation, and when the package arrives it can be unwrapped and used directly. Check on Amazon.
Smart design is something that is worth mention. The JIYU infrared outdoor heater has a simple hidden handle. When the heater is not in use, it hides in the heating element and does not affect the appearance. Pick it up whenever you need to use it and easily move the heater to different areas. Like we mentioned before, JIYU comes with tip-over protection, which automatically shuts off if you accidentally dump it, perfect for people with small children or pets.
This one is easy to install, and it is ready to use soon as you unwrap it from the package. Completely assembled JIYU infrared heater brings convenience, and warms up your body.
Raoccuy infrared patio heater review
Raoccuy infrared patio heater brings up to 1500W of power, with 3 power modes to choose from.
This infrared heater is suitable for indoor and outdoor use. The electric patio heater comes in pats, but it is easy to assemble and use. It provides instant heat on surrounding objects. The Raoccuy infrared patio heater is declared to heat up to 322 sq. ft.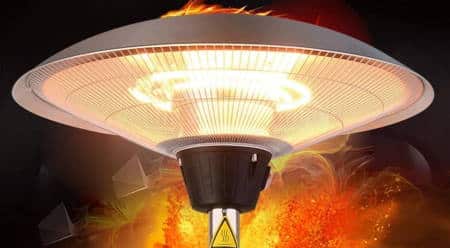 Made of durable and weatherproof aluminum alloy. This robust infrared patio heater produces no odors, chemicals, or fumes. High-quality infrared heating is hardly affected by wind. If you accidentally touch the surface of the outdoor patio heater, the electric patio heater has a stable circular base to avoid tipping. Best for outdoor use. Check on Amazon.
Just a few seconds from powering on, and you are warm. Users can choose from 3 power modes: I(600W), II(900W), or both I & II delivering maximum (1500W).
Robust design is suitable for keeping warm more than one person at a time. Mostly used around a table, so everybody can feel the heat. Designed to be portable, a fashionable LED flame light makes this heater perfect for outdoor decoration. It comes with protection, to cut off the power as a tilt reaches 45°.
Heat Storm infrared heater review
Heat Storm HS-1500-PHX infrared heater is for indoor use only. This one comes with a smart function you'll love it. Heat Storm has WiFi to connect it to your smartphone or even with a Google Home. HS-1500-PHX infrared heater is wall mounted which requires some basic installation knowledge.
Wi-Fi technology brings a smartphone control of the temperature and also enables Google home connection. It is easy to control room temperature just using your smartphone, without any disruption while you are relaxing.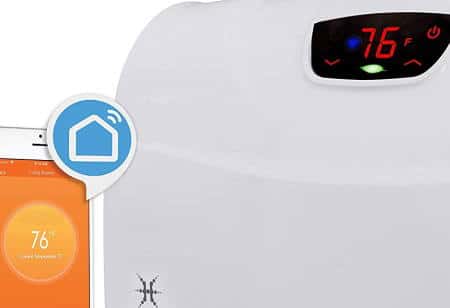 Your room will warm up quickly and you will be able to rest easy knowing that Heat Storm infrared heaters are extremely energy efficient due to our patented HMS dual-wall technology. This Heat Storm model is for indoor use only. It is wall-mounted, delivering 1500 watts with 110V. Check on Amazon.
Heat Storm is delivering 1500 watts of power, which is enough for the average living room in the US.
With a wall mount design, you won't lose any floor space. This infrared heater fits perfectly into the bedroom, kitchen, or even in your office. The smart design comes in handy when you are done installing it. Keep the cord inside the heater, to save your living room nice and clean.
While the heater is on, the unit stays cool without any accessible hot spots. Just a few seconds from powering it on and your room will warm up.
Watch this video and learn how to install an infrared patio heater
This video is good and educative for those who want to install a new infrared patio heater. Watch and lean. If you are not convinced about your skills, maybe it is best to hire someone to do the job.
How To Install Infrared Patio Heater
A patio heater providing high-efficiency heated comfort when you need it, and where it is needed. It is mostly used in our homes, and in our outdoor open spaces. An infrared patio heater saves money while in use, and you can see a great return on investment in the long run.
The most important thing, when installing an infrared patio heater, is to choose the right model and appropriate heater design. Talk to a specialist if you're not sure on which design to choose and buy for your home or outdoor space.
Installing a patio heater is not a big deal, and you can follow the easy installation instruction manual. If you're not convinced that you can do it, call a specialist to do all the installation work.
Safety Guides
An infrared patio heater can be mounted on many types of ceilings or walls. Still, keep in mind: not all materials are suitable for infrared heaters. For example, plastic easily deforms if the temperature reaches a high scale.
A wooden wall is a much more appropriate environment to install a patio heater. If you want to install a patio heater on a wall made of stone, ensure to use the right plugs and screws to mount your heater.
Follow some useful tips on how to install a patio heater. Some basic guidelines could be more than just useful. Keep your home safe and warm no matter what is the outside temperature. You must always make a distance of 15-20 inches between your patio heater and your ceiling. That is a minimum, and to be sure, you can check the recommended distance in the enclosed manual.