The world's first IP68 waterproof smartwatch Microwear H1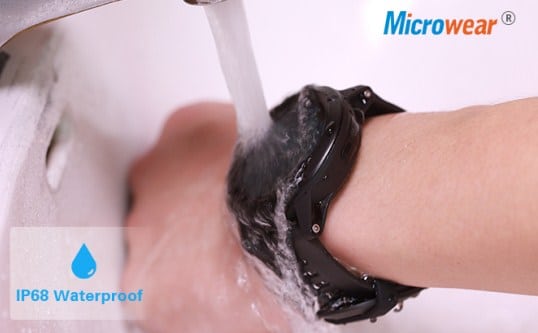 Actually it is really cool to have a smartwatch which has IP68 rating. So in these case we are talking about Microwear H1 which is waterproof. So in other words you don't need to worry about water. You can normally wash your hands, you can go swimming, or even be exposed to rain. And still it will work normally as usual.
But this is not all because Microwear H1 offers also other some useful features, and at the same time it has very good built-in hardware. So for example it has high resolution screen 400×400 pixels, and the screen uses AMOLED display technology.
When we speak about connectivity it has Wi-Fi, 3G WCDMA, and it also has GPS which is definitely a great feature. GPS can be used for many purposes like for climbing, running or even cross-country running.
At this moment we don't know what will be the final price, but we have information that it will be around $80 which is affordable.
Also you for your loved to play games, then you have now a chance to win Microwear H1 in giveaway. So for more information about giveaway please go here.
For more information you can visit their official website.