Cubot KingKong 5 Pro – a rugged bulldozer in your pocket
Naming a smartphone for a famous movie monster is obviously a hint at the power and might of a gorilla that once climbed up at top of the Empire State Building. Not without a reason, because this two share some characteristics, like ruggedness and hardiness. Cubot KingKong 5 Pro is not like any other smartphone you can buy nowadays: it's a fully-armored IP68 waterproof phone with a massive battery. It's capable to withstand outdoor activities, harsh working conditions, with all the capabilities one can expect from a modern communication device. On top of that, it's capable to track not just a GPS signal, but GLONASS and Beidou too, making position tracking possible on multiple navigational platforms for better accuracy.
Unboxing the Cubot KingKong 5 Pro
The content of the box is surprisingly generous, considering the phone's price bracket. Except for the phone itself, there's a 10W charger, USB cable, SIM needle, and headphones, something I didn't expect from a $169,99 device. The box lacks a silicon case, which is a useful addition for any smartphone, considering how fragile they are. But putting a case on a rugged phone is actually a nuisance for the KingKong 5 Pro equipped with a thick armor immune to impacts and falls to solid ground.
It features a 6.1-inch display with a selfie camera on top. There's a SIM card tray and volume rockers on the left side of the phone. Moving on to the right, there's a power button with the fingerprint reader underneath it. There's even a smart shortcut button too, which is useful to quickly launch a camera or any other app you find useful. Buttons feel and work great under fingers, unlocking the phone in a blink of an eye. There isn't much to see at the bottom. Just a speaker, microphone, and a USB-C port.
More from Major Droid: Cubot Note 20 Pro review
The screen of the KingKong 5 Pro
Making a rugged phone means you need to take good care of the screen, and Cubot did just that. It's protected with hardened glass, able to safeguard the panel from hits and scratches. There's even a tempered glass on top of that, for extra protection. It's a 6,1-inch display with a 1560x720p resolution. It would be nice to have a Full HD display here, but let's not forget the pricing of just $169,99. Nevertheless, the display is actually a good performer, bright, and with excellent viewing angles.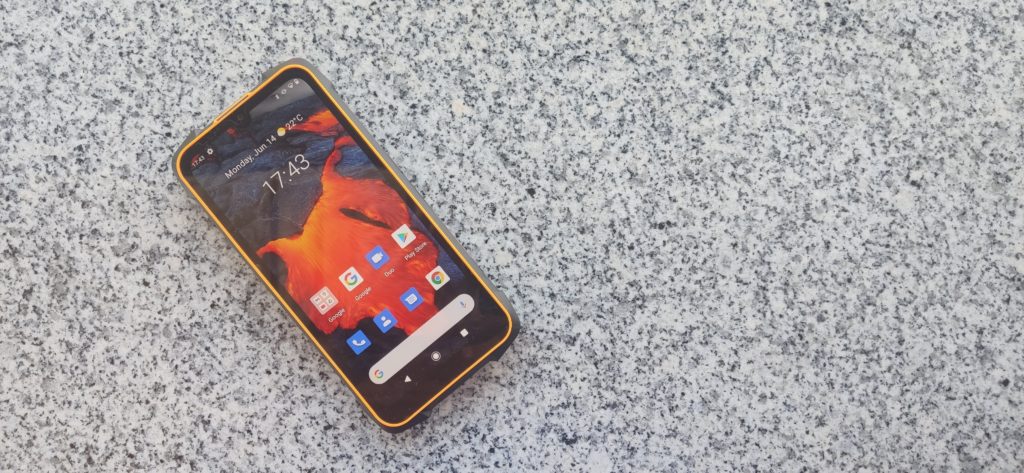 Hardware
Mediatek Helio P22 is a KingKong 5 Pro's powerhouse. It's a solid chipset and an ideal choice for a budget device. It will deliver good performance in everyday tasks, and it is also capable to run simple games without any lags. It's an Octa-core processing unit based on ARM Cortex-A53 CPUs with 2.0GHz maximal frequency. The phone packs 4 GB of RAM, enabling fluent work trough the day. Let's not forget 64 GB of storage, which can be expanded with a TF card up to 256 GB.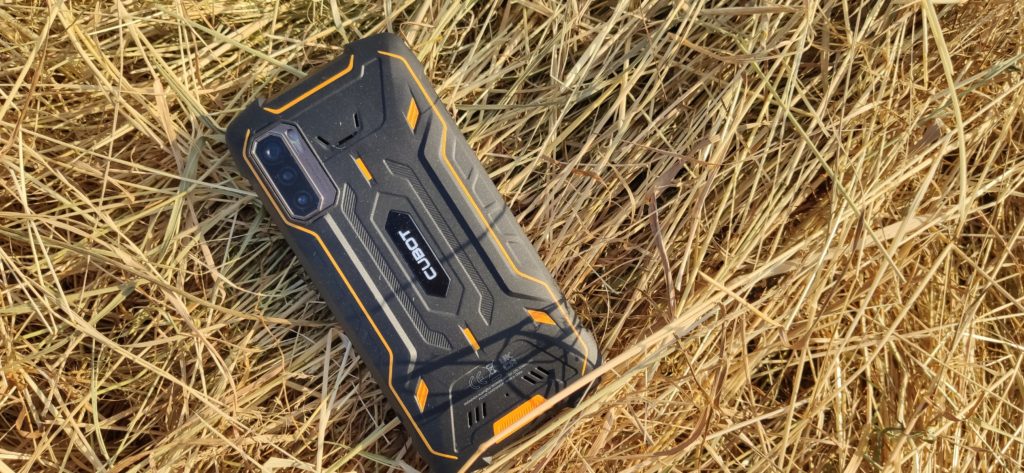 The fingerprint sensor is side-mounted and works flawlessly. Keep in mind it works with a half-a-second delay, for security reasons. You don't want an accidental touch to unlock your phone, do you? I was surprised to see dual-stereo speakers on KingKong 5 Pro, a feature usually found in a higher price segment. The sound is surprisingly good, but keep in mind there are headphones in the box too, just in case.
The KingKong 5 Pro's Camera
The KingKong 5 Pro packs a triple camera setup at its back, with a 48MP Sony sensor as the primary lens. Considering the phone is intended for outdoor activities, you will probably take close-up shots of flora and fauna. There's a dedicated 5MP macro lens for that purpose, and there's a 0.3MP photosensitive sensor, too, which should allow more light in a darkened conditions.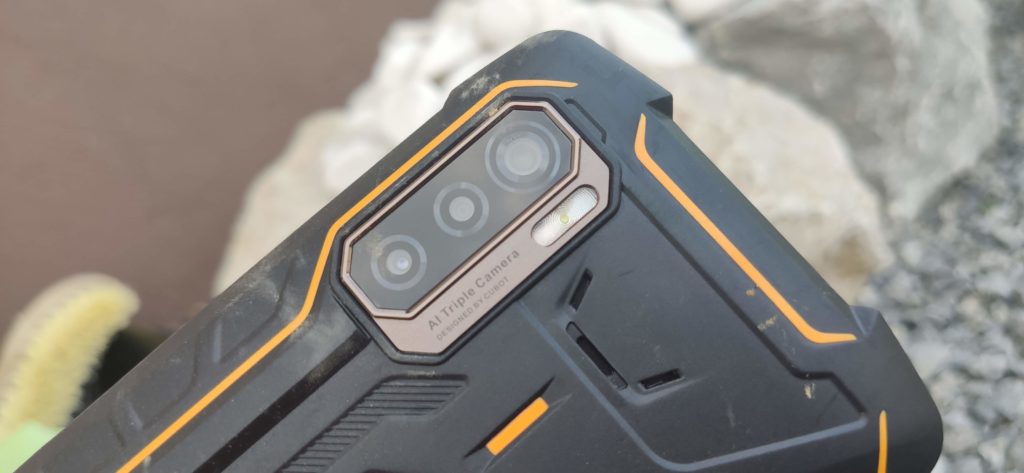 The picture quality is average, but that's not surprising considering the price range, and the purpose of this device. The focus and shutter speed is a bit slow (maybe it's just me, I have a high-end handset as a daily driver), but I'm happy with most of the pictures I took in the great outdoors during the daytime. The 25MP selfie camera on the front is okay too, provided you're just taking photos for social media.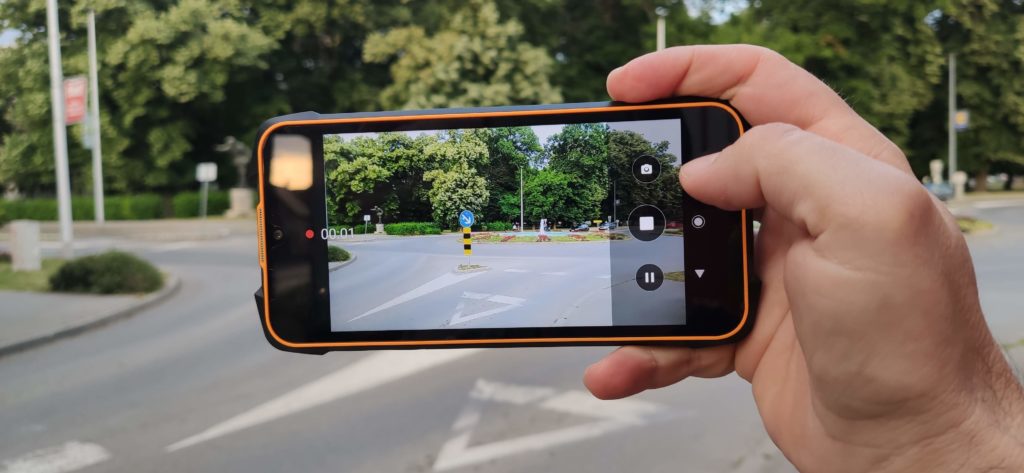 When taking pictures with Cubot KingKong 5 Pro, get to know options in the camera app. Cubot did some good work there, adding filters and Artificial Intelligence. AI is quite useful. It is capable of recognizing the object of shooting, so when taking pictures outdoors it will make the grass greener, the sky more bluish, and so on. There's even a Pro mode, with White Balance, ISO, and Exposure. Pretty much rudimentary, but you will be able to make some good shots if you, for instance, adjust White Balance under the room light. You'll get rid of that yellow hue that's often present on images when shooting indoors.
Software and connectivity of KingKong 5 Pro
With the KingKong 5 Pro comes Android 11 with the latest security patch. It's a stock Android, with preinstalled Google apps like Gmail, Youtube, Chrome, and Maps. Every other app you find vital (Facebook, Whatsapp, and so on) needs to be downloaded. The phone supports plenty of language options to cover most consumers.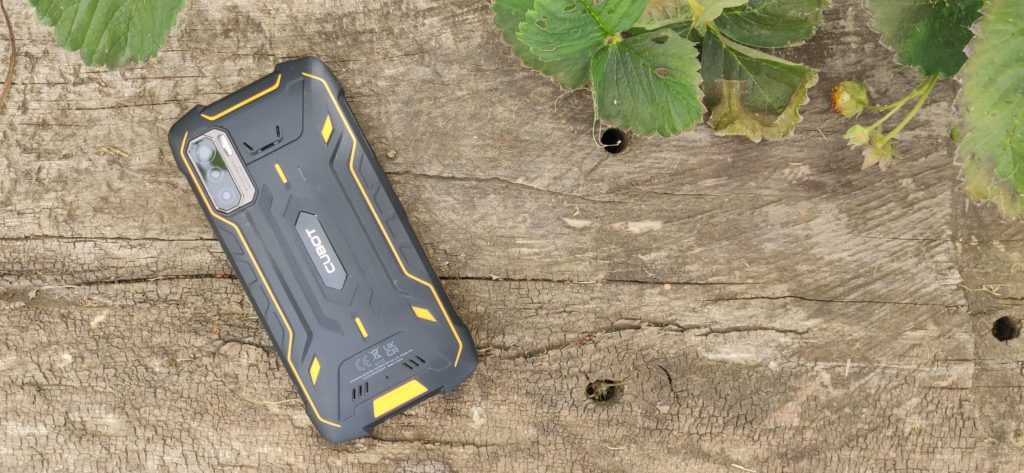 KingKong 5 Pro supports NFC for a wireless money transfer, a feature that's common among mid-rangers and high-end devices, but rare in a budget segment. The phone supports Bluetooth too, in a 5.0 version.
Battery
This phone is an energy monster. With its 8000 mAh battery, you can squeeze up to four days without charging, which is essential in any outdoor activity. I guess we can be thankful to smooth and polished Android 11 and Helio P22 for such great autonomy. The phone comes with a 10W charger, so the charging process lasts about three hours.
BUY KINGKONG 5 PRO HERE!
Conclusion
When it comes to rugged smartphones, the KingKong 5 Pro tick all the right boxes. It is armored like a tank, it has a good screen and a battery that will last for days. There are some drawbacks for sure, like just an average camera, but considering the price, I guess there isn't much to complain about.