Xiaomi Redmi Note 10 5G review – the cheapest 5G smartphone
Last year was anything but successful for the global economy. COVID-19 shut many businesses for good, with many others forced to tighten their belt due to slump sales. But Xiaomi wasn't one of them. The Chinese tech giant amounted 17,5% increase in smartphone sales year-over-year, massively exceeding market expectations. The revenues were even heftier, with a striking increase of 24,6% comparing with 2019.
Xiaomi has established itself in the premium market, but the main reason for Xiaomi's successful sail through the COVID-19 crisis is a massive production of affordable Redmi smartphone series. Redmi represents the best bang for a buck in the smartphone world, with outstanding specs, build quality, and reliability unmatched by its competitors. Remember how 5G smartphones were expensive when rolled out? And still, they are expensive, although 5G has a limited reach almost everywhere in the world. Well, it seems the tide has turned with Xiaomi Redmi Note 10 5G, the first super-affordable 5G smartphone. Just as I said earlier, the Redmi series is cheap, well built, and reliable. And let me tell you straight, Redmi Note 10 5G is the same.
Unboxing the Xiaomi Redmi Note 10 5G
Considering its aggressive pricing positioning, one can't expect much in the box. Besides the phone itself, there's a transparent silicone case, USB-C cable, SIM needle, and a 22.5W charger. The silicone case is something that I strongly recommend using with your smartphone. That thing has saved my phone from breaking more than once. Sure there are better-looking protective cases you can buy, but until that, use the one that comes in the box.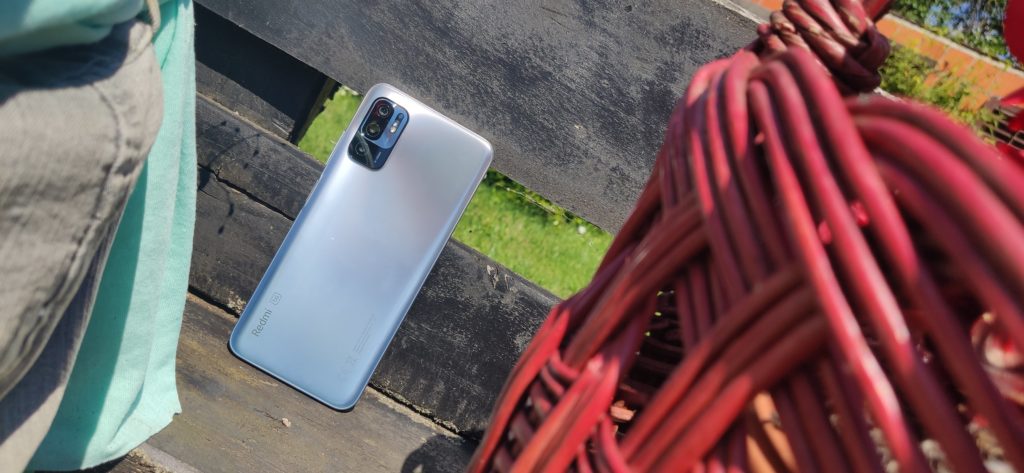 I guess you won't find a phone with less than a 6″ screen today, and Redmi Note 10 5G is no exception. It features a 6.5-inch display with a punch hole for a selfie camera. There's a SIM card tray on the left, and on the right, there are volume rockers and the power button with the fingerprint reader underneath it. It feels and works great under the thumb, unlocking the phone in a blink of an eye. There isn't much to see at the bottom. Just a speaker, microphone, and a USB-C port.
More from Major Droid: check Xiaomi's camera hidden feature!
Moving at the top, there's a 3.5mm headphone jack (I don't get it, why do people still use this archaic piece of tech), IR blaster, secondary microphone, and NFC. A discrete 5G marking is engraved at the back of the device, with the photo module in the upper left. Redmi Note 10 5G boasts a triple camera setup, but I guess one can't expect a stellar camera performance from a budget device.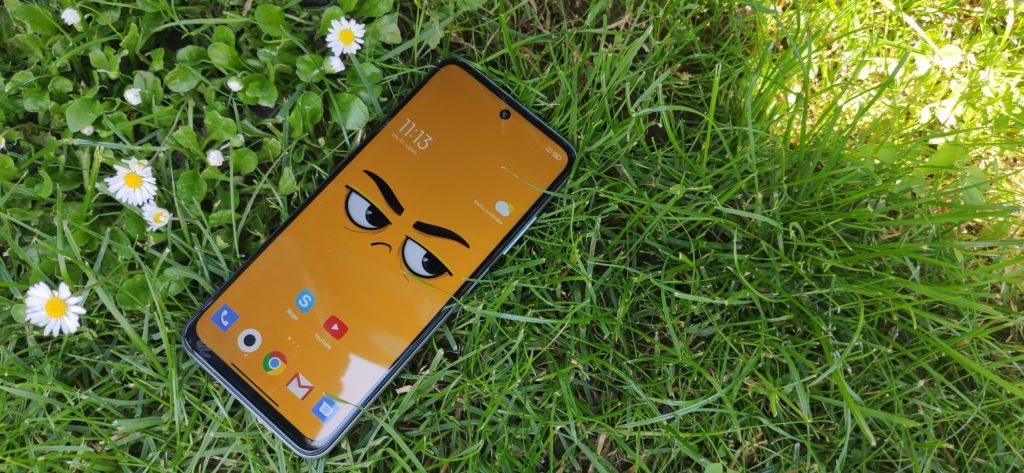 The phone looks and feels great in hands, although it's made entirely out of plastic. I have a premium smartphone as my daily driver and I have noticed something rather interesting when using a budget device: cheaper build material gives users certain freedom when handling the device. Plastic back is actually more robust and more resistant to damage than phones made entirely out of glass. Although the glass back is true eye candy, the last time I saw the back of my device was last week when I've taken it out of its protective case, to clean it. Moments after that, I put the phone back in to avoid scratches.
The screen of the Redmi Note 10 5G
The definition of a budget device means many corners have to be cut, but Xiaomi hasn't made any with the Redmi Note 10 5G screen. The phone comes with a 6,5-inch IPS LCD display with a 90Hz refresh rate. You can change the refresh rate in settings manually, or you can leave it to the phone to do switch automatically between 60 and 90Hz, depending on the situation. According to Xiaomi, 30Hz support will be added later with an OTA upgrade. The resolution is 2400×1080 pixels (400ppi density), and the maximum brightness is at impressive 500 nits. Take note, the phone achieves 500 nits when automatic brightness is on. Manually it can reach less than 400 nits at a maximal value.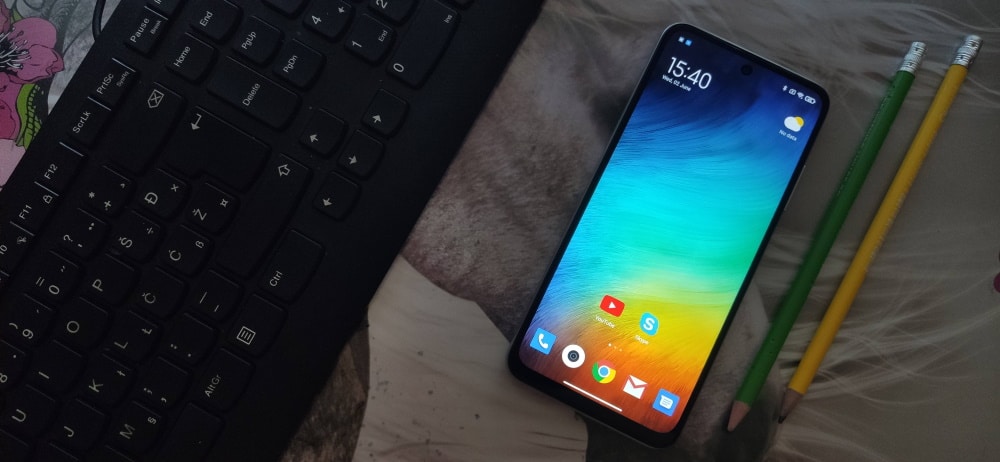 If we for a moment put a 5G technology aside, the screen is the best part of this device. There are better screens for sure, but not in this budget segment. Not even close. One can argue about the fact this is an LCD and not an AMOLED panel, but once again, the Redmi Note 10 5G is a cheap smartphone. Complaining about the type of screen on this device is something like grumbling about why a $ 5000 car doesn't perform like a Ferrari. There's even a Gorilla Glass 3 for protection over the display. Redmi Note 10 5G also has a thin screen protector on top of that, but I guess nobody wants that on a phone. It just looks … Well, ugly.
Hardware and connectivity
Xiaomi Redmi Note 10 5G is the most affordable 5G handset you can buy. But it's not just inexpensive, it's a true value for money. Considering Qualcomm's chips are expensive to equip, Xiaomi decided for Dimensity 700 chipset by Mediatek. It packs an octa-core processor (2×2.2 GHz Cortex-A76, 6×2.0 GHz Cortex-A55) paired with Mali-G57 MC2 GPU. The testing unit has 4 GB of RAM (LPDDR4X) and 64 GB of storage (UFS 2.2), with 4+128 GB and 6+128 GB as an option.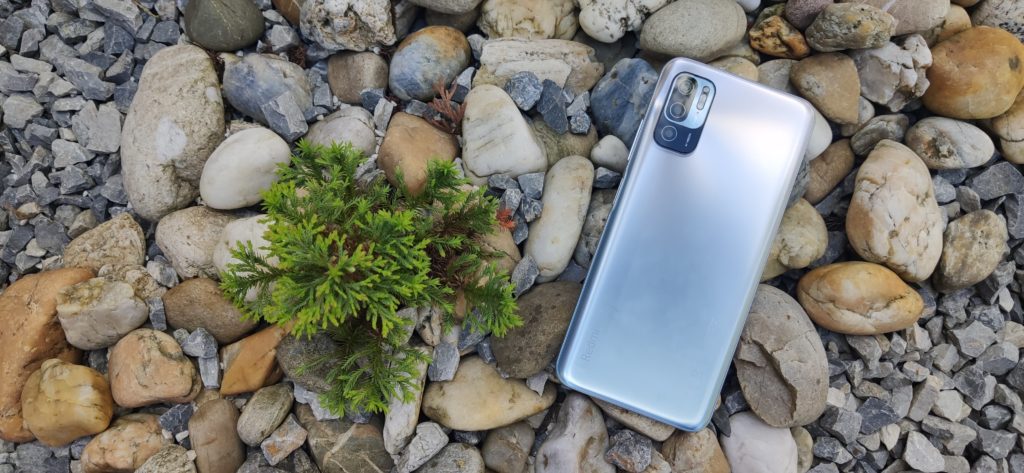 The Redmi Note 10 5G achieved interesting benchmark results. In Geekbench 5 the phone scores almost identical results as the Snapdragon 732G-powered Xiaomi Poco X3 NFC. The phone wasn't able to run 3DMark for some reason but it achieved 8937 points in the PCMark's Work 3.0 performance test. But the PCMark couldn't compare the Redmi Note 10 5G with other smartphones because this is a brand-new device and there isn't enough data available yet. Benchmark tests need at least 100 runs on a specific phone model to consider data valid.
More from Major Droid: Reolink Argus PT security camera review
In common daily usage, the phone performs great. The Dimensity 700 is not every gamer's dream, but it will perform well with most of the games, just be ready for some compromises in graphics quality.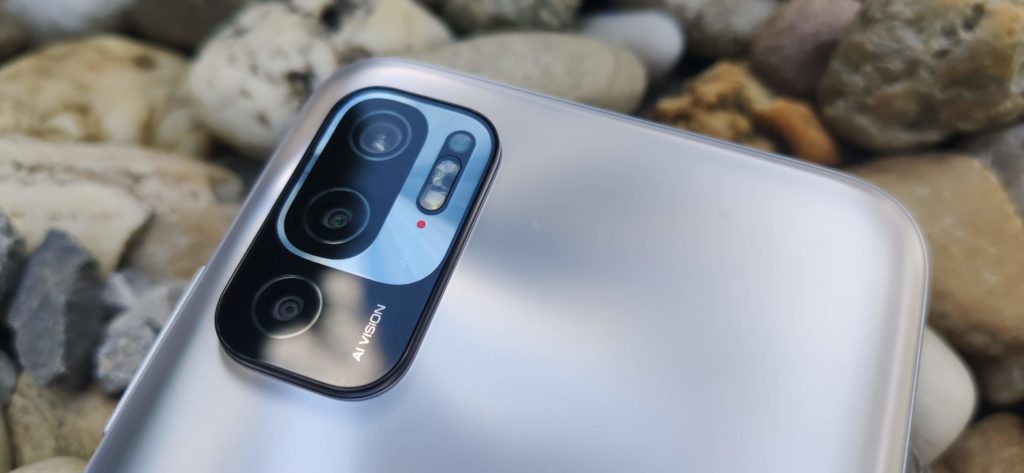 The fingerprint reader is fast and superbly accurate. You can use the selfie camera for 2D face unlock, too. The phone has just one speaker at the bottom with good quality and without any sound distortion. It hosts FM radio, NFC, IR blaster, and let's not forget about Bluetooth 5.1. I was unable to test the 5G connectivity simply because I live in an area with a 4G signal available. That's the main issue for this phone: why would you buy this phone, when there's no 5G network in your neighborhood?
Triple camera setup
Although a three-camera setup sounds nice, the camera department is far from being perfect. Xiaomi made big compromises at the back of the phone. The main 48MP sensor (wide-angle lens f/1.79) gives really good results, with sharp and natural-looking shots. There are no zoom shortcuts, you need to zoom in and out using your fingers.
It lacks a telephoto and ultra-wide angle sensor so I guess photo enthusiasts won't be happy with this device. On the other hand, photo enthusiasts would probably buy a flagship smartphone or a professional camera. A 2MP monochrome camera acts as a depth sensor here, and it does that job well. The 2MP macro camera requires some practice to make a decent shot, so I rather used the primary sensor instead. The main camera supports video capturing at up to [email protected] fps. There is no 4K mode. An 8MP sensor is at the front for selfies, with surprisingly good results.
Redmi Note 10 5G software and battery
Just like every other Xiaomi smartphone, the Redmi Note 10 5G has an MIUI launcher over Android 11. The latest MIUI 12 has an app drawer, something that was lacking in older MIUI versions. You can edit drawer categories at your liking, or disable the app drawer entirely just as I did. One of the MIUI 12 features I like at most is floating windows. It means you can put an app in a floating state, and in my case, it's a calculator over the Notes because I have to do some math when shopping.
Like every other MIUI skin before, the MIUI 12 is highly customizable through the Themes app, so if you're new to Xiaomi, make sure to check Themes and make your phone unique. And let's not forget that Xiaomi updates MIUI for years, which means you will always have a smartphone with the latest security patch and new features.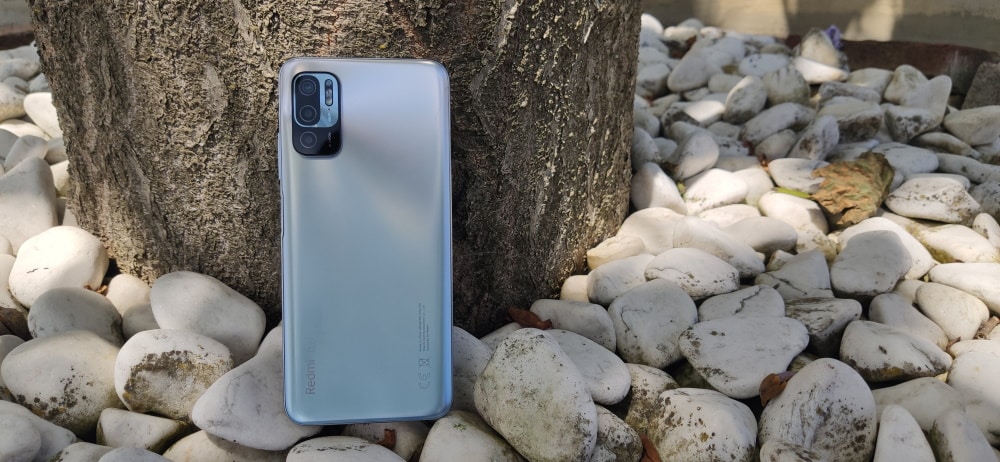 The Redmi Note 10 5G packs a large 5,000 mAh battery with fast charging support at 18W. Interestingly, the charger shipped with the phone is a 22.5W one. It takes two hours to fully charge the battery which is a reasonable result considering the battery capacity. Xiaomi has promised a full day of usage but the truth is, you will achieve as double as that.
Conclusion
With the Redmi Note 10 5G Xiaomi once again brings the essentials upfront for a minimal cost. This phone will give you a good screen, decent performance, great autonomy, and a pleasant day-to-day user experience. It's a quality-build device with long-time software support and a good primary camera. Photo enthusiasts won't be happy with cuts made in the camera department, but they wouldn't buy a cheap device like Redmi Note 10 5G in the first place. If you are in a 5G-covered area or the 5G network will be soon available to you, have in mind that the Redmi Note 10 5G is the most affordable 5G smartphone on the market. And even without a 5G support, it represents good value for money.