Elephone P2000 Review – Fingerprint security phone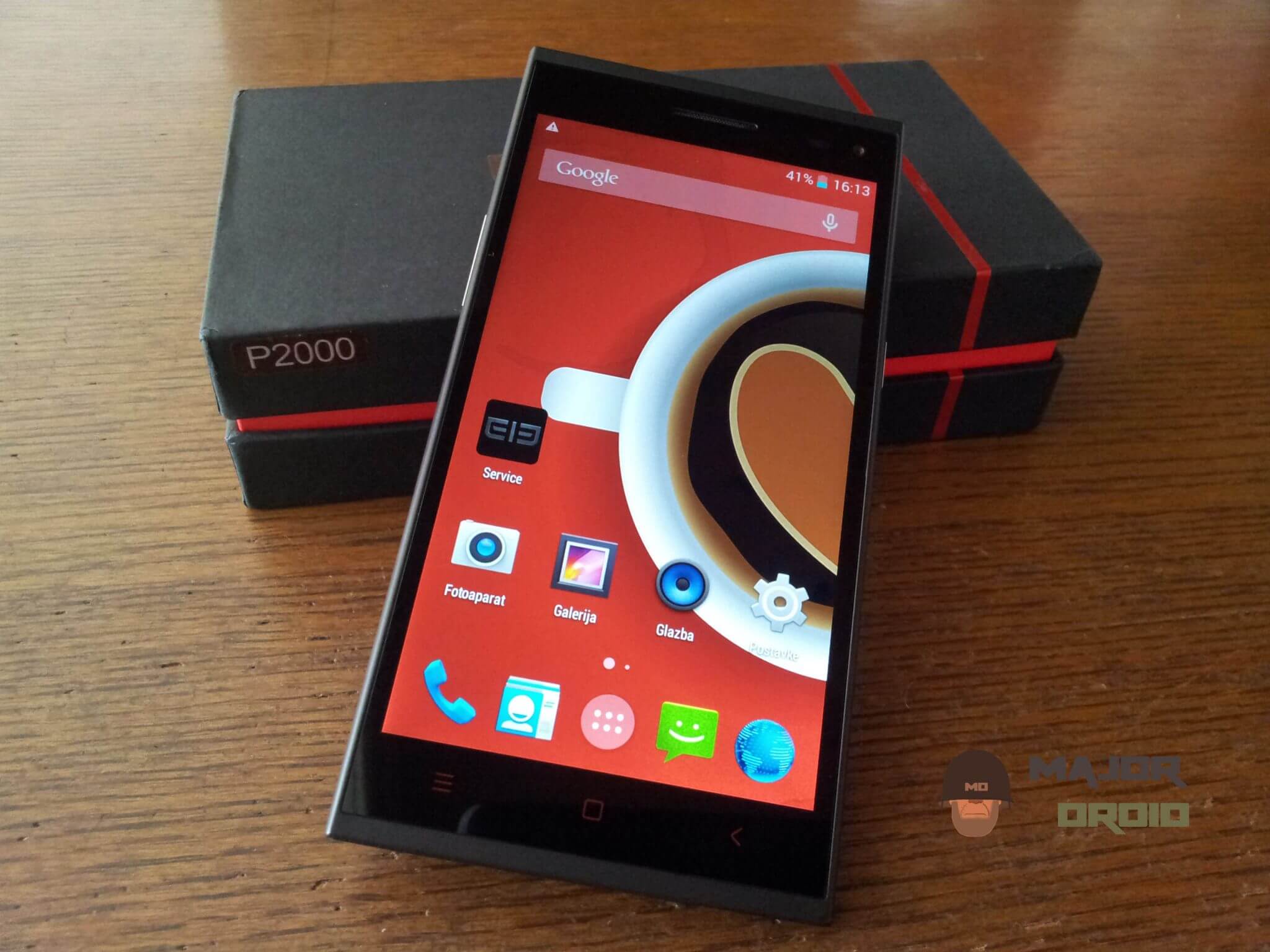 Elephone is one of many new Chinese companies which are wishing to break into the market of phones. It does not surprise me because now is opportunity for earning big ones. Also phones are hot gadgets than ever. As you can see there are many new companies with same strategic plans but Elephone is one of many with higher success. Because they are very active and they recently released a new model called Elephone P2000.
Their latest model P2000 could be best buy because at affordable price offers several interesting features like octacore CPU, HD display, fingerprint indentification scanner, NFC and cool design. If you want to see more about this device then stay here and read more about it because we have thoroughly tested.
Packaging
So as you can see on the photos Elephone P2000 is packed in black box with red line, really cool combination with company's logo. I was hoping to get more accessories than from other companies but it is the same staff as on other. So on the top of the box is device, below are accessories like USB cable and charger which are in white colour. You also get screen protector and short user manual. But I have admite that for the first time I see that someone puts screen protector in lovely envelope.
Design and build quality
Elephone P2000 is available in several different colours which are white, black and yellow. I decided to have black one which in my personal opinion is most beautiful. In my experience this is the second Chinese phone which has elegant design, notacommondesign. They really have done a great job for design. If you decide to buy black model you can expect the phone in completely black colour including edges. Also the top side and the bottom side have carbon effect, really really cool. I have admit that build quality is also good alt.the case is completely made of some kind smooth plastic. I think you will notice that P2000 has similar design to Xiaomi Mi3 of course with some changes.
On the front side we have huge 5.5 HD display, below the screen there are three buttons which does not have light. Above is located notification LED light, gesture control sensors and front camera. On the left side of the device is located volume button in silver color and on the right side is power on off button in same colour. On top of device there are located ports for Micro USB and headphones, so company decided to not have any ports or buttons on the bottom of device.
Screen Quality
As I said before Elephone P2000 has 5.5 inch display with One Glass Solution technology or short OGS. Thanks to OGS device can be thinner. It is also IPS panel with 720p resolution. Screen has strong brightness, good viewing angle and the colors arequitenatural. I only noticed that sometimes digitizer does not work as I wanted. So for example when I touch the screen and I want to go down to the bottom of the menu, it does not go down then it reactsas Iclicked on icon desiringto open it. But overall it is not the major problem because this happens only occasional. For example if you use the phone ten times , you go right left up down, you click on icon's or something else then it may one or two times reacts wrong. And last thing about display, it does not have any screen protection so you can if you want to use the screen protector which comes in package with other accessories.
Hardware and performance
Really I don't see huge difference from Chinese flagships. Recentlyare allmoreor less the same with different design and screen size. As you can see all highend devices like this one has similar hardware. So, P2000 has powerful octa core CPU with codename MediaTek MT6592. Complete fluidity provides 2 GB of RAM and graphics take care Mali 450 GPU. I have said this many times now and I'm think I'm boring to myself but I have ever to say again that this hardware combination is pretty good and you will be able to do anything you want from surfing on the Internet to the demanding gaming. With the games I did not have any problems so it will be good for this staff also.
I made several benchmark tests to see how good it is and the results are very similar to other devices with the same hardware.
Elephone P2000 – Benchmarks results
Antutu: 26668
Quadrant: 2337/714
Camera
P2000 has main camera with 13 megapixel sensor while the front facing camera has eight megapixel sensor. Most the time I only use the main camera so I will talk only about the main camera. It has many features for select in settings. Also I have to admit that the led flashlight is strong enough so photos taken in dark are quite good actually. When you take the photos in daylight or in places with enough light photo quality is also good, but sometimes the photos are not totally sharp. Because of that one part of photo is a little blurry. Overall looking I would give rating 4 of possible 5.
Battery
Elephone P2000 has a removable battery which has capacity 2650mAh. With average use it will give you one day for using. Device with this kind of battery it should last more in reality but it does not, so it is possible that capacity of this battery is a lower than 2650mAh.
Connectivity & fingerprint indentification
It has all standard features like Bluetooth 4.0, Wi-Fi, GPS. But it has also several new interesting features like NFC and fingerprint indentification. NFC I did not tested because I do not have ability to do that. Anyway I have tested fingerprint indentification which works as it should. In my opinion it is really cool function. Because you can protect your phone from others. In settings for fingerprint indentification you can choose to unlock the screen with finger but there are also other options for this function. Elephone also supports OTG function so you can use USB flash drive or for example gamepad for gaming, and last thing which I have tested is GPS. In this moment I have tested the GPS with GPS application and under the minute it has locked several satellites with 2 m precision. Later I will do more tests regarding GPS.
Conclusion
Elephone wanted to produce a phone with elegant design, strong hardware at an affordable price. Overall looking they have more or less succeeded with few drawbacks but nothing major. I personally really like design, it is really nice phone. It has powerful hardware as all other similar Chinese flagships devices. It has also several cool features for example NFC and fingerprint indentification. In my personal opinion they could put stronger battery otherwise it can run your phone for one day. Also sometimes the digitizer does not work as it should but this happens only occasional. Price for Elephone P2000 is approximately $190. For more information you can visit official website.