Gaming mouse E-Blue Mazer Type-R Review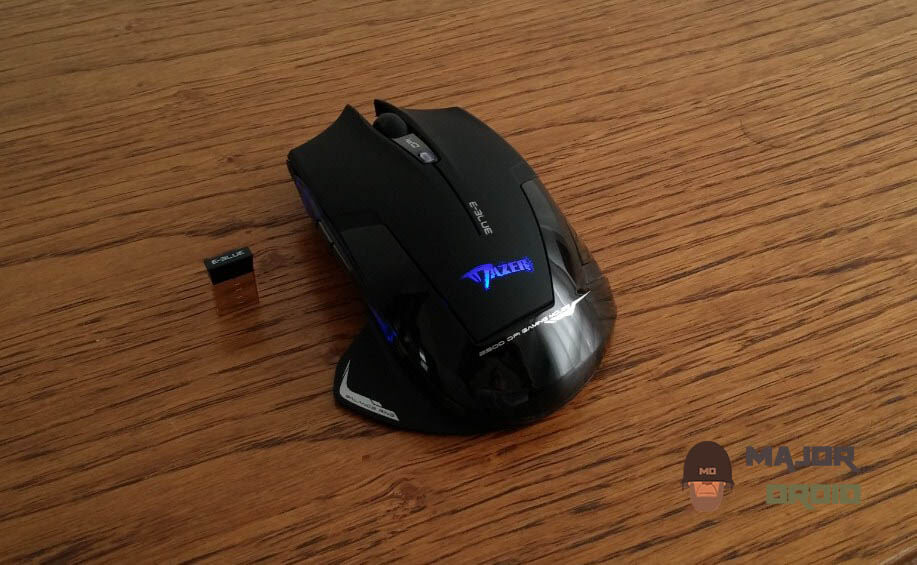 E-blue International Corporation is founded in 1999 in Hong Kong and Osaka, Japan. Since then they mostly produce products like keyboards, mouses and gaming equipment. So now I have for the first time one of their products and in this case I have really cool gaming mouse called E-Blue Mazer Type-R for which I am convinced that you will like it. Since 2015, Hangar 18 is exclusive distributor for E-blue for Croatia, Slovenia, Bosnia and Herzegovina, Montenegro, Serbia, Bulgaria and Albania.
Okay for the beginning I will tell you what are technical specifications of this mouse.
E-Blue Mazer Type-R Technical Specs
designed for right-hand
four levels of DPI: 500/1200/1800/2500
connection: wireless
power source: 2xAA
working rang up to 10 meters
number of keys: 6
button life: up to 5,000,000
Design
The E-Blue Mazer Type-R has really cool design in my personal opinion but I think that everyone else will also like it. The mouse is made from combination of rubber and plastic. It is specially designed for right-hand gamers. It has 6 buttons which each separately has its uses. It is very easy to use thanks to an ergonomic design. It fits very well into average size hand but it is also designed for larger hand. It is also very comfortable to use in every occasion including of course the gaming. On the top of gaming mouse there are button for changing DPI and there is also Mazer logo which can be illuminated in blue or you can turn off the illumination if you want. On bottom there is switch for the turning on or off, where you can also with this switch turn on or off the mouse illumination. And there is cover for the battery. Finally it has big rubber scroll which further facilitates using like surfing, web browsing or even flipping the pages and you have really nice feeling osculating it. Overall I am very satisfied with build quality and especially with design of Mazer Type-R.
Peformance and Feautures
The E-Blue Mazer Type-R for connection uses wireless and all what you need is it the small USB receiver which of course you get in the package. Maximum range is up to 10 meters which is definitely enough and during use the wi-fi connection was stable without delays. Talking about power source it needs only two AA battery which you also get in the package. It has also power saving chip which additionally saves the power things to auto hibernate mode. So for example if you don't use the mouse for 10 seconds the light will turn off or if you don't use the mouse for 5 minutes then the gaming mouse will go in deep sleep. In my opinion this is very useful because in that they will don not waste unnecessary the batteries. The optical sensor is made by AVAGO technologies which provides maximum acceleration up to 20G and ultimate precision. For optical speed you have ability to choose which one do you need from 500 DPI up to 2500. The optical sensor is very precise and during use I did not encountered any problems. Also it provides ultra fast response at speed 250Hz. I tried many things including gaming and during playing games the Mazer Type-R worked like a real gamer. It is definitely born for gaming. From other information I can say that for everyday use like surfing on the Internet it is also recommended.
Conclusion
If you are buying a gaming mouse then you should definitely consider the E-Blue Mazer Type-R because it is a great choice in this price range which is actually approximately $40. It has high build quality, really nice design, of course there is good working range up to 10 m. You have also ability to choose what optical speed do you need from 500 DPI to 2500. Overall I have really enjoyed using these gaming mouse. So if you are interested please visit their official website for more information.