Gigabyte GSmart Mika M3 Review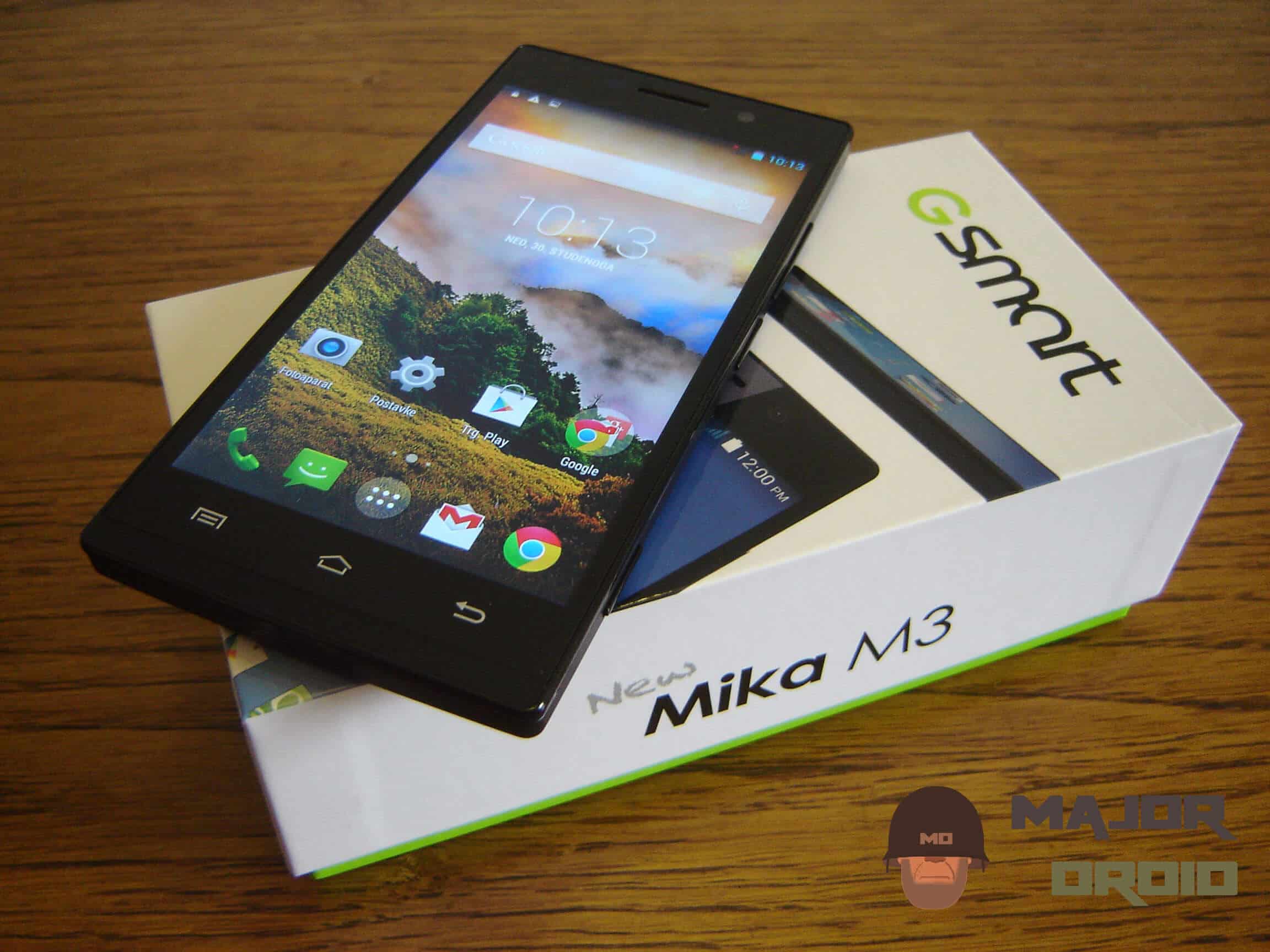 I have a pleasure to introduce to you a new smartphone called Gigabyte GSmart Mika M3 through my review. So as you already know Gigabyte is best known for computer components like motherboards, graphics card and other stuff. This is my 1st review for Gigabyte phone so me and you will see how good is the GSmart Mika M3. Talking about packaging except the device you also get the USB cable, charger, headphones, screen protector and user manual.
Design
Gigabyte GSmart Mika M3 has elegant design, it reminds me of Iocean X8 or Sony Xperia Z series. I really like this kind of design because it has a very nice flat surface. The device is made of plastic with aluminium plate at the bottom puts the finishing touch to a premium design. The front side is completely black with partly gray while the back cover is navy blue. About construction it has one new feature: it has the key or button for the camera. So you don't need to touch the screen to focus and take the photos. You can easily just press the button or the key to take photos. It is really clever from Gigabyte. About build quality I can say that I am very impressed because the build quality is very high. So overall they did a great job.
Display
Mika M3 has 5 inch IPS display with HD resolution or to be precise it has resolution of 720 x 1280 pixels. This combination gives approximately 294 ppi pixel density. It also supports multitouch up to 5 fingers. I am pleasantly surprised with the screen because in one word is great. The screen is enough sharp, display is crystal clear and viewing angles are also good thanks to IPS and OGS technology. Also colors are beautiful and natural so you enjoy watching movies or perhaps YouTube videos on Mika M3.
Performance
Gigabyte GSmart Mika M3 is the phone which has medium strong hardware. It will be enough for every purpose, so you will be also able to play any game you like. Gigabyte GSmart Mika M3 has quad core CPU under the hood where cores are gargling at speed 1.3 GHz. It also has 1GB of RAM and 8 GB of ROM where approximately 5 GB of storage are available for the user. The storage you can also expand with memory card up to 32 GB. For graphics there is Mali-400MP2 GPU. I tried many apps including games and all worked perfectly normal. Loading was fast and all apps worked during use completely normal. So I can say that this device or beast is born for gaming. Additionally I have made several benchmark tests with Mika M3 and below you can see screenshots with results.
Software
Considering that the Android 4.4.2 Kitkat has become standard, Gigabyte GSmart Mika M3 normally comes with Android 4.4.2 OS. In my opinion the OS is partially customised because more or less is the same. This system is fast and fluid, so you can work really fast because there are no slowdowns. Anyway all applications work, there are no issues. The OS also comes with several pre-installed applications like Battery Doctor and CM security.
Connectivity and GPS
GSmart Mika M3 supports all frequencies for 3G connection. It supports most important WCDMA 900/2100MHz. This is very important because most countries in Europe still use 900 MHz frequency for 3G. And we know that many Chinese smart phones still does not support this frequency. So this is very positive and smart move from Gigabyte. I need to say also that this device is dual sim where one is mini sim and other is micro sim. So you have ability to choose which one will be for 3G and other for 2G network . It supports HSPA+ up to 21Mbps. Talking about GPS we also know that many devices from China have problems because of bad installation or something else. But in this situation GPS works with out any problems with precision of 4 m.
Camera
According to the Gigabyte, GSmart Mika M3 has 13 megapixel camera with led flash. It has standard features like autofocus, geo-tagging, touch focus and face detection. But there is one novelty also because it has a button or a key for taking photos so you don't need to touch the screen. This possibility is great because it allows you to take photos in easy way like pro. I did not know what to expect because most smartphones in this price range has low quality cameras. But I was pleasantly surprised because photo quality is really good. Photos are always sharp, this is what I expect from the main camera. Also colors are almost natural so I am very satisfied with quality of the main camera. It has also 8 megapixel front camera which allows to make great selfies with photo quality which is the same quality as with the main camera. Below you can see photo examples taken by Mika M3 and please keep in mind that it was foggy weather.

Battery
It comes with Li on battery with capacity of 1900mAh. According to the Gigabyte it gives the autonomy of 150hrs in standby mode and 4.5hrs of talking time. To see is this real or not I have tested the phone and they are not too far from this. So overall for this kind of device this is okay.
Pricing and conclusion
As conclusion I can say that the Gigabyte GSmart Mika M3 is a great smartphone in this price range. It has high build quality with elegant design. Of course it has excellent screen with medium strong hardware. For photographers main camera is good, also there is a key or button for taking photos so you can easily take photos without touching the screen. Price for Mika M3 depends on the store and the place where the average price is $190. So overall I am very pleasantly surprised with Mika M3. And if you decide to buy it you will not regret it. For more information you can visit the official website.