HONOR 30 Series brings Comprehensive Upgrades in Imaging, Design, and Performance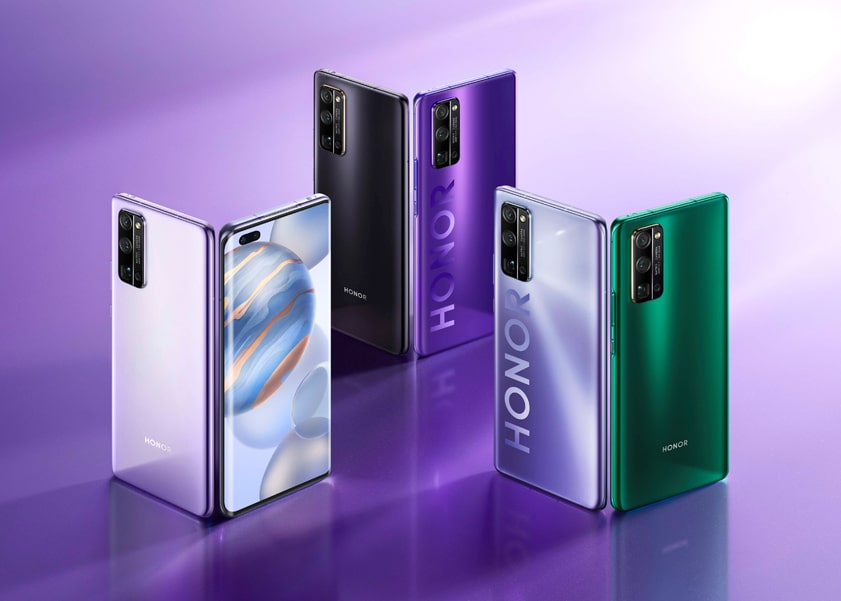 The new flagship lineup includes the HONOR 30 PRO+, featuring an industry-leading 50-megapixel triple-lens camera system and the Kirin 990 5G chipset.
HONOR announced the new HONOR 30 series, which includes the HONOR 30, HONOR 30 PRO, and HONOR 30 PRO+. Available soon for the Chinese mainland market, the HONOR 30 series starts at RMB 2,999, RMB 3,999, and RMB 4,999, for the three models, respectively.
HONOR 30 series brings industry-leading imaging capabilities
Through a combination of large sensor size, high resolution, light-sensitivity and zoom capabilities, the HONOR 30 series lets avid mobile photographers unleash their creativity, anytime, anywhere.
The HONOR 30 PRO+ features a 50-megapixel ultra-sensitive tri-lens system, including a 50-megapixel ultra-stable long-focus lens, a 50x periscope lens, and a 16-megapixel ultra-wide-angle lens. It is equipped with the 50-megapixel IMX700, a 1/1.28-inch sensor with a pixel size of 1.22μm. The sensor is 48.8 percent larger than that of the previous-generation IMX600. In addition, the IMX700 is equipped with the exclusive RYYB filter to further improve the sensor's photosensitive capability.
The HONOR 30 PRO+ also delivers industry-leading video capabilities, delivering 4K 60fps ultra-HD video capture, 1920fps super slow-motion capture at 720p resolution, and 60fps/960fps slow-motion capture at 1080p. With the use of OIS technology, the HONOR 30 PRO+'s camera also ensures clear videos in low-light conditions, and will satisfy even the most demanding mobile videographers.
The HONOR 30 PRO comes with a 40-megapixel ultra-sensitive main camera, a 50x periscope ultra-stable long-focus lens, and a 16-megapixel ultra-wide-angle lens.
The HONOR 30 adopts a 40-megapixel ultra-sensitive quad-lens camera system, including a 40-megapixel main lens, a 50x periscope handheld ultra-stable long-focus lens, an 8-megapixel ultra-wide-angle lens, and a 2-megapixel macro lens.
A new generation of periscope lenses are a highlight of the HONOR 30 series' comprehensive evolution. The lens allows 5x optical zoom, 10x hybrid zoom, and up to 50x digital zoom, making even the most distant subjects seem closer. In addition, the HONOR 30's periscope zoom lens is equipped with a dual-structure OIS on the prism and lens components, ensuring stable and clear shots. In addition to the dual-structure OIS, the HONOR 30 series uses industry-leading technologies such as the AI long-focus super image stabilization algorithm, long-focus image quality enhancement algorithm, and picture-in-picture (PiP) to improve the stability by up to 300 percent, so you can get that shot from a long distance.
Waterfall screen for a stunning view
The HONOR 30 PRO and HONOR 30 PRO+ feature an OLED waterfall screen, which makes the front seem boundless, bringing a stunning visual impact. The HONOR 30 PRO+ also supports 90Hz refresh rate and 180Hz high-frame-rate sampling, bringing an amazingly smooth operating experience, and especially enhances the gaming experience.
Flagship 7nm 5G chipsets – Kirin 990 and the all-new Kirin 985
Powerful performance has always been a key foundation of the HONOR flagship series. Among the three models, the HONOR 30 PRO and HONOR 30 PRO+ are equipped with the industry's first 7nm 5G chipset Kirin 990 5G.
The HONOR 30 is powered by the latest 5G SoC, Kirin 985, also based on the 7nm manufacturing process, giving robust performance, and AI computing power advantages. The HONOR 30 ranks among the top three in the ETH AI benchmark test, enabling more intelligent AI-based shooting scenarios and dramatically improves the shooting experience, with solutions including better image details, noise reduction, enhanced dynamic range, and performing real-time AI correction on image edges.
VC heat dissipation and dual speakers
The HONOR 30 PRO and HONOR 30 PRO+ are equipped with the VC liquid cooling system and dual stereo speakers to bring an immersive audio, video, and gaming experience to users. The VC liquid cooling system improves heat dissipation, allowing the smartphone to run in high-performance mode for extended periods. The dual stereo speakers provides more realism whether you are watching an action movie or immersed in a first-person shooter game. These combined with the 6.57-inch OLED waterfall screen and the HONOR 30 PRO+'s 90Hz refresh rate will bring an unparalleled audio-visual experience.
With a million things in life to worry about, battery life shouldn't be one of them. The HONOR 30 series comes with a 4000mAh battery and 40W fast charging, while HONOR 30 PRO+ adds to that with support for 27W wireless fast charging.