Is the COVID-19 Pandemic Killing the Gambling Industry?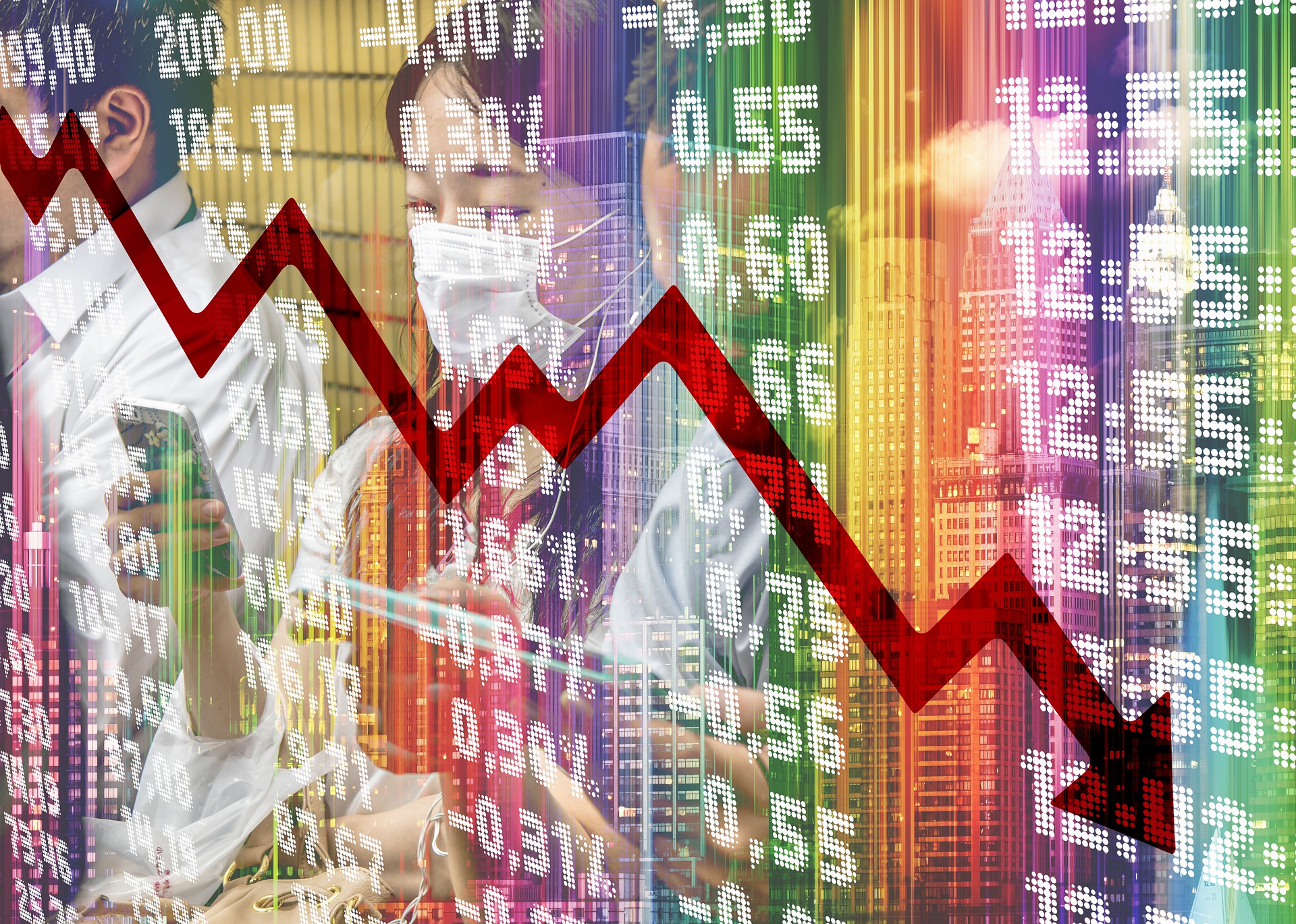 So far, we can confirm that about 99% of industries have been adversely affected by the coronavirus. Has gambling and casino industry been spared? Not exactly. This industry largely depends on games, sports, and other competitions. With nearly all sports and games canceled, there is nothing else to bet on.
Small casino businesses have been hit the most in the gambling industry. With so many employees earning their livelihoods from these casinos, hope is now diminishing. Most countries have closed down all public entertainment places, including casinos. This means all employees working in these places have lost their jobs indefinitely.
However, how will these casinos pay their workers on payroll? Many businesses are now taking loans to finance their businesses. Similarly, small casino businesses are now allowed to access loans to cover payroll needs. All in all, gambling and casinos are not dead.
The Current State of the Gambling Industry
Even with most of the casinos and other gaming rooms closed, gambling still goes on. Thanks to online gambling. Also, the gaming industry does not only depend on sports and other gaming events. There are numerous online gambling games like The Blackjack, Roulette, Poker, and many more.
Online gambling has proved to be the most convenient and effective. Most people are in isolation, especially in countries that are on total lockdown. This has created a perfect opportunity for people to play online casino games and win big. Even those new in gambling have embraced it. Statistics have shown that the rate of online gambling during the coronavirus pandemic has risen significantly.
Mobile casinos have become prevalent ever since physical casinos started closing down. With them, people can now stake their bets and win right from the comfort of their homes. Mobile casinos also have payment plans that enable the gamer to stake money from their bank account or their mobile money account. This has made it easier for more people to start gambling with a view to break the isolation boredom and earn money.
Prices in the Stock Exchange Market Have Dropped
So far, the efforts of countries trying to stop the spread of the virus have proved to be futile. The future of the world economy is clearly doomed. Probably, the only industry shining currently is the medical supplies and companies selling Personal Protective Equipment. The rest have experienced a sudden drop in the number of customers and even complete withdrawal of investors.
Gambling also has investors. With the unforeseen future, they are now selling their stocks and pulling out. Those with huge investments are tempted to withdraw for the fear of the possible tough times ahead.
Also, the prices of the stocks have massively reduced. However, investors are still selling. For countries that depend largely on gambling, this may affect the economy very badly. Small businesses may be unable to recover once the pandemic possibly ends.
Recent Happenings in the Gambling Industry
Most industries are now armed to the teeth. Some have contributed money to support the most vulnerable people in the society during the coronavirus outbreak. Others are supporting the government in minimizing the spread.
Here is what the gambling and casino industry has done to support the government in the fight.
1. Closing down Physical Casinos
As bitter as the pill may seem, casinos have closed down all over the world. Some closed after one or two members were confirmed positive of the virus. Others closed because of the government's directives.
2. Canceling sports and gaming events
Gaming and sporting events pull large crowds together. This is a perfect spreading ground for COVID-19. However, the gambling industry has joined in fighting the spread by canceling its gaming events to ensure that people practice social distancing.
3. Promoting online casinos
The online betting industry has evolved within a short time. Free slots are now readily available for new gamblers to use. Also, online casinos have been updated and made more user friendly to encourage more people to play online.
The online casinos are also interactive in such a way that players can virtually meet and compete. With the lockdown and isolation in effect, this may just be an excellent way for people to pass time.
Although the pandemic has extremely affected the gambling industry, all hope is not lost. More people are moving to online gambling and this shows that the industry is surviving. However, for small casino businesses, the case may be different.

HONOR Launches HONOR Academy, Leveraging Great Technology to Bring Knowledge, Creativity and Fun to Everyday Life
Global technology brand HONOR today announced that it is launching the HONOR Academy Program for overseas markets. HONOR, as a leading tech brand for global youth, was born during the growth of mobile internet and shaped by groundbreaking technology. The HONOR Academy Program is a brand new initiative program, dedicated to helping young people and students to stay productive, master new skills and unleash their creativity by offering exclusive learning and development opportunities. Through the program, HONOR will be partnering with a range of leading online learning platforms and cultural institutions to enrich young peoples' lives.
Sparking Creativity and Connecting People Through Technology and Culture
To kick off the HONOR Academy launch, HONOR is partnering with Dalí Paris to offer art fans an exclusive access-all-areas sneak peek of the private collection which houses over 300 original artworks by the prolific Spanish artist Salvador Dalí, powered by the high performance, ultra portable HONOR MagicBook 14 and HONOR 9X PRO.
Dalí is one of the most celebrated artists of the 20th century and his surreal artwork continues to inspire art lovers around the world today. Notable artworks including Lady Godiva with Butterflies, Alice in Wonderland and Nobility of Time are among the pieces on display at Dalí Paris, a permanent exhibition space in the heart of Montmartre, Paris, which is dedicated to the artist's three-dimensional work, many of which were inspired by his paintings. This is the flagship museum of Dalí Universe®, which owns the largest private collection of Dali artworks and bronze sculptures around the globe.
Teaming up with communication manager of the museum Pascal Gauzes, the hour long session will be streamed live on @honorglobal at 7pm on 5th June. Kicking off with a behind the scenes sneak peek of the collection, broadcast via the HONOR 9X PRO and featuring a range of HONOR smart life devices, including the HONOR MagicBook 14, HONOR MagicWatch 2 and HONOR Magic Earbuds, the livestream will be an opportunity for Dalí fans and art and design enthusiasts to pose questions to Pascal and to discover more about the life and times of the fascinating surrealist artist.
To get people's creative juices flowing ahead of the session, HONOR will be teaming up with @muradosmann , HONOR's Creative Experience Officier, who will be going live on 3rd June at his Instagram account to teach people how to maintain creativity and explore the fun of art. By combining Murad's featured #followmeto posture with Dali's signature artwork, a creative world is further introduced by Murad and HONOR MagicBook 14. The fun step by step online tutorial will give everyone a flavor of how they can get creative at home with the help of the HONOR MagicBook 14.
Unleash Your Creativity with HONOR Co-Design Series Bundle
From early June, laptop sleeves for the HONOR MagicBook 14 featuring limited edition designs will be available on hihonor.com. Featuring an array of striking designs from some of the hyped names on the world's of art, fashion and graphic design, including Jacky Tsai and Giovanni Ozzola, these fashionable accessories are the perfect companion for your laptop.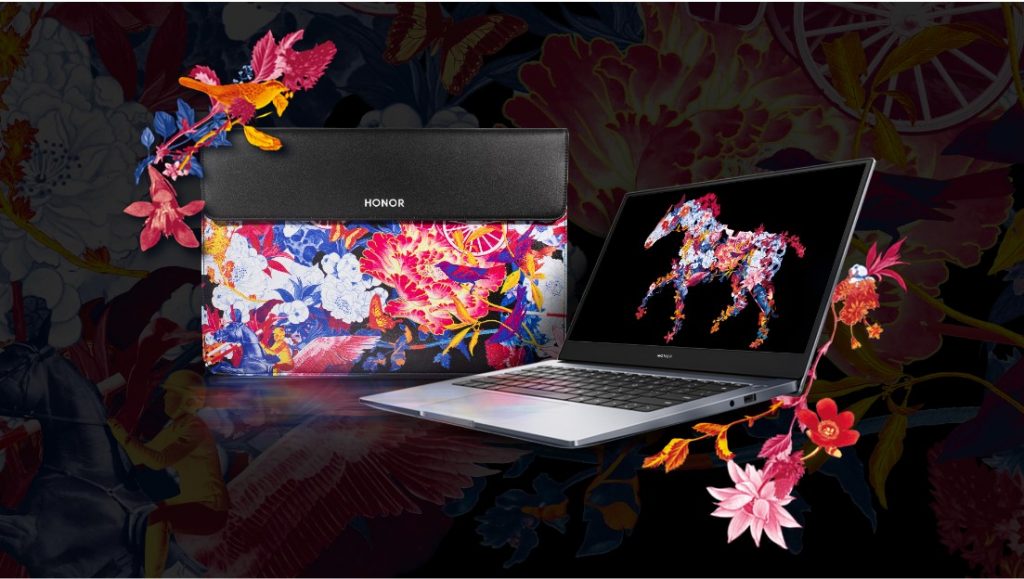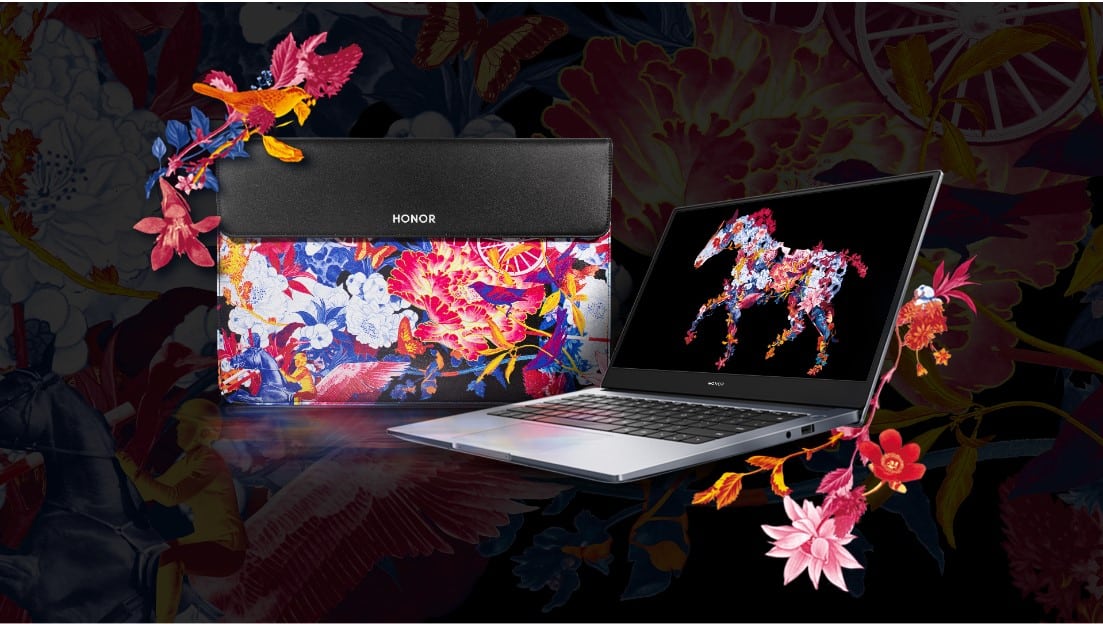 Superior Features and Functionality at an Affordable Price Point
Whether you're working remotely or are looking to virtually connect with friends and family, laptops have never been more important than they are now. The HONOR MagicBook 14 is pre-installed with Microsoft Windows 10 Home and is designed for young professionals and students who seek superior features and functionality without the hefty price tag.
Featuring HONOR Magic-link 2.0 for seamless multitasking between all your go-to devices and a handy pop-up webcam which is discreetly hidden underneath the keyboard, the HONOR MagicBook 14 effortlessly takes you from day to night, with a range of entertainment capabilities including a Full HD 14" display and four speaker for rich, multi-dimensional cinematic sound.
Explore the latest exciting deals and offers on hihonor.com.
Huawei Announces the Next-Gen OceanStor Pacific Series, Setting a New Benchmark for Mass Data Storage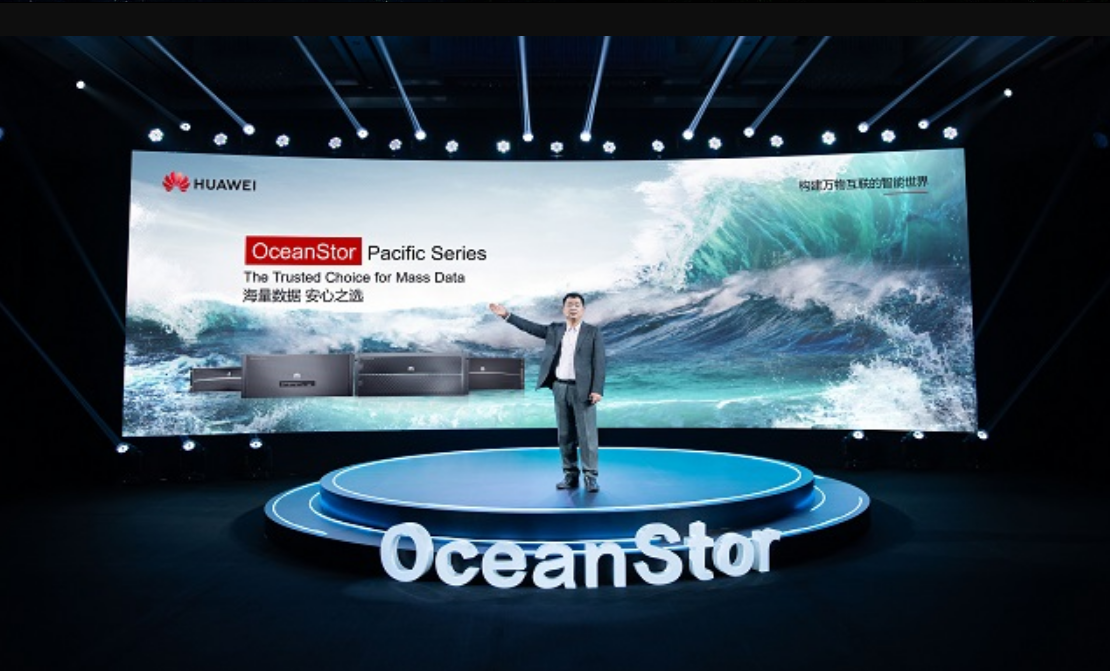 Huawei announced the worldwide launch of the next-generation mass storage system — OceanStor Pacific Series. The series delivers efficient, cost-effective, and reliable services for AI, HPC, videos, and other mass data scenarios by breaking architectural, service, and performance boundaries, and leveraging uncompromised multi-protocol interworking, next-generation elastic EC algorithm, and a series of dedicated hardware. This series marks a new standard for future-oriented mass data storage, helping enterprises fully unleash data power in the intelligent age.
The fourth industrial revolution has made digital production the currency of modern business models. Digital production turns data into opportunities, then these opportunities into services, and finally into profits. With this new production factor, enterprises must find a way of cost-effectively collecting and storing different types of data such as structured data from core services and mass unstructured data from 5G, IoT, and UHD. Enterprises use AI technologies to analyze and process the massive amounts of data to convert data into knowledge and services, improving production efficiency.
Peter Zhou, President of Huawei Data Storage and Intelligent Vision Product Line, said, "Mass data will play an increasingly important role in enterprise digital transformation. Today, only 2% of global data is stored, and only 10% of the data is being mined for further value. Enterprises are facing insufficient capacity, data silos, and complex management when dealing with mass data. Our OceanStor Pacific Series is designed to answer these pain points, setting a new benchmark for efficient, economical, everlasting mass data storage, and helping us become the trusted choice for mass data."
Shang Haifeng, President of Huawei Mass Storage Domain, elaborated on Huawei's three strategic directions for mass data scenarios:
Leading technologies: Huawei builds a series of dedicated hardware and leverages software innovations such as multi-protocol interworking, efficient reduction algorithms, and multi-level reliability to meet scenario-specific needs.
Business innovations: Huawei leverages industry-leading data redundancy protection and reduction technologies to be the first industry player to promote the business model for available capacity. This model enables users to know exactly what they are getting from the start, helping lower procurement costs, TCO, and the usage threshold of mass storage.
Industry expertise: Driven by industry-specific requirements, Huawei constantly innovates its products, accelerates the digital transformation of enterprises, and unleashes data power.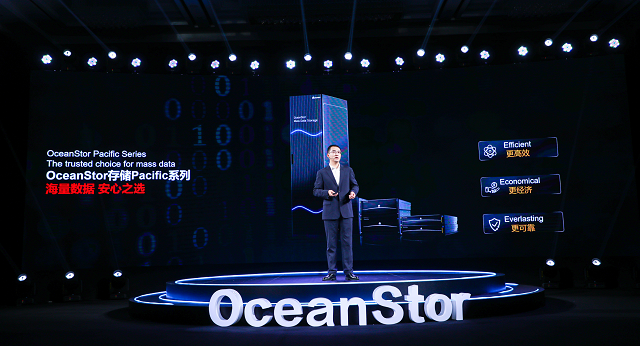 Efficient, Economical, and Everlasting: The Trusted Choice for Mass Data
Huawei released its first generation of file storage in 2009 and has continuously invested in mass data storage ever since, ranking No. 1 in market share in China for four consecutive years. The OceanStor Pacific Series aims to become the trusted choice for mass data by fully utilizing years of know-how in software and hardware, and making groundbreaking innovations in efficiency, cost, and reliability.
Efficient: This series breaks the service boundary to implement uncompromised interworking of file, HDFS, and object protocols, addressing performance and semantic loss issues caused by traditional gateways. In autonomous driving R&D, one Huawei storage system streamlines data processing across different phases. Data does not need to be migrated between multiple storage systems, improving service processing efficiency by 25% and reducing space by 20%. By breaking the performance boundary, the next-generation file system supports bandwidth- and OPS-intensive applications, adapting to increasingly complex HPC loads.
Economical: This series breaks the architectural boundary with the innovative, high-reliability vNode mode along with the next-generation elastic EC technology. It yields a disk utilization of up to 93%, over 40% higher than the industry average, without compromising performance and reliability. Its brand-new node with high density and large capacity supports 120 disks in just a 5 U space with 2.67x density than general-purpose storage servers and 62.5% space reduction. Hot, warm, and cold data is automatically tiered onto SSDs, HDDs, and Blu-ray disks on demand, meaning that data can flow freely without intervention.
Everlasting: The series provides a four-level mechanism for data, devices, systems, and solutions to ensure high reliability. Its comprehensive sub-health detection and pre-processing identify fault risks before they occur. The OceanStor Pacific Series uses cross-cluster active-active and three-site multi-active DR mechanisms for cross-region DR, ensuring 24/7 online services of banking images, online videos, and other production applications.
Huawei OceanStor storage has been deployed in more than 150 countries for more than 12,000 customers in a variety of sectors, including carriers, finance, government, energy, healthcare, manufacturing, and transportation. Huawei OceanStor storage is the ideal choice for worldwide customers looking to store and process their service data.
Ins and Outs of Amazon Brand Protection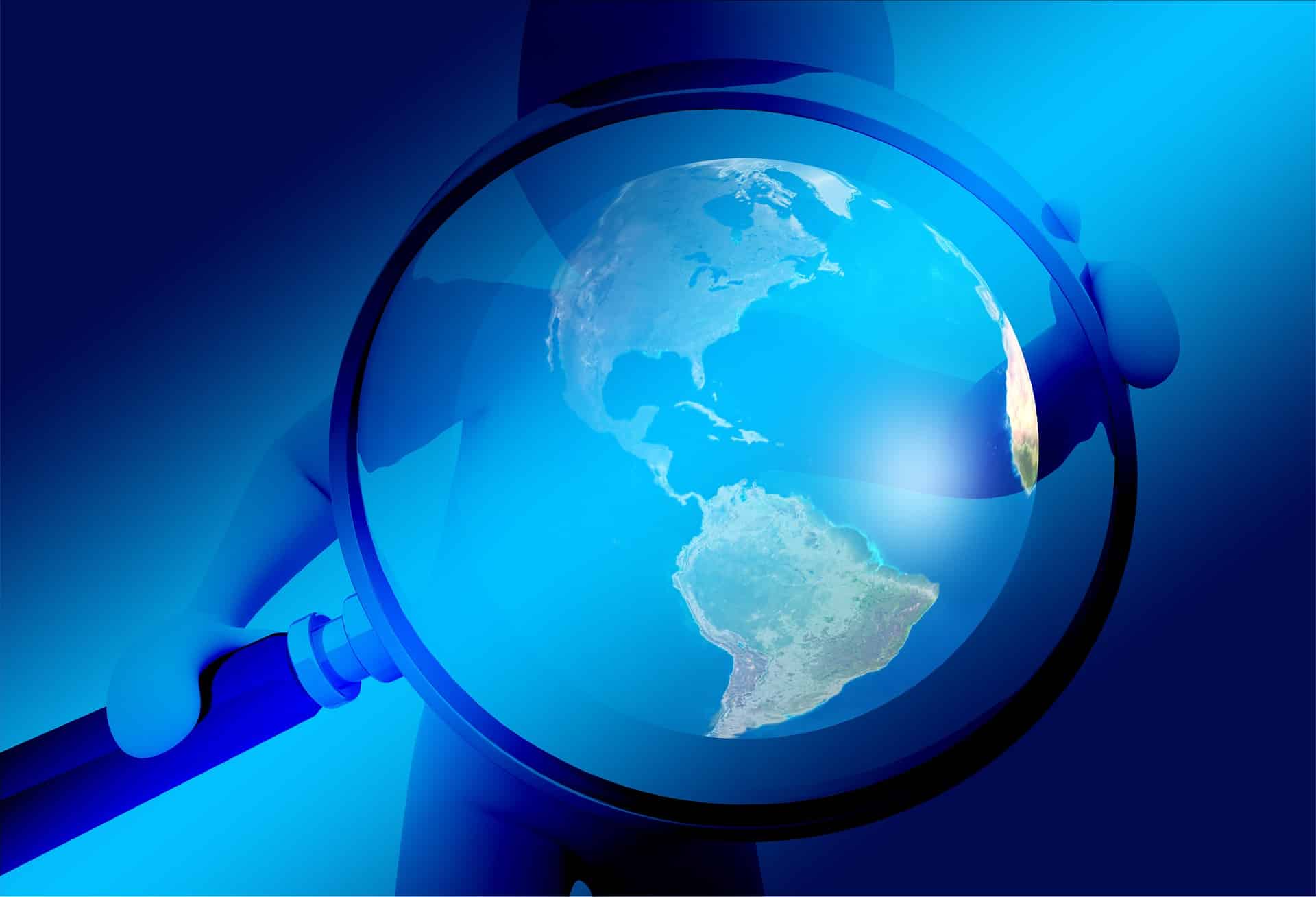 Do you have a brand that you have invested so much time and effort in? Are you worried about how you are going to protect it? If you are reading this article then chances are that you answered yes to both questions. It is difficult to convey to non-entrepreneurs just how difficult it is to maintain a brand, let alone to build it. You start by creating a product that serves a particular niche. You ensure that the quality of the product never dips. And you study the market to find out which promotions are most likely to catch the attention of your customer base. And that is just the initial stage. Afterwards comes the hard part. You have to make sure that your product not only stands out but you have to ward off other people from trying to make money off of your hard work. From here on out, it will be a bloodbath and you only have your instincts and experience to rely on. Or so you thought until the introduction of Amazon Brand Protection services.
Every seasoned entrepreneur knows the value in content and marketing. It is a valuable investment that is integral in differentiating your product from the rest of your competitors. However, in the online market, you will be faced with a new challenge. And that is the intraband competition.
Amazon Brand Protection against Intraband Competition
Basically, intraband competition is a threat to your brand. This threat is unique to the online marketplace. And, of course, it involves the greatest online marketplace of all: Amazon. The online behemoth lets sellers battle amongst themselves on a virtual shelf. As with the shelves in a normal brick and mortar shop, the virtual shelves are basically where products are being placed. But that is where the comparisons end. The products placed on a virtual shelf can encompass products coming from multiple sellers and includes other product information like product reviews along with it. Here, competitors are pitted against each other in the eyes of the online shopper.
Pricing in the online marketplace can get tricky. Customers have to choose a brand from a generic product. And then, they have to choose a specific seller. While you can argue that this is for the best interest of the customer, chaos will ensue if there are illicit vendors in the mix. This problem is amplified because of the customer's power to view all product offerings of a certain generic item. Should the customer choose to do so, he or she may sort all of the items by price and choose the one that comes up on top regardless of which seller it is. This is a normal consumer response and this is what unauthorized sellers and counterfeiters are trying to take advantage of.
Necessity of Amazon Brand Protection
There are a lot of negative impacts to your brand if counterfeits start to erode it. The most obvious of which is the loss of trust to you as a seller from two important parties to your business – your suppliers and your customers. From a supplier standpoint, a seller that has had their products diluted with counterfeits will become a liability. It is assumed that counterfeits will be of lesser quality than that of the original. Because counterfeit sellers normally will not care about the brand as it is not their own, they will not make an effort to protect it by ensuring quality. Suppliers can easily spot diluted brands by simply reading the reviews of your products as a seller. Customers on the other hand, may reject your brand altogether if they buy it from a counterfeit seller. It can take just one poor quality item to make a customer lose trust in your brand.
Brand dilution is what happens when too many counterfeits of your brand are already in the market. This means that customers looking to buy your product will have a significant chance of buying a counterfeit regardless if they were looking for a bargain or not. The negative reviews, despite being on the counterfeit seller's product entry can still affect your own as customers tend to get opinions from multiple sources.
Finally, intraband can harm your profit and sales margins. Of course, businesses will normally lose money while in operation. However, the danger that counterfeits pose goes beyond that. When your brand dilution has advanced too far, your business as a whole may be affected to the point that you have to give up your brand. Far too often do businesses end up reimaging themselves after counterfeits have taken hold of their product's brand.
Getting Started with Amazon Brand Protection
Growing your brand's presence on the Amazon platform is no easy task. You have to get serious about it and market your product like never before. And, more importantly, you want the quality of your product to be as good as possible. What you need to do is to make sure that your customers will get the same quality that they would get if they, instead, bought the product from a big box store or a brick and mortar store.
Think of your profit as a function of your brand reputation. The more reputable your brand is, the more chances of you raking in the lion's share of profits. You want to get ahead of your competitors but you cannot ignore the lurking danger that intrabands pose. In the short term, you can start slow by ensuring that you have the necessary tools to fight the big fight once it arrives. What this means is to have your products trademarked and registered. And if you feel like your product deserves a patent, and that you can afford it, it won't hurt to get that extra protection. If the patent is successful and is good enough, you can start earning royalties from it. And, it will be a big weapon on your side once the intrabands come. If online marketing meant one thing, it is to ensure that your products maintain a satisfactory review grade.