Keyboard For Samsung Tablet: 5 Best Choices (With Comparison)
The convenience of a tablet is undeniable – portability, intuitive touch screen controls, and a plethora of applications. However, for those looking to increase their productivity levels or improve their typing speed, adding a keyboard to your Samsung tablet can be a game-changer. Let's delve deeper into the best five keyboards that can transform your Samsung tablet into a lean, mean productivity machine.
1. Samsung Smart Keyboard Trio 500
As the manufacturer's own product, the Samsung Smart Keyboard Trio 500 offers unmatched integration with your Samsung tablet. Lightweight and slim, it fits easily into your bag, providing a full-size key experience for improved productivity anywhere.
Key Features
The Trio 500 features handy shortcuts such as quick connect hotkeys, enabling swift switching between multiple connected devices. Furthermore, it supports DeX mode, allowing you to have a desktop-like experience on your Samsung tablet. With Bluetooth connectivity, say goodbye to cumbersome wires.
The Trio 500 is designed for Samsung users who want an easy-to-use keyboard with seamless connectivity and functionality. Its integration with Samsung DeX takes your tablet usage to new heights by providing a more traditional, desktop-like interface.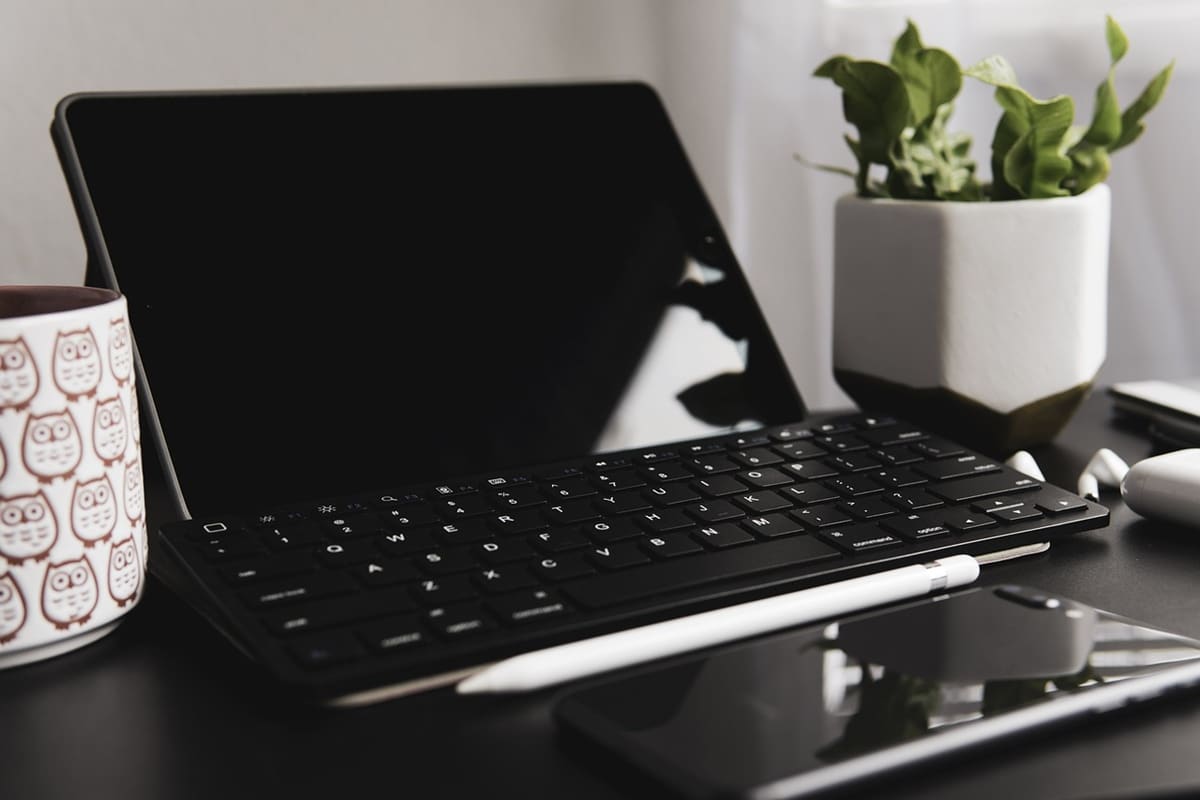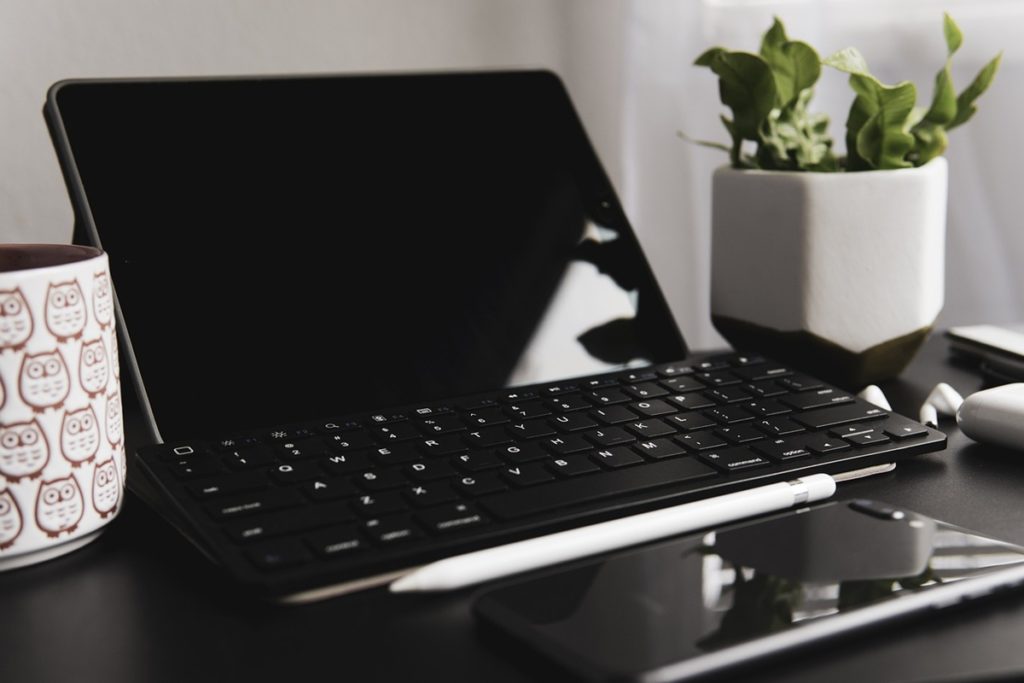 2. Logitech K780 Multi-Device Wireless Keyboard
The Logitech K780 stands out for its universal compatibility. It's designed with a built-in stand – a thoughtful feature that ensures your tablet is securely held at an optimal viewing angle.
Key Features
Beyond its multi-device functionality, the K780 boasts an impressive two-year battery life, thanks to its auto-sleep feature and on/off button. Its integrated rubber cradle holds your tablet firmly, minimizing any risks of accidental slips or drops.
The Logitech K780 is the keyboard of choice for users working across multiple devices, including their Samsung tablet, and require a reliable, long-lasting keyboard. Its secure cradle for devices is an added bonus, creating a neat and organized workspace.
3. Fintie Keyboard Case for Samsung Galaxy Tab A
The Fintie Keyboard Case is a two-in-one solution that combines sturdy protection for your Samsung tablet with a removable Bluetooth keyboard.
Key Features
The case offers solid protection to your tablet, while the magnetically-attached keyboard can be removed as per your convenience. The stand allows for multiple viewing angles, ensuring you always have the best seat in the house. Plus, the keyboard's rechargeable battery provides long hours of uninterrupted typing.
The Fintie Keyboard Case is the go-to choice for those seeking an all-in-one solution. Its durable case and removable keyboard make it an excellent option for users who often use their tablets on the go and require that extra layer of protection.
4. Arteck HB030B Universal Slim Portable Wireless Bluetooth Keyboard
Lightweight and ultra-slim, the Arteck HB030B Universal Keyboard is designed with portability in mind. But that's not all; it also adds a dash of color to your typing experience.
Key Features
Seven unique backlight colors let you type in low light conditions while also personalizing your workspace. Its rechargeable battery lasts up to six months, ensuring you won't be left in the lurch in the middle of an important task.
The Arteck HB030B is a fantastic option for users who want a portable, functional keyboard that doesn't skimp on aesthetics. Its slim design and color-changing backlight add a touch of personality to any workspace.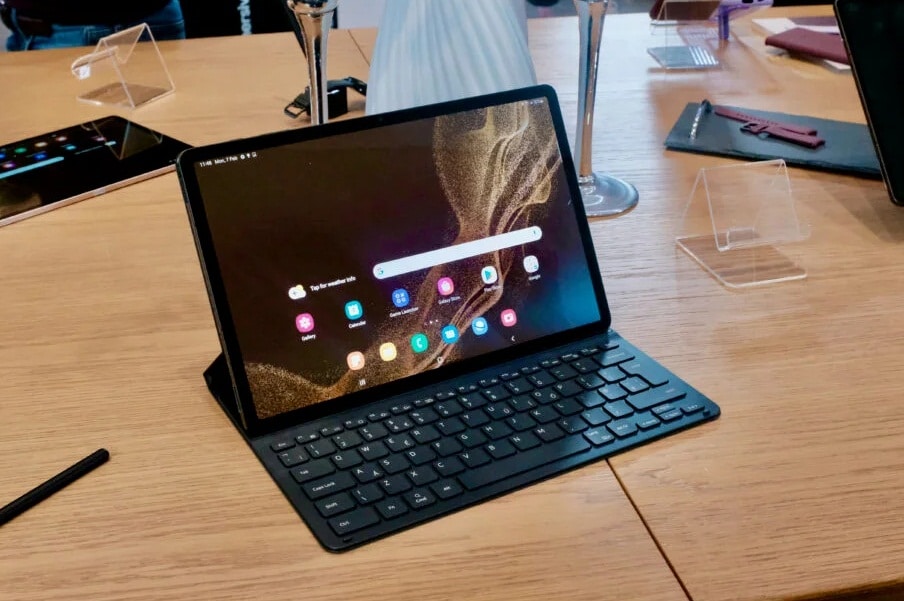 5. Jelly Comb Multi-Device Bluetooth Keyboard
The Jelly Comb Multi-Device Bluetooth Keyboard provides a comfortable, quiet typing experience, thanks to its scissor-switch keys. The design is minimalistic and functional, featuring a full layout for optimal typing.
Key Features
The ability to connect up to three devices simultaneously means you can switch between your Samsung tablet, phone, and laptop with ease. A built-in rechargeable battery powers long hours of typing, while its universal compatibility means it's future-proof, ready to work with any device you might get down the line.
This keyboard is the top choice for users seeking a quiet, comfortable typing experience. Its ability to connect multiple devices makes it a versatile choice for those working in multi-device environments.
Why is a Keyboard Good for Your Samsung Tablet?
Equipping your Samsung tablet with a keyboard can significantly enhance its utility. Here's why:
Improved Typing Speed and Accuracy: Physical keyboards offer tactile feedback, which helps improve typing speed and accuracy. This can be especially beneficial for long-form writing or data entry tasks.
Convenience: Physical keyboards can provide a more comfortable typing experience for extended periods. It reduces strain on your fingers and makes for a more ergonomic setup.
Versatility: A keyboard can essentially transform your tablet into a laptop, making it easier to handle tasks such as document creation, email management, and more.
The Top Pick
While all the keyboards mentioned offer unique advantages, our top pick for the best keyboard for a Samsung tablet is the Samsung Smart Keyboard Trio 500. It brings together seamless compatibility with Samsung devices, quick-connect hotkeys for effortless device switching, and a sleek, compact design, making it the most balanced choice for Samsung tablet users.
Choosing the right keyboard depends on your specific needs. Whether you prioritize portability, multi-device functionality, aesthetics, or an all-in-one design, there's a keyboard out there that's perfect for you. Happy typing!