Movavi Photo Editor Review: Intuitive and Simple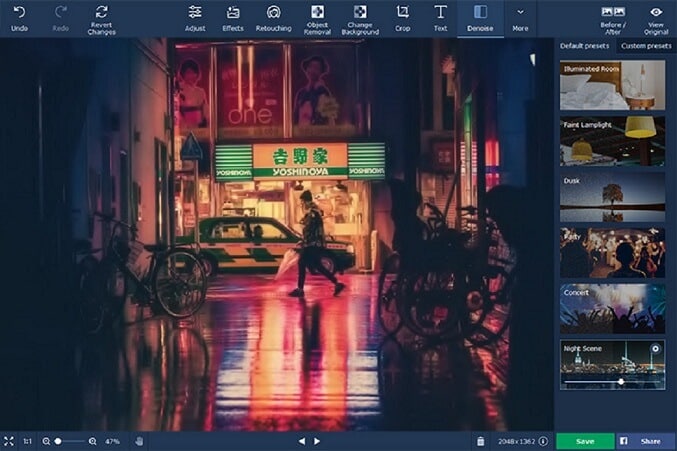 Movavi Photo Editor is a simple yet powerful photo editor that is designed to provide an intuitive user experience. Compared the other editors that are often difficult to use without prior experience, it will enable you to easily start to edit your photos without requiring any special skills.
Depending on your system it is possible to download photo editing software in either a Windows or Mac version. Aside from the fact that they run on different platforms, both variants of Movavi Photo Editor are identical to one another.
One of the main areas that sets Movavi Photo Editor apart is its user interface that has a clean and simple appearance. It is easy to navigate and find features on the interface, as all of them are organized into tabs based on how they can be used to edit your photos.
Each and every feature in Movavi Photo Editor is designed so that it can be applied as easily as possible. There are no complicated or technical settings that you'll have to fiddle with, and some editing features are automated so they can be applied to your images with nothing more than a single click.
All in all you should have a smooth experience when you start to use Movavi Photo Editor, even if it is your very first time editing photos. To add to that as you start to explore its features you'll be able to see just how potent they truly are.
Potent Features and Capabilities
The features in Movavi Photo Editor are likely to exceed your expectations, especially if you were expecting to find just the basics. Beneath the surface it is a powerful editor at its core, and its features will enable you to:
Adjust the image frame by cropping, flipping, leveling, rotating or resizing it.

Directly edit the composition of photos by removing any objects, people or other unwanted elements and ensuring no imperfections or traces remain.

Enhance the overall quality of photos by adjusting their color settings either manually or automatically.

Fix issues that may be present in photos such as blurry or pixelated images.

Stylize photos by applying creative and artistic filters such as subdued pearl, quivering jasper, sizzling cinnamon, and more.

Touch up portraits or selfies to smooth out wrinkles, apply digital makeup, whiten teeth, alter hair color, slim down facial features, and more.

Create a transparency by removing the background from a photo, or replace it completely with a new image.

Add and customize text elements to create unique captions, titles, or watermarks – and accentuate them with special stickers.
Although there are lots of other features and tools in Movavi Photo Editor, you should have a good idea of exactly how much it will let you improve your photos. If you want to be able to edit and improve your photos to fix issues, make them look great, or even come up with creative compositions of your own – it is the perfect tool to start to do so, right this very instant.