Smartphones Control your E-Bike
The technology powering electric bikes has been evolving ever since their introduction to the market. There are so many things you can do with your new e-bike model today that you couldn't do with models produced a couple of years earlier.
One of the most fascinating inventions today is e-bike-smartphone integration. Using an app on your smartphone, you can view all the important data and control the support levels of your e-bike from your phone. In essence, smartphones are now controlling our e-bikes, making the ride more fun than before!
Mobile Phone App
The idea behind this is pretty simple, you could compare it to HUD equipment in cars. The bike control app is downloaded on your smartphone (supports both Android and IOS devices), then you can attach or connect to your electric bike wirelessly via Bluetooth.
Access to Information
Thanks to the app, you'll be able to access all the important information about your bike from your smartphone. The app displays data such as the number of miles covered, the remaining range in miles or km, the battery charge, the speed of the ride, the maximum power and throttle produced by the motor, general settings, etc.
In short, your smartphone becomes the e-bike's display, enabling visualization of all real-time data on your bike. You can even view a GPS map of the surrounding area and thanks to an integrated navigation system, you'll be able to set the route even before even hop onto your bike.
This means you can always look forward to arriving smoothly at your destination. It is also a nice way of remaining updated on your bike's health. With access to such crucial information, you'll be able to know the right time to take your bike for maintenance or service.
Control your Ride
But access to vital bike information is not all that you get with this new technology, the app also allows you to adjust settings on your bike so that you are basically controlling the bike from your smartphone for a customized ride. This is a pretty easy task to do when the phone is mounted on the bike's handlebar; you only need your thumb to tweak the settings.
You'll be in a position to predetermine the range you want to cover, the pedal-assist you want from the motor, the amount of power and speed, as well as the running time. All these settings are displayed on the app, enabling you to make any changes whenever you want.
You can even switch between road and off-road modes depending on the terrain you're riding on. Switching to off-road mode automatically adjusts the setting to maximum power and throttle from the bike to enable you to tackle the hilly, uneven, and loose surface tracks with less effort.
Meanwhile, the normal mode limits the amount of throttle to a specific default setting, enabling you to conserve the battery. Another important feature on the app is automatic accident recording, as well as emergency alert, which happens when your e-bike is involved in an impact.
On the security front, GPS tracking and motion sensors ensure that you get an SMS notification to keep you in the know about what's happening to your bike at all times. Remember that all this data is stored in the cloud, so you can always access it for future reference.
The best part is that the app can work with all kinds of bikes; even the cheap e-bikes under $1000!
Conclusion
Thanks to advancements in technology, e-bike enthusiasts can enjoy a more personalized and fun riding experience. The e-bike control app allows you to remain in charge of your ride and avoid any unforeseen developments on the trail.
It is a great invention that any avid e-bike rider should give a try!
Electrocardiogram Monitoring Cleared for Galaxy Watch Active2 by South Korea's Ministry of Food and Drug Safety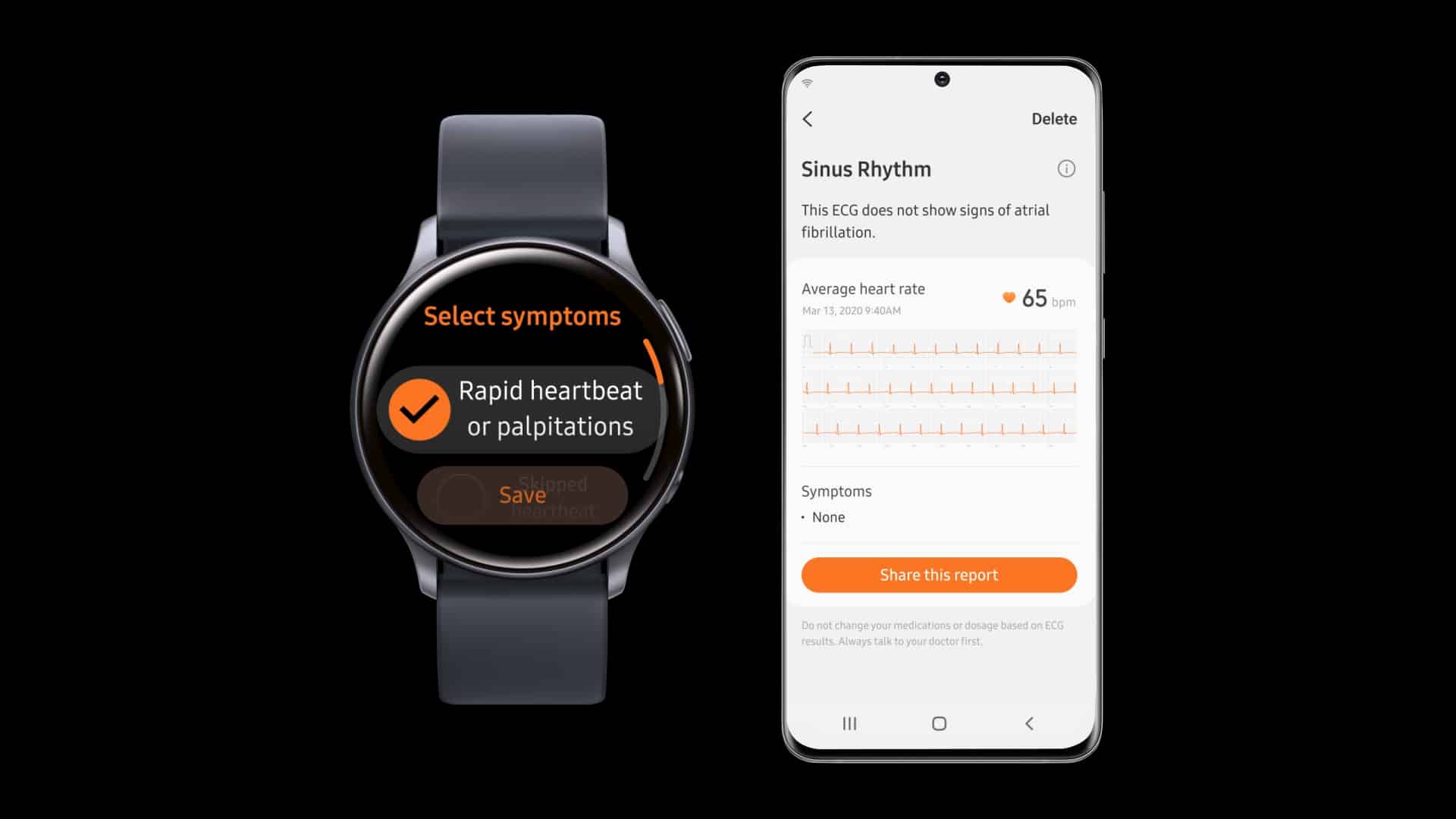 Samsung Electronics announced today that the Electrocardiogram (ECG) function of the Samsung Health Monitor app has been cleared by South Korea's Ministry of Food and Drug Safety (MFDS). The ECG feature uses advanced sensor technology on the Galaxy Watch Active2, and will enable users to measure and analyze their heart rhythm for irregularities indicating Atrial Fibrillation (AFib).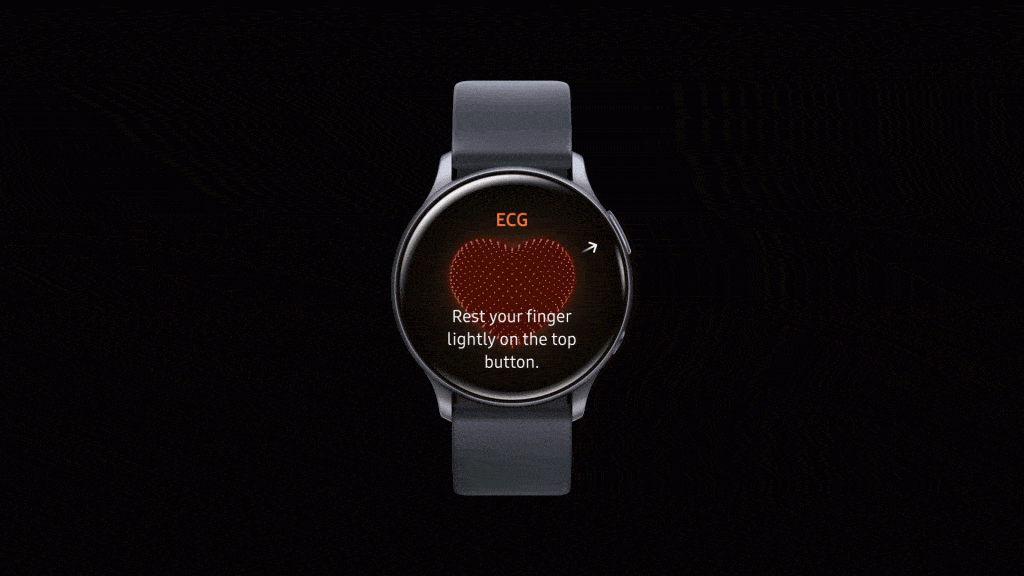 AFib is the most common abnormal heart rhythm, affecting an estimated 33.5 million people worldwide, with 5 million new patients diagnosed annually. It can significantly increase the risk of complications, including blood clots, heart failure and stroke. Every year, over 16 million people will develop a stroke, of which AFib and high blood pressure (hypertension), are known to be the leading causes.
The Samsung Health Monitor app also recently received MFDS clearance for blood pressure (BP) measurement, meaning users will be able to conveniently measure both ECG and BP, giving them a better picture of their overall health. Together, the ground-breaking ECG and BP technology will help users manage and improve their health by providing on-demand measurements.
"We're delighted to announce that the ECG function has been cleared by MFDS," said TaeJong Jay Yang, Corporate SVP and Head of Health Team, Mobile Communications Business at Samsung Electronics. "When you pair the advanced hardware of Galaxy watches with innovative software solutions, you can create unmatched experiences – such as in this case, convenient and accessible health check-ins for millions of users across the world. This marks just one way in which Samsung is pioneering to give everyone a simple, convenient and informed picture of their overall health and wellness."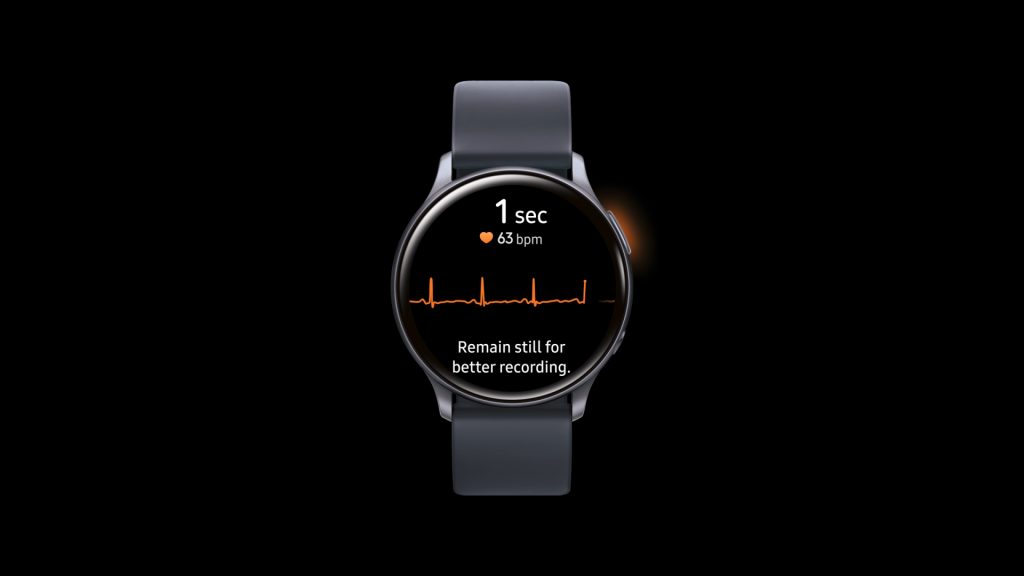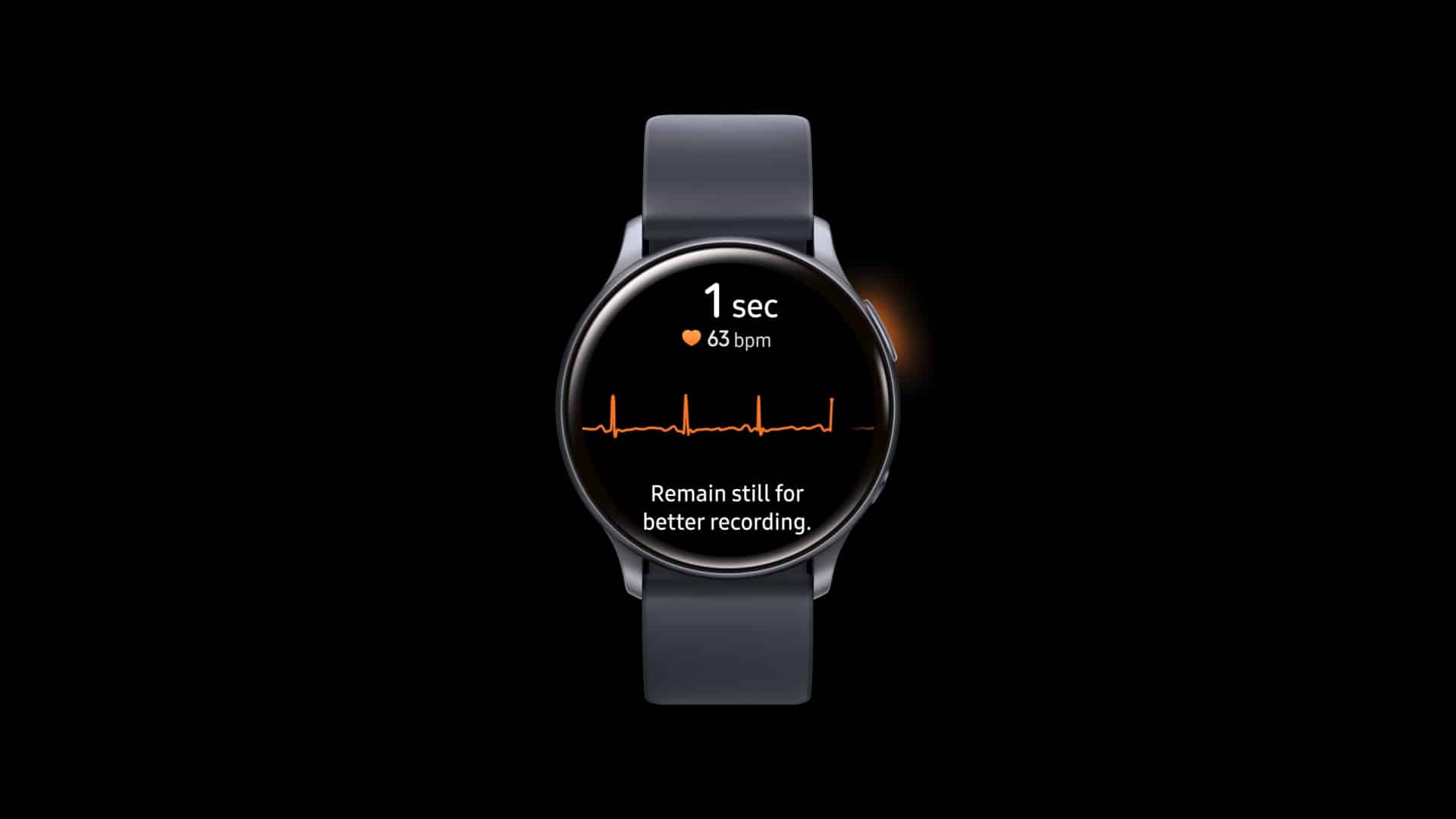 The ECG function works by analyzing the heart's electrical activity via an ECG sensor on the Galaxy Watch Active2. Simply open the Samsung Health Monitor app when you are seated comfortably, and ensure the watch is fitted firmly to your wrist. Next, rest your forearm on a flat surface and lightly place a fingertip from the opposite hand on the top button on the Galaxy Watch Active2 for 30 seconds. The app will then measure your heart rate and rhythm, which will be classified as either a Sinus Rhythm (a normal, regular heartbeat) or AFib (when the heart beats irregularly).
This recording will provide insight into a user's health, enabling them to share results with their doctor to help make more informed decisions and live healthier life, especially when combined with the BP measurement.
The Samsung Health Monitor app will be available on the Galaxy Watch Active2 within the third quarter and will progressively expand to upcoming Galaxy Watch devices.
HONOR Choice – HONOR Your Smart Home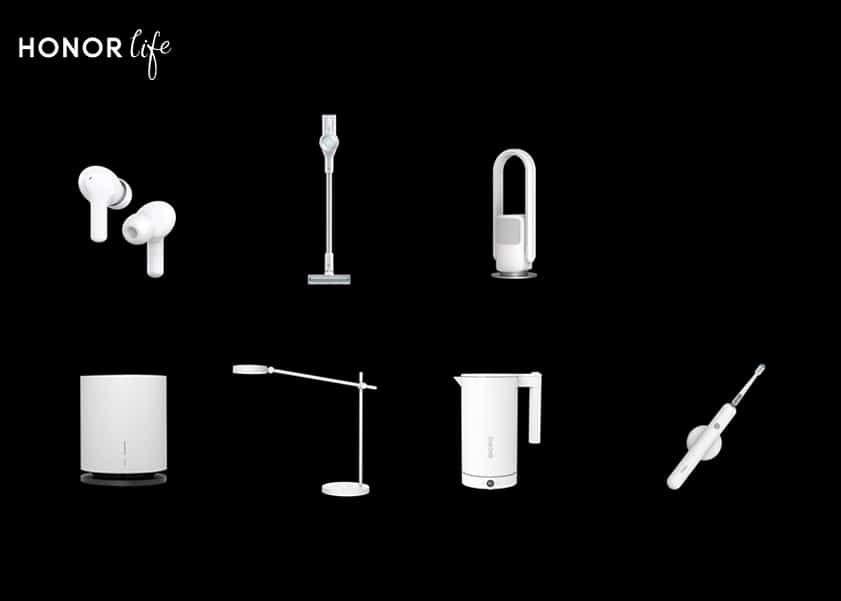 Last year, HONOR officially announced the 1+8+N All-Scenario Smart Life Strategy in overseas markets, with the smartphone as the main portal, eight categories of in-house devices as assistant portals and a wide range of IoT products from our partners. We are striving to expand our product portfolios to further build up the smart life ecosystem.
As part of the HONOR smart life ecosystem, HONOR Choice includes a full range of best-in-class smart products produced by well-known manufactures covering Smart Home, Sports, Entertainment, Technology and Travel. HONOR Choice shows the brand's commitment to more innovations in various products as well as reflects HONOR's chic and human-centric design philosophy. Leveraging innovative technologies such as HUAWEI HiLink, HONOR Choice enables a seamless smart connection to contribute to a fully-integrated experience.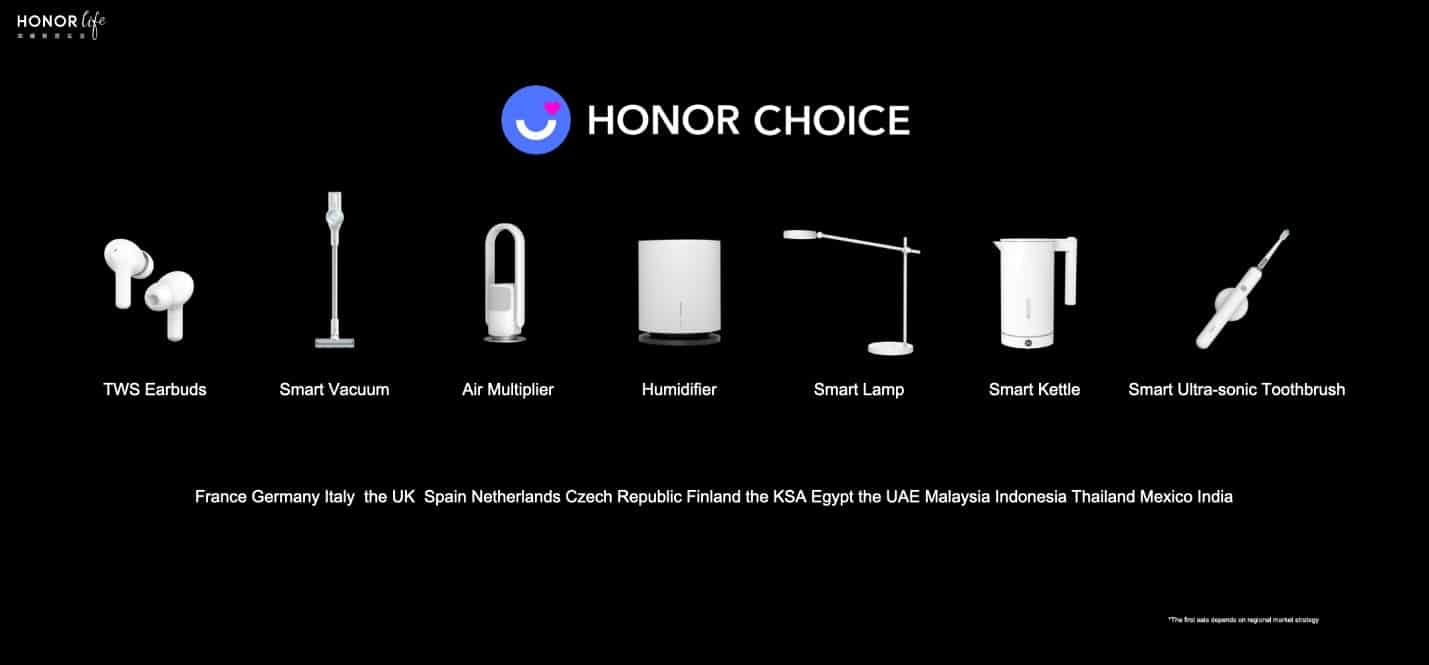 All-Around TWS Earbuds X1 with Up to 24hr Battery Life
Featuring a dual-microphone, TWS Earbuds X1 can deliver superb sound quality to effectively reduce the environmental noise during calls or while listening to music. Powered by a new binaural synchronous transmission technology, TWS Earbuds X1 is able to transmit sound signals with extremely low latency to ensure a lag-free experience.
With the 24 hours of superior battery life, the earbuds can easily get you through all-day activities. HONOR TWS Earbuds X1 is a solid option with excellent value.
Powerful Smart Vaccum to Ensure a Clean and Healthy Home
Housework is a challenging task when the family is spending more time at home. Powered by 350W 100,000rpm motor, the Smart Vaccum has powerful suction and mopping technology with up to 65mins battery life. It also features an ultraviolet-sterilization cleansing system to effectively eliminate bacteria on different surfaces.
In addition to performing well on multiple cleansing tasks, the Smart Vaccum can automatically detect and calculate your calorie consumption as well as transfer the timely data to HUAWEI HiLink for you to check your workout performance too. You can easily get the lightweight, versatile vacuum with multiple cleaning functions and smart home compatibility.
Other Smart Devices to Maintain a Healthy Routine
Smart gadgets can ease your workload of housework and enable a more comfortable vibe. A series of new products promise to offer a seamless solution and a more convenient life for managing numerous connected smart devices including Air Multiplier, Humidifier, Desk Lamp, Electronic Toothbrush and Smart Kettle.
Air Multiplier
Air Multiplier has relatively slim silver chassis that can fit into most rooms without obstructing the furniture or getting blocked itself. With bladeless turbocharging technology, you can always get air-current coverage no matter where you're seated making it ideal for living rooms or even open-plan apartments. Moreover, the air is designed to flow consistently keeping a room at your desired temperature.
Humidifier
Some people experience respiratory symptoms in the summer months, the Humidifier can help to keep the air moist. With a 3-liter tank and 400 ml/h humidity capacity, it's perfect for bedrooms, offices and medium-sized rooms. The top-mounted clear tank shows clearly its water levels, allowing users to keep track of the next refill time. And it is equipped with an anti-bacterial design to effectively reduce the growth of bacteria.
Smart Desk Lamp
The lighting in a room can affect your mood. This sleek and modernistic Smart Desk Lamp can produce soft light with three-dimension lighting technology to make sure every shade of light is even. It can cover up to 1.12m diameter area which achieves a higher standard of China's AA protection standard for the lamp. With the TÜV Eye Comfort Certification, the Smart Desk Lamp can emit far less blue light to create a clam work environment where you can focus and be productive.
Smart Ultra-Sonic Toothbrush
The Smart Ultra-Sonic Toothbrush features a curved design that helps reduce the number of bacteria attached to the toothbrush. Its sonic technology provides deep clean experience and you can get familiar with this perfect tool with smart blushing guides provided by HiLink. With the in-wall toothbrush charger, the Smart Ultra-Sonic Toothbrush can be easily installed to keep your bathroom tidy and provides a powerful cleaning experience for up to 30 days with a single charge.
Smart Kettle
Powered by 1800W heat source, the Smart Kettle is quick to boil and you can set it boiling remotely regardless of where you are from your smartphone with HiLink. On top of that, you can enjoy smart temperature control and dechlorination to satisfy your daily water needs.
Innovative Light In Your House: Midian Zero-Blue Bedside Lamp
MiOT crowdfunding platform has launched the fundraising campaign for the new bedside lamp by the Midian brand (the partner of Xiaomi Ecosystem).
This device is truly innovative— it's the first in a world lamp without blue light.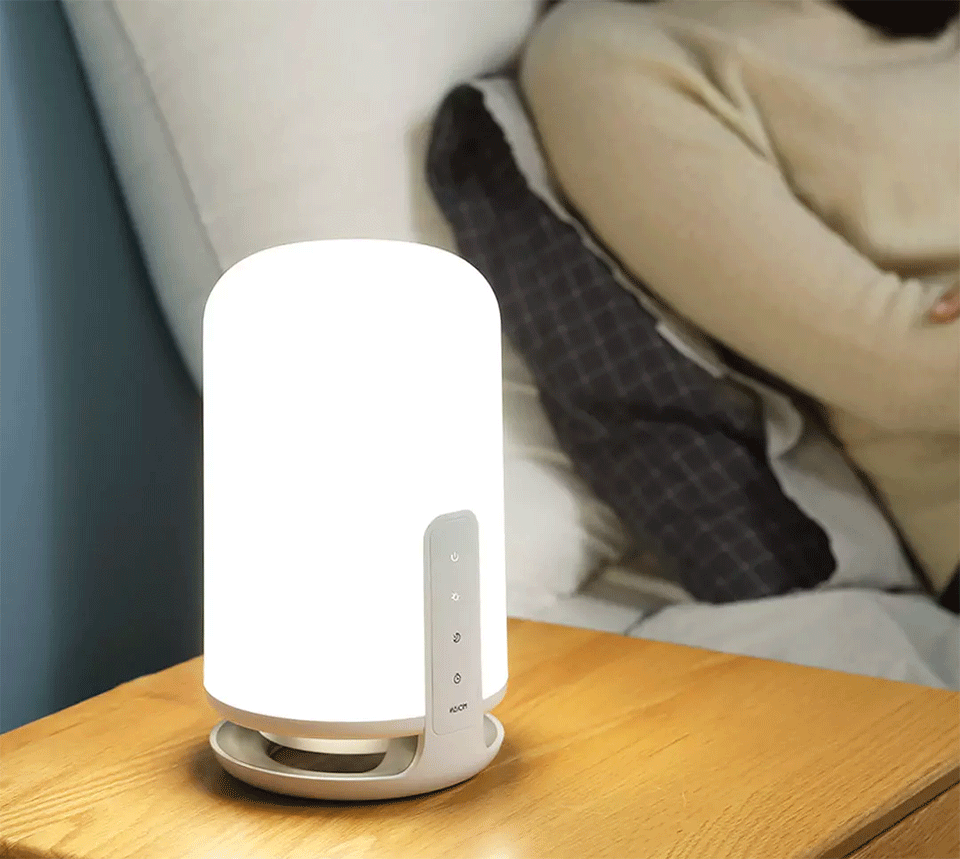 To compare with the blue light filtering method adopted by similar products on the market, the zero blue LED light source eliminates the use of blue light from the source. This light is safe for eyesight. Midian zero-blue bedside lamp has the "wake up" function which can be activated using the Mijia APP to set the time when you want to get up and choose the music as the alarm clock sound.
It provides two light source systems with zero blue light mode (2W) and white light mode (12 LEDs x 0.5W) to meet different scenes and user needs.