Wire fence for dogs, how to choose and install?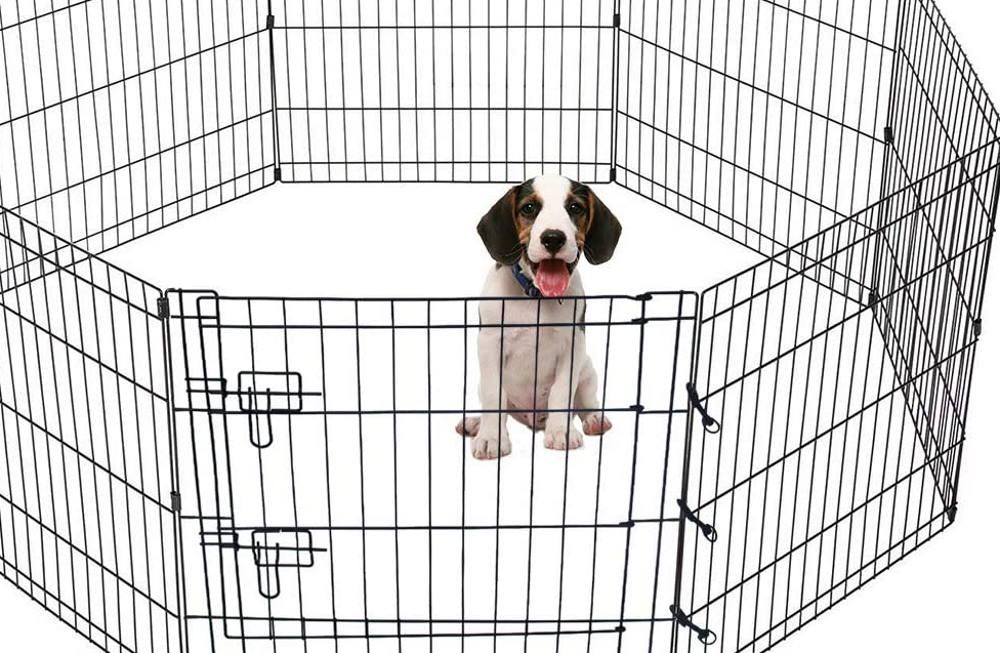 If you are looking for a wire dog fence, or even wire fence for small animals, maybe to read this wire dog fence review. In this post we are going to write about wire fences for dogs. Reading this post, you will learn about dog fences.
To keep your dog in the yard or some other animals out of the yard, you'll need to install the wire fence. That way you'll provide a safe physical boundary for the dog.
Wire fences come in different strengths, heights and opening sizes and models. You need to choose an appropriate wire fence for a different reason. Depending on your dog breed, terrain and location, you need to think and prepare before just starting with a wire fence installation.
Like we mentioned before, there are many factors to consider when deciding what type of fence you need to choose. Consider these factors before you go and buy a fence.
Choose the right height and strength of the new wire fence
Give yourself a moment and think, does a snow and ice load concern you? If the answer is yes, then choose a fence 1 foot taller. If you think about snow and ice collection on the ground, it is easy to understand the height difference. Fence height starts to "shrink", because the load of snow and ice is getting bigger. Keep that on your mind and find appropriate fence height. Buy the fence tall enough. It depends on your dog's breed, how big the dog is, to install a dog watch fence.
Buy a fence strong enough to keep your dogs inside. Ask yourself, will your dog paw up on the fence with force? Even if you don't see snow for a whole year, keep in mind that dog can bend a fence, and make it lower. Think about increasing the height of the fence, to avoid low height, and your dog escape. Check the dog's fence by slightly pulling the fence down. If necessary, think about adding a tensioner to your dog fence. Extreme dog fence is strong enough to keep your dog inside, and all other animals outside. Fence tensioner maybe is the best way to make the fence stronger and safer for both sides. Tensioned cable holds the fence up, making the height fixed, even if someone pulls down on the fence. Tensioners can also hold the fence tight when the dog is using his nose to push up under a fence to get out.
Metal dog fence shape and opening size
There are so many types of fence: field, wire fence, vinyl, wood fence, plastic and even electric wire fence. Each fence is appropriate in certain situations. Think and make a choice, keeping in mind some basic rules while choosing.
Each fence type has pros and cons, different price and installation. To install a wire fence, you'll need some construction skills. No, you don't need to be an expert constructor worker, still a basic knowledge and appropriate tools are something you'll need to have.
Steel wire fence with a 1" openings is great for most dog breeds and small animals. You can buy this steel fence coated in black, green or without coating. Steel grid wire fences with a 1/2″ opening size is a good choice to keep out smaller animals like moles/voles and snakes. Just like other steel fences, this one comes coated with a PVC or without coating (galvanised).
If you're looking to make a smaller space for a dog, without a tensioner, then you should look for a welded wire fence. Installing this fence is much easier than installing a regular wire fence. Be aware that you'll need special cutting tools for this fence.
Compare wire fence types for dogs
Mostly used wire fence type is chain link fence. This is a woven fence created by vertical wires bent into a zigzag pattern. Each wire interlocks with each other, creating the chain link. Chain link fence is made of low-carbon steel wire, stainless steel wire, aluminum alloy wire, or galvanized iron wire. Mostly they are made four feet in height. Check how much the chain link fence cost.
Field fence is also known as farm fence or cattle fence. This fence is used to cover a lot of ground. It is less expensive than chain link fence, it is lighter and easier to install. Field fence is made of galvanized iron wire, low/mid carbon steel wire, or high tensile steel wire. If you are interested in electric fences, read the post.
Fence mesh is made of spot welded wires, intersection of the vertical and horizontal wires. Welded fence mesh comes in a range of types from high-end strong security fencing to low-end rabbit fencing. Fence mesh installs easily, with appropriate fence mesh installation tools. This fence type is removable, and reusable. It is a great choice if you are looking for a portable dog fencing, dog fencing for camping or fence installation near your weekend cottage. Dog fence wire mesh can be used near your home, or even to make a portable dog fencing for camping or enjoying your cottage with a dog friend. With a fence mesh you can make your own wire fence panels, for easy dog fence installation. That way you'll have a portable fence mesh to use and re-use.
Pros and Cons of using wire fence for dogs
Considering some basic facts, we are going to write pros and cons on using wire fences for dogs. Sometimes fences are not necessary, and there is no need to instal one. On the other hand, wire fences can be an indispensable part of our yard, and a safety feature for dogs or other animals you have.
Pros: Keeps your dog inside, safe and secure. Also, wire fences keep other animals away and out of reach. Once installed, wire fences can last for years. Some fence types can be reusable.
Cons: Fencing a large area can be pretty much expensive. If you are unfamiliar with construction work, you'll need to pay someone to do it for you. If you bought, and installed the wrong fence type, the dog may be able to jump over or dig under the fence making it useless. No matter what fence type you have chosen, there is no 100% guarantee against snake intruders.