Zidoo X10 Review – Android media player with internal hdd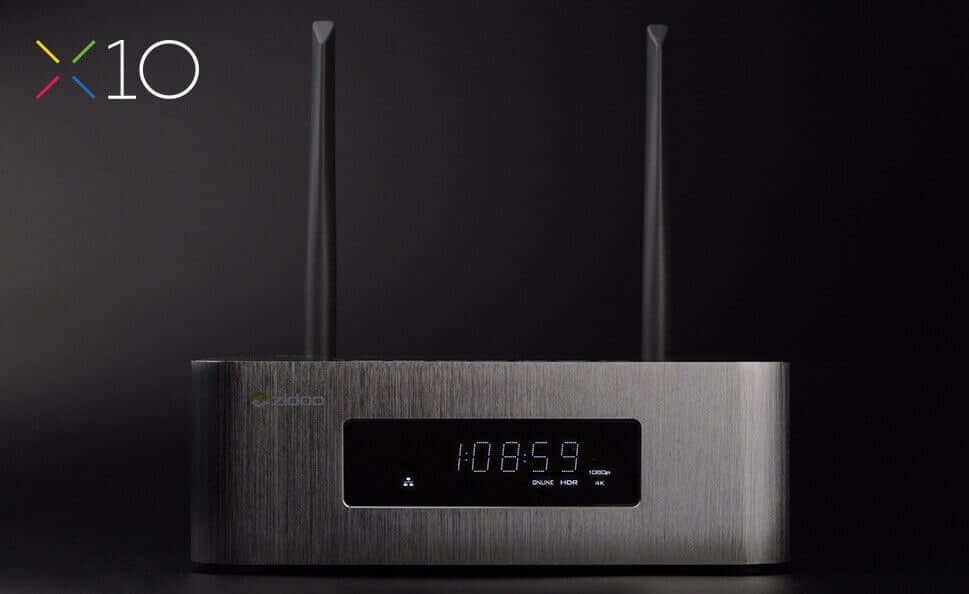 We are very happy to be first to have opportunity to introduce to you the latest Android media player from this Chinese company. Actually it comes with many impressive features like RealTek RTD1295DD and internal 3.5″ HDD bay with Sata 3.0 support.
Therefore in this article review we will present to you all useful information about Zidoo X10, from build quality to entertainment experience. Also if you don't know we bought our device at Gearbest shop which is most popular online shop.
Unboxing
We must admit this is the first time when we received so large box for some gadget. But at the same time we are not surprised because device itself it so big, and it comes with several different accessories. So besides device you will also receive remote control, power adapter, cables, and of course short user manual.
Design and build quality
As we said earlier Zidoo X10 is so big media center, but this is not surprising because it needs to have enough space for 3.5″ hard drive. Also they have taken care all details because it has built in cooling fan which ensures optimum operating temperature inside box.
Besides that the case is completely made from aviation aluminum alloy which gives awesome effect, and gives the user premium feeling. In other words it is not made from cheap plastic. Additionally on front side it has big VFD display which displays certain useful information like time, movie time, or for example is Wi-Fi connected to the network.
On right side of the case there are located three USB ports, where one USB port is 3.0, and onther are 2.0. All other ports are located on the back side like optical port (2CH, 5.1CH), tf card reader, HDMI in, HDMI out, and of course gigabit lan port.
Last but not less important is remote control which has actually really cool feature. All buttons has backlight, with just one touch of any button all buttons lights up. It is actually useful when you use remote control in completely dark.
Overall without exaggeration X10 is king of design and build quality.
Performance and benchmark testing
On this field this Android media player is at the very top thanks to well selected built-in hardware. So it is based on RealTek RTD1295DD chipset which includes 64bit quad core CPU ARM Cortex A53 with ARM Mali-T820MP3 GPU. But what is most important this chipset supports HEVC 10 Bit, 4K 3D movies, and HDR HDMI IN function including HDMI-in recording.
Of course we have tested the Zidoo X10 with several different benchmark applications like AnTuTu benchmark including Geekbench 4 where below you can see benchmark scores. Actually the scores are pretty ok.
When we speak about memory Zidoo X10 has 2 GB of RAM with 16 GB storage space. Storage space can be upgraded using the memory card up to the 32 GB. But if you need more space than these is not the problem because as just the title says it has internal 3.5″ HDD bay.
Therefore internal 3.5″ HDD bay allows you to easily install hard drive up to 10TB! So you can load many movies to your storage, ro you can use free space for recording, eventually it is up to you. If you ask us how complicated is to install hard drive, then we can tell you it is quite easy. So you can install almost any 3.5″ hard drive with SATA 3 support.
Playing games
Of course we love to play games, and because of that we tried to play several different games on Zidoo X10. After that we can say freely all games works as they should to work, and you can normally enjoy playing games. Lately retro games are very popular especially from Super Nintendo. So we played  Super Mario All Stars, and actually the game is really cool to play.
Video Playback with ZDMC
ZDMC is actually based on KODI, or in other words it is a customized version from Zidoo. So more or less it is the same like KODI but better with many improvements. You can normally download add-ons for watching your favorite TV shows or movies. But at the same time you can watch from USB flash drive are hard drive.
Also don't forget thanks to HEVC 10Bit UHD video decoding and HDR technology you can enjoy many different high definition movies. Actually it supports 10-bit HEVC/H.265 up to 4K @ 60fps, H.264 up to 4K @ 24 fps, HDR, and much much more. Therefore when we speak about audio decode support it supports HD audio(7.1ch), Blu-ray better compatibility, and other.
VLC testing
Actually in our opinion VLC including bsplayer are best movie players, and at the same time they are free. For this purpose we have tried to watch different kind movies from HD to 4K to see how good is working. From what we can see Zidoo X10 has no problems with playing any kind of movies including 4K movies. Maybe sometimes you will need to adjust settings for some particular movies.
Connectivity
In our opinion it has all required connectivity functions and features like Bluetooth 4.0, (10/100/1000Mbps) lan or in other words gigabit lan, and of course it has dual-band WIFI with support IEEE 802.11a/b/g/n, 802.11AC,4.900 GHz ~ 5.845 GHz.
But what is most important it comes with dual Wi-Fi antenna, and because of that it has much much better range for connectivity including stability. Also as we said it has Bluetooth which is very important, because with Bluetooth you can connect your keyboard and mouse. With keyboard and mouse it is much easier to use any Android TV box. Also don't forget you can connect a Bluetooth gamepad for playing games.
Conclusion and price info
At this moment the price is $229.00, and you can buy it at Gearbest here at this site.
So you can see why Zidoo X10 is professional Android media player. For the start it has all features you will need including powerful hardware. But most important it has internal 3.5″ HDD bay with support hard drive up to 10TB.
Besides that the build quality is great because the case is made from metal, and at the same time it has large display. Also don't forget that the remote control has backlight for all buttons.
Overall X10 is serious movie guy.
Don't forget if you want to say something about that this, or have some commission please comment.