Amazfit T-Rex Pro features and in-detailed review
For more than 3 weeks now we have used T-Rex Pro, try it on, and looking for all the features it has. To get complete insights, our T-Rex Pro has been paired with the Zepp app downloaded from Google Play Store. Therefore, the Amazfit T-Rex Pro review follows, an in-detail explanation of features this smartwatch has.
Amazfit T-Rex Pro appearance
By looking at these pictures, it is easy to say that T-Rex Pro looks exactly like the previous Amazfit model T-Rex. They are completely the same at the first sight.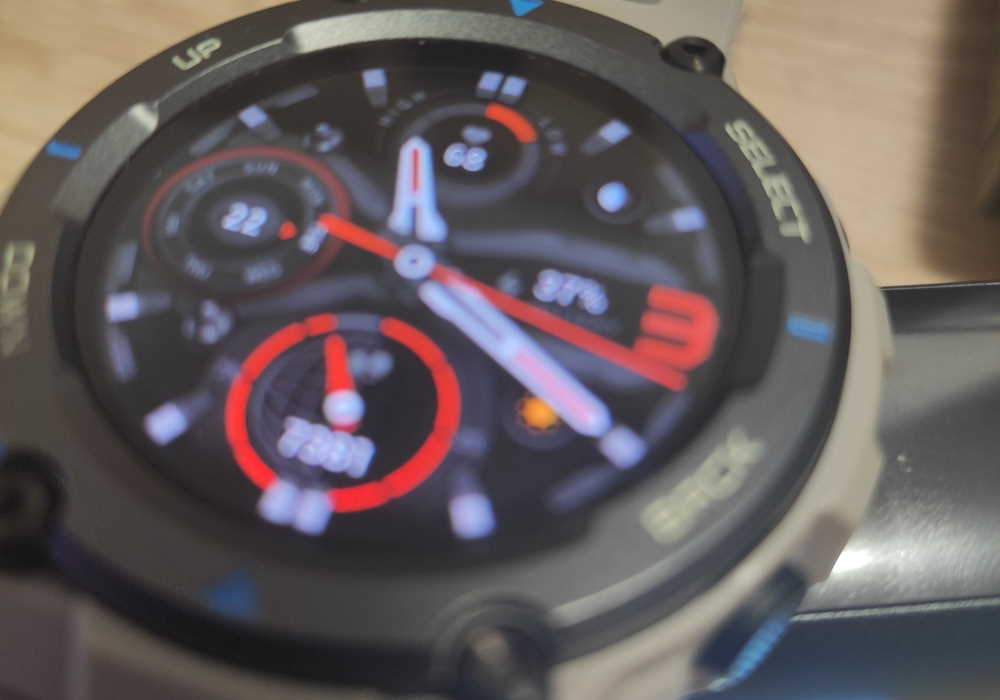 The T-Rex Pro and the T-Rex are both incredible smartwatches, especially for their price. However, there are some notable differences if the hardware is compared. T-Rex Pro goes one step above its "smaller" cousin, and for a few bucks more, you'll need to spend, there is a lot you can get.
T-Rex Pro vs T-Rex
The specs sheets for the two devices are similar, with a few exceptions. For a few extra bucks, the T-Rex Pro gives you over 100 sport tracking modes, better GPS positioning, and GPS tracking options. Furthermore, the Pro version of the T-Rex offers increased performance overall. However, battery life is reduced due to all these extra features. Important to mention, both models have a 390mAh battery capacity.
While comparing T-Rex Pro vs T-Rex, it is good to know that T-Rex Pro has passed 15 Military Grade tests, and T-Rex has passed 12 tests "only".
Other than that; Military grade tests, number of tracking modes, and GPS features, these two smartwatches are hard to distinguish.
Amazfit T-Rex Pro review
Amazfit T-Rex Pro is the first Xiaomi smartwatch with 10ATM water resistance. That's good news for swimmers and surfers. It delivers support for over 100 workout modes. The 1.3-inch HD AMOLED has a resolution of 360×360 pixels and an always-on display, as well as an upgraded GPS module for better satellite tracking, improving accuracy, and reducing power consumption.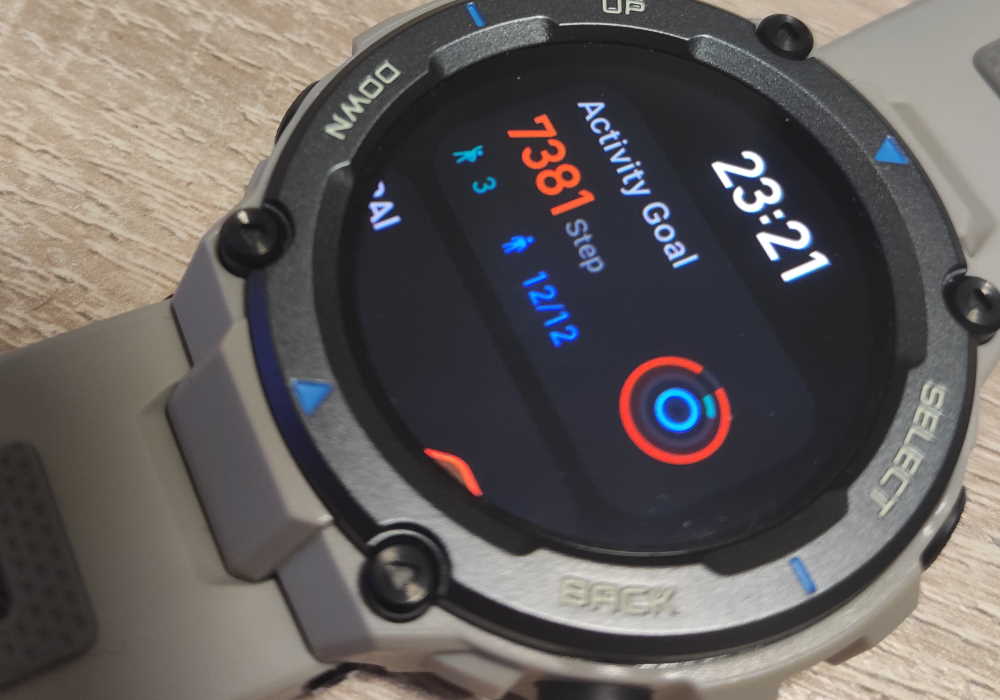 We find it as a good buy. Only a few smartwatches on the market boast 10ATM water resistance like T-Rex Pro does. Furthermore, T-Rex Pro has support for over 100 workout modes. Things we like the most are a 1.3-inch HD AMOLED display and an always-on display feature.
T-Rex Pro UI closeup
As said before, T-Rex Pro has more than 100 workout modes and an easy-to-read HD AMOLED 360 x 360 px display. UI is intuitive and easy to navigate. Touch screen accuracy gives you easy access to all the features you'll need. Above all, a touch screen is combined with four physical buttons, and this combo gives you all the comfort while navigating through the T-Rex Pro UI.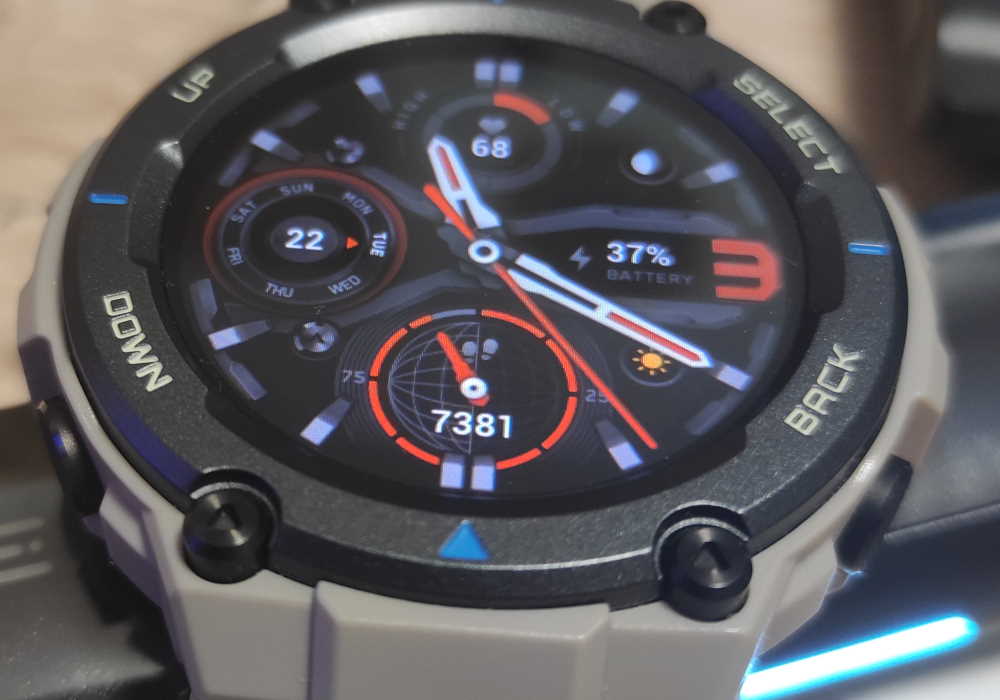 More about the T-Rex Pro
The Amazfit T-Rex Pro combines many features from Amazfit T-Rex with significant HD AMOLED display improvements. Furthermore, it brings more sensors, onboard music, and a new UI design. Touch has an excellent response, and buttons provide convenient use.
Although Amazfit promises three weeks of battery life in normal mode, don't rely on that. First of all, you can't use this watch in "normal" mode. To make it worth it, you have to turn on features, which consume battery power. Turning off all the features simply isn't an option. By turning off all the cool features this smartwatch has, it stops being a smartwatch.
However, some basic features, if turned ON, won't give you much of a headache. If optimally used, the battery lasts for 5-6 days without worrying about turning it off unexpectedly. To conclude, for everyday use, this smartwatch stays active for about one week. You should recharge the battery every 6-7 days when battery power drops close to 15%.
Amazfit T-Rex Pro HD AMOLED display
The T-Rex Pro has a 1.3" HD AMOLED display with 390×390 pixels. It isn't the best smartwatch display on the market, but more than just good for the price. With its price tag, you can't expect a better display. For instance, with T-Rex Pro, you don't get the highest pixel density. However, the oleophobic coating makes it easy to swipe past notifications and pull up apps. Navigating through the UI comes easy and without any accidental click or so… We find the always-on display mode quite handy, and cool looking feature. T-Rex Pro has an auto-brightness level making it easy to see outdoors even in bright conditions.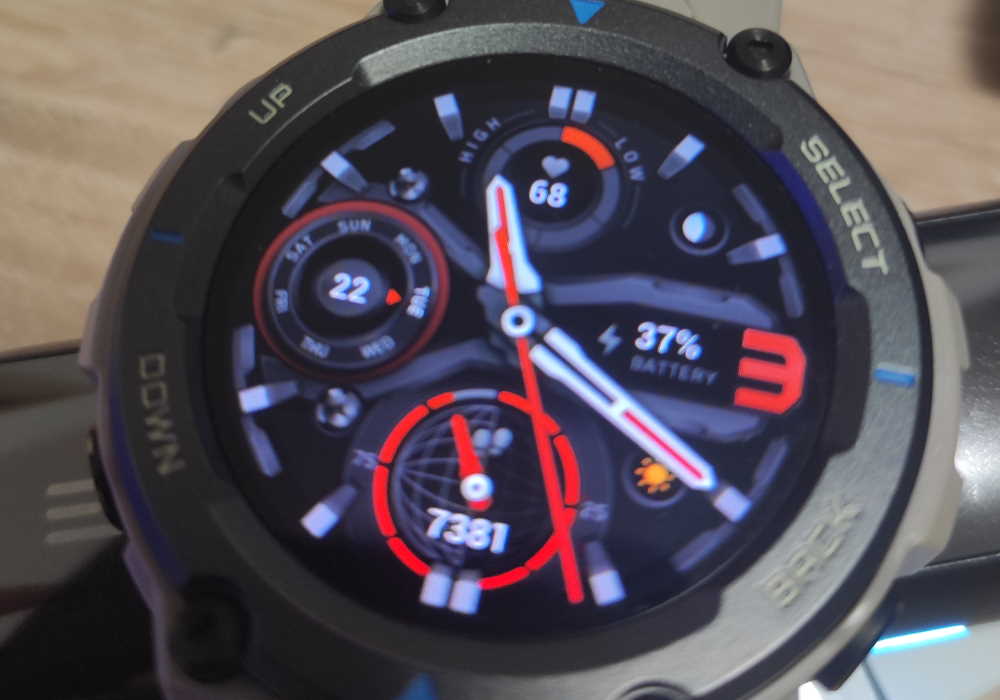 Cool looking, and quite handy feature is the torch lamp. You won't use it a lot, but when you need it, there isn't anything so helpful at that moment.
Amazfit T-Rex Pro is a mans watch
Sorry for bringing this up, but to be completely honest, this smartwatch is ideal for a male audience. Weight close to 60 grams, and with its dimensions, this watch is a choice for those people who like robust design. If you mind the weight and oversized watches in general, this one isn't for you.
Amazfit T-Rex Pro smartwatch is designed to be a complete adventure companion. Although, it can operate autonomously, when it is paired with the smartphone you'll get in detail reports of all your activities.
T-Rex Pro resistance
With this durable piece of hardware, you'll have all the smart features for everyday use. Worth mentioning is that T-Rex Pro has military-grade toughness with, 15 tests passed. Furthermore, it has 10 ATM water resistance, up to 70°C, and -40°C temperature resistance, and 240 hours humidity resistance. T-Rex Pro has 96 hours of salt spray resistance, meaning that Amazfit T-Rex Pro operates all harsh elements with ease.
Final words
Navigate all types of terrain, with a high-level exploration partner that boasts four Global Navigation Satellite systems, a weather tracker, sunrise and sunset monitor, current moon phase display, compass, and barometric altimeter. A world of style and function is presented in this fitness watch that strikes the perfect balance between practicality and comfort–features an always-on 1.3-Inch HD AMOLED color screen for smoother touch operation and richer & brighter color. A skin-friendly silicone strap with a sweat-wicking design has been made moist repellent and comfortable for everyday smartwatch use.