HONOR Launches True Wireless Magic Earbuds with Industry-Leading Active Noise Cancellation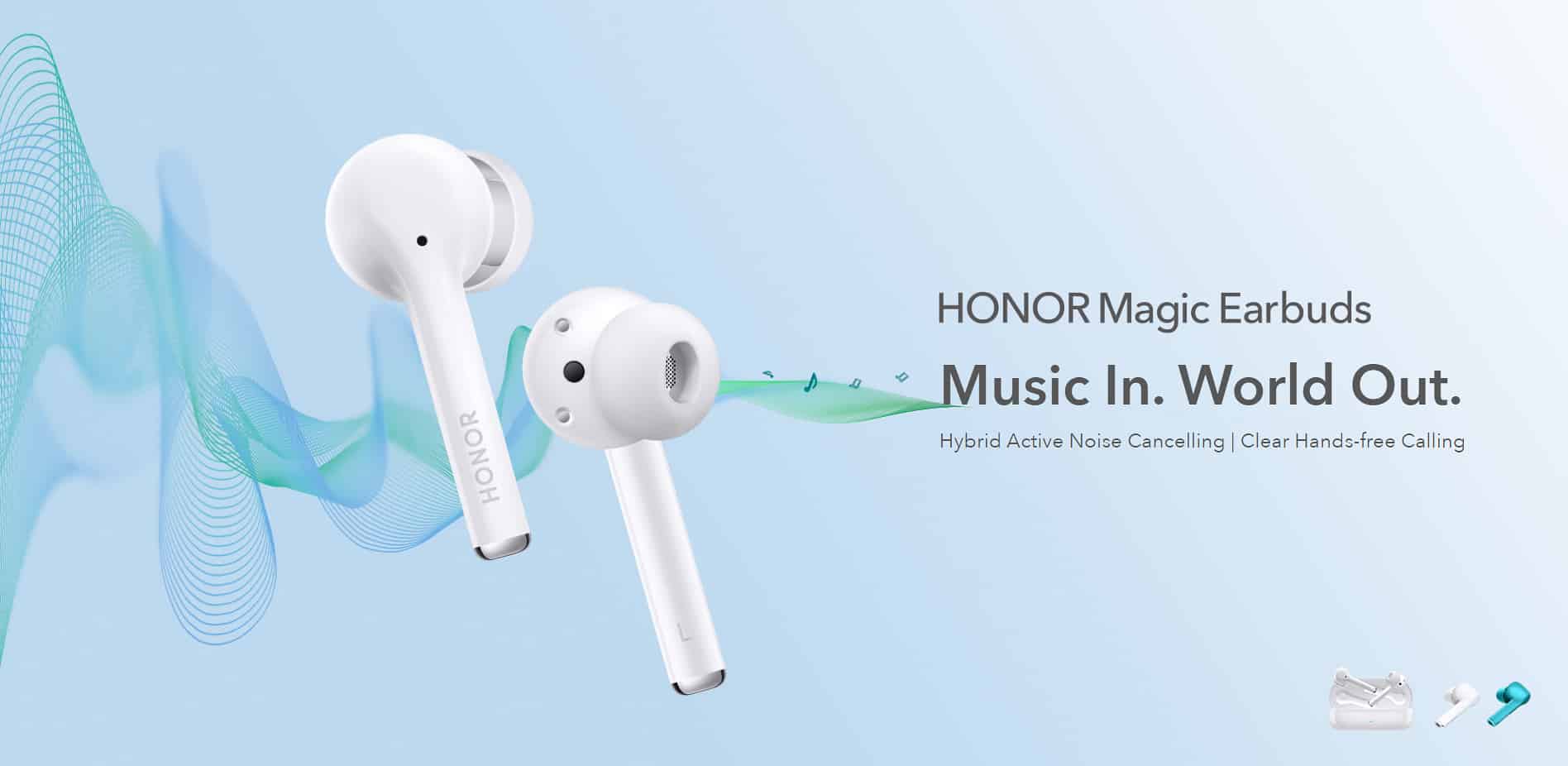 Global technology brand HONOR releases the HONOR Magic Earbuds, the company's first True Wireless Stereo (TWS) earphones in the global market to feature active noise cancellation, starting in Russia, Germany, Netherlands, France, Italy, UK and Malaysia, with other countries' availabilities to follow closely. Powered by the Hybrid Active Noise Cancelling Technology and triple-microphone noise reduction, these earbuds are dedicated to creating an immersive and distraction-free listening enjoyment in all situations. Ideal for fitness enthusiasts, the HONOR Magic Earbuds also come with a 10mm dynamic driver for robust bass sound, secure in-ear design and a slew of smart functions. Beginning from 5th May, the HONOR Magic Earbuds will be available for purchase on www.hihonor.com in Netherland, France, Germany and Italy at an accessible price of €99.90.
"As the latest addition to our hearables family, the HONOR Magic Earbuds uphold HONOR's commitment to tirelessly expand product offerings and create a fully intelligent and connected ecosystem for our global consumers," said George Zhao, President of HONOR. "Keeping young people's needs and lifestyle top of mind, the cord-free earbuds are engineered to provide first-class noise cancelling performance with premium sound quality, comfortable fit and intelligent user experience, all without compromising on price."
HONOR is also partnering up with Beatport, the world's largest electronic music store, to hold #MusicInWorldOut virtual live house party with amazing DJ artists from around the globe, including Deborah De Luca (Italy), Barely Legal (UK), PIV (Netherlands), VONDA7 (Germany), Clyde P (France) and Fatima Hajji (Spain). Beginning at 5PM BST on the 12th of May, the virtual live house party will broadcast live on Beatport's Facebook, YouTube and Twitch, as well as HONOR Global Facebook and YouTube.
Exceptional Hybrid Active Noise Cancelling Technology
Built to deliver an extraordinarily pure listening experience, the HONOR Magic Earbuds are equipped with a hybrid feedforward-feedback ANC technology, which can effectively reduce distracting background noise up to 32 dB . The HONOR Magic Earbuds combine a feedforward mic that cancels environmental noise and a feedback mic that further filters out remaining undesirable sound in your ears. Even in the noisiest environments, the HONOR Magic Earbuds let users to be significantly immersed in their music world.
Clear Calls with Triple-Microphone Noise Cancellation
The HONOR Magic Earbuds boast three Micro-Electro-Mechanical System (MEMS) microphones on each side to bring the best possible call quality. Supported by adaptive noise cancelling technology, two external and an internal microphones work in tandem to precisely capture users' voice while supressing the ambient noise, allowing users to have crystal-clear communication as if talking face to face.
10mm Unit Driver for Superior Sound
To cater the needs of audiophiles and music enthusiasts, the HONOR Magic Earbuds achieve superb sound quality with rich details. Built with a powerful 10mm dynamic driver unit, the HONOR Magic Earbuds produce strong bass and clear trebles. Consisting of a highly-sensitive composite diaphragm, the driver guarantees seamless transmission of audio signal for clear, vibrant and well-balanced music listening.
Comfortable In-Ear Design with Long-lasting Battery for All-Day Usage
Crafted to maximize comfort and stability for everyday wear, the HONOR Magic Earbuds adopt an ergonomic trapezoidal design with three sizes of silicon ear tips to ensure a proper and sung fit. Users will be able to enjoy prolonged listening sessions without aching or ear fatigue. The in-ear design also forms a tight seal to provide passive noise isolation that further prevents ambient noise from seeping into users' audio.
Available in Pearl White and Robin Egg Blue, the HONOR Magic Earbuds is furnished with a modern and sleek appearance, making these the perfect accessory for fashion-conscious individuals. In addition, weighing only 5.5g for each earbud and 51g for the charging case, the earbuds are truly portable for users to carry around in their pocket or bag.
Enabled by the low-consumption Bluetooth technology, the HONOR Magic Earbuds offer approximately 3.5 hours of continuous music playback or 2.5 hours of voice calls on a single charge, with the charging case carrying up to a total of 14.5 hours of music playback. Armed with excellent battery life, these earbuds can last through a day of use with ease.
Smart Functionality Complements Smooth Listening
Owing to a built-in advanced capacitive touch sensor, the HONOR Magic Earbuds support intuitive touch controls, which allow users to double tap for music, voice calling controls and long tap to enable or disable active noise cancellation. Users can also customize these control shortcuts through Huawei AI Life APP.
As HONOR always put their users on priority, the HONOR Magic Earbuds are intelligently optimized with the EMUI 10.0 operating system. Once users open the charging case, they can simply use the pop-up window4 on their smartphone for instant first-time pairing and subsequent connections are then automatic. Moreover, the HONOR Magic Earbuds can detect when users put them on and automatically play or pause music based on the wearing status, boosting convenience and intelligence in users' daily life.
Explore the latest exciting deals and offers for HONOR Magic Earbuds on www.hihonor.com in Netherland, France, Germany and Italy. The availability in the UK market will follow soon with the price of £89.99.