How Samsung's Wind-Free™ Air Conditioner Keeps Your Home Comfortable, Cool and Healthy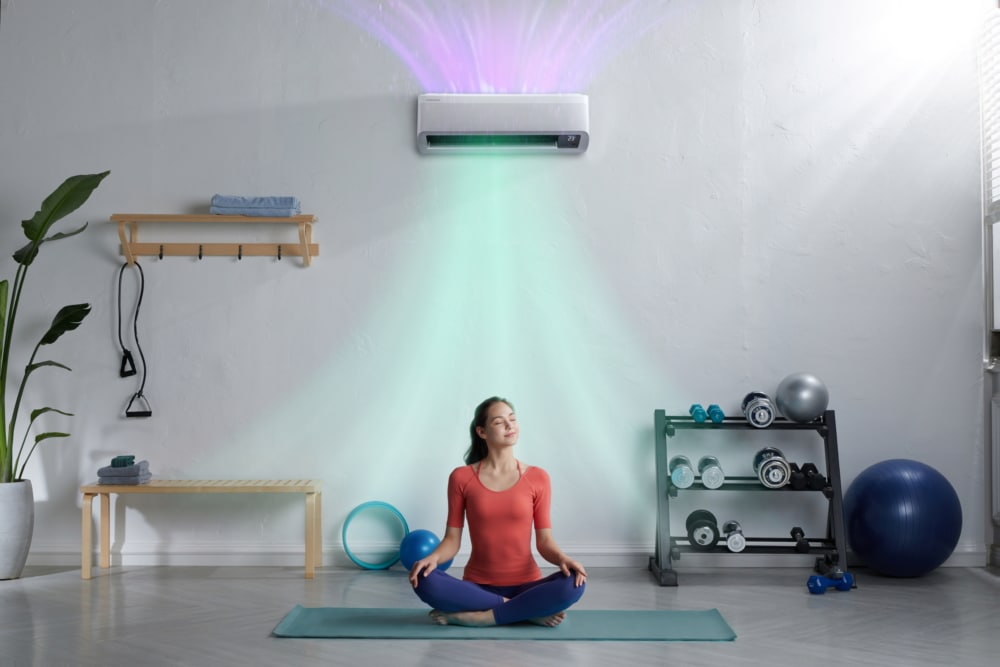 While staying cool when it is hot outside is a priority, there is more to air conditioning than just bringing down the heat.
Not only does the Samsung Wind-Free™ Air Conditioner let you maintain a stable home temperature via remote control optimized to your daily schedule, its world-first Wind-Free™ Cooling technology keeps you pleasantly cool while cleaning the air and saving energy.
Stay Comfortable While Keeping Cool
Samsung's Wind-Free™ Cooling technology is able to provide you with an effective cooling experience without the unpleasant sensation of harsh, cold air blowing directly onto your skin. Once you set your desired temperature, Wind-Free™ Cooling will quietly and gently disperse cool air through 23,000 micro air holes to ensure you are met with no cold draft.
Furthermore, Wind-Free™ Cooling's advanced airflow cools the room 43 percent faster, and thanks to its low air speed and minimized noise emissions, you can enjoy a cooler living space without disruption – wherever you may be in a room.
Breathe Easier with Triple Air Care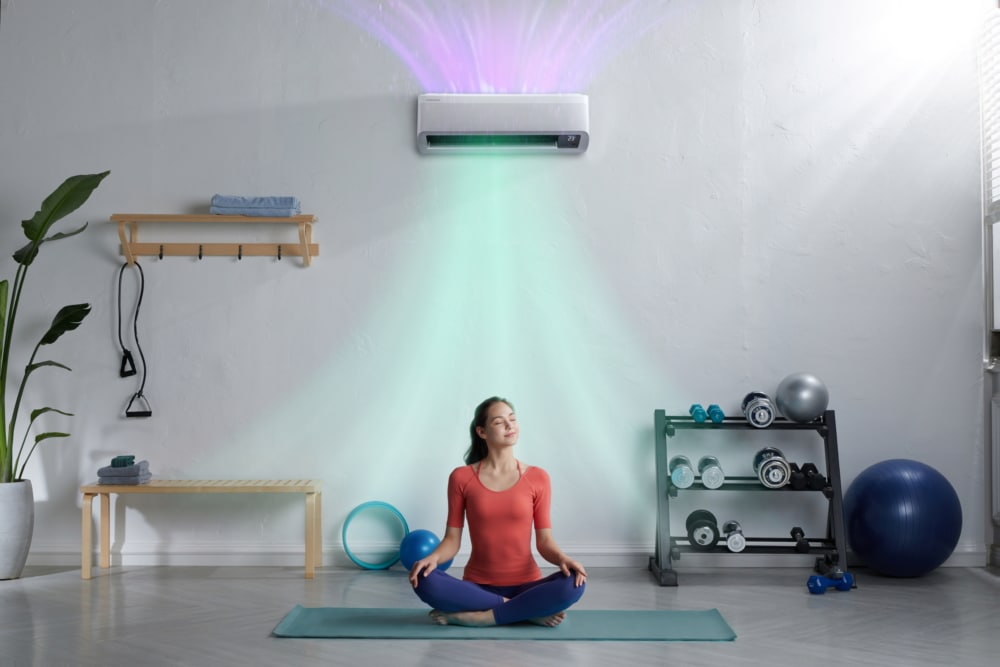 Samsung's Wind-Free™ Cooling technology not only keeps your room temperature comfortably in check, it also includes a specialized filter to keep the air in your home clean and hygienic.
This Tri-Care filter is made up of three layers that reduce harmful particles to help maintain healthy indoor air quality and has been certified by Intertek to reduce 99.9% of bacteria and viruses that get caught inside of it. Each layer captures large dust particles, fibers and even animal hairs, and also includes a Zeolite Coating Filter that reduces viruses, bacteria and allergens.
Enjoy Effortless Cool with Enhanced Smart Operation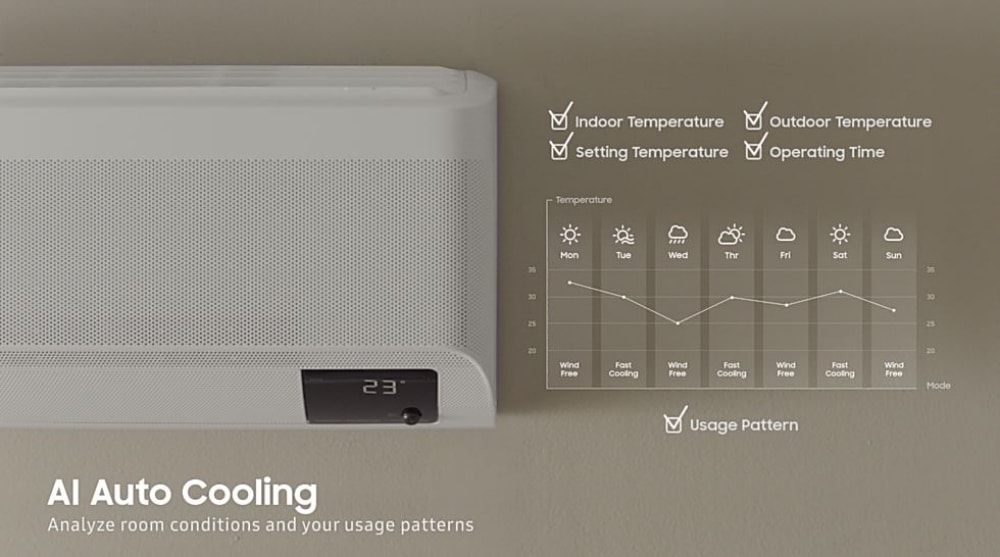 Samsung's Wind-Free™ Air Conditioners come with an AI Auto Cooling feature that makes it easier to stay cool. With artificial intelligence, the devices analyze room conditions, user-preferred temperatures and cooling modes, and even the climate outdoors to automatically switch to an optimal room setting. The unit also features a Motion Detect Sensor that will register when there is no one in a room, subsequently switching modes automatically to reduce energy waste.
Wind-Free™ also works with the SmartThings app, so users can turn the air conditioner on and off, schedule operations, switch settings, and even monitor power consumption remotely from their smartphone.
Save Energy Without Compromising Performance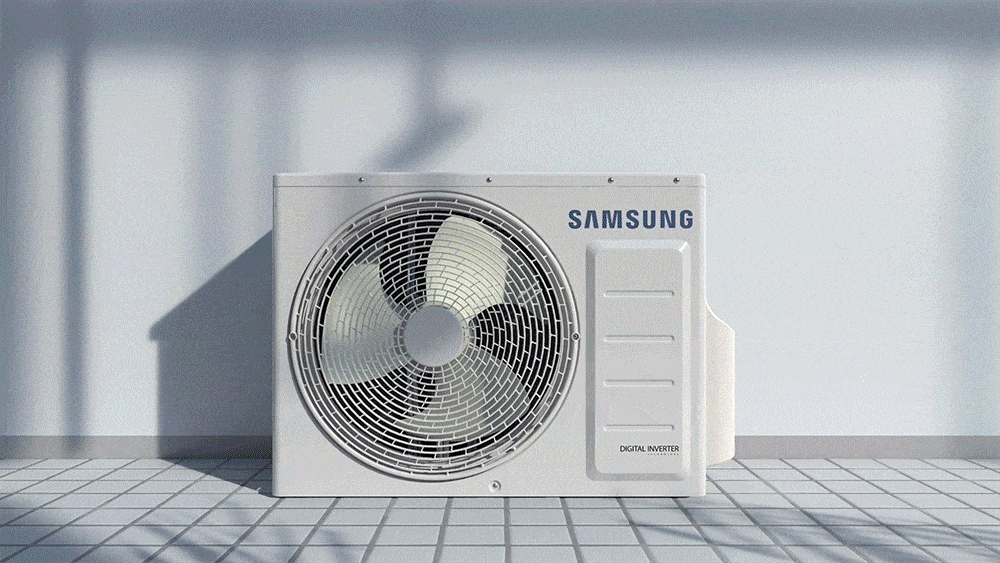 With the Samsung Wind-Free™ Air Conditioner, all of this leading performance not only keeps you breathing cool, fresh air, it also does its part to protect the planet by reducing the impact of climate change. The Samsung Wind-Free™ Air Conditioner features the next-generation R32 refrigerant, which helps conserve the ozone layer and has a low impact on global warming compared to conventional refrigerants.
The Samsung Wind-Free™ Air Conditioner is an eco-friendly option for those looking for a powerful air conditioner experience with a reduced environmental impact. Additionally, its energy-efficient Digital Inverter Boost technology will maintain your desired temperature with less fluctuation, reducing energy usage by up to 73%.
Galaxy Watch3 and Galaxy Buds Live Now Available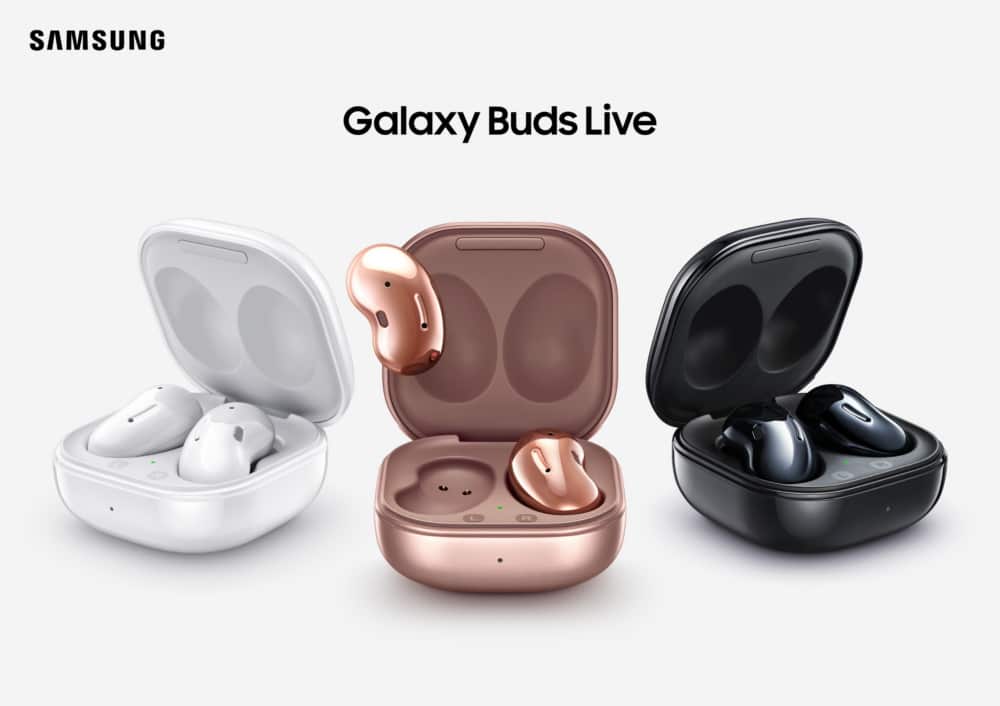 Samsung Electronics announced today at Unpacked the Galaxy Watch3 and Galaxy Buds Live. Galaxy Watch3 is a next-generation smartwatch that combines timeless craftsmanship with cutting-edge health and wellness features. Galaxy Buds Live are the newest shape of true wireless earbuds, boasting a stylish and ergonomic design paired with premium audio technology.
Galaxy Watch3 and Galaxy Buds Live are convenient tools for maintaining your lifestyle and daily routines, especially in the current climate. Both devices are seamlessly integrated into the wider Galaxy ecosystem to help you live healthier, communicate better, and get the most out of your technology.
"Wearables are among the fastest-advancing technology sectors, and the pace of progress is only accelerating. In recent months, we've seen immense growth in the market as people turn to smartwatches and earbuds to help them thrive in the 'Next Normal'", said Dr. TM Roh, President and Head of Mobile Communications Business, Samsung Electronics. "Since introducing our first smartwatch just seven years ago, we have become a leader in wearable innovation. Today, we're laser-focused on building on this momentum to offer new and differentiated experiences – combined with the bold design and advanced technology that our customers have come to expect."
Galaxy Watch3: Manage Your Life with Advanced Health Technology
Galaxy Watch3 boasts all the craftsmanship of a luxury timepiece, while being comfortable enough to wear all day. Sporting a timeless design, this watch is built with premium materials like stainless steel and high-quality leather — and for the first time, Galaxy Watch3 will also be available in a titanium model that's both durable and elegant. Galaxy Watch3 also features the popular rotating bezel from previous watch models, which merges form with function. With just a turn of the bezel, you can easily toggle between widgets, open apps and scroll through notifications. Compared to the original Galaxy Watch, Galaxy Watch3 is 14% thinner, 8% smaller and 15% lighter — combined with a larger display. You can also customize your watch face to perfectly reflect your personal style. You can choose from over 80,000 watch faces in the Galaxy Store, or design your own. A library of 40 different complications allows you to personalize your watch face with the information that's most important to you.
With each new iteration, Galaxy Watch capabilities have expanded, and now, Galaxy Watch will offer new experiences in health and wellness monitoring. The Blood oxygen (SpO2) feature will soon measure and track oxygen saturation over time, for fitness and wellness purposes. Galaxy Watch3 will also be home to the new Samsung Health Monitor app once launched, which will include blood pressure (BP) monitoring and electrocardiogram (ECG) readings in markets where these features have been authorized. To ensure that help is never too far away in the event of a fall, Galaxy Watch3 comes with a new feature that detects falls, which identifies a potential fall and can send an SOS notification to your chosen contacts.
Beginning a fitness routine can be difficult, but Samsung's running form tool is here to help. Running analysis will be able to offers real-time feedback during your runs, as well as six-factor post-workout reports, which help improve form, boost performance, and reduce injury. To track your cardio progress as you go, you will soon be able to easily access VO2 max readings, which offer insight into your oxygen uptake. Even when you're at home, you have access to a full-service fitness studio with Samsung Health, which features a library of more than 120 different video workouts. Simply select a workout routine on your Galaxy smartphone, cast it onto your Samsung Smart TV, and your Galaxy Watch3 will take care of the rest and automatically track the workout. Because recovery is just as important as the exercise, Samsung has been developing its sleep management offering since it was first introduced back in 2014. Now, Galaxy Watch3 offers brand new sleep score and insights to help you get better rest.
In addition, seamless compatibility between the Galaxy Watch3 and other Galaxy devices, including the Galaxy Note20, amplifies your mobile experiences. You can set automatic reply options for both messages and images, and easily view emoticons and photos directly from your wrist. You can also effortlessly control your mobile experience; play your favorite music from your phone with the rotating bezel; and use simple hand gestures, like clenching and unclenching your fist to receive a call, or rotating your wrist to mute alarms or incoming calls. For those who spend extended periods away from their phone, LTE models are also available, allowing you to take calls and messages, stream your favorite playlists, and access your favorite apps on-the-go.
Galaxy Buds Live: Tune into Every Moment
Galaxy Buds Live defy conventional design — with one-of-a-kind aesthetics, they're like nothing you've ever seen or worn before. Samsung has reconfigured traditional earbud design, laying out internal components horizontally instead of vertically. That way, the earbuds don't protrude from your ears, providing a more natural appearance. This ergonomic, tip-less design conforms to the shape of your ear, making them comfortable enough to wear all-day. You can further customize your fit with two sizes of wingtips.
Galaxy Buds Live were engineered to bring your sound to life. Combining AKG's sound expertise with Samsung's legacy of hardware innovation, Galaxy Buds Live offer a truly immersive audio experience. With a 12mm speaker and bass duct, the audio sounds deep and rich, allowing you to enjoy music the way the artist intended. With three microphones and a Voice Pickup Unit, your earbuds home in on your voice and ensure you always come through loud and clear on the phone. These earbuds feature Active Noise Cancellation (ANC) for open type, allowing you to tune out distractions like passing cars and loud laundry machines, while still being able to tune into important announcements and conversations.
Galaxy Buds Live offer a convenient and connected listening experience, compatible with a range of devices. Seamlessly switch between compatible devices — no disconnecting and reconnecting required. And when paired with the latest Galaxy devices, you can open your world to new possibilities. Record crystal clear audio for your video on the Galaxy Note20 by using Galaxy Buds Live as a wireless microphone. Use 'Game Mode' to reduce audio latency – with Galaxy Note20's Dynamic AMOLED 2X display, you can enjoy a more immersive gaming experience. You can also easily share music with friends — without compromising sound quality — using the new Buds Together feature.
For more convenient navigation, Galaxy Buds Live feature an intuitive touch-based PUI (physical user interface) for touch control, as well as Bixby voice wake-up, which allows you to navigate music, open apps, and send messages hands-free and eyes-free. Plus, Galaxy Buds Live come with long-lasting battery life. When fully charged, your earbuds can support up to 6 hours of playback, and the charging case allows you to enjoy an additional 15 hours over multiple charges. And when you need to top up on charge quickly, you can gain 1 hour of play time with just 5 minutes of charging.
Availability
Galaxy Watch3 and Galaxy Buds Live are available in select countries starting from August 6, 2020, and will expand to more markets.
Galaxy Watch3 is available in 41mm and 45mm, both available in LTE and Bluetooth variants. Galaxy Watch 41mm variant will be available in Mystic Bronze and Mystic Silver, while the Galaxy Watch 45mm variant will be available in Mystic Silver and Mystic Black.
The Galaxy Watch Titanium variant will be available later this year.
The Galaxy Buds Live will be available starting, August 6, and will come in Mystic Bronze, Mystic White, and Mystic Black.
For more information about Galaxy Watch3 and Galaxy Buds Live, please visit:
Galaxy Watch3: https://www.samsung.com/global/galaxy/galaxy-watch3/
Galaxy Buds Live: https://www.samsung.com/global/galaxy/galaxy-buds-live/
DISCOVER MI: HOW AIOT TURNS LISTENING INTO HEARING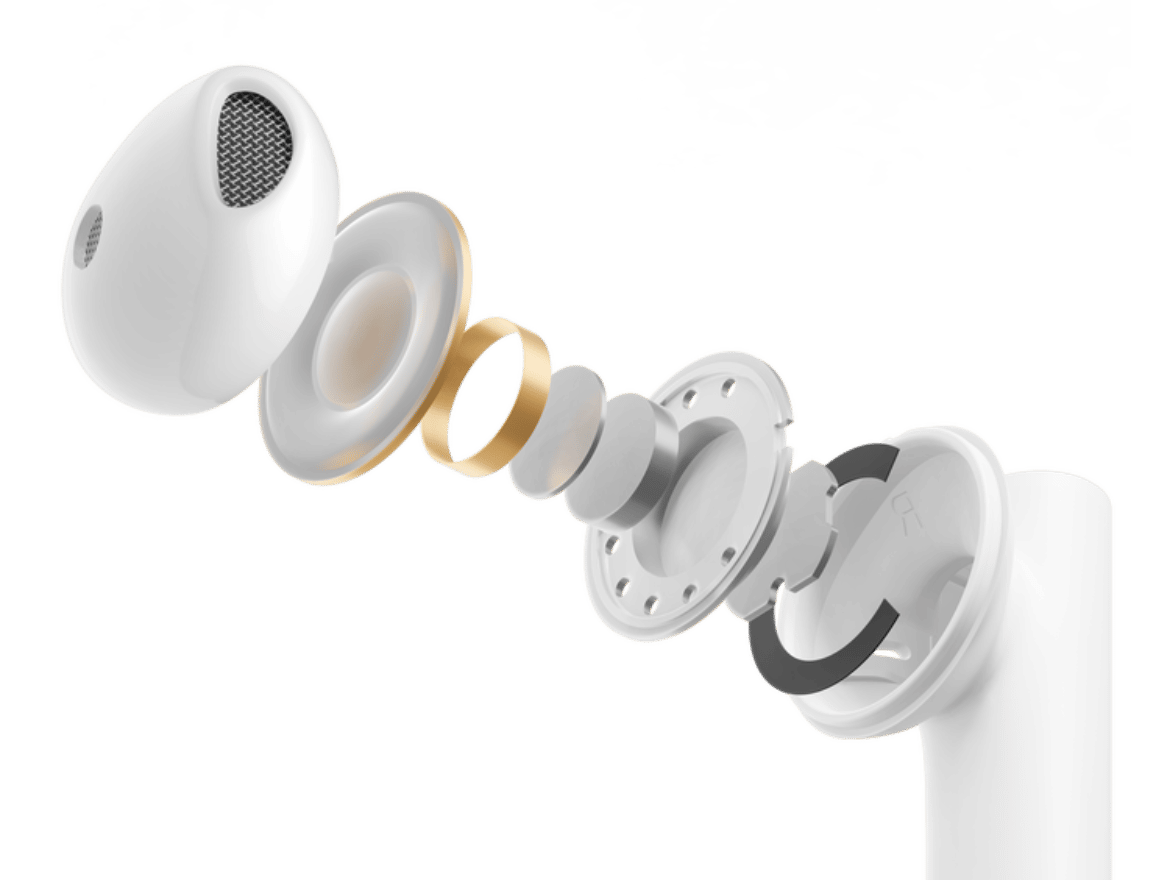 Numerous technological advancements have propelled true wireless (TWS) headsets to steal market share from traditional Bluetooth and wired headphones in recent years. According to Canalys, TWS headsets have overtaken wireless earphones and wireless headphones as the largest category with a stellar 183% year-on-year growth in Q3 2019. To find out more about the latest trends in the field and Xiaomi's vision for the future of TWS earpieces, we sat down with people who were in the vanguard of the company's ecosystem efforts as well as senior decision-makers from 1MORE, the Xiaomi ecosystem company behind Mi Earphones.
User-centered design and continuous progress
Sharing Xiaomi's brand philosophy, companies like 1MORE, are committed to the cause of making advanced technology accessible to everyone, a commitment out of which Xiaomi's very first offering to audiophiles, four-unit wired Mi In-ear Headphones Pro, was born.
"From Mi In-ear Headphones Pro to the recent Mi True Wireless Earphones 2 Basic, we have made our best to improve every aspect of the product from noise cancellation to pro-level sound quality, battery life and more," explained Channing Zhang, General Manager, VP, and Partner at 1MORE Group. "We have made considerable strides in terms of providing users with a low latency audio experience without sacrificing sound quality. Mi True Wireless Earphones 2 Basic incorporate a 14.2mm large driver for more natural sound and support high quality AAC audio decoding."
"We contemplated every design feature, material, surface treatment, and color with Xiaomi and had to restart the process several times. In order to make sure that the earphones are comfortable to wear, we analyzed thousands of ear canal data samples in the laboratory and collected feedback from consumers. To improve call sound quality and allow our products to rival high-end competitors we systematically optimized our chips, design, and noise reduction algorithms," added Kevin Hu, Product Director at 1MORE Group.
"We keep collecting feedback from our Mi Fans across the world and have so far released several TWS earphone products with a high price-performance ratio. Our designs for casual users, sports lovers, and mobile game enthusiasts have received compliments from the Mi Fan community and beyond. We are confident that we can offer even more superior product experience to our users with the new Mi True Wireless Earphones 2 Basic," said Shawn Lin, Global Product Manager at Xiaomi.
Technology for all
"Price and performance are currently among the few reasons preventing users from switching to TWS devices. However, as technology breakthroughs in this segment proliferate, we are confident in our ability to make quality TWS devices accessible to everyone," shared Channing Zhang. "Currently, there are still certain scenarios under which TWS headsets can be inferior to their wired brethren, high FPS gaming that requires low latency audio is one of them. Yet in the near future, we believe, TWS devices will be able to showcase similar performance and will even outpace wired headphones on multiple fronts."
Product innovation and the future of TWS devices
"By incorporating location, movement and health detection sensors, voiceprint recognition and other advanced features, TWS earphones could become the key to any smart home. They will transform into the ultimate personal wearable devices, allowing users to study, exercise, or rest more efficiently," Zhang continued.
The mastermind behind 1MORE expects that as soon as the functionality of TWS devices develops to a mature level, their design will become more personalized. TWS devices will be tailored to different needs be it sports, business, education or leisure.
"We believe that in 2-3 years the computing ability of TWS headsets will equal that of smartphones 10 years ago turning them from a tool merely playing sounds into a powerful information processing unit, even independently from smartphones," predicted Chuangqi Li, Senior Product Director of Ecosystem at Xiaomi.
OPPO launches 125W flash charge, 65W AirVOOC wireless flash charge and 50W mini SuperVOOC charger
OPPO launches a new flash charge lineup with new high-power wired and wireless charging technologies as well as high-power ultra-small chargers, consolidating OPPO's leading position in flash charge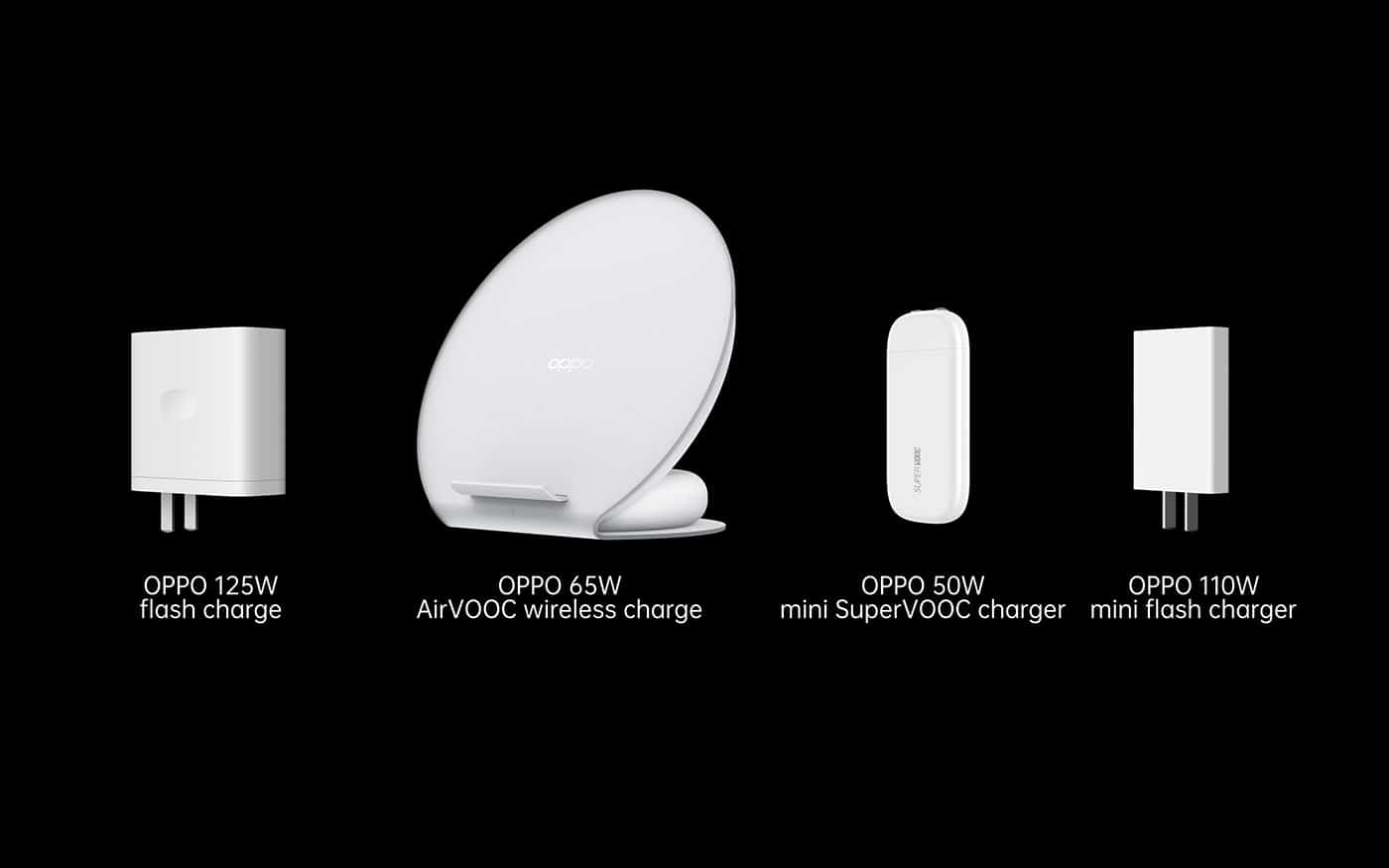 OPPO announced today the official release of the 125W flash charge, the 65W AirVOOC wireless flash charge, the ultra-small portable 50W mini SuperVOOC charger as well as the 110W mini flash charger.
The 125W flash charge technology marks the latest flash charge technological breakthrough for the mobile phone industry. With an advanced encryption algorithm and strict temperature control regulators, it enables the safe and efficient use of the flash charging device. The 65W AirVOOC wireless flash charge allows users to charge faster compared to wired charging. The 50W mini SuperVOOC charger and the 110W flash charger which are introduced for the first time are unique innovations of OPPO's VOOC flash charge technology. They are field leaders in the miniaturization of high-power chargers as a result of their unprecedented light, thin and portable features.
Jeff Zhang, Chief Charging Technology Scientist at OPPO, commented: "The accelerated 5G rollout worldwide as well as the increasing diversification of high-power-consumption applications including gaming and video viewing represent new challenges for the battery life of mobile phones and user charging experience. OPPO has been leading the development of fast charging ever since VOOC flash charge was launched in 2014. Now, we are committed to continuing to build on our expertise and advantages in the field of high power, wireless and ultra-small charging technologies in order to provide users with a safe, efficient and convenient ultra-fast charging experience."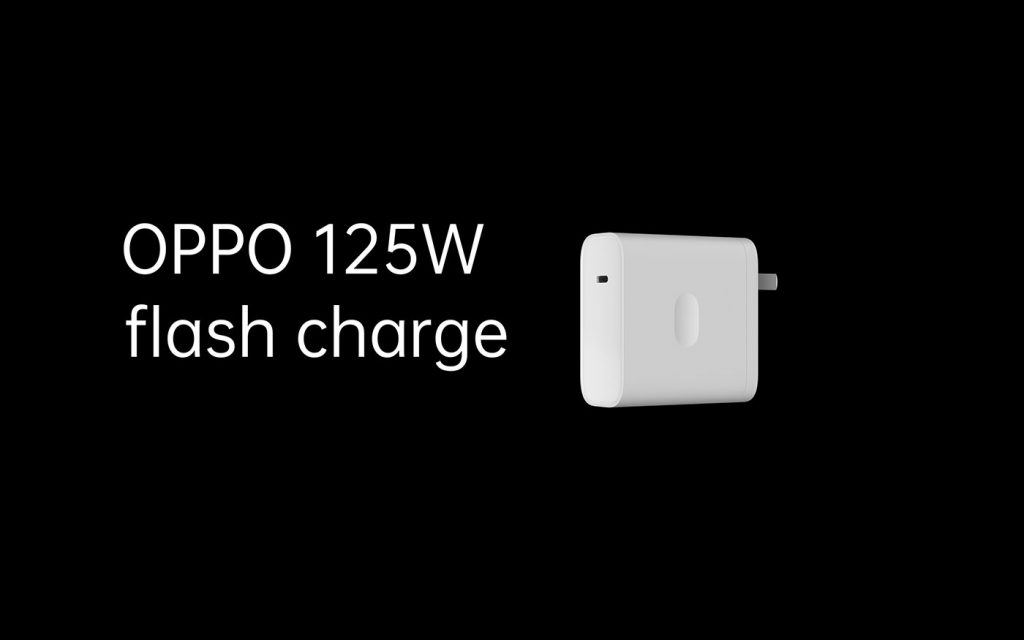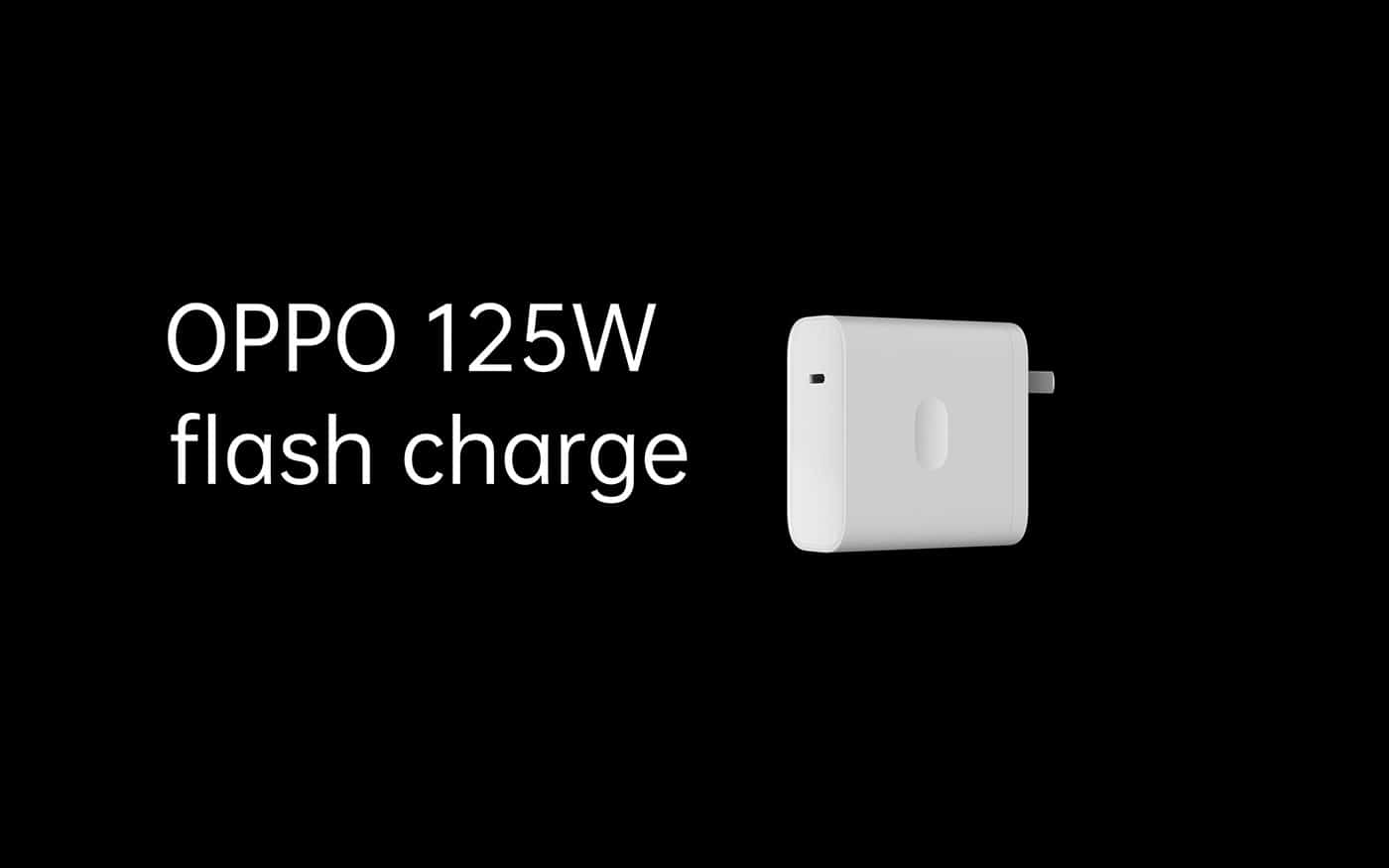 125W flash charge: faster charging in the 5G era
OPPO's 125W flash charge technology uses direct charging technology which is able to charge a 4000mAh battery up to 41% in 5 minutes and fully charge it in 20 minutes at the fastest rate. Simultaneously, it is compatible with previous SuperVOOC and VOOC flash charge protocols and it also supports mainstream protocols including 65W PD and 125W PPS. Currently, it is the most advanced flash charging technology in the industry.
Evolved from SuperVOOC's technical design, the 125W flash charge has undergone a comprehensive hardware architecture upgrade. It can support a charging scheme of up to 20V 6.25A and has significantly improved power density properties in order to effectively reduce charging time whilst simultaneously not increasing the size of the charger. In terms of battery, it is equipped with double-6C cells with breakthrough battery ratio, industry-leading multiple tab structures, charge pumps and a highly integrated MCU to improve charging efficiency.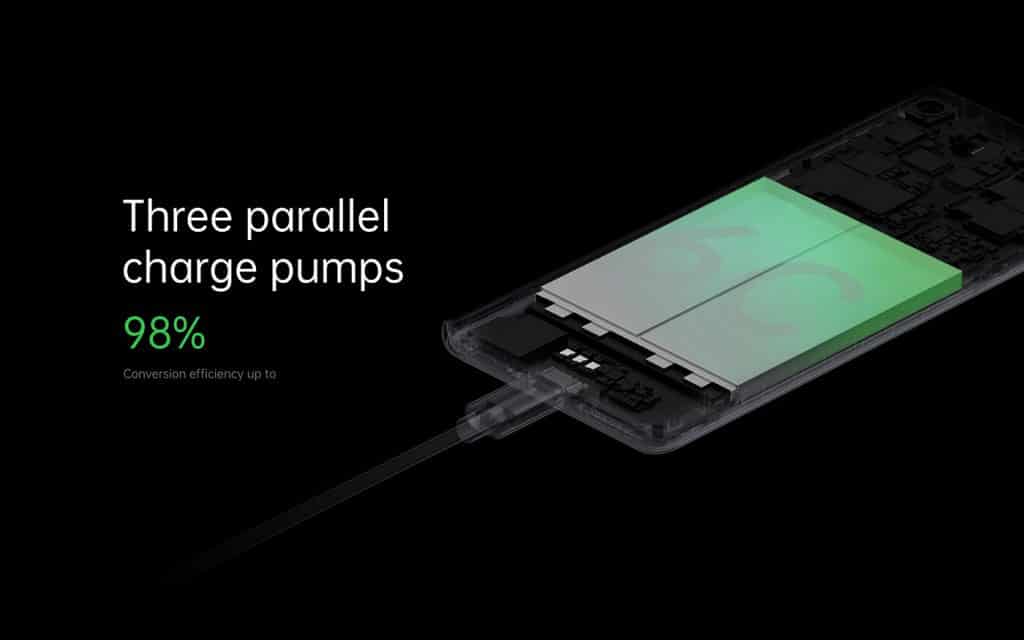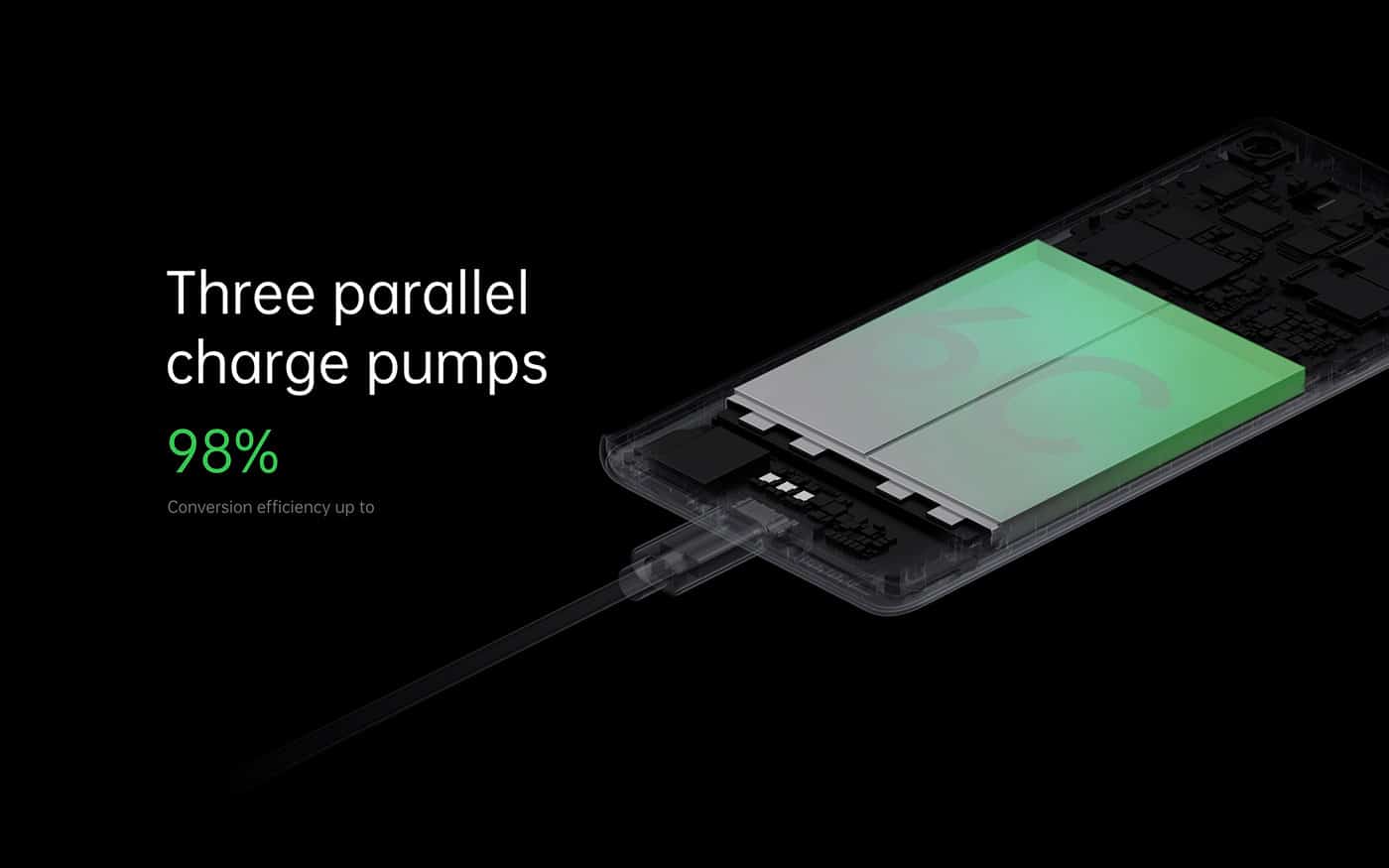 In addition, the technology behind the 125W flash charge has strengthened the safety protection features in the system by adding 10 additional temperature sensors which monitor the charging status and ensure maximum safety during charging. Furthermore, the platform uses fuse overvoltage protection measures, Type-C to Type-C wire as well as 128-bit high-strength encryption algorithm to enhance safety.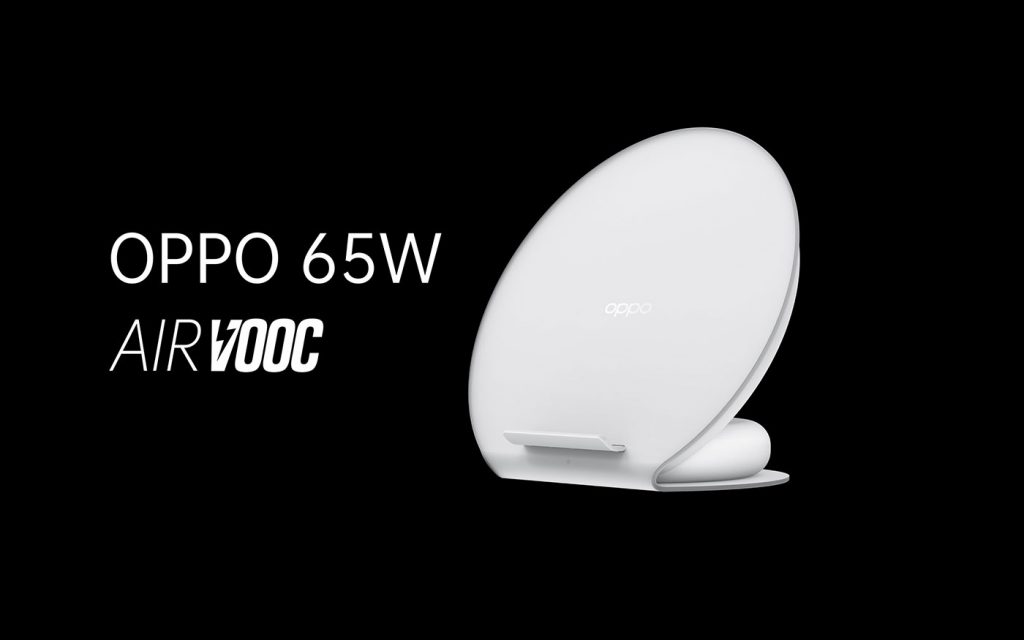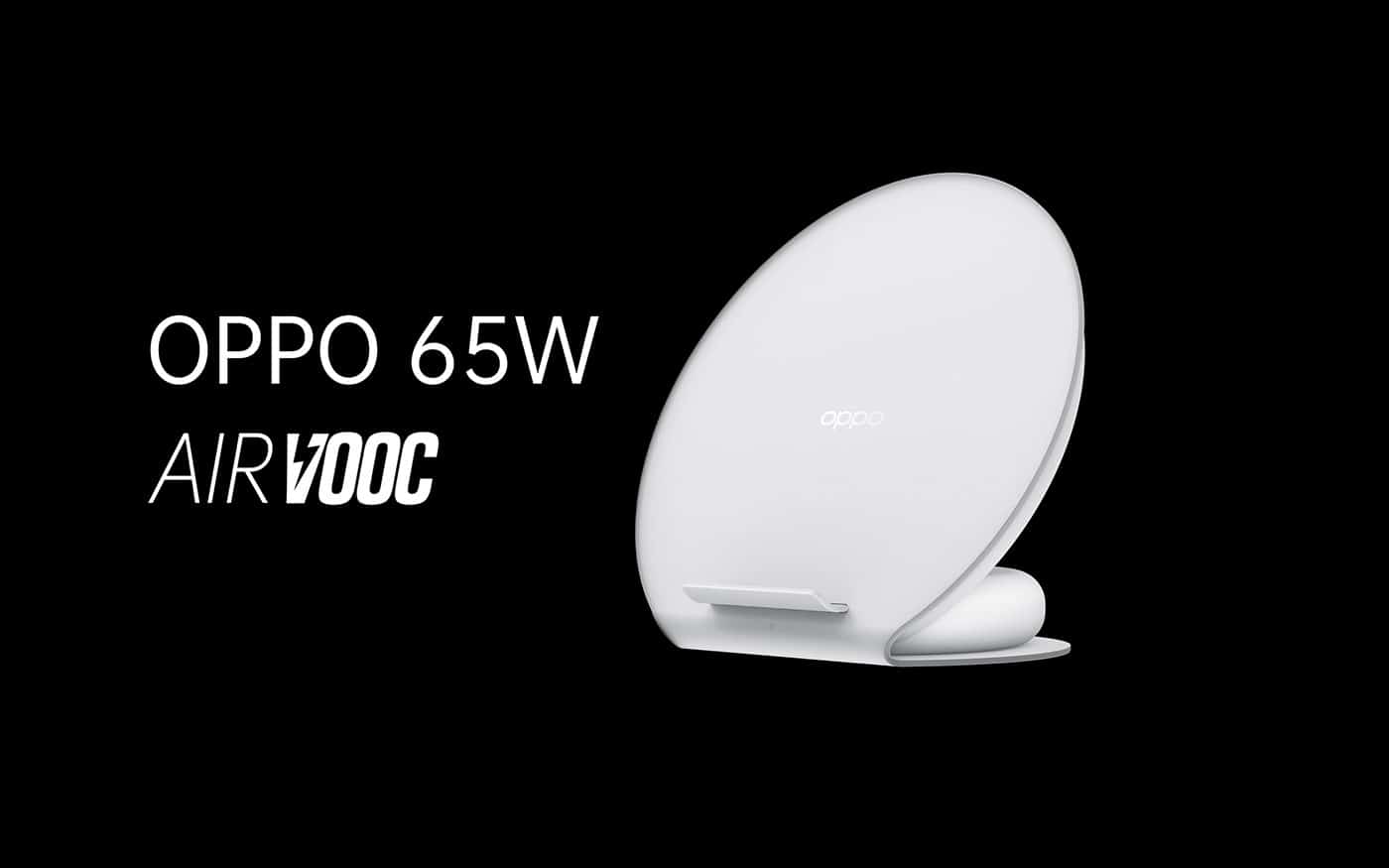 65W AirVOOC wireless flash charge: leading the development of wireless charging technology
Users want to be free of the hassle and inconvenience of charging cables and be able to charge their devices as quickly as possible. The answer to this problem is the market-leading wireless flash charge technology 65W AirVOOC wireless flash charge, which adopts self-developed isolated charge pump technology and parallel dual-coil design to further increase wireless charging efficiency.
The 65W AirVOOC wireless flash charge can fully charge a 4000mAh battery in 30 minutes at the fastest rate. It has reduced the interference in frequency and thereby enabled wireless charging to be widely applied. The technology has five-fold safety protection measures in addition to a foreign object detection function. It is also compatible with the Qi standard and provides users with a cable-free and super-fast charging experience.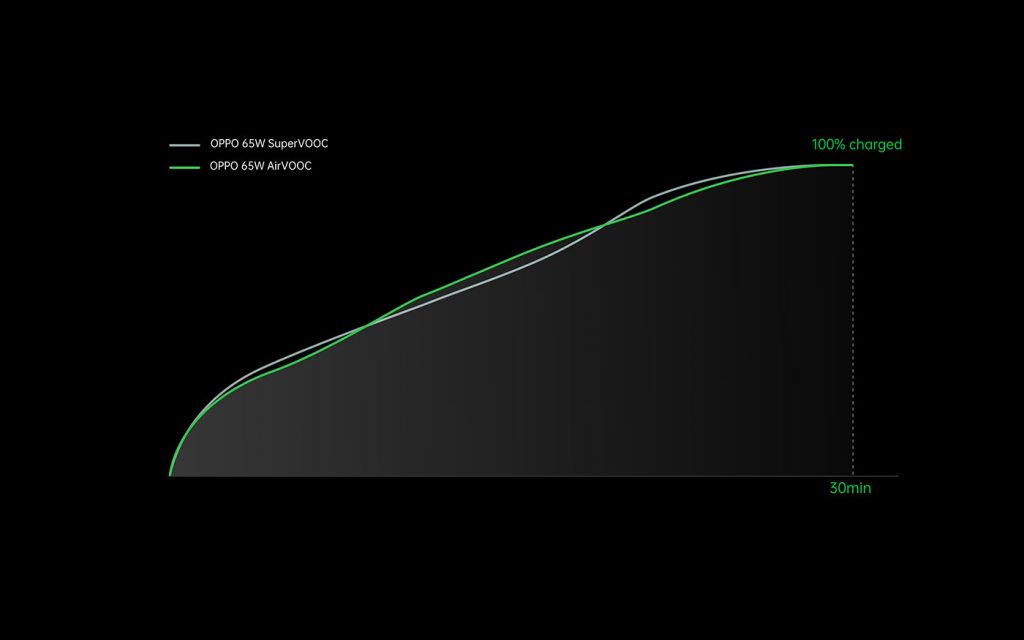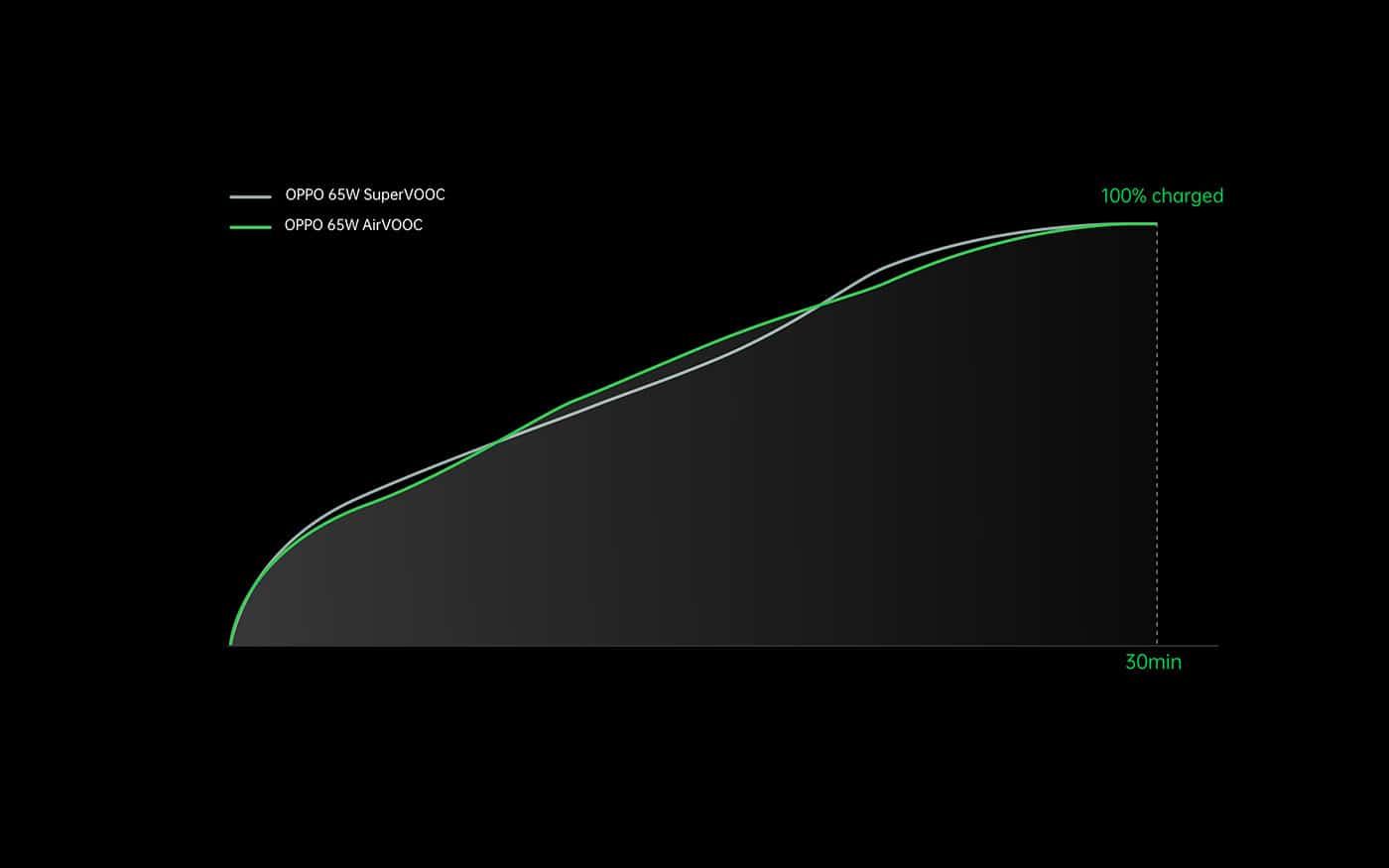 In addition, OPPO has showcased a conceptual wireless charger for the 65W AirVOOC wireless flash charge. The charger features a beautifully-sculpted glass which is made of moldless rapid prototyping technology and is the first application of this type of technology in the consumer electronics market.
The bottom of the charger is equipped with a semiconductor cooler in order to adjust the heat entering and exiting thereby ensuring that the handset is not hot after the appliance has been charged. In this case, the temperature of the back of the phone is kept over 2℃ lower than that of only using the fan to dissipate heat. The unique design makes mobile phone charging more convenient and has the capacity for high-power charging.
These unique features mean that the 65W AirVOOC wireless flash charge provides a unique and unprecedented charging experience and may likely become users' first charger choice in the 5G era.
High-power ultra-small charger series: mini-size and easy to carry
OPPO also launched today the world's smallest and thinnest 50W mini SuperVOOC charger, and the 110W mini flash charger that features a unique dual-level architecture.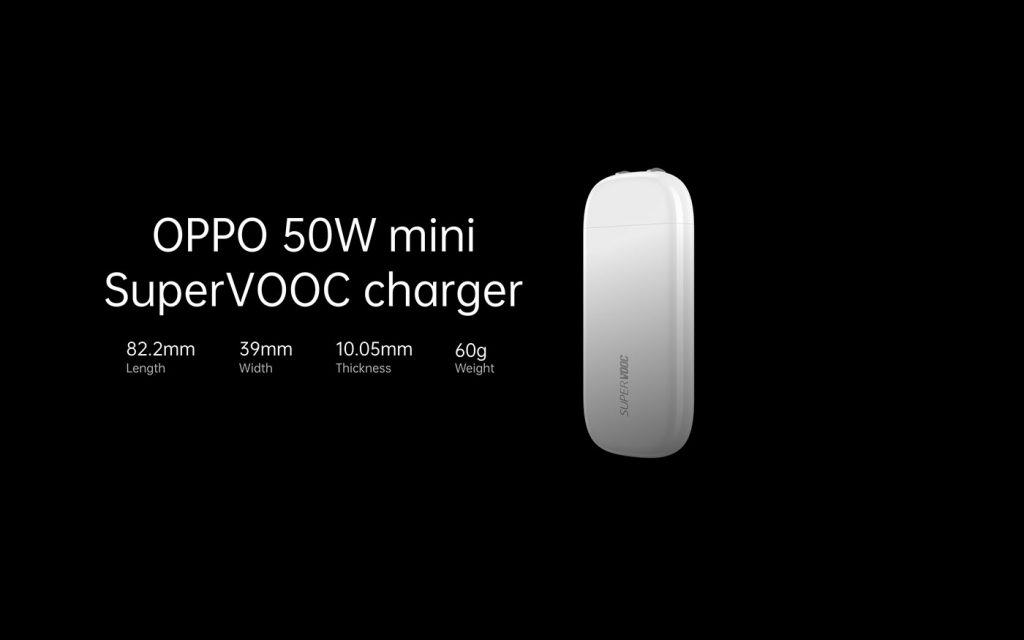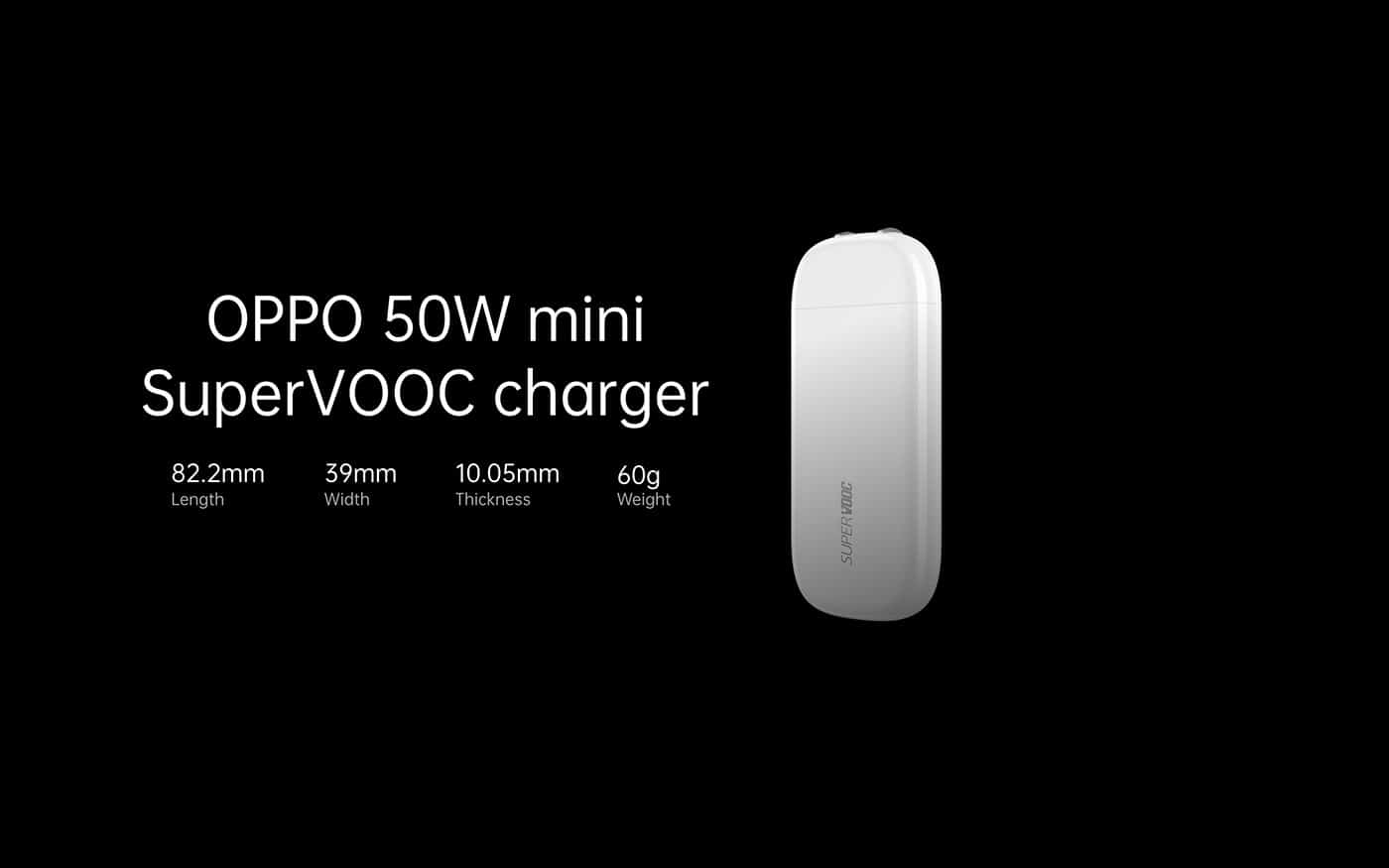 OPPO's 50W mini SuperVOOC charger was developed through multi-radian curve processing to a size similar to a business card holder; its wall has a thickness of only 1.05cm. As a result of its design, users can easily place it in their shirt pockets and coat pockets, which makes it extremely convenient for commuting and traveling. The 50W mini SuperVOOC charger is compatible with VOOC protocols, supports mainstream protocols like 27W PD and 50W PPS, and can charge a variety of devices including mobile phones and laptops.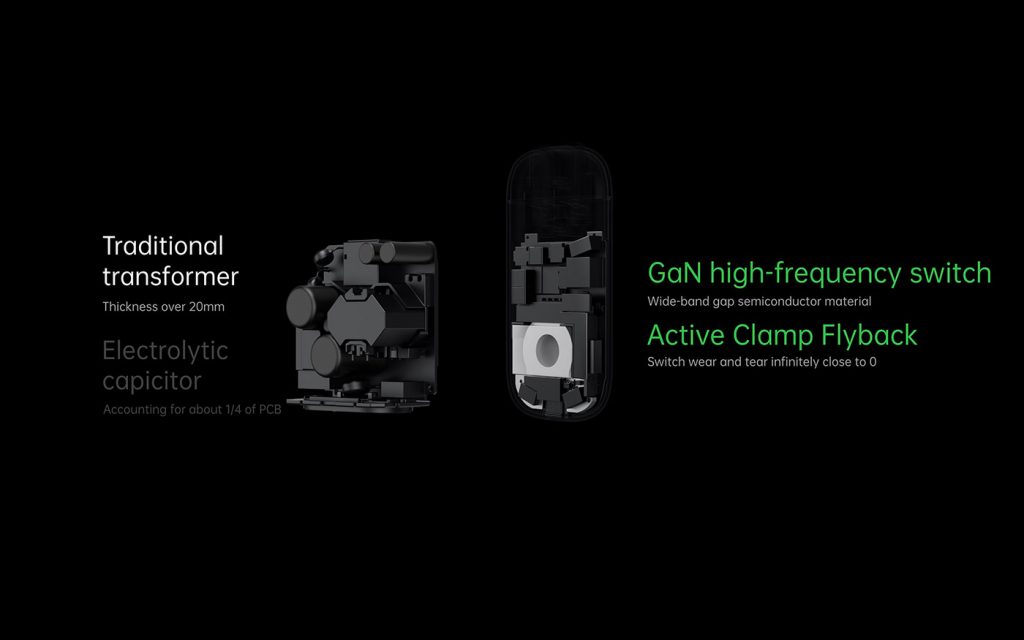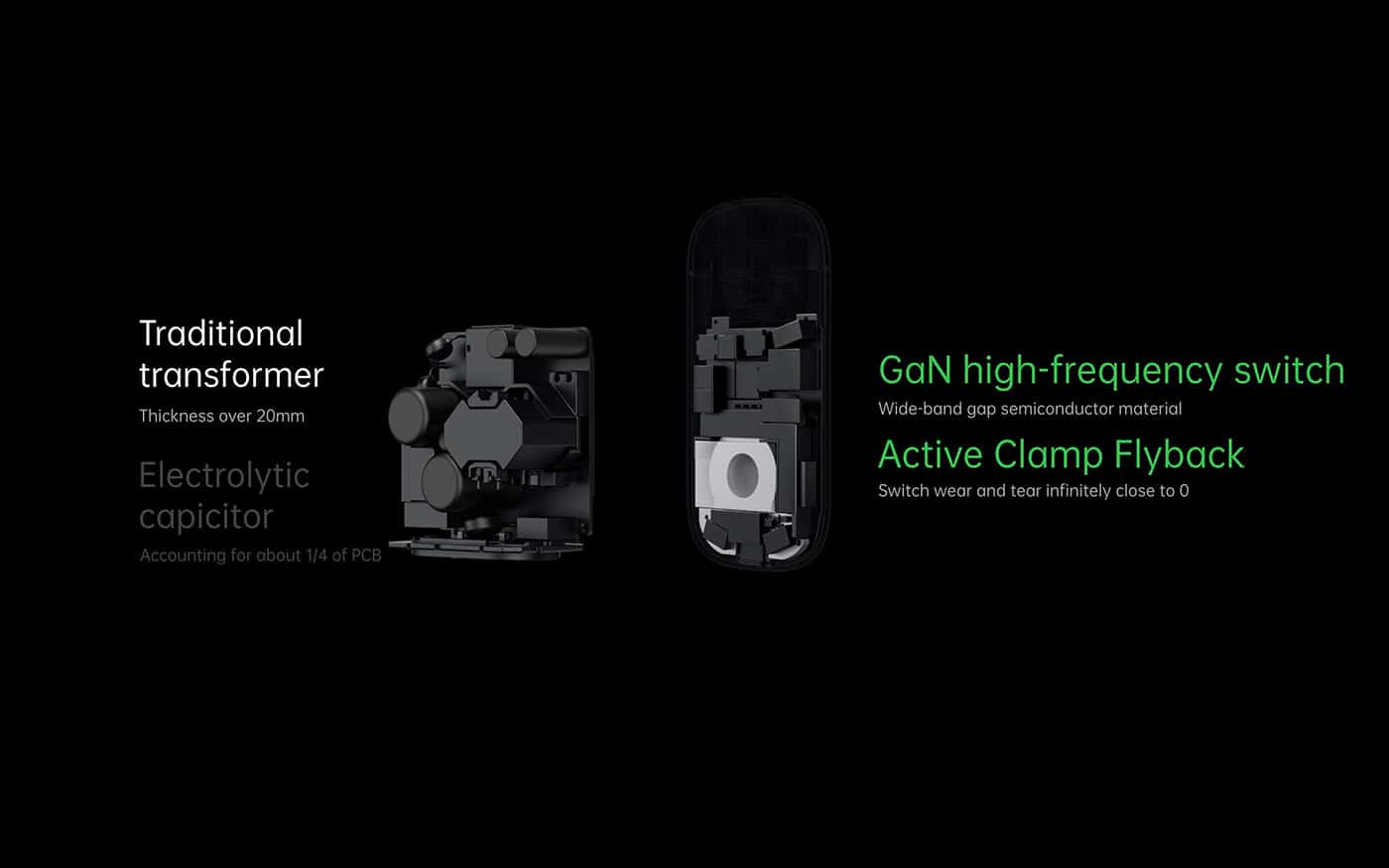 OPPO's engineers designed a revolutionary architecture for the 50W mini SuperVOOC charger and reduced the size of the components that take up the most space by using a new topological design. This provides a highly efficient power conversion by removing the conventional electrolytic capacitor as well as introducing pulse charging – the first in the industry, aviation-grade high power clamping diodes and GaN high frequency switching power supply technology, to finally achieve miniaturization of high-power chargers.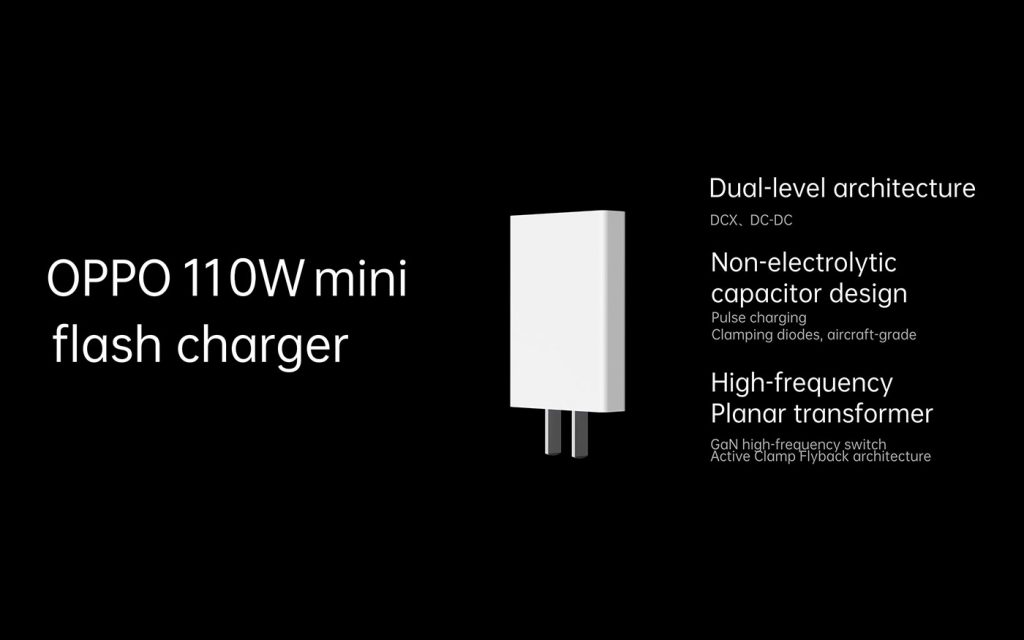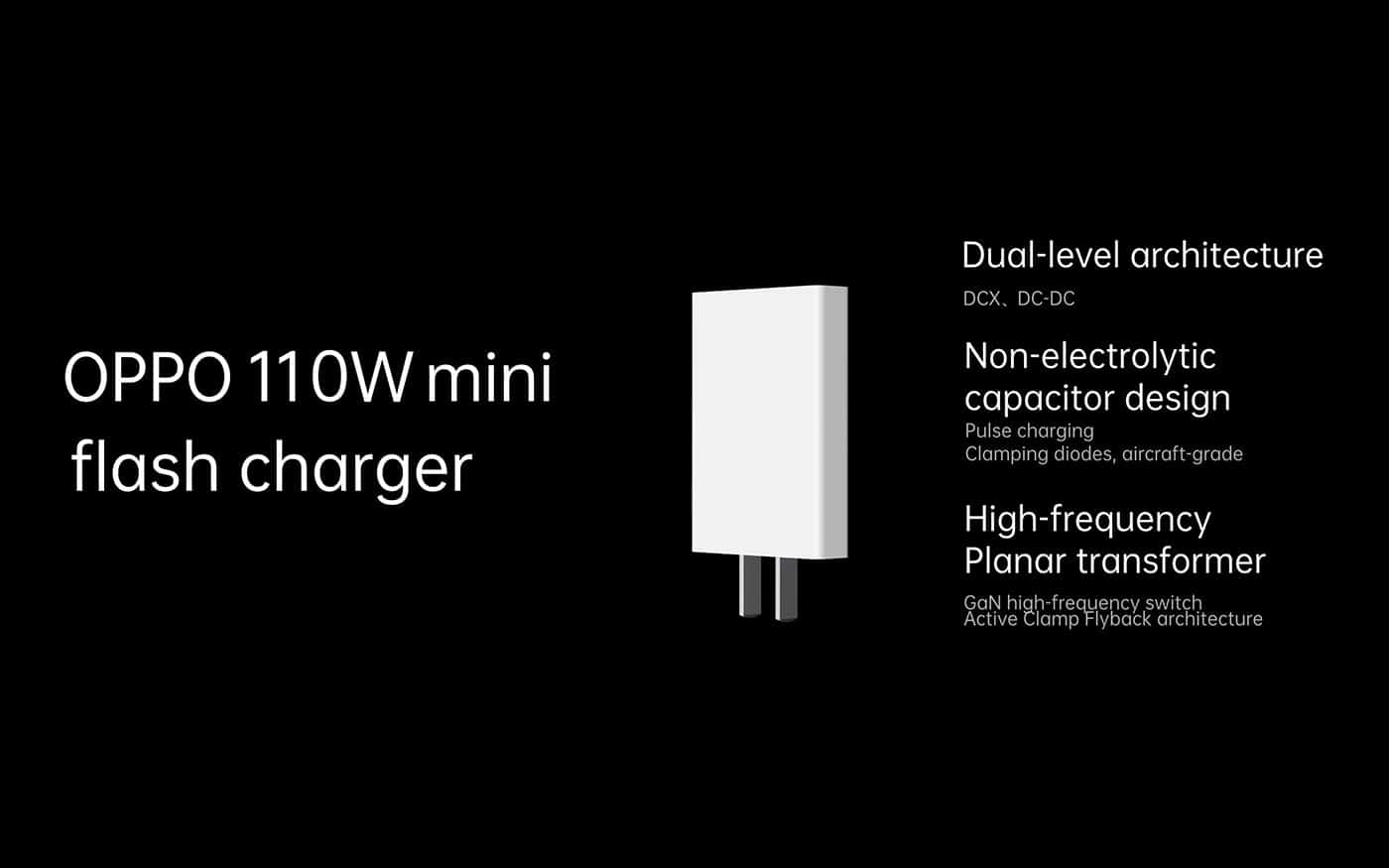 Building upon the 50W mini SuperVOOC charger, OPPO's 110W mini flash charger has defied the limits of size and efficiency for high-power adapters. Besides using the innovative dual-level architecture to achieve high-efficiency power conversion and temperature rise control, the 110W mini flash charger is built upon the combination of laminate and compact structures which minimizes its size to just 35.76 cm³ – similar to the size of a normal 18W charger.
In the era of intelligent connectivity, OPPO's ultra-small charger series will provide flash charging anywhere and at any time. Charge-and-go is now a reality, a single charger which powers multiple devices.
As of June 2020, OPPO has applied for more than 2,800 global patents for flash charging. The firm's 30-plus smartphone models featuring VOOC flash charge technology have delivered the ultra-fast charging experience to over 157 million users globally. With demand growing for mobile flash charging in the era of intelligent connectivity, OPPO will continue to improve and upgrade the VOOC flash charge platforms and develop industry-leading technologies to deliver flash-charging experiences suitable to all usage scenarios for its users across the world.