Huawei Launches its First Overseas AIoT Innovation Bootcamp in Singapore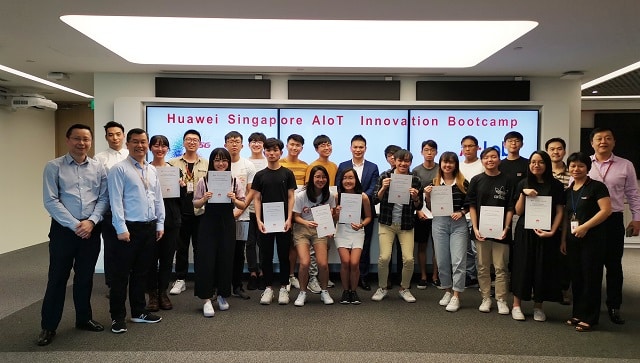 Recently, Huawei has launched its inaugural Artificial Intelligence of Things (AIoT) Innovation Bootcamp in Singapore, where aspiring students from National University of Singapore (NUS), Temasek Polytechnic (TP) and Singapore Polytechnic (SP) come together to learn, experiment and explore AIoT technologies and applications.
Singapore is the first overseas country in the world to host this AIoT bootcamp. Previous editions of the programme were held domestically in China at several prestigious universities such as Shanghai Jiao Tong University, Southeast University and Tianjin University.
From 9 to 11 January, six Singapore teams comprising of 18 students will learn about AI & IoT knowledge in Huawei's 5G-powered Artificial Intelligence (AI) lab, in Changi Business Park, which is well-equipped with AI, 5G and Cloud technology. The AI lab offers 5G testbed, extensive AI support and enablement ranging from ModelArts, Huawei's one-stop AI development Platform to some of the most innovative IoT developer boards and kits. Students will be able to gain hands-on experience by participating in trainings and workshop opportunities, before proceeding to implement their own practical applications at the bootcamp.
Using ModelArts, students can work with a variety of supporting tools including ExeML, Model Deployment, and Rapid and Simplified Model Training among others, while learning from Huawei's extensive courses on topics of AI, Internet of Things (IoT), 5G and more.
"The bootcamp provides an excellent opportunity to impart AIoT knowledge to our students and expose them to innovative cutting-edge technologies from Huawei," said Prof. Tan Wee Kek from NUS School of Computing Science, "Artificial Intelligence (AI) and Internet-of-Things (IoT) are two of the most important modern technologies. The concept of Artificial Intelligence of Things synergises AI and IoT to create smart solutions for the future."
"Compared to our previous bootcamps in China, Singapore students are more proactive and more collaborative in the classroom and have a strong sense of teamwork."Wei Biao, Huawei IoT Certified Architect commented.
Upon fulfilment of the bootcamp, the six teams will each complete a project in two months. The top two winning teams will represent the entire Southeast Asian region to compete among 20 teams from global in Huawei's ICT Competition 2019-2020 Global Final that will be held in Shenzhen in mid May 2020. NUS team was invited to participate with a wild card last year and won the 3rd prize at Huawei's ICT Competition.
This initiative provides participating students with a robust platform to enhance their AI and IoT knowledge, acquire application skills, and drive propensity for innovation. Serving as a key step in bridging talent from around the world, Huawei's AIoT Innovation Bootcamp is one of Huawei's continued efforts in fostering collaborations with higher learning institutions and empowering the growth of AI & IoT talents in Singapore.