LiftMaster 8500 Review And Technical Specifications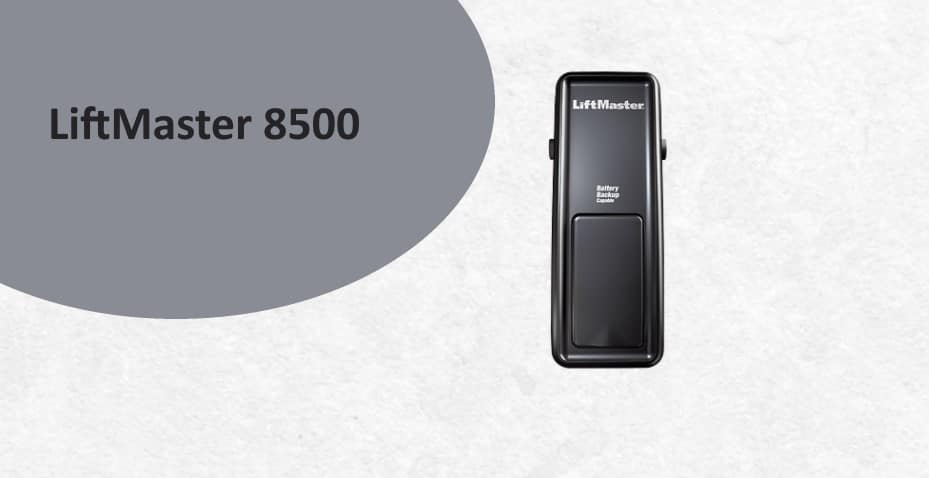 If you are looking for a garage door opener to install into your garage, on the wall, this one could be a great choice. This is a relatively new model, with great specs, which is why we write this review. Continue reading, LiftMaster 8500 review. Wall mount garage door opener for best performance, quiet operation, and safe&secure home.
The ListMaster 8500 is a wall-mount design model, with all the benefits of using a wall-mount garage door opener.
The LiftMaster 8500 Elite Series Jackshaft Operator is the most wanted unit these days in the US. For sure it is a great choice for small garages when the owners want to increase available garage space.
LiftMaster 8500 comes with a powerful but still ultra-quiet and durable DC motor.
The unit can be installed in a garage with 18 feet tall doors, wide enough for the passage of 2-3 cars.
Wall mount LiftMaster garage door opener
LiftMaster 8500 Elite Series 8500 Jackshaft Operator can be easily mounted on the wall, saving a lot of your ceiling space. The motors of this unit are durable, powerful, and reliable as well. There will be no sounds and vibrations through the ceiling as it works quietly. To get a wall-mounted garage door opener with security features, then you can go for this unit.
This unit comes with a deadbolt and an automatic lock system.
LiftMaster 8500 features
Optional DC Battery Backup
Wall-mount design to free up ceiling space in your garage
Silent and durable DC motor reduces noise and vibration
Optional myQ smartphone control if using 828LM Internet Gateway
Safety sensors to protect people and vehicles by stopping the door from closing on obstructions
LiftMaster 8500 performance
Code security enhances the safety of your home, which means that only a single code is allowed to be used for it.
Another safety feature is the sensor system, specially designed to keep both you and your property safe.
Purchasing this unit you'll get a user and installation manual. The manual makes it easy, providing all the instructions and tips for the proper LiftMaster 8500 installation.
This model works with a smartphone (iOS and Android), delivering more comfort usage and long-distance operation.
It uses a 3/4 HP DC motor offering smooth, powerful, and ultra-quiet performance.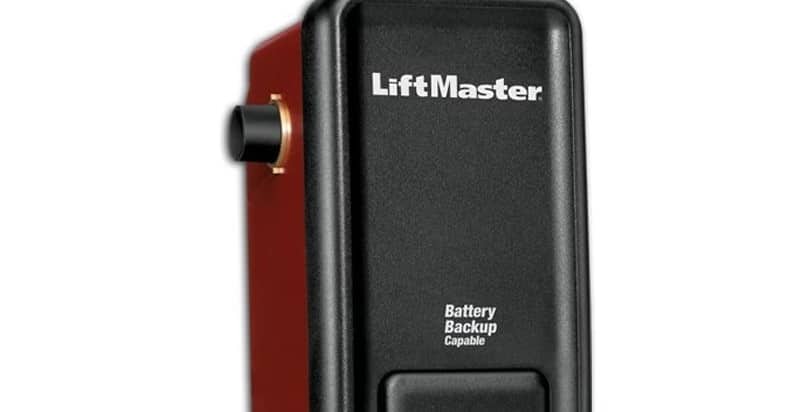 Check price on Amazon
The LiftMaster 8500 review
This unit delivers both, efficiency and durability. LiftMaster 8500 is equipped with a powerful P3 motor, well known for its long life and high performance.
Quiet operation is the main advantage comparing LiftMaster 8500 to other chain drives, or even, belt drive models. Installing it next to the garage door, this unit operates completely silent without any sounds or vibrations.
LiftMaster 8500 review has so many pros on this unit, with not so many cons. In mater a fact, it is hard to find something to write in a negative context. This LiftMaster unit comes with so many advantages and qualities, which is why this is the TOP selling model currently in the US. Unlike other types, overhead door openers, this unit installs on a wall either on right or left of the garage doors. Designed to save space in a garage, especially ceiling pace, it becomes the first choice for many people.
In our previously written post, you can read a short LiftMaster 8500 comparison. Find out why these wall-mount units are so desirable.
LiftMaster MyQ connectivity
The Liftmaster 8500 is fully compatible with the MyQ App. This app connects straight with your garage door opener, bypassing the need for remote control. This way you can operate your garage doors over a long distance, also be aware of any activities in your garage/home.
Once you have paired your smartphone with a garage door system, you can use the app (iOS or Android) to open, close, and monitor the progress of your garage door from a distance of up to 1,500 feet away.
MyQ connectivity is welcome to those people who want to be able to open doors for their friends and other guests. You can control the garage door without leaving your current position and without any interruption.
Home security with the LiftMaster 8500
This unit (LiftMaster 8500) can be used for both, residential and light-duty commercial use. Security and safety features are mandatory in the context of garage door openers. The LiftMaster 8500 brings only the best in its class. It comes equipped with a Posi-Lock system that will keep the door closed even under the both, strongest physical attack or complex system hacking. In case of a hacking attack, Security 2.0 sends alerts to the owner.
NOTE: Security MyQ Technology doesn't come with a base unit. You can purchase this unit separately.
Conclusion and technical specifications
LiftMaster 8500 Elite Series is the top-selling side-mount model in the US. This unit delivers only the best, in its basic package. Even more, you'll get by purchasing advanced system accessories.
Tech specs LiftMaster 8500
DC Battery backup capable. Wall-mount design to free up ceiling space. Reduces noise and vibration. MyQ smartphone technology is available by purchasing 828LM Internet Gateway (syncs with popular smart devices and platforms).