LiftMaster Garage Door Opener Review: 8500 vs 3800

In this post, we are going to compare the LiftMaster 8500 and 3800. See the difference between Liftmaster 3800 vs 8500. Not only that, a short review of both units follows. Keep reading LiftMaster 8500 and LiftMaster 3800 review.
The Liftmaster 8500 and the Liftmaster 3800 are both well-known garage door openers in the US. Both units are heavy-duty designed and appropriate for both, residential and business use. These are wall-mount install units, which means that they save your garage space. Instead of installing them on the ceiling, these are placed on the door side (whichever side is more comfortable).
Read our review on side-mount garage door opener.
In order, to choose the right model for your garage door, read our review of the two LiftMaster units. We are going to compare LiftMaster 8500 with a LiftMaster 3800, so you can decide which unit fits your garage doors.
LiftMaster 8500 vs LiftMaster 3800 drive system
Both models, the Liftmaster 8500 and the Liftmaster 3800 are heavy-duty garage door openers, designed for a wall-mount install. They are, for sure, very useful in keeping your garage door closed, and for a comfortable garage entrance.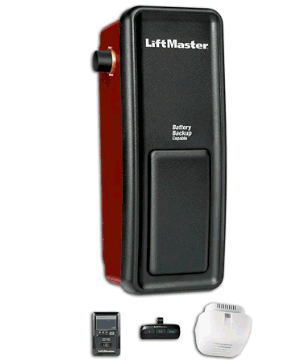 The LiftMaster 8500 features a sprocket and internal chain drive combination. This means that the garage door opener has a system combining a wheel with teeth and an internal chain that makes the connection in between. The movement comes when a DC motor rolls the chain, which is connected to the wheels of the door, and then the shaft rotates and opens the door. This system is quite effective, but in most cases, it could be noisy.
The LiftMaster 3800 comes with a different system inside. This unit features a jackshaft drive type. The jackshaft is a bit more sophisticated form of sprocket and chain drive type. The jackshaft is a short stub, with supporting bearings at both ends and with two cranks, gears or pulleys, attached to it. This combination is less noisy and much more efficient while it opens and closes the garage door.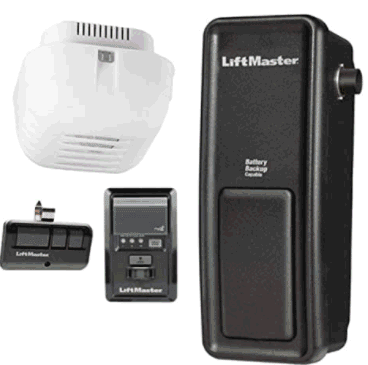 Inside this comparison, we could say that the LiftMaster 3800 is the winner. The drive mechanism is better inside the 3800 housing unit. It is less noisy and more efficient while it is in use.
The 8500 vs 3800 home automation system
Mostly used in homes, these units are designed in a way to deliver common automation functions in our homes. The automation system allows us luxury and effortless garage door usage. Using one of these, the owner is able to control garage doors from a long distance, without worrying about the garage door status.
The LiftMaster 8500 features a smart system (MyQ) control panel. The MyQ control panel allows you to control the garage door via smartphone over long distances. Once the MyQ control is paired with a smartphone app, the owner is able to control the garage door and to see the status of any activities.
The Liftmaster 3800 features another system inside. In case you own this unit, you have an option to use the HomeLink control panel. This control panel has three buttons which you can use from your car.
The LiftMaster 8500 features smart technology MyQ, which brings more advanced options. In this category, the LiftMaster 8500 is a winner.
Power source differences
It is important to know the power source before buying the garage door opener. Some units support just an AC, some DC, and there are units supporting both AC/DC.
In a residential context of speaking, AC powered units could be less appropriate. In the case of using an AC unit, a power outage could shut down garage doors from functioning. A battery backup system resolves this power outage, but you should buy one separately which isn't cheap.
The LiftMaster 8500 has a DC power source, and it operates on 12 volts. It is relatively easy to setup a backup battery pack. To work properly this unit needs a steady 12V DC current input.
The LiftMaster 3800 also comes with a DC power input. This unit requires a steady 24V DC input to operate properly. The battery backup system is a bit more expensive, but nothing to worry much about.
Both units are a good pick, and here in this category, there is no winner.
LiftMaster 8500 vs 3800 power delivery
This is our last category, but not the less important. In a matter of fact, this is something you need to think about before buying a garage door opener. Let's take a closer look at the power of these units. Power delivery has a huge impact on the size of the garage doors you want to control.
In this comparison, however, both units (LiftMaster 8500 and LiftMaster 3800) features a DC motor with 200 watts. The delivery power of these units is high enough to lift most garage doors we use in the US.
The LiftMaster 8500 uses a 3/4 HP DC motor and offers a smooth, powerful, and ultra-quiet performance. This unit delivers both, efficiency and durability. LiftMaster 8500 is equipped with a powerful P3 motor, well known for its long life and high performance.
The Liftmaster 3800 also comes with a strong 200 watts DC motor, but it is an older model, and 8500 comes as a new (upgraded) one. They both perform well, it is up to you which one to choose.
Here, in this section, we couldn't decide the absolute winner.
Conclusion for the end of this review
Finishing this review, and a comparison of the two LiftMaster models, we can say that both units are great for residential use. Both, the Liftmaster 8500 and the Liftmaster 3800 are an excellent choice for common garage door types. From our review, you can easily make a conclusion that these models are close enough in almost all aspects. Some minor differences could make you choose one of them, and that is OK, especially for the garage door you own and your everyday needs. The Liftmaster 8500 is an upgraded version of the Liftmaster 3800. Still, you can buy this upgraded version for less than you could pay for the LiftMaster 3800.