Rycom Infrared Thermometer review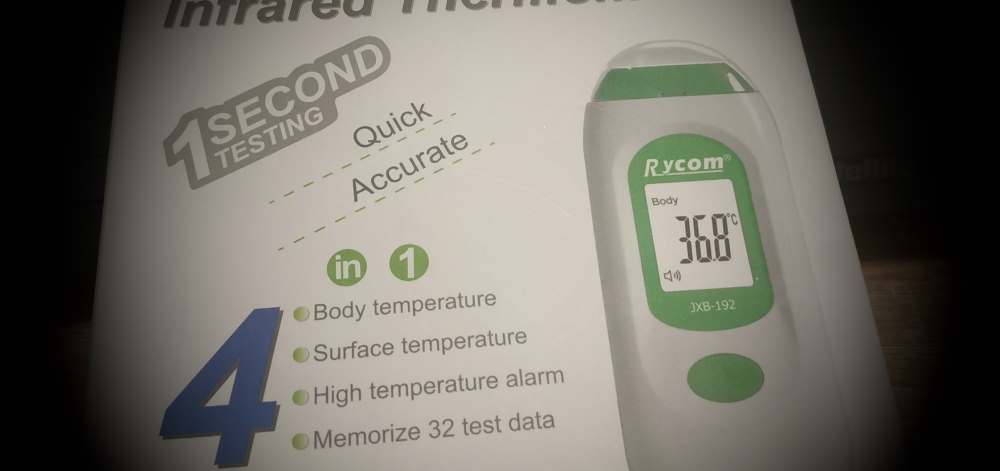 For 13$ I bought myself this healthy gadget, measuring body temperature in just one second. This is Rycom infrared thermometer which means it can measure temperature from short distance, without touching the surface.
It comes in a box containing 1x thermometer, 1x DC 3V CR2032 battery and 1x English manual.
Rycom JXB – 192 Digital Non-contact IR Medical Thermometer
Large LCD and one button to operate. This gadget is quite handy when it comes to check body temperature. It is must have healthy gadget, specially while measuring body temperature to your child, or small baby. With in a second you can read temperature. It has measuring degree scale in F (Fahrenheit) and C (Celsius).
Rycom Thermometer Review
Non-contact design is safe and hygienic. Just point sensor on top with a 3-5 cm distance from the forehead and press the button. In a second you can read your, or someones else body temperature.
Manufacturer promises nearly 4000 readings with new battery. Thermometer has memory function integrated, which helps monitoring persons health trough some period of time.
Main parts are: infrared lens, sensor, LCD panel, scan button, ON/OFF button, memory button, protective lens cover on the top and battery cover on the back.
LCD can display: mode, temperature, low battery, Celsius, Fahrenheit and memory.
Rycom JXB-192 functions
Rycom JXB-192 has built in high temperature alarm. It goes on if body temperature exceed 38°C (100.4°F).
If battery voltage drops for 2.7V or below, empty battery flashing symbol will appear.
When you see flashing battery symbol on the LCD it is time to change 3V battery. Just open the lid on the backside and change the battery, taking care on polarity. See for instructions if not sure how to install new battery.
This digital IR body temperature device has been designed for long time use. Its longevity is guaranteed for at least 100,000 takings.
Make sure to use it properly. Before taking, remove transparent protective cover on the top. This cover is protecting IR sensor, which is most fragile part of this device.
If you notice dirt or dust particle on the IR sensor, remove it gently with cotton fabric dampened with a 95% alcohol solution.
My review and opinion
I'm using this Rycom infrared thermometer for about a 2-3 months and it is quite good for my needs. Having 2 small kids already (one 6 yo, and one baby born on September the fourth) it is handy to check for temperature without disturbing baby while she is sleeping. Oldest daughter prefer this way reading body temperature also.
Gadget is working great, it is fast and precise. Still on the battery from original package. You can read Rycom thermometer manual for personal use.
In short way to tell – I'm quite happy with this IR thermometer.
If you looking for something like this, search for something in this price range (10-15$), which I think is a good buy.
Rycom infrared thermometer video review
Check this video, to see how Rycom IR non contact thermometer works. Use it in proper way, check Rycom thermometer manual.
Is it worth to buy?
In my opinion it is. This Rycom infrared thermometer is precise enough and easy to use. In just one second you can check for body temperature of your baby, small child or even your own body temperature. Not only it measuring is quick, this thermometer use non contact measuring approach. Take a look around, and you'll find these non-contact thermometers in use for COVID-19 test.
Rycom 4 in 1
Non-contact Rycom thermometer have these functions:
Body temperature
Surface temperature
High temperature alarm
Memorize 32 test data
It is especially designed to take human body temperature. To measure body temperature, keep the sensor with a 3-5cm (1.2in-2in) distance from the forehead.
This device is reliable and stable, measuring temperature with an advanced infrared detection system.
Audible alarm helps to notice high body temperature (if body temperature is higer than 38°C / 100.4°F).
Rycom has integrated memory for 32 temperature measurements.
Backlight LCD digital display screen helps to read measurement with ease.
Rycom non-contact infrared thermometer can display measurement in either Celsius or Fahrenheit.
If not used, it has an automatic power-off system to conserve energy.
Rycom thermometer presentation
The thermometer without contact has been developed by using the latest infrared technology. It allows temporal artery (TA) temperature to be taken at a distance of about 3-5cm away from the forehead. Precise, instantaneous and without contact, the thermometer is, up to now, the most suitable thermometer for no risk on temperature measurement. It has been demonstrated that this method of TA temperature measurement is more precise than the tympanic thermometry and better tolerated than rectal thermometry.
Battery model
To change the battery make sure to choose the right model. This non-contact thermometer is using a CR2032 coin battery.