Samsung and Dezeen Announce Best Eco-Packaging Design Winner of Out of the Box Competition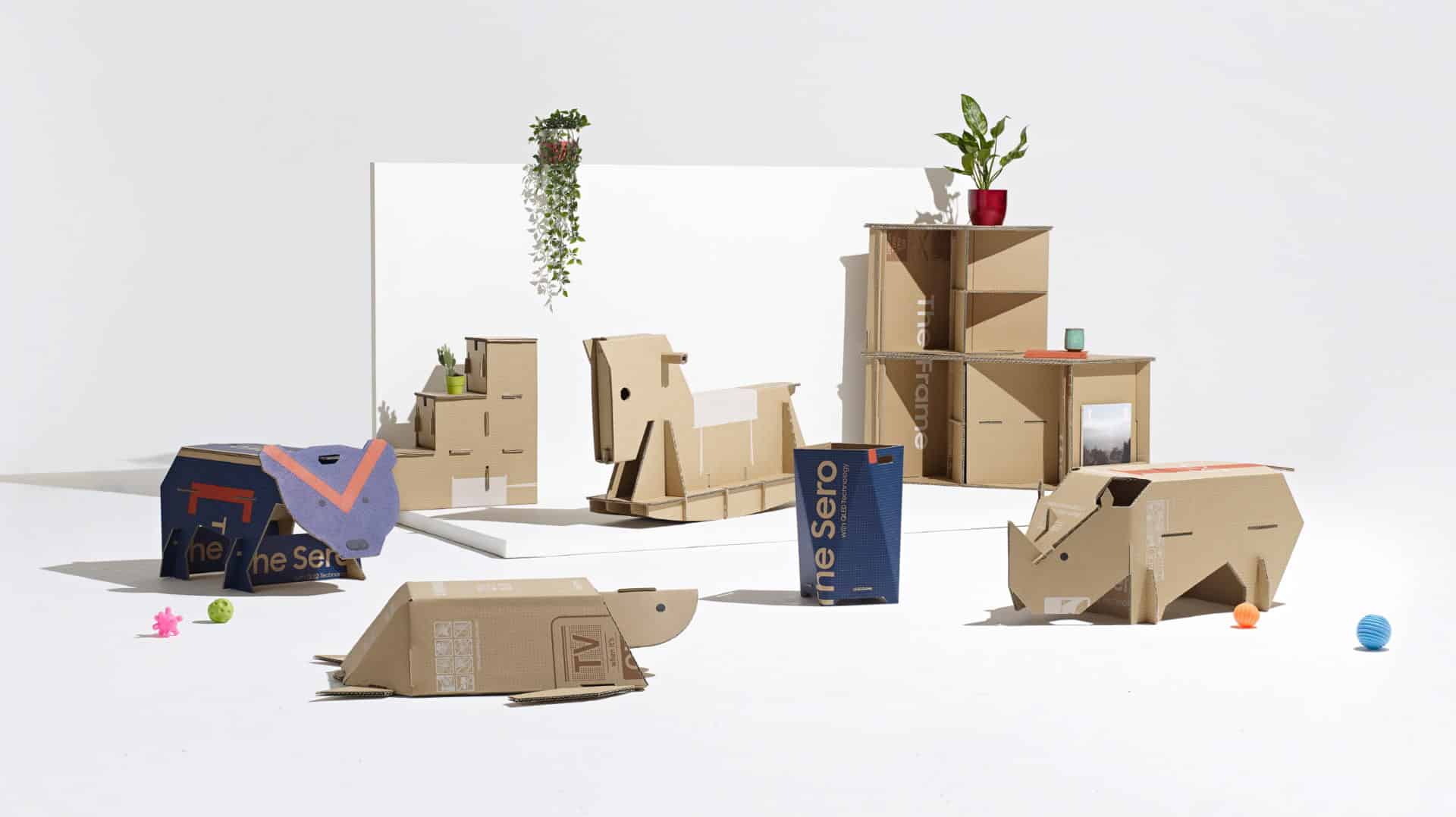 Samsung Electronics and UK design magazine Dezeen announced today the winners of the Dezeen x Samsung Out of the Box Competition.
Continuing the momentum of Samsung's eco-friendly packaging introduced earlier this year in an effort to reduce its environmental footprint, the Out of the Box Competition is a global contest that ran from April 6 to May 29, 2020.
The competition challenged contestants to design innovative household items that can be created by repurposing the cardboard packaging that comes with Samsung's Lifestyle TV portfolio, including products such as The Serif, The Frame and The Sero. Samsung's eco-packaging, made from eco-friendly corrugated cardboard, allows easy recycling and also encourages upcycling for creative reuse.
The competition was free to enter for anyone over the age of 18, with prize money totaling $20,000. The contest received 1,554 submissions from 84 countries around the world after it was announced on Dezeen's website.
The finalists were selected by a jury comprised of design experts from both Samsung and Dezeen, and the designs were judged based on the functionality of the item and its ability to seamlessly blend in with its surrounding spaces.
The winners of the competition are Sarah Willemart and Matthieu Muller, the creators of Endangered Animals, which serve as stools, small tables and toys in the shape of animals such as polar bears, sea turtles and rhinoceros.
"The design was intended to have an educational purpose to teach children about endangered animals," said Sarah Willemart. "I am highly interested in upcycling, so I am so honored to be a part of this meaningful project."
Samsung revealed not only the award-winning design but also the rankings of the other four finalists, from second place to tied-fourth as follows: a rocking horse, Rider; a stepped storage unit, Kibe; a facetted basket, Twist; and a versatile, modular storage table, Tessellate.
Beginning this month, Samsung will provide instruction manuals for replicating the award-winning creation from this competition and other select designs to help consumers upcycle and create household items from its eco-packaging. The instructional manual will be accessible via a QR code printed on top of the boxes.
"We are sincerely appreciative of all the submissions we received. There were so many fun and brilliant designs and we couldn't be happier that our message of sustainability resonated with our customers," said Jongsuk Chu, Executive Vice President of Visual Display Business at Samsung Electronics. "We will continue to make an effort to not only develop powerful visual display solutions and TVs, but also create meaningful experiences for our customers to participate in."
Find out about the 15 shortlisted designs here, and read about the top five finalists here.
For more information, please visit Dezeen's website at www.dezeen.com and Samsung TV's Instagram page (@samsungtv).