Samsung Electronics Debuts Industry-Leading 8TB Consumer SSD, the 870 QVO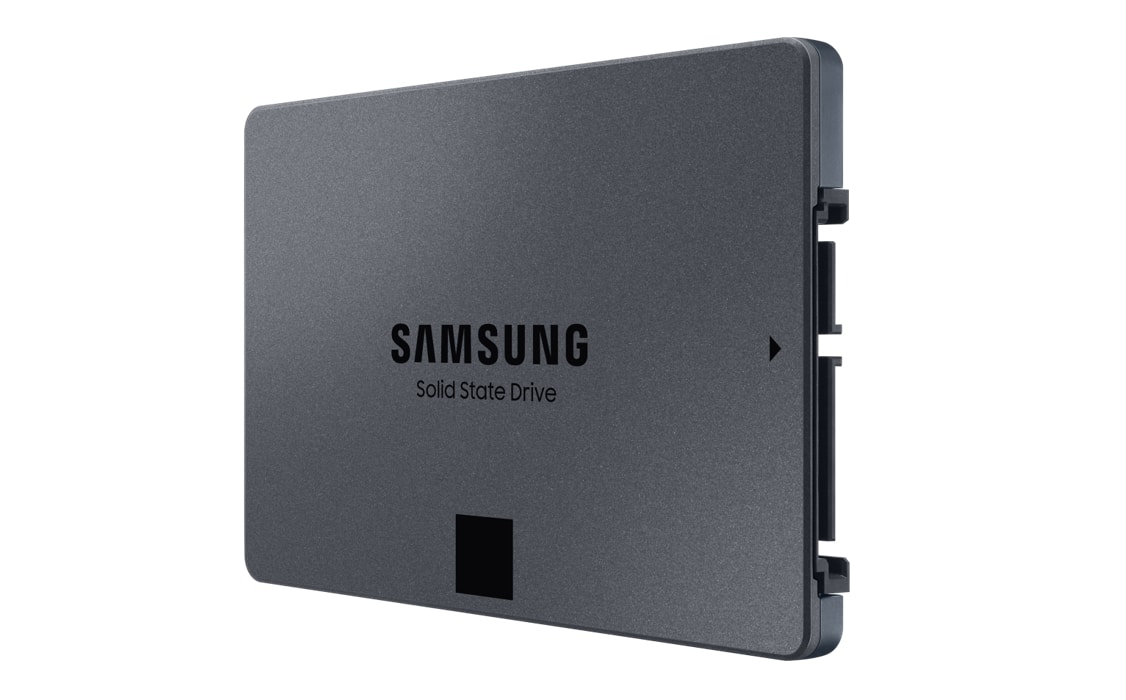 Samsung Electronics today introduced its second-generation quad-level cell (QLC) flash drive, the 870 QVO SATA SSD, that is setting a new standard for high-capacity consumer storage. Featuring an industry-leading capacity of up to eight terabytes (TB), the new SSD delivers an uncompromising mix of speed, storage capacity and reliability for mainstream and professional PC users.
In the past, consumers have had to choose between SSDs – which provide superior performance – and HDDs, which traditionally offer greater capacity. Samsung's 870 QVO SSD, however, is able to reliably offer the best of both worlds, making it an optimal choice for mainstream PC users who prioritize performance and value, as well as for professional users who require high levels of capacity.
"Following the launch of Samsung's first consumer QLC drive – the 860 QVO – in 2018, we are releasing our second-generation QVO SSD which offers doubled capacity of 8TB as well as enhanced performance and reliability," said Dr. Mike Mang, vice president of the Memory Brand Product Biz Team at Samsung Electronics. "The new 870 QVO will allow more consumers to enjoy the performance benefits of an SSD at HDD-like capacities."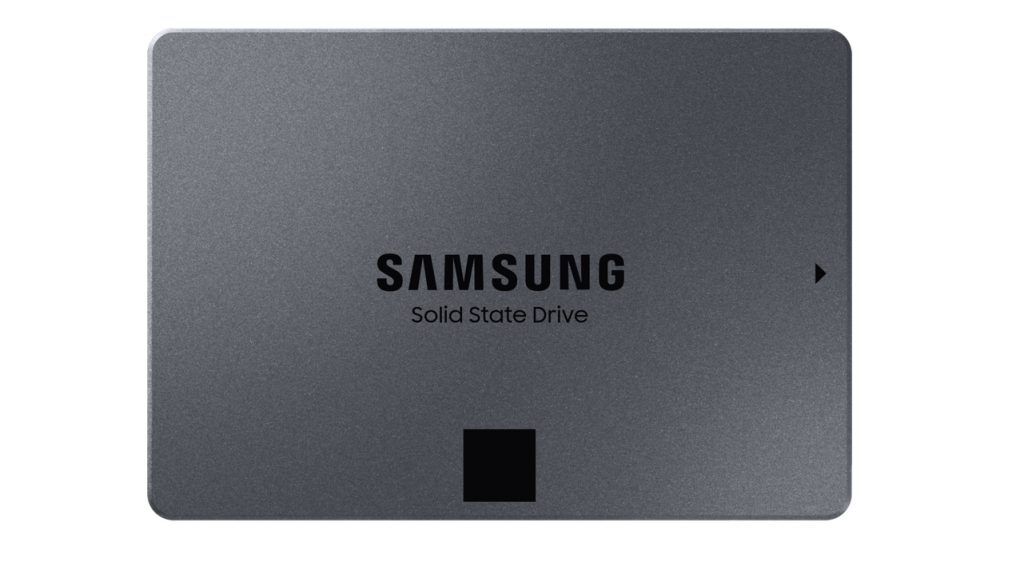 The 870 QVO offers best-in-class sequential read and write speeds of up to 560 MB/s and 530 MB/s respectively, with the drive's Intelligent TurboWrite technology allowing it to maintain peak performance levels using a large variable SLC buffer. The 870 QVO also delivers a 13% improvement in random read speed compared to the 860 QVO, making it ideally suited for everyday computing needs such as multitasking, gaming and web browsing. The renewed Data Migration and Magician 6 softwares provide a host of improved and added features, enabling users to upgrade, manage and optimize their SSDs with greater ease.
In addition to the industry-leading capacity and performance, the 870 QVO provides an exceptional endurance rating of up to 2,880 terabytes written (TBW), or a three-year limited warranty.
The 870 QVO comes in 1TB, 2TB, 4TB and 8TB models, and will be available from June 30, 2020 with a manufacturer's suggested retail price starting at $129.99 for the 1TB model. To find out more, please visit samsung.com/ssd or samsungssd.com.
Key Specifications:
Category
Samsung 870 QVO
Interface
SATA 6 Gbps
Form Factor
2.5-inch
Storage Memory
Samsung V-NAND 4-bit MLC (QLC)
Controller
Samsung MKX Controller
DRAM
8GB LPDDR4 (8TB)
4GB LPDDR4 (4TB)
2GB LPDDR4 (2TB)
1GB LPDDR4 (1TB)
Capacity
8TB, 4TB, 2TB, 1TB
Sequential Read/Write Speed
Up to 560/530 MB/s
Random Read/Write Speed
Up to 98K/88K IOPS
Management Software
Samsung Magician
Total Bytes Written
2,880TB (8TB)
1,440TB (4TB)
720TB (2TB)
360TB (1TB)
Warranty
Three-year limited warranty
OPPO contributes to realizing the first 5G standalone (SA) network in the UK with industry leaders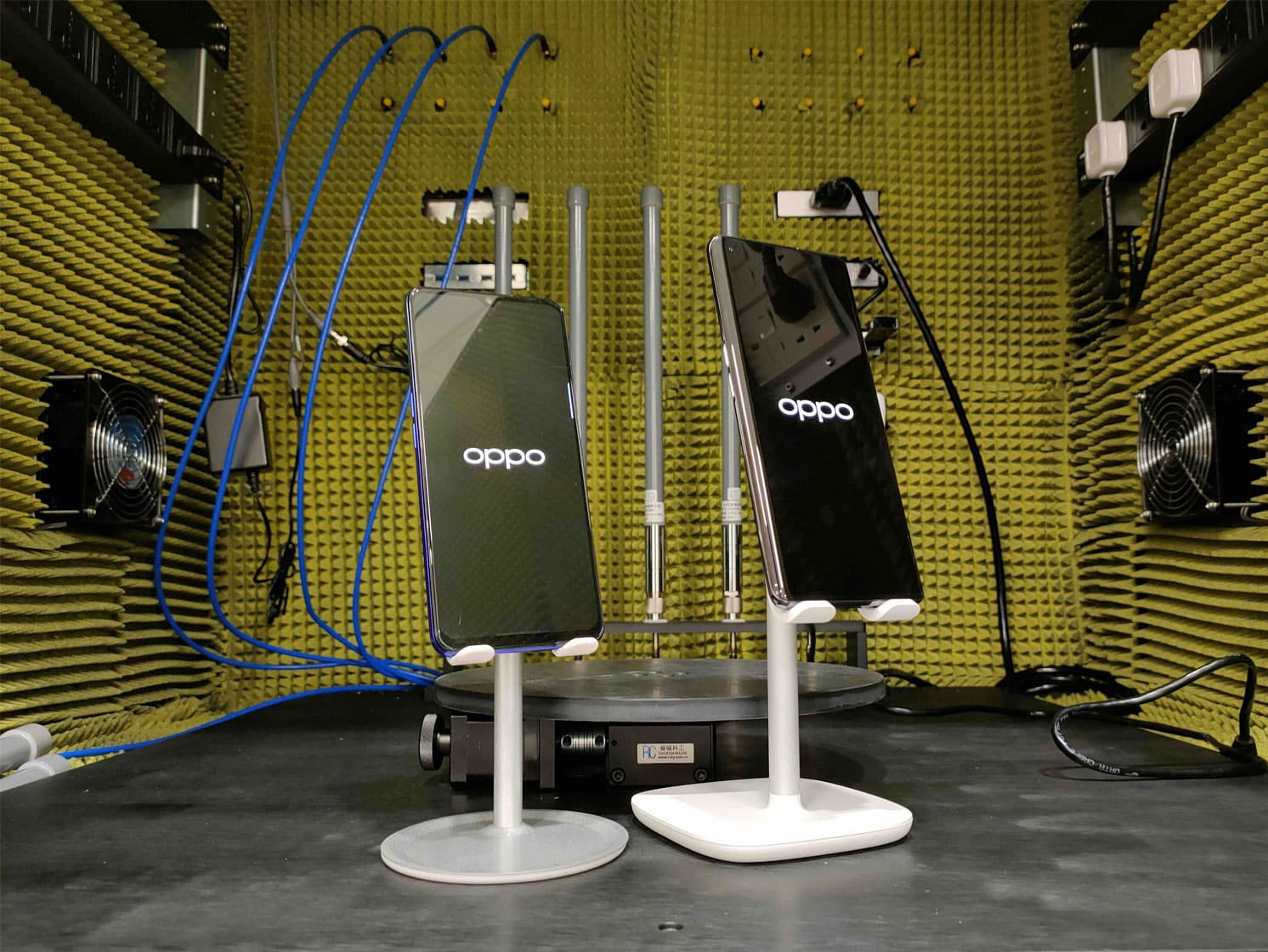 The full potential of the next-generation network was verified with OPPO's Find X2 Pro and Reno3 5G smartphones
Deployed in Coventry University in the UK, the new network also features UK's first 5G SA network slicing service
5G SA network solely relies on the next-generation 5G infrastructure, providing a better experience than NSA networks and is set to be the mainstream 5G structure in the future
OPPO today announced its contribution in the successful deployment of the first 5G Standalone (SA) networks and the first 5G SA network slicing services in collaboration with Vodafone and Ericsson, marking a significant milestone in the construction of Europe's 5G SA network.
OPPO contributes to realizing the first 5G standalone (SA) network in the UK with industry leaders
OPPO Find X2 Pro and Reno3 5G smartphones testing 5G SA performance in OPPO's lab
Deployed in Coventry University in the UK, the new networks was verified with OPPO's 5G smartphones powered by Qualcomm Technologies and MediaTek's 5G mobile platforms respectively.
OPPO and Ericsson worked with Qualcomm Technologies and MediaTek separately to develop network slice switching software solutions based on OPPO's Find X2 Pro and Reno3 smartphones so users can easily switch from different slices to enable the best experience for different needs. One slice was used for high-speed access to the Internet, while the other provided a dedicated connection for faculty members and students to quickly access school resources, and to conduct low-latency, high-definition long-distance teaching, and learning.
According to the definition of 3GPP, the umbrella term for the standards organizations that develop protocols for mobile telecommunications, 5G is classified into two modes: NSA (Non-Standalone) and SA (Standalone), where SA refers to an independent network architecture using 5G base stations and 5G core network. Major telecom operators around the world are vigorously advancing the deployment of 5G SA as it is the go-to network architecture of the future.
Meanwhile, 5G network slicing, which can be applied to the 5G core network architecture, is a technology that divides the physical network into multiple virtualized end-to-end networks. Each sliced network is independent and can have its own resources so that 5G resources can be allocated and utilized more efficiently and flexibly to meet the needs of different user scenarios in accordance with the varying characteristics of applications.
The 5G SA and network slicing technologies are the latest achievements of OPPO's pioneering research in 5G and OPPO will continue to be a leader in 5G with continuous R&D investment. OPPO believes in a future of intelligent connectivity and 5G is the backbone of that vision. OPPO works closely with supply chain partners to advance 5G technology and elevate user experience while partnering with leading carriers and retailers to connect to more people. OPPO has already struck partnerships with more than 40 major carriers in Europe and will continue to build sustainable success through state-of-the-art products and constant and deep interactions with existing and new partners.
Huawei's 5G equipment delivers mighty speeds for MTN in Johannesburg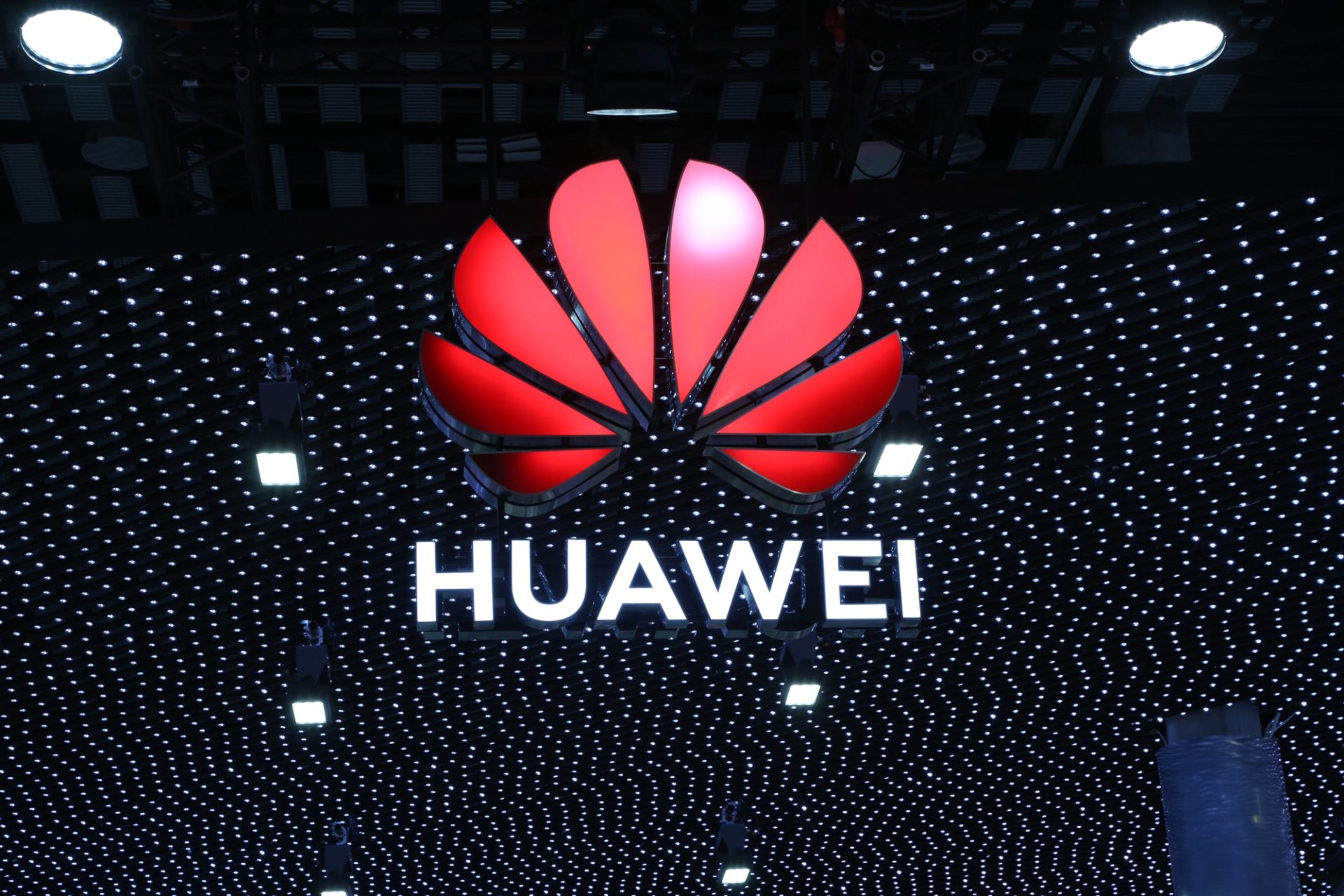 MTN, this week, successfully launched it's superfast 5G next generation mobile network across major cities in South Africa, including Johannesburg, Cape Town, Bloemfontein and Port Elizabeth.
During a Youtube livestream media launch, speed tests were performed at various locations in Johannesburg and download speeds in excess of 600Mbps with latencies averaging 15ms were demonstrated.
Tests performed by media reported download speeds peaking in excess of 700Mbps and upload speeds peaking at 100Mbps.
Huawei Massive MIMO deployed in Johannesburg
Leveraging on multiple bands, MTN deployed 5G in 2.1GHz using Dynamic Spectrum Sharing, 3.5GHz and 28GHz bands. 3.5 GHz, known as C-band, is the global mainstream spectrum for 5G deployment, and Massive MIMO is the mainstream product form.
MTN's 5G deployment in Johannesburg uses industry-leading Huawei Massive MIMO. This technology guarantees the user experience for the services that require high bandwidths such as 4K video, multi-angle video, and AR/VR services, and provide broadband services for families and SMEs.
To enable wider 5G coverage, MTN uses dynamic spectrum sharing between 4G and 5G in the 2.1 GHz band. 2.1 GHz spectrum can provide wider coverage due to its lower frequency spectrum characteristics.
Huawei's DSS (dynamic spectrum sharing) technology enables operators to quickly provide 5G services by upgrading existing 4G base stations to 5G without changing antennas and radio units.
"MTN is the first in Africa to deploy the DSS technology in a 5G live network, which can dynamically adjust the spectrum in milliseconds based on 4G and 5G service requirements, maximizing spectrum utilization", says Huawei CEO Spawn Fan.
The millimeter-wave band has abundant spectrum resources and can provide a huge capacity to provide services for hotspots and home broadband. MTN uses 100 MHz millimeter wave spectrum resources to provide broadband resources for Enterprises and SMEs, which can enjoy high speed internet services and enter the digital age without requiring a fiber connection.
"This is expected to greatly support people remotely during this era of social distancing caused by the Covid 19 pandemic and will boost South Africa's transition to a digital economy. We congratulate MTN on the successful upgrade of its network that enabled their transition to the 5G era," says Fan.
Giovanni Chiarelli, CTIO of MTN South Africa, said, "The 5G technology is also expected to contribute significantly to the country's economy and will play a role in the realization of South Africa's digital transformation goals. An excellent 5G network will enable us to provide more exciting services and to offer the ultimate service experience to MTN customers."
XIAOMI ANNOUNCES THE TOP-NOTCH MI TV LUX 65″ OLED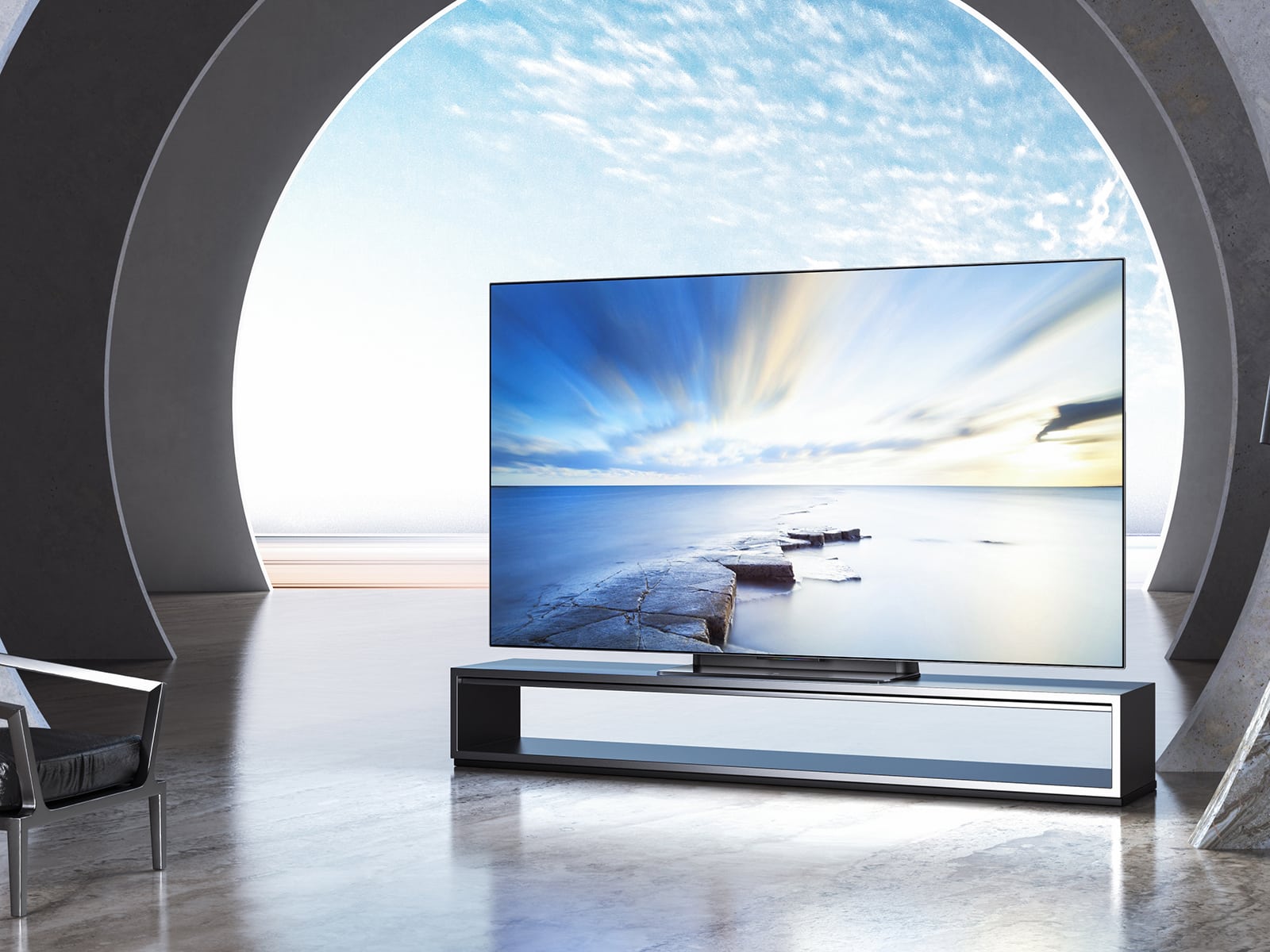 Today, global technology leader Xiaomi officially debuted its first-ever premium TV model – Mi TV Lux 65″ OLED – in Mainland China. It boasts a 65'' OLED display, a 98.3% P3 color spectrum, Delta E<1.5 color accuracy, AI Master Smart Engine, and Dolby Vision support. Mi TV Lux 65″ OLED is built to exceed expectations and takes visual quality to the next level.
This ground-breaking device also features a stunning audio performance with 9 speaker units with a combined output of 65W, 3D Spatial Sound System, and Dolby Atmos support. It doubles up as a powerful gaming display, thanks to the Auto Low Latency Mode (ALLM), a Variable Refresh Rate from 40Hz to 120Hz, and HDMI 2.1 standard output.
Xiaomi's first flagship TV – OLED display offers a Delta E as low as 1.5 for accurate colors
As Xiaomi's first ultra high-end TV, Mi TV Lux 65″ OLED features the latest OLED technology. With 8.29 million individually controlled sub-pixels, the device offers superb high contrast and achieves a black level of close to 0-nit in dark scenes. This ensures an outstanding dark room performance and magnificent viewing quality.
Mi TV Lux 65″ OLED also offers professional-grade color reproduction by covering 98.5% P3 color gamut. With an OLED display, it supports true 10-bit color depth display and can accurately reproduce a wide range of 1.07 billion different colors. Along with a Delta E as low as 1.5, Mi TV Lux 65″ OLED retains and brings out true-to-life color pictures.
Spot every detail with AI Master automatic picture quality adjustment and Dynamic HDR
Mi TV Lux 65″ OLED's AI Master deep learning engine combines both the essence of human wisdom and creativity. Powered by an MPU 9650 intelligent processor, it automatically adjusts picture quality through Xiaomi's AI Master for Picture technology. This dedicated technology currently supports 20+ image quality algorithms and intelligently optimizes five major content types.
Thanks to the OLED panel and numerous technical advances powered by the new MTK chip, Mi TV Lux 65″ OLED is able to access Dolby Vision HDR imaging technology, HDR10+, HDR10, and HLG. Dolby Vision revolutionizes the TV experience with incredible brightness, contrast, color, and detail backed by the astoundingly vivid image quality. Dynamic HDR not only enhances TVs HDR capabilities but also ensures that Mi TV Lux 65″ OLED can perfectly display all sorts of HDR10+ video content shot on a mobile phone. It also guarantees that every moment of a video is displayed at its ideal values for depth, detail, brightness, contrast, and wider color gamuts.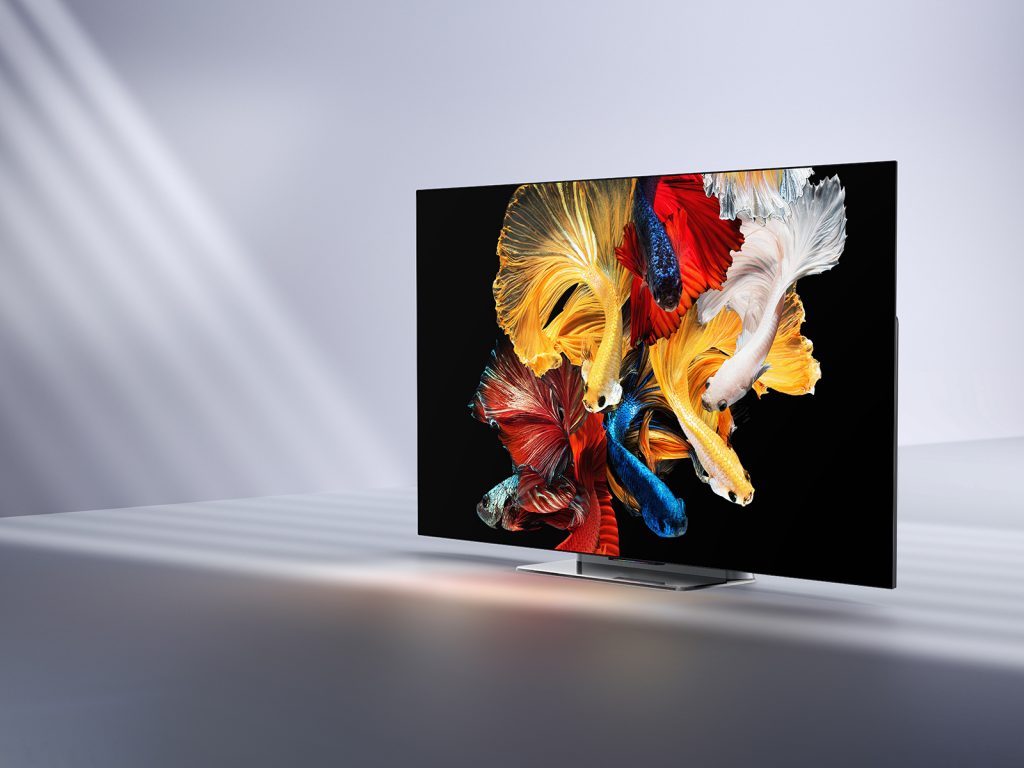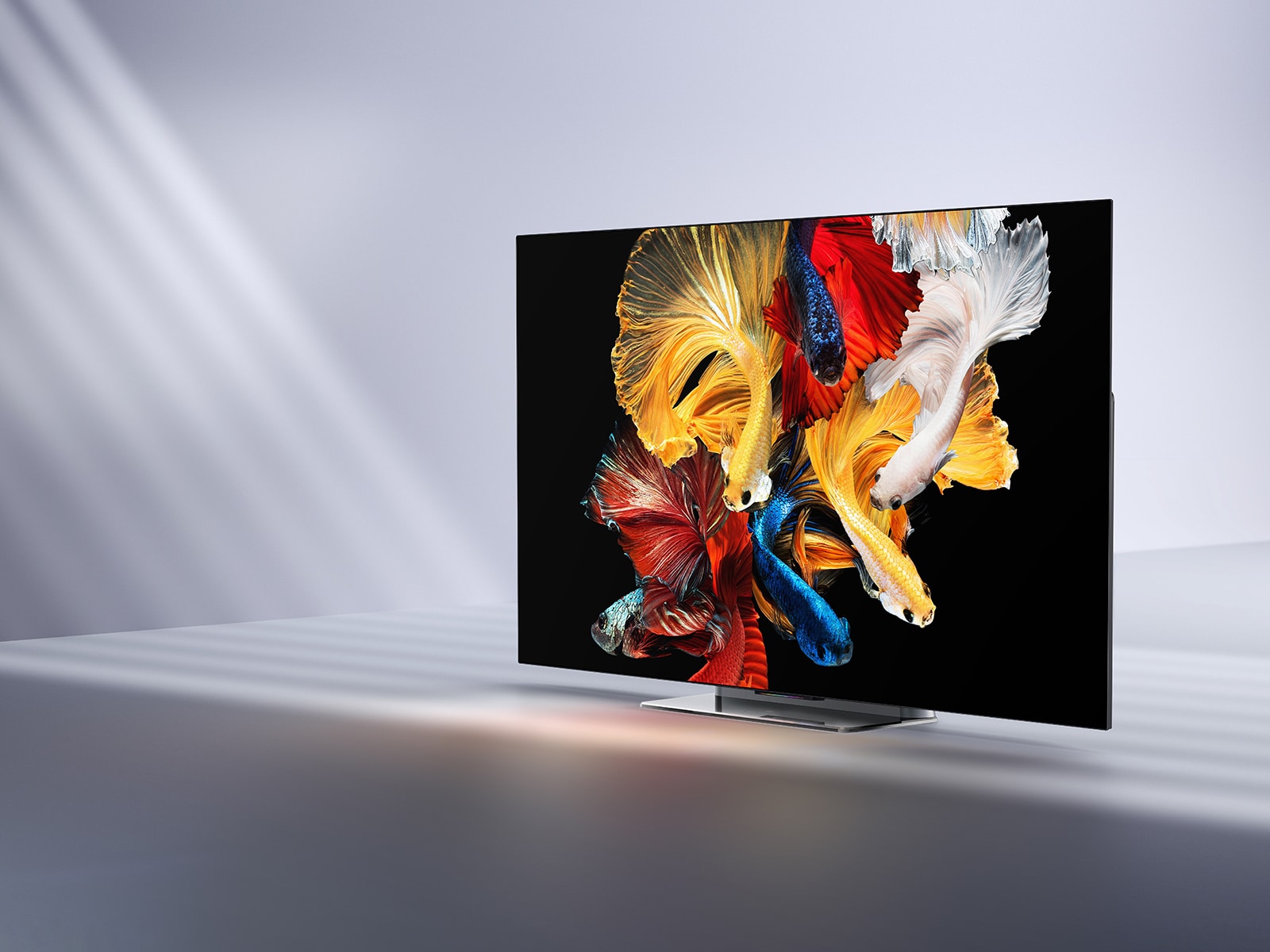 Feast your eyes with 120Hz refresh rate, MEMC, and low blue light protection
Xiaomi's vision for next-gen premium TV is to ensure an ultra-smooth viewing experience for every use scenario. This means stutter-free and low latency image quality no matter if it's for watching movies, dramas, or sports shows. With 120Hz high refresh rates, 1ms (GtG) response time, and MEMC technology, the Mi TV Lux 65″ OLED can present highly dynamic motion pictures in stunning clarity. This ground-breaking offering is reinforced with image enhancement technology that can optimize the visual quality from pixel level, enriching low-resolution video content with great detail.
To achieve low blue light emission, the 65'' OLED display adopts an anti-blue light material that emits non-harmful light within the wavelength of 460-480mm. The OLED panel also comes in the right brightness that ensures flicker-free and comfortable viewing even for families with kids.
Deeply immersive audio experience with 9-unit 65W speakers and Dolby Atmos
Aside from top-notch display and image quality, Mi TV Lux 65″ OLED comes with an immersive 3D sound system for a premium quality audio experience, featuring nine speaker units with a total output of 65W. This includes two sets of 12.5W full-frequency bottom-firing main speakers located on the back of the device (each set with one tweeter and one woofer), two dome surround sound speakers at the top that replicate sounds coming from above, along with a 20W subwoofer speaker with 1.9L sound chamber, and two passive radiators. Mi TV Lux 65" OLED is able to create an immersive sound field that allows users to indulge in a 3D panoramic audio experience with sounds coming from all directions.
Mi TV Lux 65" OLED supports eARC (Enhanced Audio Return Channel) and 32-channel PCM for high-bit rate 3D surround sound signals directly to other speakers via HDMI. With AI Master for Audio sound enhancement technology, the TV can identify content and adjust audio settings automatically between 5 modes: movie, music, news, sports, and others to best suit the scenario. Combined with the capabilities of Dolby Atmos, it offers a truly astonishing audio experience at home.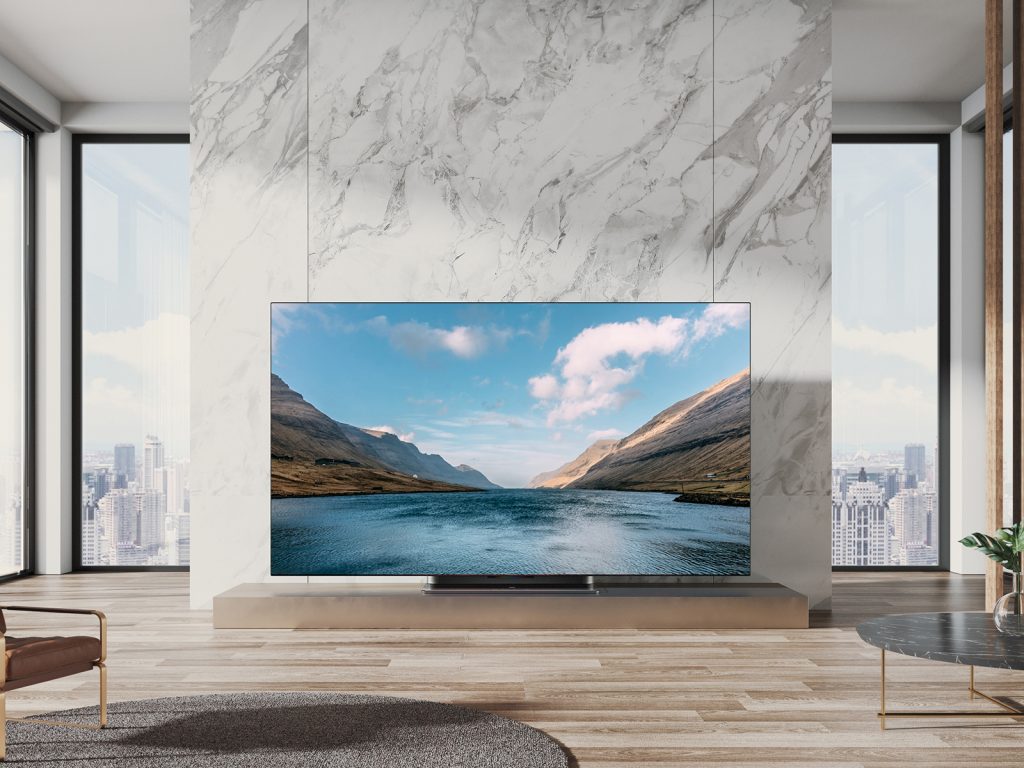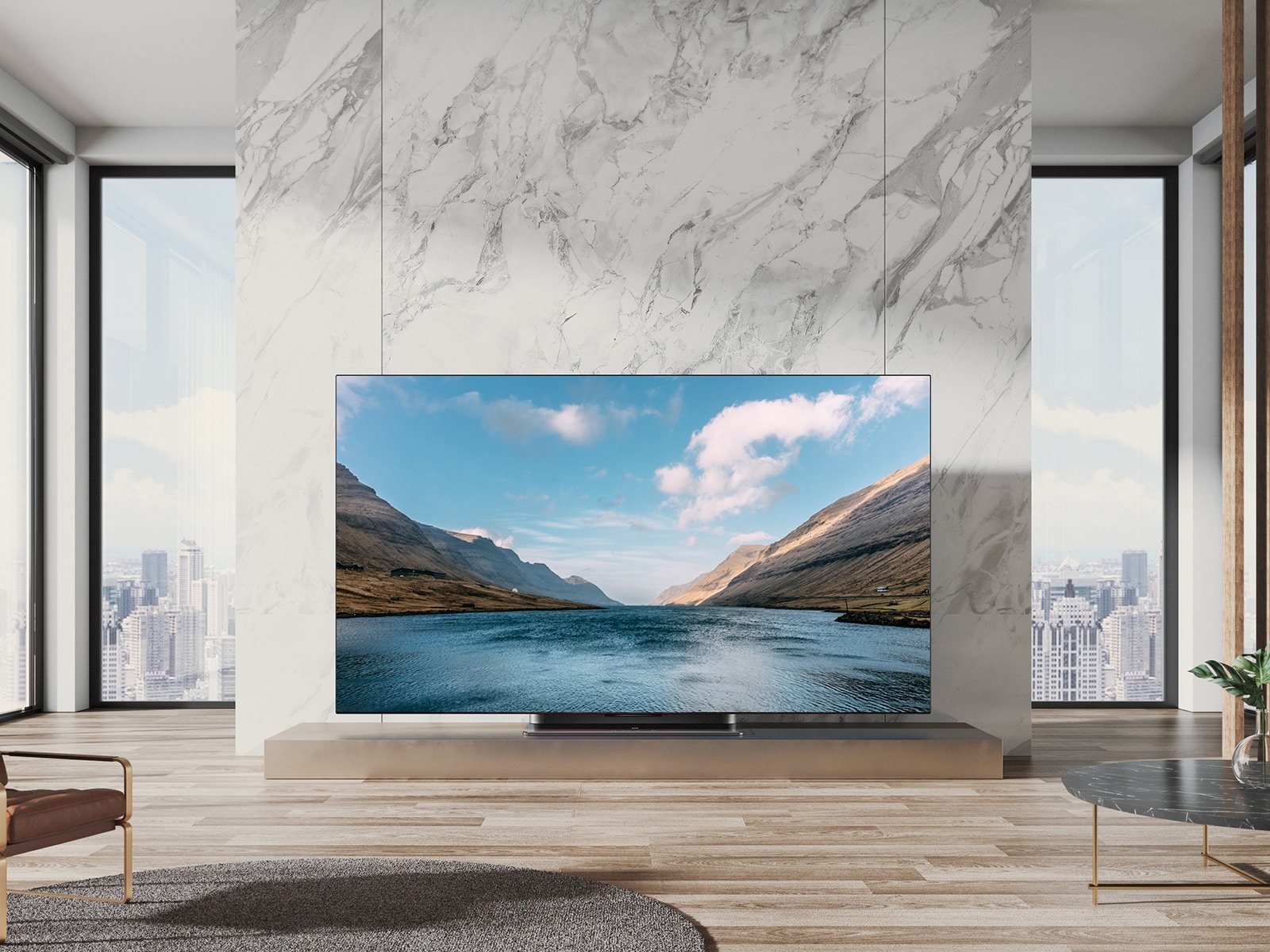 Enjoy the audiovisual experience you deserve with premium configurations
Thanks to the flagship MPU 9650 chip, the TV promises breakthrough audio and video quality, which is critically important for console gamers – one of the core user groups of high-end TVs. Mi TV Lux 65″ OLED's new series of OLED panels not only support the common HDR10 format of games, but is also equipped with the latest generation HDMI 2.1 standard protocol interface that supports Auto Low Latency Mode (ALLM) and Variable Refresh Rate (VRR). The 4K 120Hz screen output is not only great at coping with the current mainstream game consoles, but is built to support upcoming next-generation consoles.
Mi TV Lux 65″ OLED aims to become a large-screen smart hub in the user's home. The in-box NFC Bluetooth remote allows users to simply place their smartphone near the remote to project video content, as well as easily control the TV or other smart home devices using voice commands. It also comes with a built-in XiaoAi AI Assistant 3.0 which boasts a brand-new UI interface, newly added male assistant voice options, and the continuous dialogue function.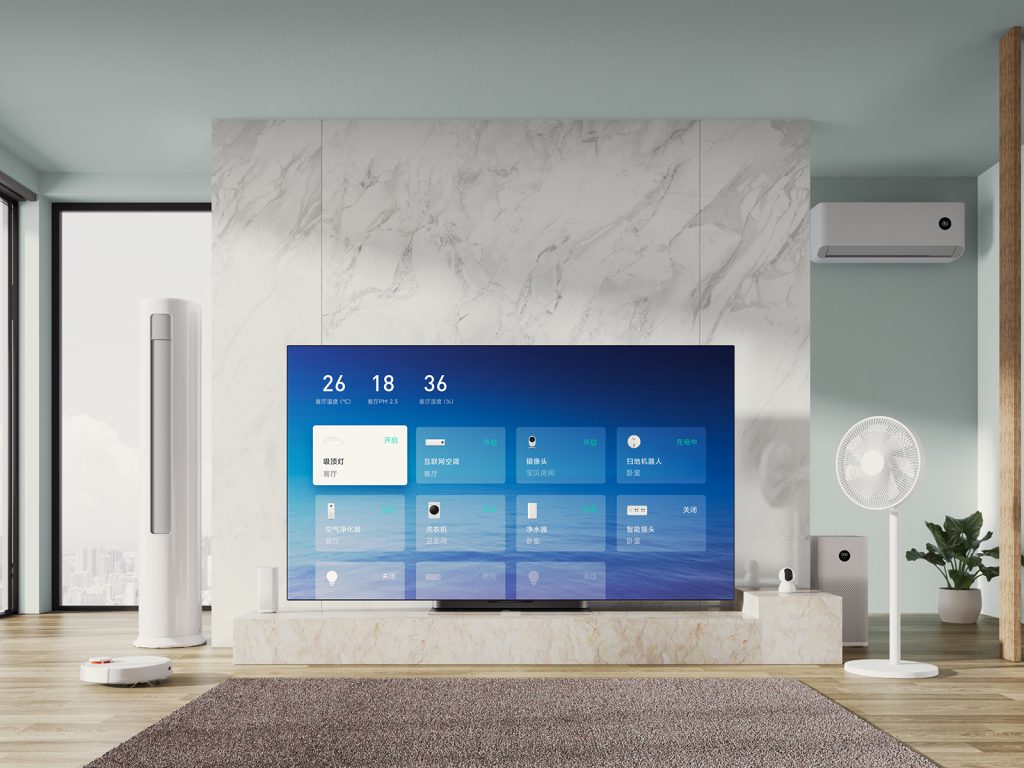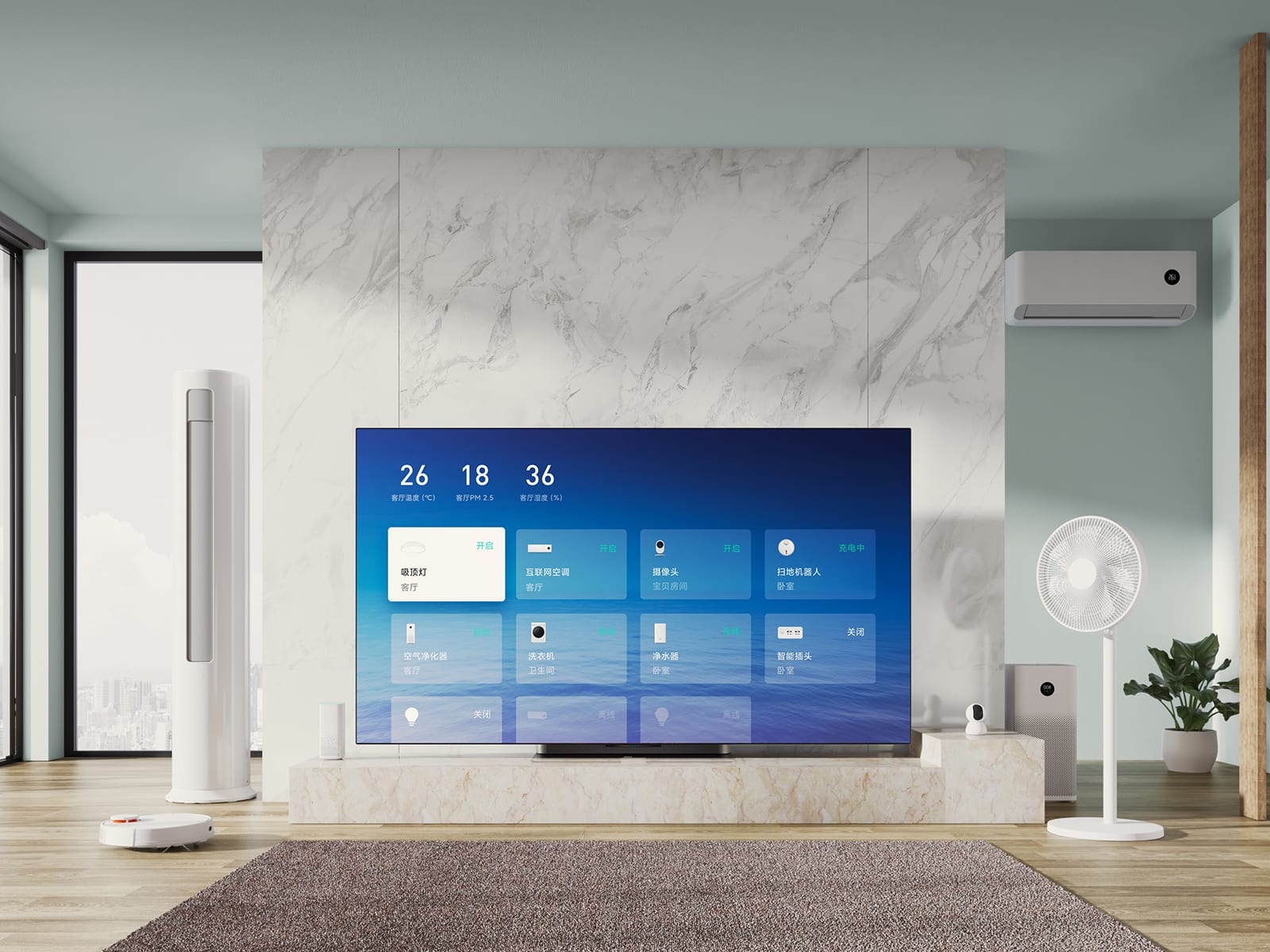 Mi TV Lux 65″ OLED boasts a four-sided bezel-less full-screen design with a 98.8% screen to body ratio, creating the ultimate borderless experience. It also adopts a premium glass stand and a colorful notification light at the bottom of the device, while supporting Always-On display on its OLED panel that can incorporate smart widgets like clock, weather, personal signature, or even display the status of their smart home devices.
Priced at RMB 12,999, Mi TV Lux 65″ OLED will be available for purchase on Xiaomi official channel in Mainland China starting from July 3rd.