Samsung Introduces 1.2μm 50Mp ISOCELL GN1 with Faster Auto-focusing and Brighter Images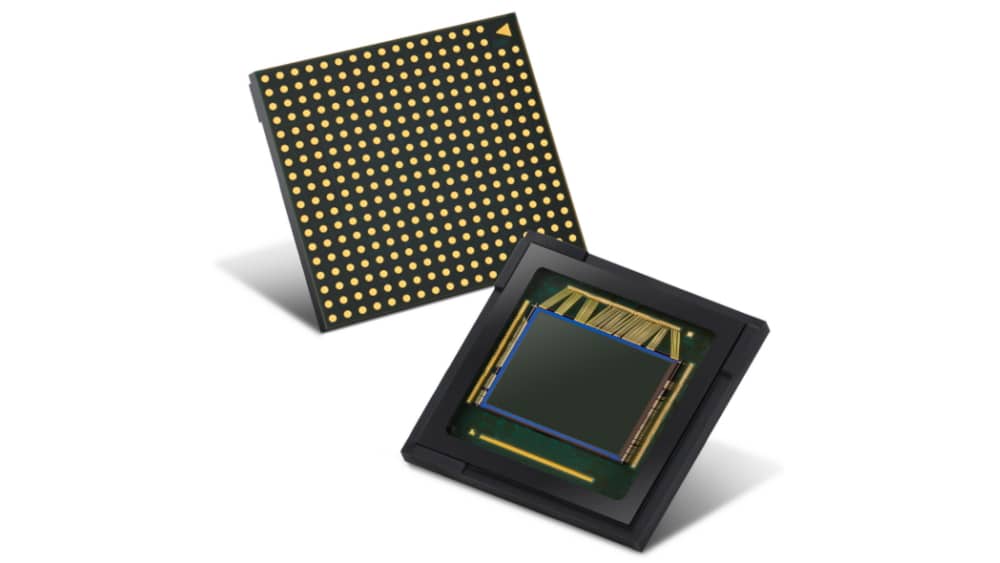 Dual Pixel technology creates 100-million phase-detecting photodiodes for snappy auto-focusing and light information that can be translated up to 100 megapixels.
Tetracell technology enables light-sensitive 2.4μm pixels for ultimate low-light photography.
Samsung Electronics, a world leader in advanced semiconductor technology, today introduced Samsung ISOCELL GN1, a new 50-megapixel (Mp) image sensor with large 1.2μm-sized pixels. The ISOCELL GN1 is Samsung's first image sensor to offer both Dual Pixel and Tetracell technologies. Thanks to the relatively larger pixel size, the GN1 brings image sensor performance to a new level with a combination of elevated light sensitivity for stellar low-light photos and DSLR-level auto-focus speeds, optimized for more dynamic picture-taking experiences.
"With innovative pixel technologies, Samsung has been at the forefront of offering high-performance image sensors that closely cater to increasingly diversifying market needs. The ISOCELL GN1 is part of that commitment to deliver stunning images to consumers in any environment," said Yongin Park, executive vice president of sensor business at Samsung Electronics. "We will continue to introduce image sensor solutions at the cutting-edge that will lead the next trends in mobile photography."
Creating desirable images is an indispensable element for today's smartphone users who are well accustomed to visually grasping and cherishing special moments, wherever they are. To address various imaging preferences of the users, some smartphone makers put more emphasis on extremely detailed images with ultra-high resolutions, while some choose bigger pixels for bright results in low-light environments. The new Samsung ISOCELL GN1 fulfills these multiple needs at once with Dual Pixel and Tetracell technologies.
The GN1 brings best-in-class auto-focusing with 100 million phase detection auto-focus (PDAF) agents. Samsung's Dual Pixel technology places two photodiodes side-by-side within a single pixel that can receive light from different angles for phase detection. With all of the sensor's active pixels working as auto-focusing agents, the GN1 can detect and focus onto a desired still or moving object from every corner in an instant, even in low-light conditions. When capturing images, a single pixel output is created by merging the outputs from the two photodiodes within the pixel. Samsung also provides a software algorithm that takes light information from each photodiode to produce image resolutions comparable to 100Mp.
For ultimate low-light photography, the GN1 adopts Tetracell technology, a pixel-merging technique that improves the pixels' capacity to capture and process more light. By binning four pixel signals into one, Tetracell doubles the image sensor's pixel size to 2.4μm and quadruples the light sensitivity to take brighter 12.5Mp photographs. With improved light sensitivity combined with a powerful auto-focusing solution, the GN1 is able to focus on an object quickly even in extreme low-light environment to deliver both brighter and sharper results.
In addition to Dual Pixel and Tetracell technologies, the GN1 comes with Smart-ISO that intelligently selects the optimal ISO, real-time HDR that captures the scene in multiple exposures simultaneously, and gyro-based electronic image stabilization (EIS) that takes sharp images and video even when in motion. For premium video quality, the image sensor supports video recording at up to 8K resolution at 30 frames-per-second (fps).
Samsung ISOCELL GN1 started mass production this month.
Samsung Galaxy Smartphones Receive Accessibility Seal from the ONCE Foundation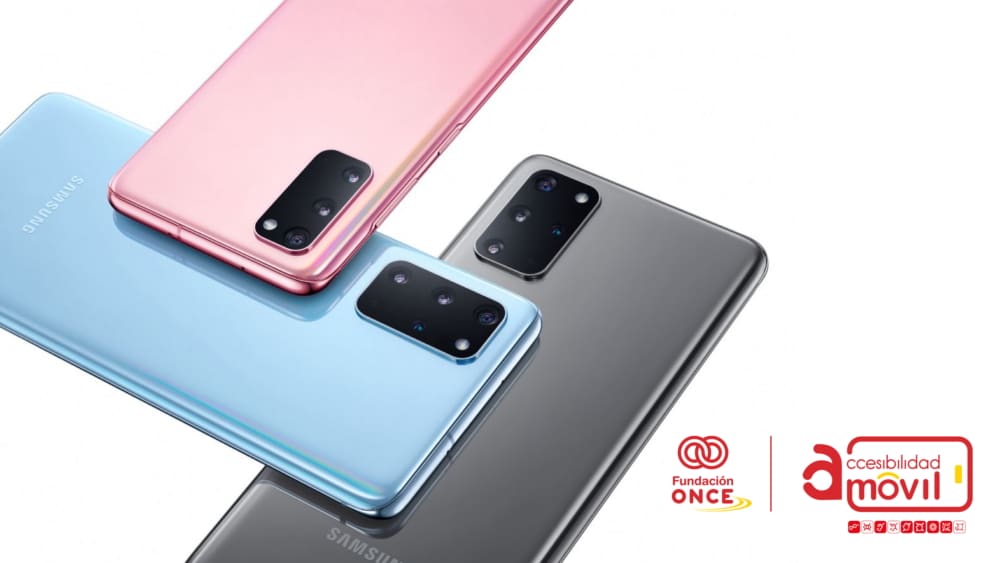 Honoring its commitment to making technology more accessible for people with disabilities, Samsung Electronics Iberia, S.A.U. has announced that its Samsung Galaxy S20 and Galaxy Note10 devices have received an accessibility certification from Spain-based NGO Fundación ONCE (the ONCE Foundation). The Amovil seal is part of a project developed by the ONCE Foundation in collaboration with universal accessibility consultancy ILUNION Tecnología y Accesibilidad, whose objective is to provide information about the accessibility features of commercial smartphones.
A Leader in Accessibility
Samsung is the first manufacturer to receive the ONCE Foundation's seal of accessibility, which affirms that Samsung devices meet universal accessibility standards. This achievement is the result of close collaboration between Samsung and the ONCE Foundation, with the organizations aiming to use technology as a tool to support the autonomy of people living with disabilities and improve their quality of life.
"We are very proud to be the first to receive the ONCE Foundation seal of accessibility, which is another sign of our efforts to make all our products accessible to as many people as possible," said Alfonso Fernández, head of Marketing, Corporate Communication and Institutional Relations at Samsung Electronics Iberia. Meanwhile, Jesús Hernández, head of Universal Accessibility and Innovation at the ONCE Foundation, stressed that, "This certification has been established to meet the demands of the many institutions that want to know if the technology they purchase is responsible or not. Samsung is well-aware of how important it is to ensure that its devices are accessible to as much of the population as possible."
Striving for Accessibility in the Galaxy S20 and Galaxy Note10
The Galaxy S20 family, consisting of the Galaxy S20, Galaxy S20+ and Galaxy S20 Ultra, has been certified by the ONCE Foundation as providing accessibility features for people with zero and partial vision, zero and partial hearing, moderate and severe manipulation difficulties, difficulty seeing colors and speech difficulties. In addition, all of the Galaxy S20 models include a comprehensive accessibility menu to help users find the features they're looking for quickly and easily. Users are also afforded the option to activate accessibility functions – such as the screen reader – when they first turn their devices on. The entire Galaxy S20 range also includes 5G connectivity, which allows users to download content faster, without delays or interruptions, even while conducting video calls or viewing live content.
In addition, the Samsung Galaxy Note10 incorporates accessibility features for people with zero and partial vision, zero and partial hearing, moderate or severe manipulation difficulties, color blindness, and speech difficulties. It also includes an S Pen that allows users to take notes and create precise sketches, facilitating the completion of a wide range of tasks.
Samsung's Broader Commitment to Accessibility
Samsung Electronics Iberia, S.A.U.'s commitment to accessibility is part of its corporate "Tecnología con Propósito" program, which seeks to positively impact the greatest number of people possible by harnessing technology to break down barriers. In Spain, these efforts extend to such important areas as education and culture, welfare, entrepreneurship and employability. In order to best serve these efforts, Samsung is constantly seeking partnerships with prominent associations such as the ONCE Foundation, among others, in order to promote inclusion and technological progress.
Source: Samsung Newsroom
Saves the Day: Galaxy S10 Features in the Marine Rescue of a Stranded Australian Couple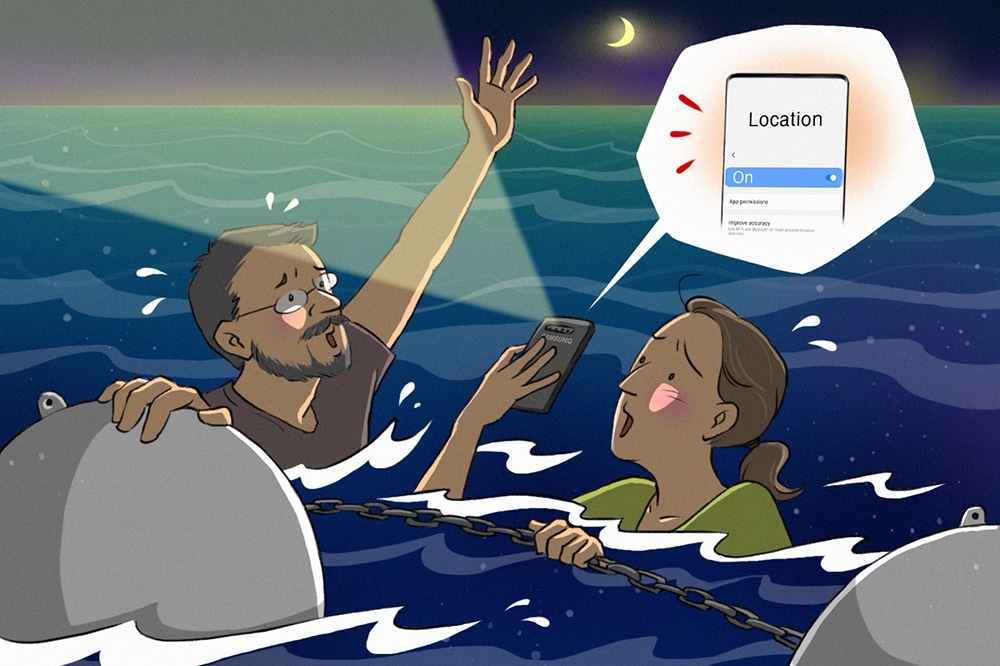 The Galaxy S10 is a smartphone designed for ultimate performance, and a recent incident that took place off the coast of Queensland, Australia – fortunately, one with a happy ending – saw some of its leading functionalities put to use under extraordinary circumstances.
Harnessing the Galaxy S10 to Get to Safety
In June of this year, Australian couple Jessica and Lindsay were enjoying a trip out on their family boat 38km off the coast of Cairns, Queensland, an area most famous for its iconic Great Barrier Reef, when their boat's motor became entangled with the anchor rope and led to them getting swept up by the waves. With the boat then overturning, the stranded couple were tipped into the water with no time to retrieve their lifejackets or their Emergency Position Indicating Radio Beacon (EPIRB), a device used to alert rescue services in emergencies.
The couple managed to remain afloat by grabbing hold of the anchor float after the boat overturned – but their ordeal was far from over as they had concerns about what marine wildlife might be nearby given that they had caught a six-foot shark right before capsizing. While floating overturned and in the water, the stern (rear) of the boat was weighed down as the anchor line was wrapped around the motor while it faced the sea swell.
However, Jessica was able to use her Galaxy S10 to contact the emergency services via phone and text after capsizing.
After having spoken with the local Chief of Police, she shared screenshots of their location with the rescue team using the Galaxy S10's GPS and Google Maps functions. This information then helped guide the helicopter and boat emergency teams dispatched to find them.
Able to maintain contact with the authorities as they patrolled the ocean to find them, Jessica was also able to draw the attention of the rescue boat upon its arrival thanks to her Galaxy S10's flashlight – the couple had spent several hours in the water and night had since fallen.
Jessica and Lindsay's experience is a sobering reminder about the importance of water safety and conduct, and furthermore, it is also a unique example of the power and endurance of Galaxy smartphones, even in unusual or difficult situations; Jessica's Galaxy S10 is still functioning as normal.
Samsung & Niio Art Unveil Winning Artwork to be Exhibited Globally on The Wall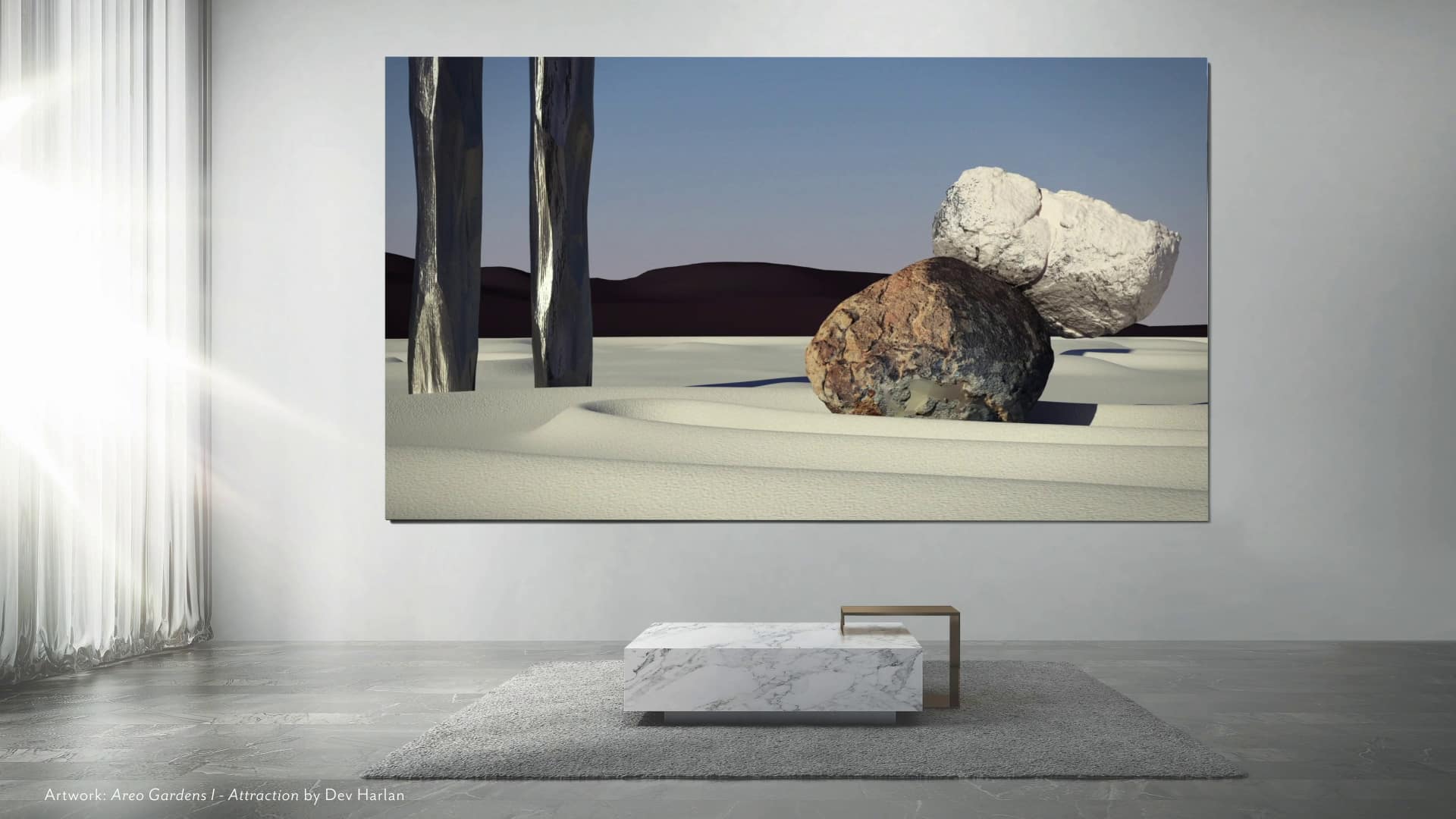 Samsung Electronics today announced the winner of its open call competition in collaboration with Niio, a premium platform for new media art. The competition was open for entries from January 30 to March 30 under the theme 'Digital Realism' to show digital arts moving beyond the limits of artistic expression using the innovative display technology of The Wall. Among 494 artwork submissions from 59 countries, the judging panel consisting of professional art consultants and Samsung representatives revealed the winner as Dev Harlan. The Brooklyn-based artist who specializes in sculpture, installation and digital media was selected for his animation titled: 'Areo Gardens I – Attraction'.
"It is an honor to be selected by Samsung and Niio for this competition and I appreciate the recognition. With the time, energy and research spent producing these works, it is rewarding to have the opportunity to share them with a global audience on such a unique platform. Samsung's The Wall technology and Niio's international network create a fantastic digital showcase for artists across the world. I am proud to be part of that community and excited to see what comes next," said Dev Harlan.
The winning artwork was created to demonstrate the invisible forces that compel large boulders to collide in a desert garden, which formed part of a series reflecting on the surreal and sublime aspects of natural geology throughout the solar system. Each animated short film depicts a stone sculpture garden set on the surface of Mars, apparently defying the laws of physics. The boulders in this particular piece of art were found on a remote hiking trail in Joshua Tree National Park, while the animation is set in a Martian terrain site near Gale Crater, currently being explored by the NASA Curiosity Rover. Digital elevation data was obtained courtesy of the Martian MRO/HiRise satellite program managed by NASA, JPL and the University of Arizona.
In second place for the open call competition were Ohad Benit and Roni Azgad, Tel-Aviv-based artists who crafted 'Ho Me', a short video exploring the relationship between man and machine, between computer manipulations and their creators. This piece of art evokes the feeling of staring and not being able to tear our eyes away from something beautiful and disturbing at the same time, highlighting humans' dialectical relationship with the technology that enables us to behold such beauty but at times can cause us to lose contact.
Finally, Alex McLeod, a Toronto-based visual artist who creates work about interconnection, life's cycles, and empathy through the computer as a medium, claimed third place. His moving image artwork, 'The Gallery' allows the viewer to experience an environment that at first appears as an art exhibition; however, the pace and audio cues reveal that there is something else on display.
"We are delighted to announce the winner of our open call competition in collaboration with Niio, showcasing outstanding talent in moving image art," said Hyesung Ha, Senior Vice President of Visual Display Business at Samsung Electronics. "Samsung is committed to visual display in all forms, while also supporting creativity and the arts. This competition demonstrates just that, with these carefully selected winners now set to be displayed on our awe-inspiring LED 'digital canvas' screen, The Wall, bringing to life every detail of vivid and vibrant imagery."
"The winning entry, runners up and every submission we received demonstrate the popularity and high quality of the digital medium in modern art. We are proud to work with Samsung to ensure these works of art are showcased on the world's most prestigious display, The Wall, to get the attention they deserve," said Rob Anders, CEO of Niio. "We are excited to see what's next for the winners and how we can continue to inspire and connect people across the world through meaningful digital art experiences."
The winning artwork, along with second and third place, will be exhibited at The Wall showcase locations in the United States, the United Kingdom, Thailand, and Korea. Each piece of art will be brought to life on Samsung's The Wall, the highest quality, large modular LED digital art canvas.
To learn more about and preview winning and shortlisted artworks, visit HERE.
Now available globally, The Wall represents the latest application of Samsung's modular LED technology which can be tailored to any size and aspect ratio, immediately enhancing the aesthetic of any space. To learn more about The Wall, please visit HERE.