Samsung & Niio Art Unveil Winning Artwork to be Exhibited Globally on The Wall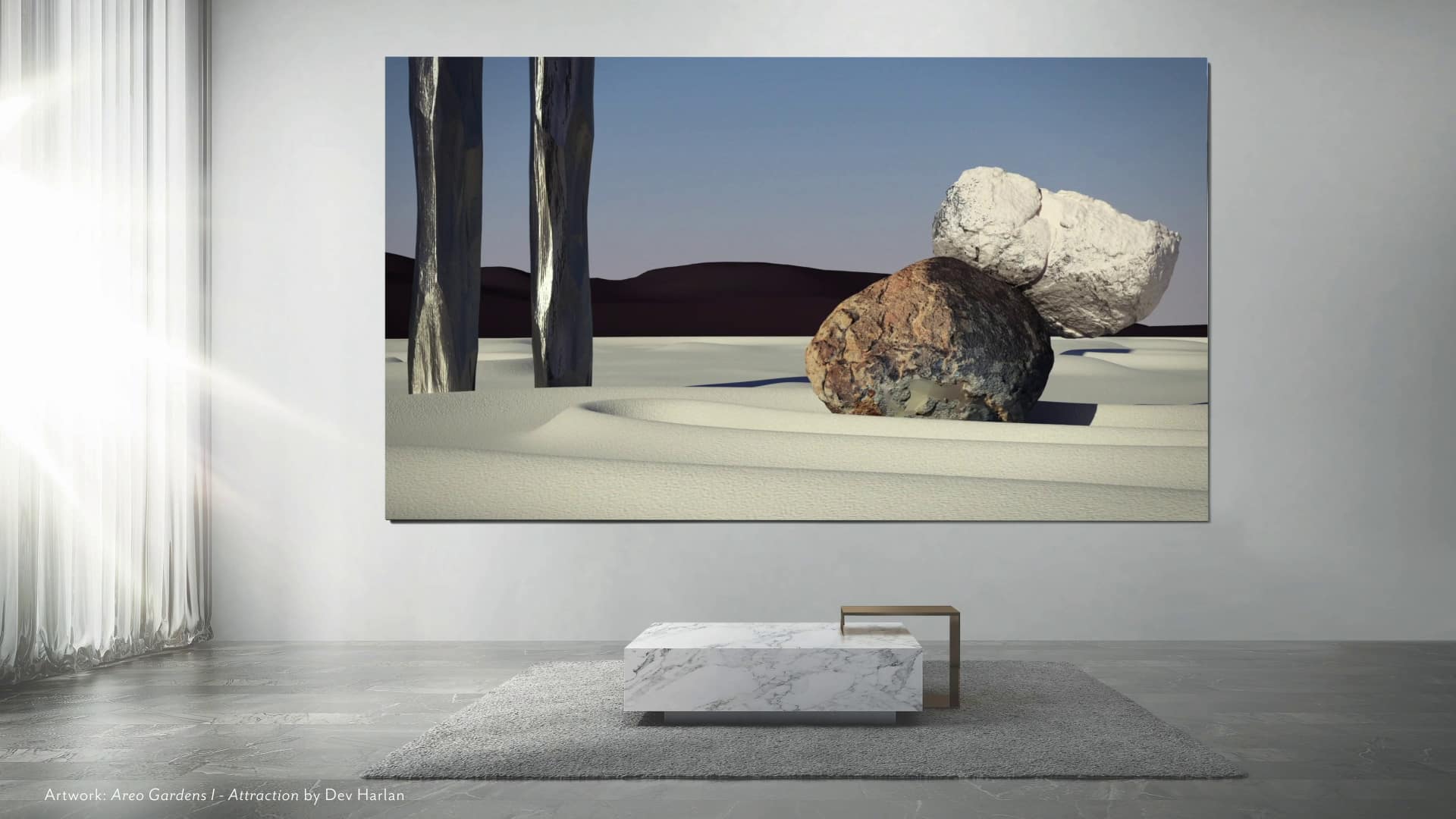 Samsung Electronics today announced the winner of its open call competition in collaboration with Niio, a premium platform for new media art. The competition was open for entries from January 30 to March 30 under the theme 'Digital Realism' to show digital arts moving beyond the limits of artistic expression using the innovative display technology of The Wall. Among 494 artwork submissions from 59 countries, the judging panel consisting of professional art consultants and Samsung representatives revealed the winner as Dev Harlan. The Brooklyn-based artist who specializes in sculpture, installation and digital media was selected for his animation titled: 'Areo Gardens I – Attraction'.
"It is an honor to be selected by Samsung and Niio for this competition and I appreciate the recognition. With the time, energy and research spent producing these works, it is rewarding to have the opportunity to share them with a global audience on such a unique platform. Samsung's The Wall technology and Niio's international network create a fantastic digital showcase for artists across the world. I am proud to be part of that community and excited to see what comes next," said Dev Harlan.
The winning artwork was created to demonstrate the invisible forces that compel large boulders to collide in a desert garden, which formed part of a series reflecting on the surreal and sublime aspects of natural geology throughout the solar system. Each animated short film depicts a stone sculpture garden set on the surface of Mars, apparently defying the laws of physics. The boulders in this particular piece of art were found on a remote hiking trail in Joshua Tree National Park, while the animation is set in a Martian terrain site near Gale Crater, currently being explored by the NASA Curiosity Rover. Digital elevation data was obtained courtesy of the Martian MRO/HiRise satellite program managed by NASA, JPL and the University of Arizona.
In second place for the open call competition were Ohad Benit and Roni Azgad, Tel-Aviv-based artists who crafted 'Ho Me', a short video exploring the relationship between man and machine, between computer manipulations and their creators. This piece of art evokes the feeling of staring and not being able to tear our eyes away from something beautiful and disturbing at the same time, highlighting humans' dialectical relationship with the technology that enables us to behold such beauty but at times can cause us to lose contact.
Finally, Alex McLeod, a Toronto-based visual artist who creates work about interconnection, life's cycles, and empathy through the computer as a medium, claimed third place. His moving image artwork, 'The Gallery' allows the viewer to experience an environment that at first appears as an art exhibition; however, the pace and audio cues reveal that there is something else on display.
"We are delighted to announce the winner of our open call competition in collaboration with Niio, showcasing outstanding talent in moving image art," said Hyesung Ha, Senior Vice President of Visual Display Business at Samsung Electronics. "Samsung is committed to visual display in all forms, while also supporting creativity and the arts. This competition demonstrates just that, with these carefully selected winners now set to be displayed on our awe-inspiring LED 'digital canvas' screen, The Wall, bringing to life every detail of vivid and vibrant imagery."
"The winning entry, runners up and every submission we received demonstrate the popularity and high quality of the digital medium in modern art. We are proud to work with Samsung to ensure these works of art are showcased on the world's most prestigious display, The Wall, to get the attention they deserve," said Rob Anders, CEO of Niio. "We are excited to see what's next for the winners and how we can continue to inspire and connect people across the world through meaningful digital art experiences."
The winning artwork, along with second and third place, will be exhibited at The Wall showcase locations in the United States, the United Kingdom, Thailand, and Korea. Each piece of art will be brought to life on Samsung's The Wall, the highest quality, large modular LED digital art canvas.
To learn more about and preview winning and shortlisted artworks, visit HERE.
Now available globally, The Wall represents the latest application of Samsung's modular LED technology which can be tailored to any size and aspect ratio, immediately enhancing the aesthetic of any space. To learn more about The Wall, please visit HERE.