Vigica C60S Review – Android DVB-S2 Box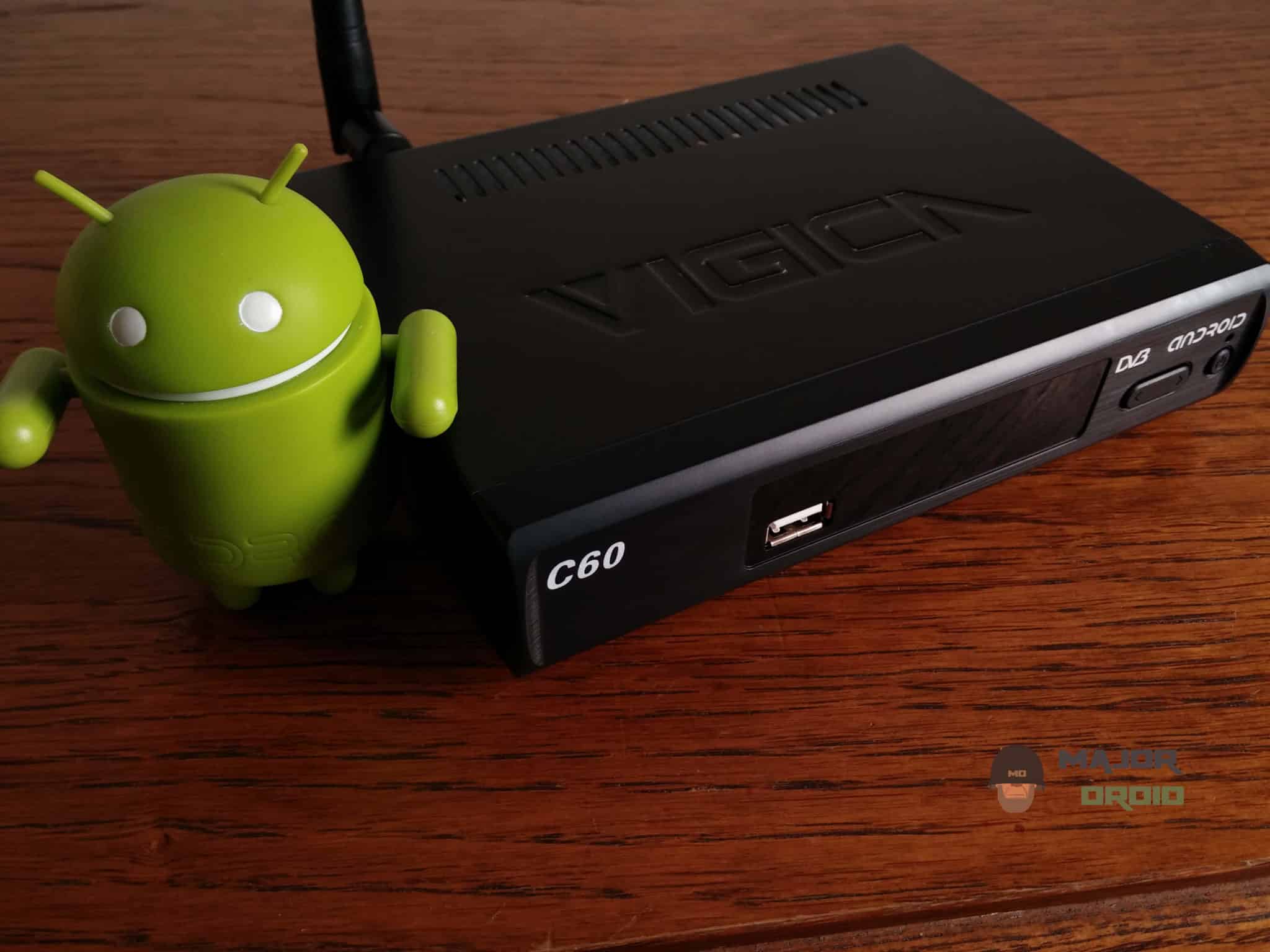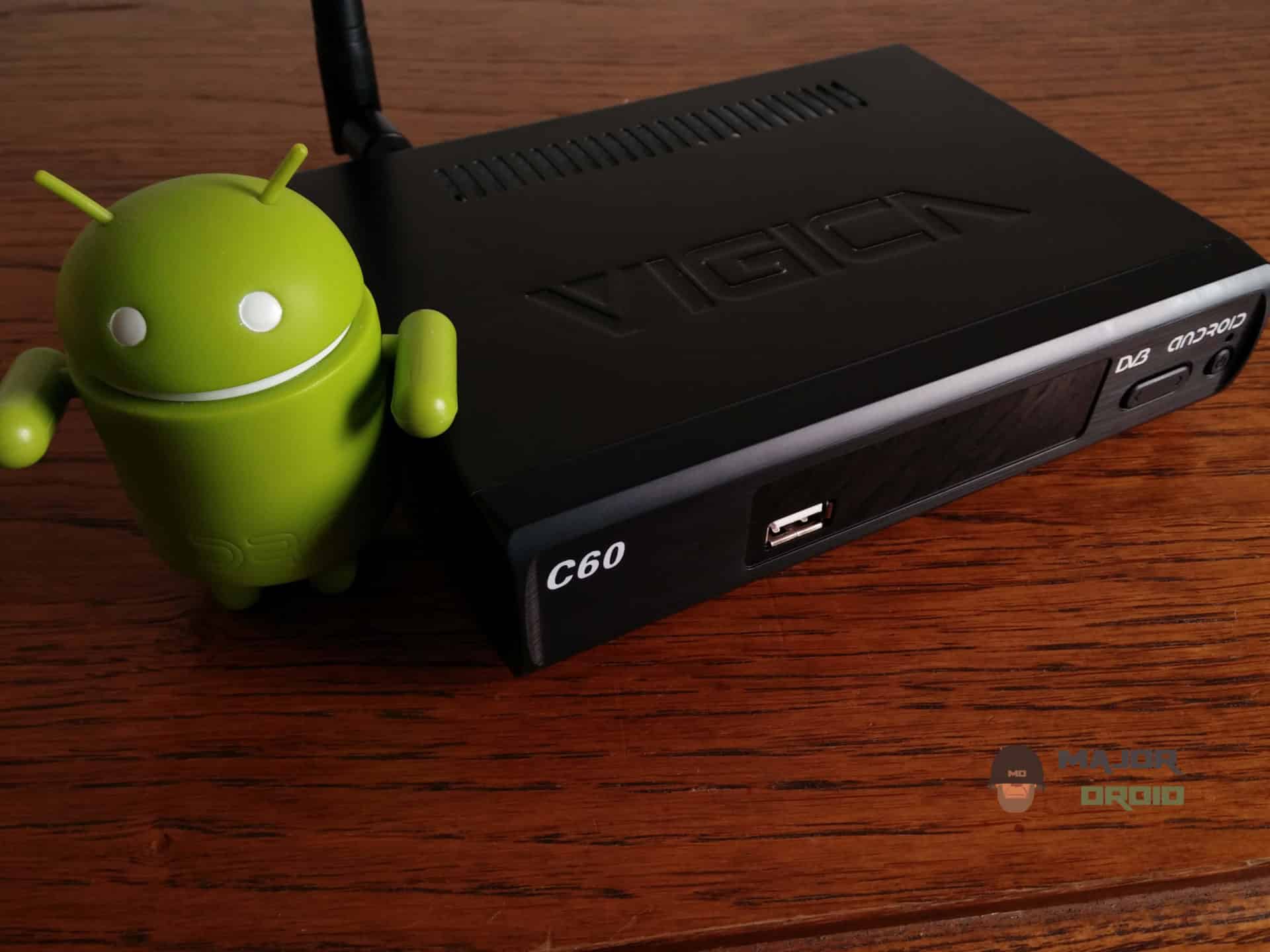 This is the second Android TV box device which has built in DVB-S2 tuner like any satellite TV receiver called Vigica C60S. So this is really interesting because you have more options from only one device and it is also practical because you don't need to use two or more devices at the same time.
Design and build
Vigica C60S is 99% the same as satellite receiver Dreambox DM500 HD. The case is made of metal and it has air holes also like DM500 HD. In my opinion it has premium design with huge companies logo on top. On the front side is located USB port with LED display while on the back side are located all other ports like HDMI, LAN, 2XUSB and it has also removable Wi-Fi antenna. So if you need better Wi-Fi signal you can use other stronger antenna.
First Boot Impressions
First booting was loading about approximately 1 minute after that has appeared setup. In the setup you need to choose which type of connection you will use like Wi-Fi or LAN. You will need to also choose default language, screen options and that's it. After that you can start to use Android device.
Performance and benchmark testing
Vigica C60S maybe does not have powerful hardware but still I will perform testing with Antutu benchmark and Geekbench. Also I have gathered hardware information from CPU-Z. So it has 1 GB RAM and 4 GB of storage. If the storage is not enough for you then you can extend storage space with USB flash drive os with memory card.
From other hardware information I can say that it has dual core CPU with maximum speed 1.5 GHz and the GPU is Mali-400. I must admit alt.the hardware is not super strong still everything I have tried worked really fast and with out any problems including gaming. Also below you can see benchmark test results.
Software
This media player is delivered with pre-installed Android 4.2.2. It is customised so that you can use it much easier. As was to be expected it has big icons and it has several applications like MX player and XBMC already installed. The system is really fast and fluid and until now I did not encounter any problems.
XBMC
Of course I tried XBMC, I have installed several add-ons. After that I have chosen from a list desirable movie and it worked. So you don't need to worry about that you can easily use it. And you don't need to modify something or you don't need advanced knowledge to use it.
Vigica C60S Satellite Receiver App – Cardsharing support
This media player is different from other similar devices because it has also built in DVB-S2 tuner. So you have the same ability as if you have satellite receiver. The setup is really easy, first you need to choose desired satellites. After that you need to configure your satellite configuration for example do you have motor, or how many LNB do you have. If you have a motor then you can choose either DiSEqC 1.2 or USALS. After you configure the setup you can now scan the satellites for TV channels.
When you are done with this you can then go watch TV channels. The satellite applications works fast and you can really fast change channels from one to another. It supports full HD channels, subtitles and other functions like any other satellite receiver. It also supports card sharing or CS. To access card sharing setup page you need to access the hidden menu pressing 111111 in satellite menu. After that you will have ability to add card sharing lines. The card sharing also works good.
Connectivity
Vigica C60S is also very interesting in my opinion because it has a removable external Wi-Fi antenna. Thanks to external antenna you have much stronger Wi-Fi signal than usual. But even this is not enough for you you can connect it to stronger antenna if you need. In my opinion this is really useful because sometimes if the Wi-Fi signal is poor everything else works also poor so this is definitely big plus from me! Of course it has LAN PORT for cable connection if you don't want to use wireless connection.
Conclusion
As conclusion I can say that this Android media player is definitely positive surprise for me. Because the build quality is very good. The case is completely metal with cool looking design. It has medium strong hardware with many software possibilities like XBMC and IPTV. Another big plus is DVB-S2 tuner with cardsharing support. And finally very low price is also definitely too get a title of best buy the device in this price range. For more information about the device you can see at official site.