Vigica C90S Review – Android TV box with DVB-S2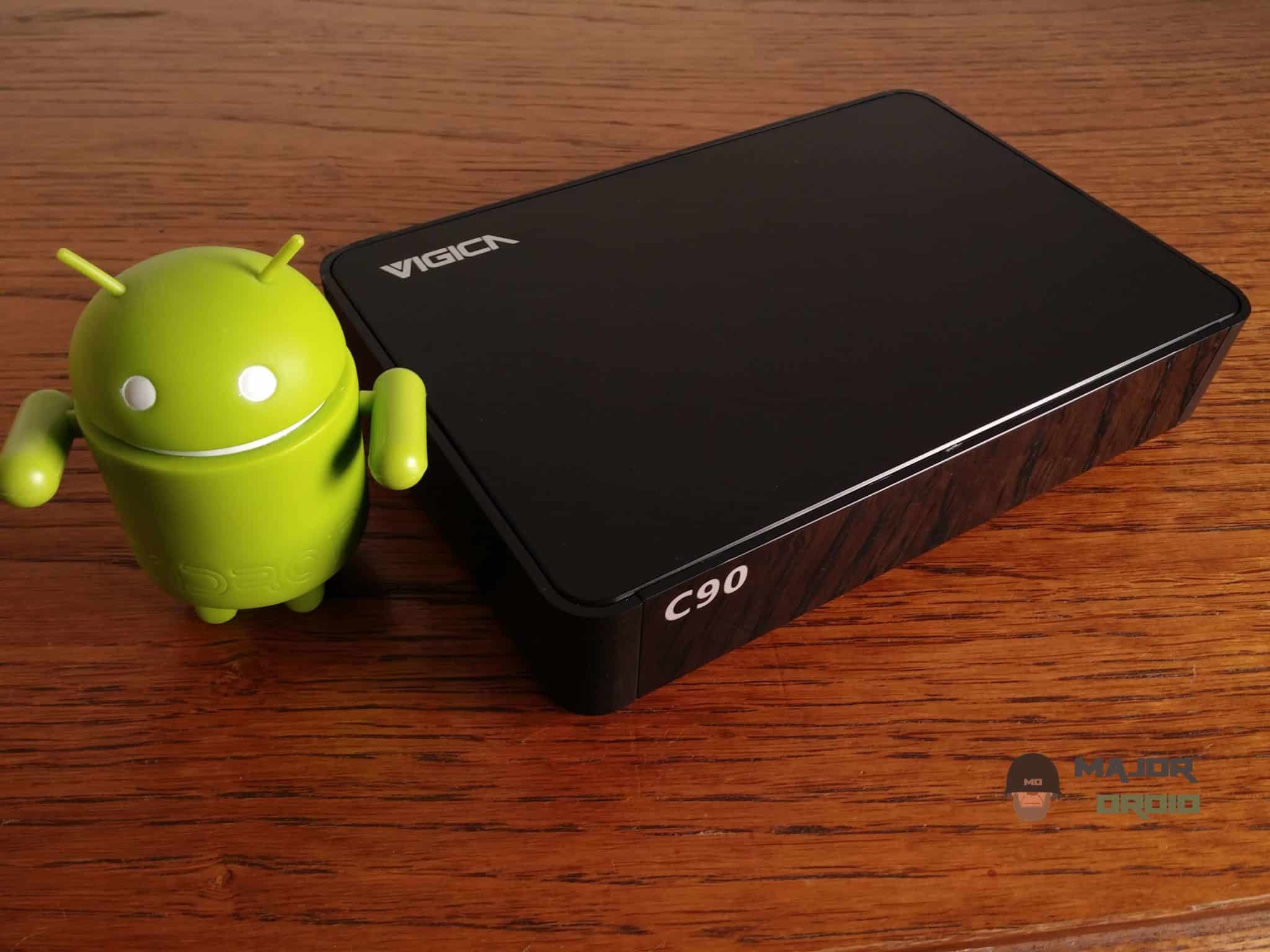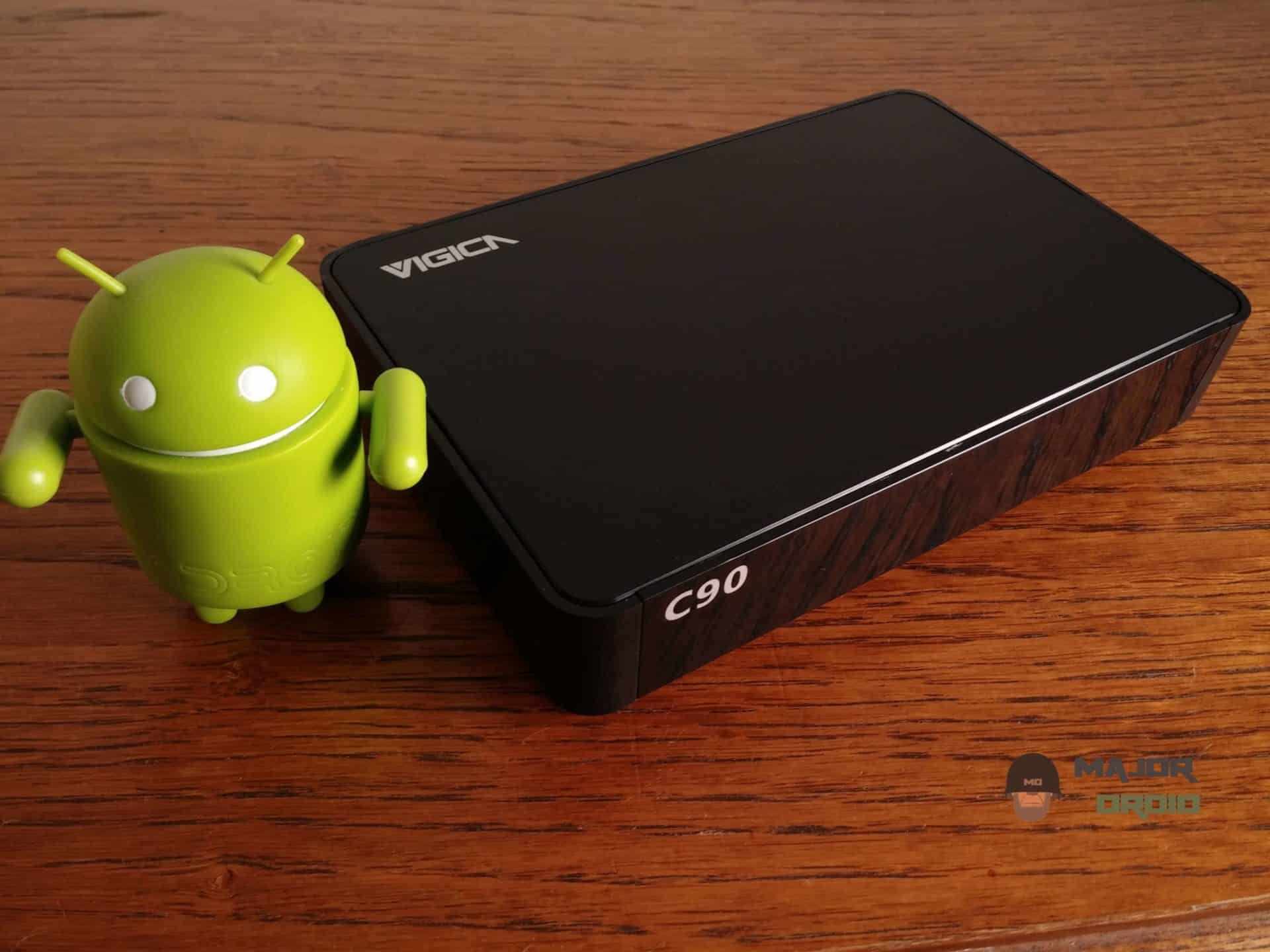 I have opportunity to introduce to you newest Android TV box which has built in DVB-S2 tuner. I have reviewed in past their other model under the name C60S which was really good and much much more in this price range. So this time I have the box called Vigica C90S. Which is almost the same but it has different design and better hardware. So I hope that it will be the same quality as this other Android box.
Design and build
The box is made of plastic, nothing more nothing less and really I don't know what more I can say about design. So it has classic design as many other TV boxes. When we are talking about ports, all ports are located on the back side as you can see on the photos. Overall the build quality is good and the device is practical to use.
Performance and benchmark testing
The Vigica C90S has slightly stronger hardware comparing to C60S model. Because it has quad core CPU and quad core GPU while C60S has dual core CPU and dual core GPU. Also for the storage it has 8 GB of memory while the older model has 4GB. All other is the same and during use I noticed that the C90S is slightly faster and more responsive than C60. I tried several games including watching movies, Youtube and all worked as it should to work. But as I said it works slightly faster because normally it has stronger hardware.
Software
It comes with Android 4.2.2 operating system where the user interface is very similar to older model. Of course it has several pre-installed useful applications like KODI. The user interface is fast and fluid and during use I did not encountered any problems. I tried several applications like KODI and it is working as the user should expected to work.
KODI
As I said earlier I tried KODI in different ways. I wanted to watch some sports content and when I have installed required add-ons it worked from first try. So I am definitely satisfied with software because they have taking care of every detail. So you don't need to worry about it.
Satellite Receiver App – Cardsharing support for Vigica C90S

Vigica C90S is quite different Android TV box from other similar devices because it has built in DVB-S2 tuner. In my personal opinion this can be very useful because for example you don't need to have two devices at the same time. Also you can easily change from satellite receiver application to classic Android system. It has all features like any other satellite receiver, it supports all DiSEqC standards and USALS also so you can normally use satellite motor.
Also I think everyone will be interested does the Vigica C90S supports card sharing. I can freely say that it supports and you can easily use CS just pressing 111111 which leads you to hidden menu. Also I know that there is card sharing application which you can also install like any other app. Card sharing functions works really good and during use all TV channels worked good with out lags.
Connectivity
The Vigica C90S has lan port and Wi-Fi for available connection. So you have ability to choose which type of connection do you need. Will you use wireless or cable connection it is up to you. Anyway wireless has excellent range for stable collection while the lan connectivity is also stable.
Conclusion
So after several days of using and testing the android box Vigica C90S I must say that I am very impressed because for this place range it is very good device. It offers many useful features including KODI, satellite television with card sharing support. The operating system is stable and very good optimised. Overall if you are looking for is this kind of device then definitely consider buying this because it is also very cheap. For more information please visit their official website.