XIAOMI ANNOUNCES THE TOP-NOTCH MI TV LUX 65″ OLED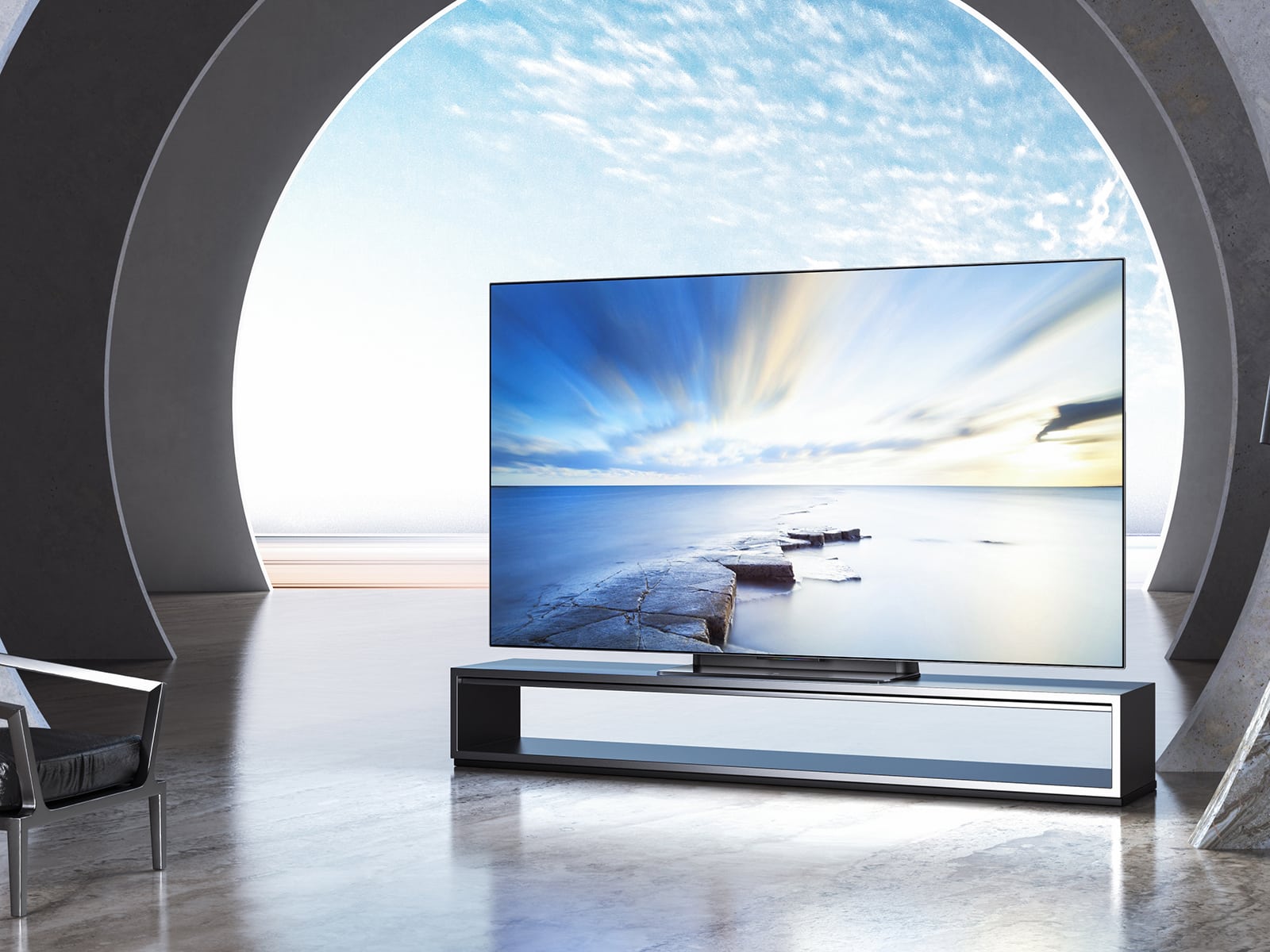 Today, global technology leader Xiaomi officially debuted its first-ever premium TV model – Mi TV Lux 65″ OLED – in Mainland China. It boasts a 65'' OLED display, a 98.3% P3 color spectrum, Delta E<1.5 color accuracy, AI Master Smart Engine, and Dolby Vision support. Mi TV Lux 65″ OLED is built to exceed expectations and takes visual quality to the next level.
This ground-breaking device also features a stunning audio performance with 9 speaker units with a combined output of 65W, 3D Spatial Sound System, and Dolby Atmos support. It doubles up as a powerful gaming display, thanks to the Auto Low Latency Mode (ALLM), a Variable Refresh Rate from 40Hz to 120Hz, and HDMI 2.1 standard output.
Xiaomi's first flagship TV – OLED display offers a Delta E as low as 1.5 for accurate colors
As Xiaomi's first ultra high-end TV, Mi TV Lux 65″ OLED features the latest OLED technology. With 8.29 million individually controlled sub-pixels, the device offers superb high contrast and achieves a black level of close to 0-nit in dark scenes. This ensures an outstanding dark room performance and magnificent viewing quality.
Mi TV Lux 65″ OLED also offers professional-grade color reproduction by covering 98.5% P3 color gamut. With an OLED display, it supports true 10-bit color depth display and can accurately reproduce a wide range of 1.07 billion different colors. Along with a Delta E as low as 1.5, Mi TV Lux 65″ OLED retains and brings out true-to-life color pictures.
Spot every detail with AI Master automatic picture quality adjustment and Dynamic HDR
Mi TV Lux 65″ OLED's AI Master deep learning engine combines both the essence of human wisdom and creativity. Powered by an MPU 9650 intelligent processor, it automatically adjusts picture quality through Xiaomi's AI Master for Picture technology. This dedicated technology currently supports 20+ image quality algorithms and intelligently optimizes five major content types.
Thanks to the OLED panel and numerous technical advances powered by the new MTK chip, Mi TV Lux 65″ OLED is able to access Dolby Vision HDR imaging technology, HDR10+, HDR10, and HLG. Dolby Vision revolutionizes the TV experience with incredible brightness, contrast, color, and detail backed by the astoundingly vivid image quality. Dynamic HDR not only enhances TVs HDR capabilities but also ensures that Mi TV Lux 65″ OLED can perfectly display all sorts of HDR10+ video content shot on a mobile phone. It also guarantees that every moment of a video is displayed at its ideal values for depth, detail, brightness, contrast, and wider color gamuts.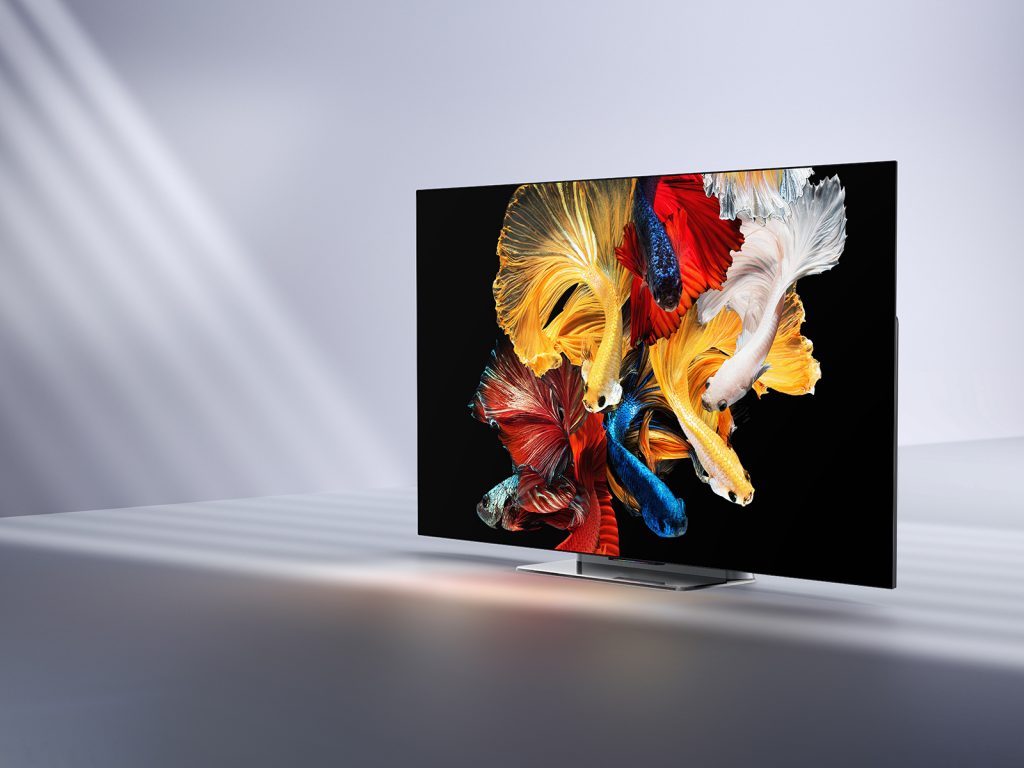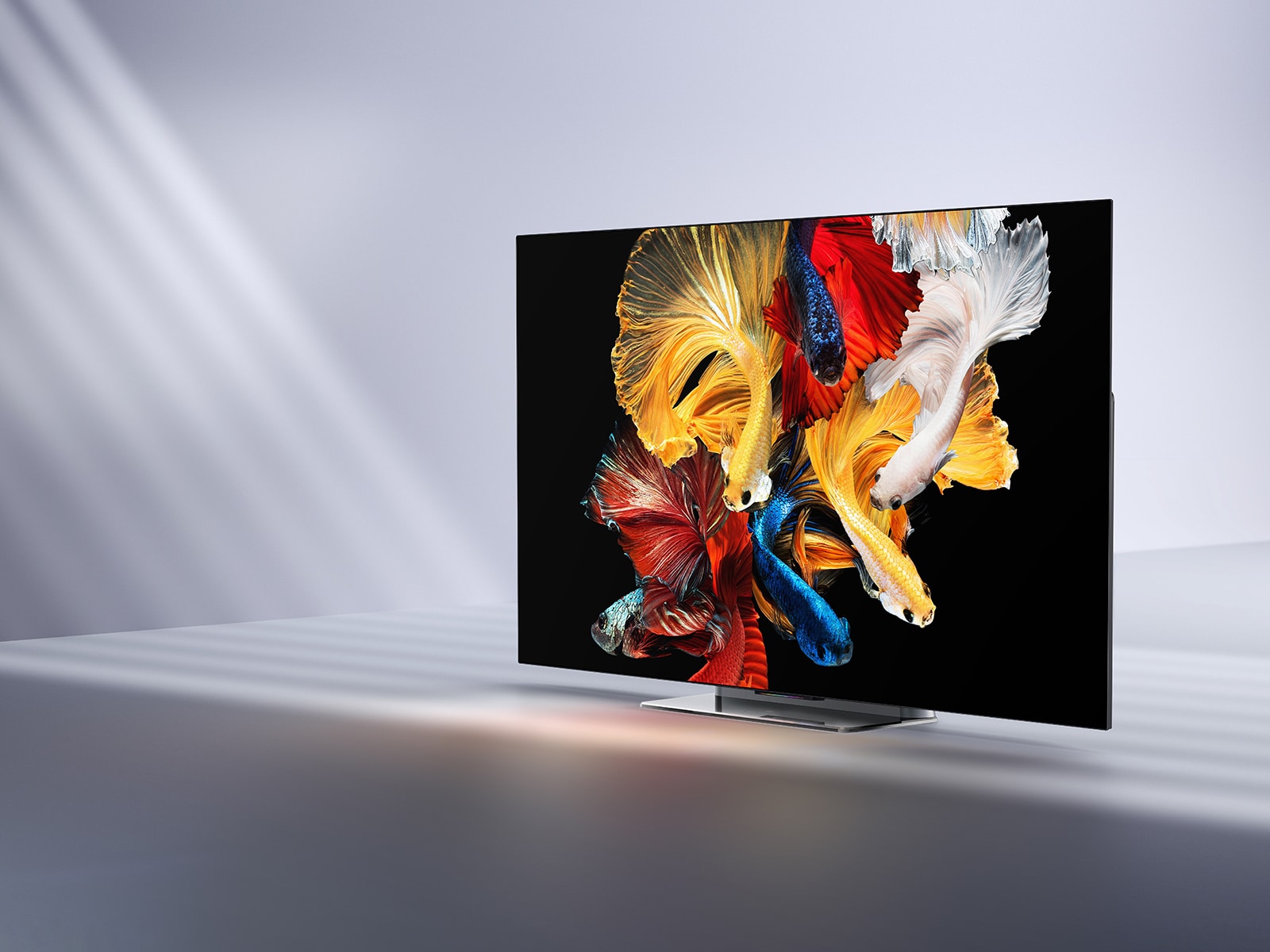 Feast your eyes with 120Hz refresh rate, MEMC, and low blue light protection
Xiaomi's vision for next-gen premium TV is to ensure an ultra-smooth viewing experience for every use scenario. This means stutter-free and low latency image quality no matter if it's for watching movies, dramas, or sports shows. With 120Hz high refresh rates, 1ms (GtG) response time, and MEMC technology, the Mi TV Lux 65″ OLED can present highly dynamic motion pictures in stunning clarity. This ground-breaking offering is reinforced with image enhancement technology that can optimize the visual quality from pixel level, enriching low-resolution video content with great detail.
To achieve low blue light emission, the 65'' OLED display adopts an anti-blue light material that emits non-harmful light within the wavelength of 460-480mm. The OLED panel also comes in the right brightness that ensures flicker-free and comfortable viewing even for families with kids.
Deeply immersive audio experience with 9-unit 65W speakers and Dolby Atmos
Aside from top-notch display and image quality, Mi TV Lux 65″ OLED comes with an immersive 3D sound system for a premium quality audio experience, featuring nine speaker units with a total output of 65W. This includes two sets of 12.5W full-frequency bottom-firing main speakers located on the back of the device (each set with one tweeter and one woofer), two dome surround sound speakers at the top that replicate sounds coming from above, along with a 20W subwoofer speaker with 1.9L sound chamber, and two passive radiators. Mi TV Lux 65" OLED is able to create an immersive sound field that allows users to indulge in a 3D panoramic audio experience with sounds coming from all directions.
Mi TV Lux 65" OLED supports eARC (Enhanced Audio Return Channel) and 32-channel PCM for high-bit rate 3D surround sound signals directly to other speakers via HDMI. With AI Master for Audio sound enhancement technology, the TV can identify content and adjust audio settings automatically between 5 modes: movie, music, news, sports, and others to best suit the scenario. Combined with the capabilities of Dolby Atmos, it offers a truly astonishing audio experience at home.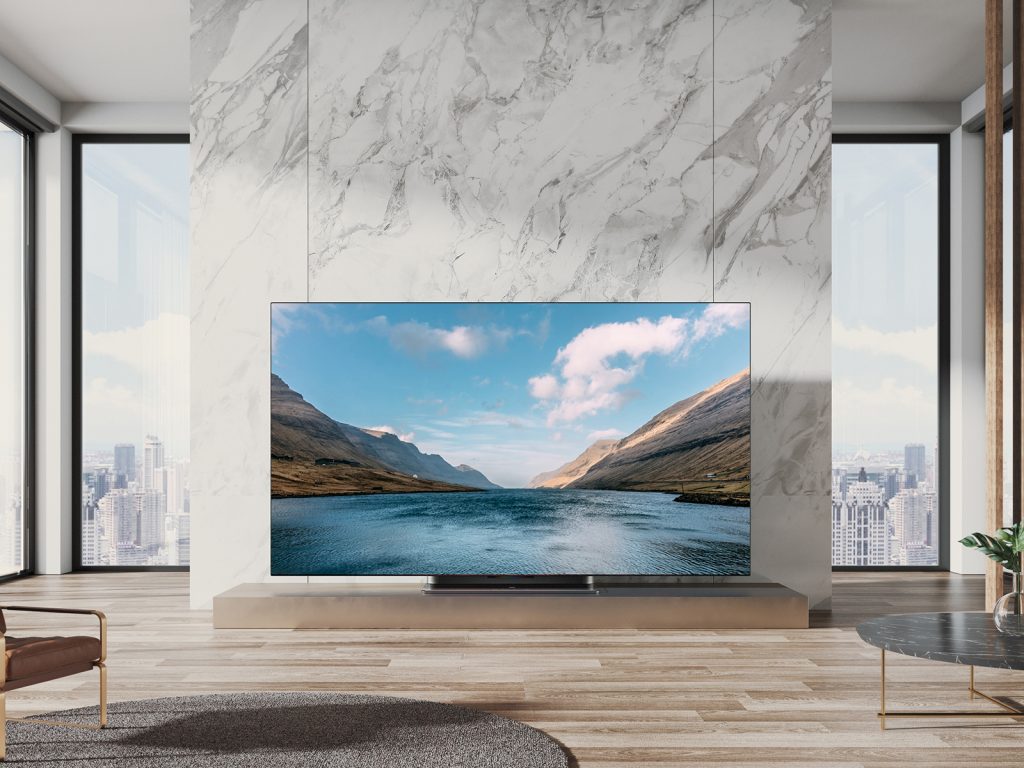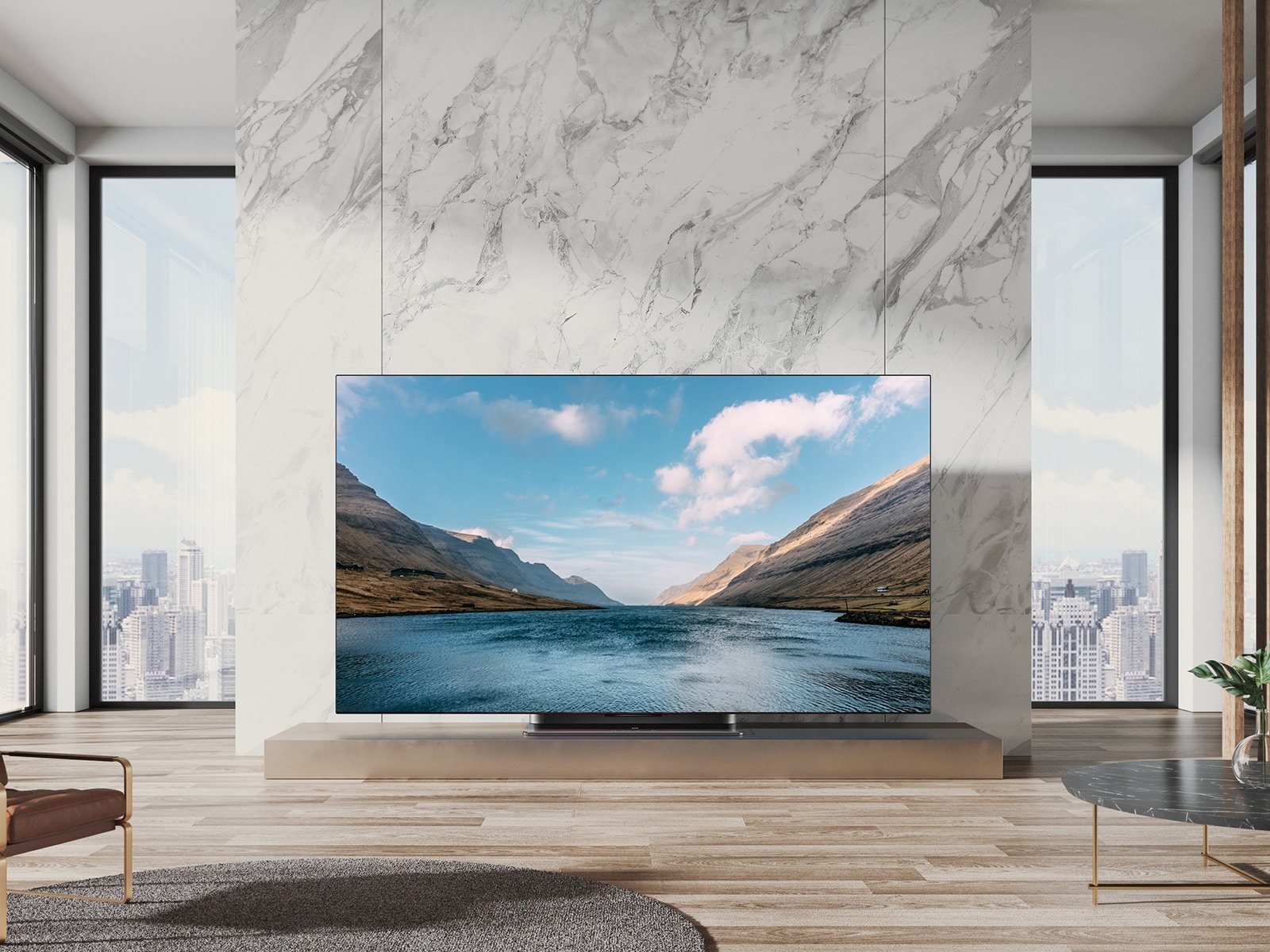 Enjoy the audiovisual experience you deserve with premium configurations
Thanks to the flagship MPU 9650 chip, the TV promises breakthrough audio and video quality, which is critically important for console gamers – one of the core user groups of high-end TVs. Mi TV Lux 65″ OLED's new series of OLED panels not only support the common HDR10 format of games, but is also equipped with the latest generation HDMI 2.1 standard protocol interface that supports Auto Low Latency Mode (ALLM) and Variable Refresh Rate (VRR). The 4K 120Hz screen output is not only great at coping with the current mainstream game consoles, but is built to support upcoming next-generation consoles.
Mi TV Lux 65″ OLED aims to become a large-screen smart hub in the user's home. The in-box NFC Bluetooth remote allows users to simply place their smartphone near the remote to project video content, as well as easily control the TV or other smart home devices using voice commands. It also comes with a built-in XiaoAi AI Assistant 3.0 which boasts a brand-new UI interface, newly added male assistant voice options, and the continuous dialogue function.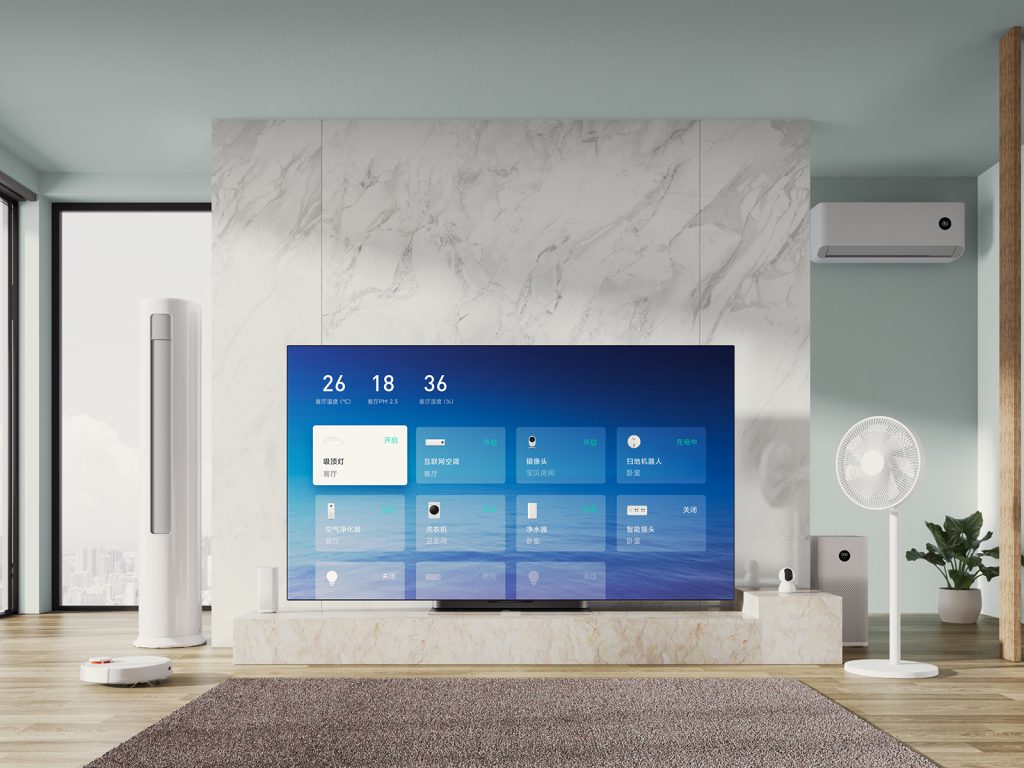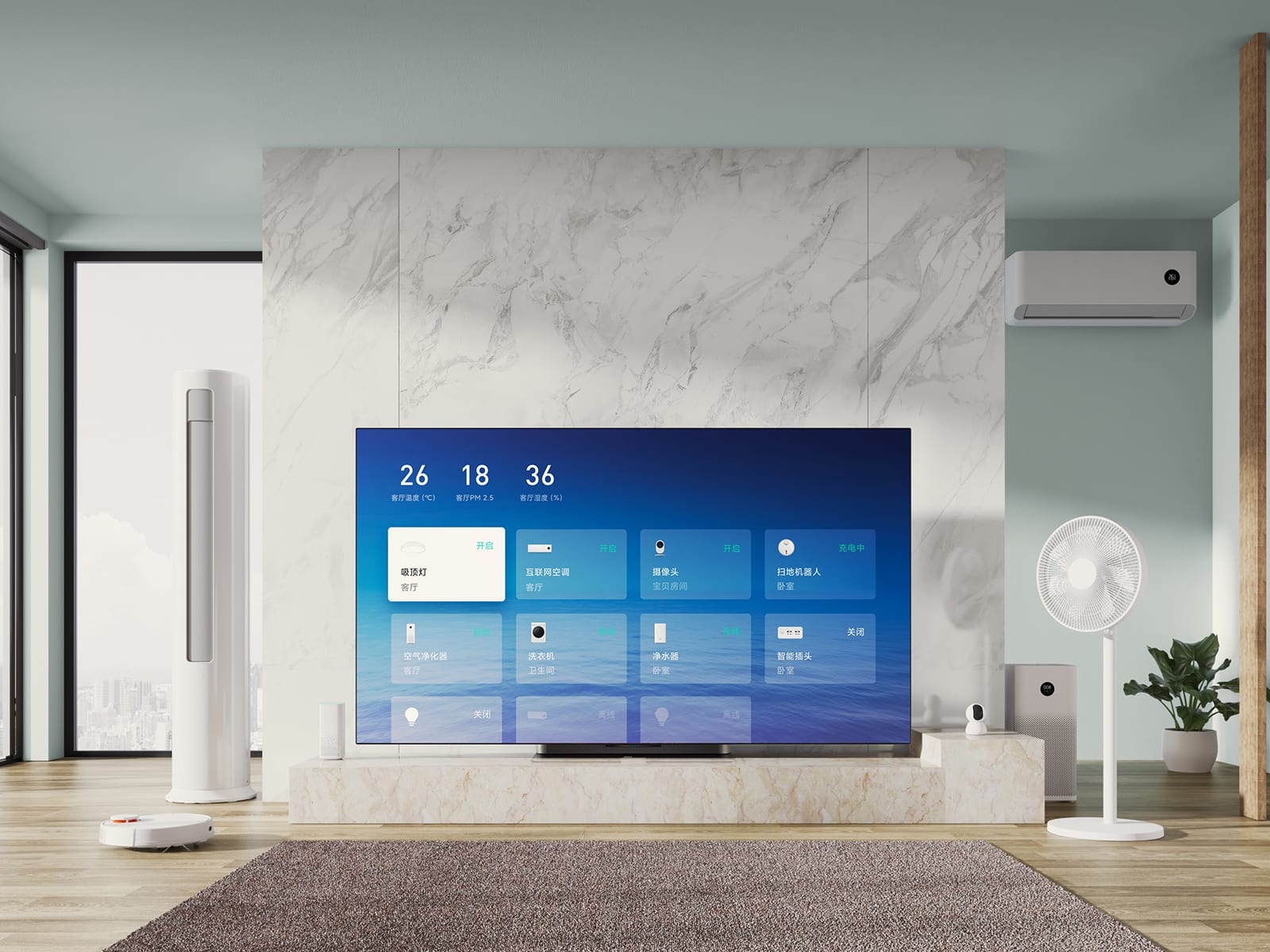 Mi TV Lux 65″ OLED boasts a four-sided bezel-less full-screen design with a 98.8% screen to body ratio, creating the ultimate borderless experience. It also adopts a premium glass stand and a colorful notification light at the bottom of the device, while supporting Always-On display on its OLED panel that can incorporate smart widgets like clock, weather, personal signature, or even display the status of their smart home devices.
Priced at RMB 12,999, Mi TV Lux 65″ OLED will be available for purchase on Xiaomi official channel in Mainland China starting from July 3rd.
Samsung Galaxy Smartphones Receive Accessibility Seal from the ONCE Foundation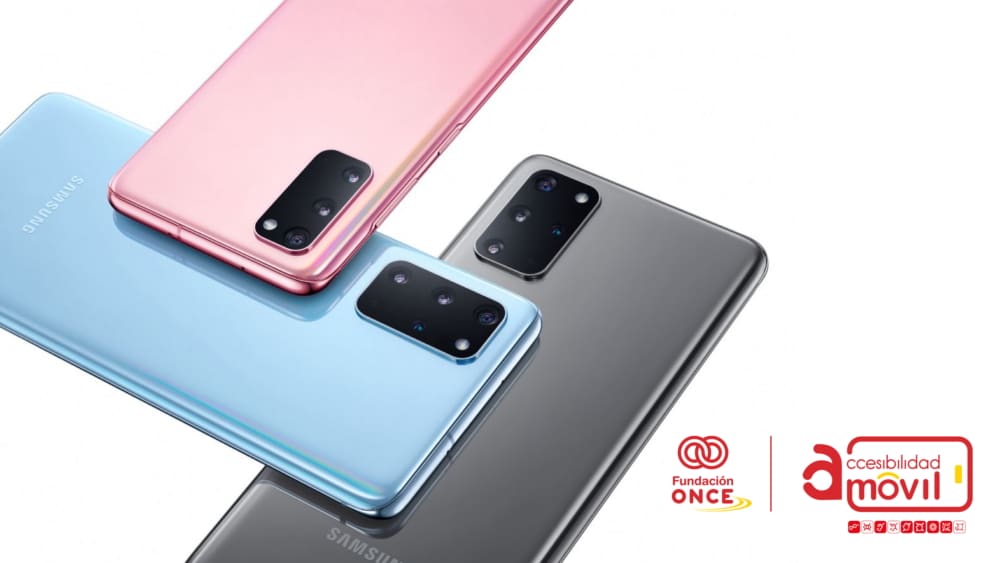 Honoring its commitment to making technology more accessible for people with disabilities, Samsung Electronics Iberia, S.A.U. has announced that its Samsung Galaxy S20 and Galaxy Note10 devices have received an accessibility certification from Spain-based NGO Fundación ONCE (the ONCE Foundation). The Amovil seal is part of a project developed by the ONCE Foundation in collaboration with universal accessibility consultancy ILUNION Tecnología y Accesibilidad, whose objective is to provide information about the accessibility features of commercial smartphones.
A Leader in Accessibility
Samsung is the first manufacturer to receive the ONCE Foundation's seal of accessibility, which affirms that Samsung devices meet universal accessibility standards. This achievement is the result of close collaboration between Samsung and the ONCE Foundation, with the organizations aiming to use technology as a tool to support the autonomy of people living with disabilities and improve their quality of life.
"We are very proud to be the first to receive the ONCE Foundation seal of accessibility, which is another sign of our efforts to make all our products accessible to as many people as possible," said Alfonso Fernández, head of Marketing, Corporate Communication and Institutional Relations at Samsung Electronics Iberia. Meanwhile, Jesús Hernández, head of Universal Accessibility and Innovation at the ONCE Foundation, stressed that, "This certification has been established to meet the demands of the many institutions that want to know if the technology they purchase is responsible or not. Samsung is well-aware of how important it is to ensure that its devices are accessible to as much of the population as possible."
Striving for Accessibility in the Galaxy S20 and Galaxy Note10
The Galaxy S20 family, consisting of the Galaxy S20, Galaxy S20+ and Galaxy S20 Ultra, has been certified by the ONCE Foundation as providing accessibility features for people with zero and partial vision, zero and partial hearing, moderate and severe manipulation difficulties, difficulty seeing colors and speech difficulties. In addition, all of the Galaxy S20 models include a comprehensive accessibility menu to help users find the features they're looking for quickly and easily. Users are also afforded the option to activate accessibility functions – such as the screen reader – when they first turn their devices on. The entire Galaxy S20 range also includes 5G connectivity, which allows users to download content faster, without delays or interruptions, even while conducting video calls or viewing live content.
In addition, the Samsung Galaxy Note10 incorporates accessibility features for people with zero and partial vision, zero and partial hearing, moderate or severe manipulation difficulties, color blindness, and speech difficulties. It also includes an S Pen that allows users to take notes and create precise sketches, facilitating the completion of a wide range of tasks.
Samsung's Broader Commitment to Accessibility
Samsung Electronics Iberia, S.A.U.'s commitment to accessibility is part of its corporate "Tecnología con Propósito" program, which seeks to positively impact the greatest number of people possible by harnessing technology to break down barriers. In Spain, these efforts extend to such important areas as education and culture, welfare, entrepreneurship and employability. In order to best serve these efforts, Samsung is constantly seeking partnerships with prominent associations such as the ONCE Foundation, among others, in order to promote inclusion and technological progress.
Source: Samsung Newsroom
Saves the Day: Galaxy S10 Features in the Marine Rescue of a Stranded Australian Couple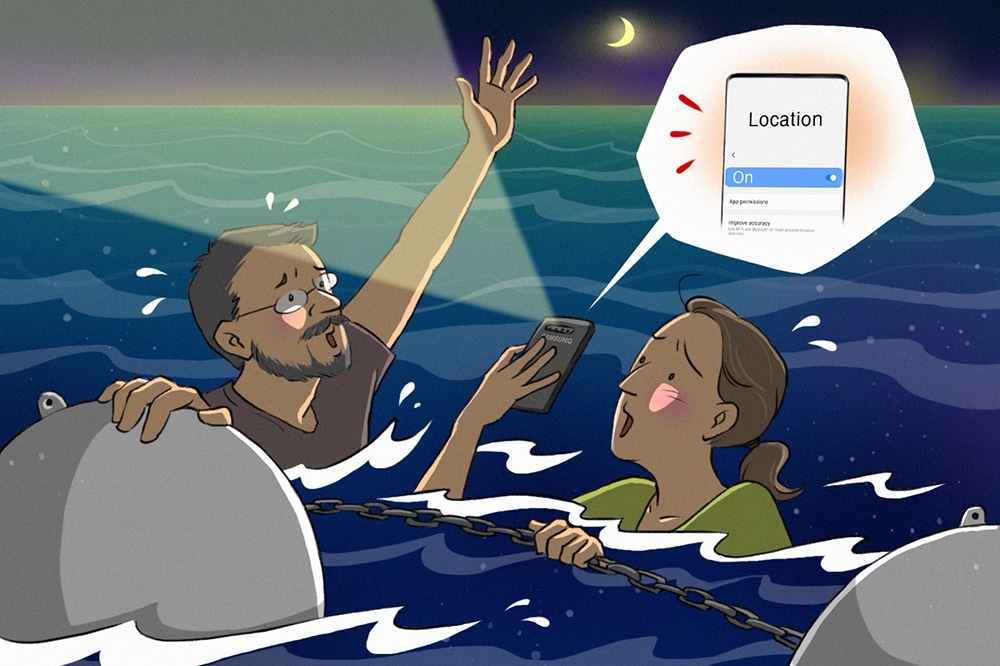 The Galaxy S10 is a smartphone designed for ultimate performance, and a recent incident that took place off the coast of Queensland, Australia – fortunately, one with a happy ending – saw some of its leading functionalities put to use under extraordinary circumstances.
Harnessing the Galaxy S10 to Get to Safety
In June of this year, Australian couple Jessica and Lindsay were enjoying a trip out on their family boat 38km off the coast of Cairns, Queensland, an area most famous for its iconic Great Barrier Reef, when their boat's motor became entangled with the anchor rope and led to them getting swept up by the waves. With the boat then overturning, the stranded couple were tipped into the water with no time to retrieve their lifejackets or their Emergency Position Indicating Radio Beacon (EPIRB), a device used to alert rescue services in emergencies.
The couple managed to remain afloat by grabbing hold of the anchor float after the boat overturned – but their ordeal was far from over as they had concerns about what marine wildlife might be nearby given that they had caught a six-foot shark right before capsizing. While floating overturned and in the water, the stern (rear) of the boat was weighed down as the anchor line was wrapped around the motor while it faced the sea swell.
However, Jessica was able to use her Galaxy S10 to contact the emergency services via phone and text after capsizing.
After having spoken with the local Chief of Police, she shared screenshots of their location with the rescue team using the Galaxy S10's GPS and Google Maps functions. This information then helped guide the helicopter and boat emergency teams dispatched to find them.
Able to maintain contact with the authorities as they patrolled the ocean to find them, Jessica was also able to draw the attention of the rescue boat upon its arrival thanks to her Galaxy S10's flashlight – the couple had spent several hours in the water and night had since fallen.
Jessica and Lindsay's experience is a sobering reminder about the importance of water safety and conduct, and furthermore, it is also a unique example of the power and endurance of Galaxy smartphones, even in unusual or difficult situations; Jessica's Galaxy S10 is still functioning as normal.
Samsung & Niio Art Unveil Winning Artwork to be Exhibited Globally on The Wall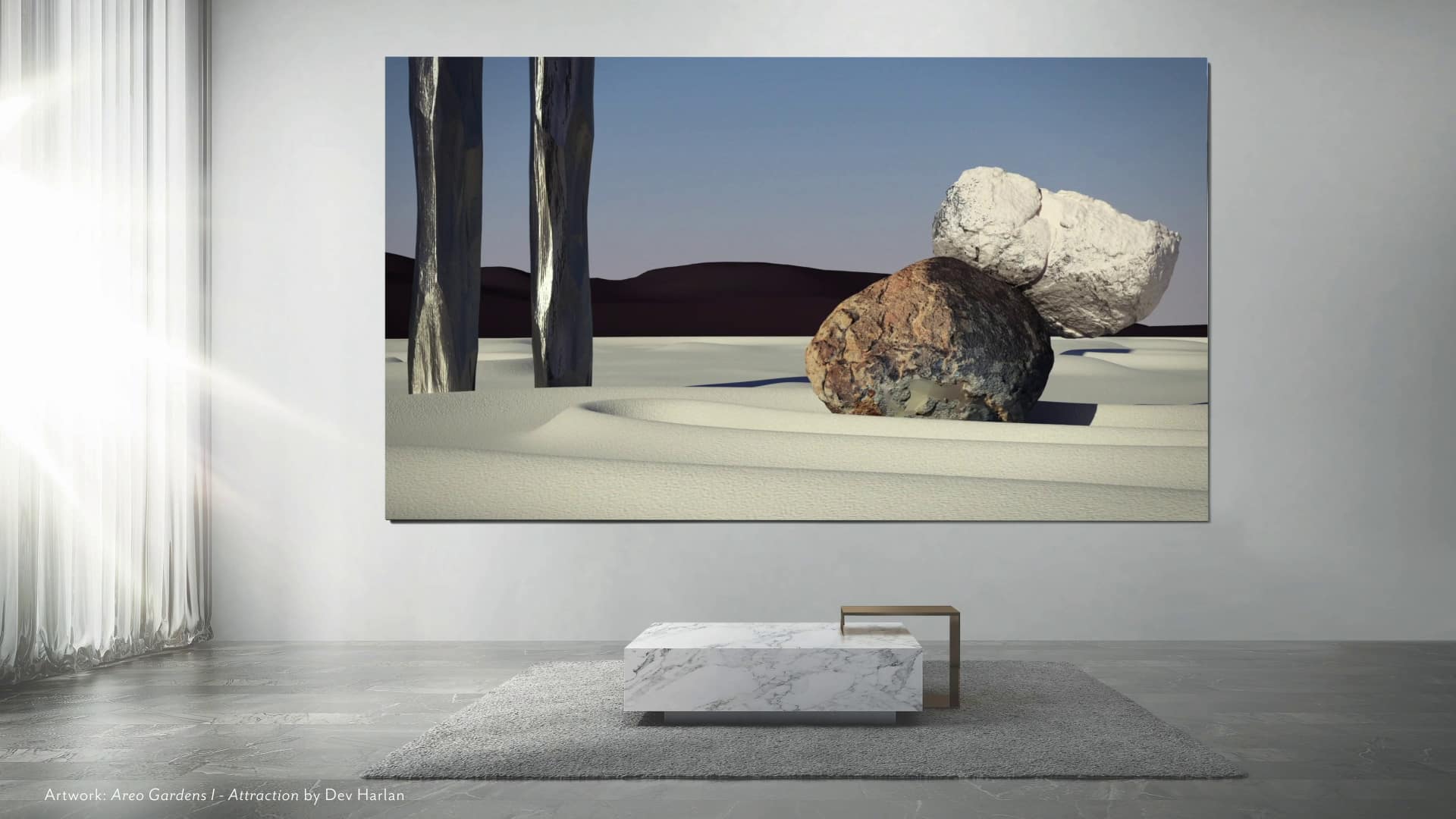 Samsung Electronics today announced the winner of its open call competition in collaboration with Niio, a premium platform for new media art. The competition was open for entries from January 30 to March 30 under the theme 'Digital Realism' to show digital arts moving beyond the limits of artistic expression using the innovative display technology of The Wall. Among 494 artwork submissions from 59 countries, the judging panel consisting of professional art consultants and Samsung representatives revealed the winner as Dev Harlan. The Brooklyn-based artist who specializes in sculpture, installation and digital media was selected for his animation titled: 'Areo Gardens I – Attraction'.
"It is an honor to be selected by Samsung and Niio for this competition and I appreciate the recognition. With the time, energy and research spent producing these works, it is rewarding to have the opportunity to share them with a global audience on such a unique platform. Samsung's The Wall technology and Niio's international network create a fantastic digital showcase for artists across the world. I am proud to be part of that community and excited to see what comes next," said Dev Harlan.
The winning artwork was created to demonstrate the invisible forces that compel large boulders to collide in a desert garden, which formed part of a series reflecting on the surreal and sublime aspects of natural geology throughout the solar system. Each animated short film depicts a stone sculpture garden set on the surface of Mars, apparently defying the laws of physics. The boulders in this particular piece of art were found on a remote hiking trail in Joshua Tree National Park, while the animation is set in a Martian terrain site near Gale Crater, currently being explored by the NASA Curiosity Rover. Digital elevation data was obtained courtesy of the Martian MRO/HiRise satellite program managed by NASA, JPL and the University of Arizona.
In second place for the open call competition were Ohad Benit and Roni Azgad, Tel-Aviv-based artists who crafted 'Ho Me', a short video exploring the relationship between man and machine, between computer manipulations and their creators. This piece of art evokes the feeling of staring and not being able to tear our eyes away from something beautiful and disturbing at the same time, highlighting humans' dialectical relationship with the technology that enables us to behold such beauty but at times can cause us to lose contact.
Finally, Alex McLeod, a Toronto-based visual artist who creates work about interconnection, life's cycles, and empathy through the computer as a medium, claimed third place. His moving image artwork, 'The Gallery' allows the viewer to experience an environment that at first appears as an art exhibition; however, the pace and audio cues reveal that there is something else on display.
"We are delighted to announce the winner of our open call competition in collaboration with Niio, showcasing outstanding talent in moving image art," said Hyesung Ha, Senior Vice President of Visual Display Business at Samsung Electronics. "Samsung is committed to visual display in all forms, while also supporting creativity and the arts. This competition demonstrates just that, with these carefully selected winners now set to be displayed on our awe-inspiring LED 'digital canvas' screen, The Wall, bringing to life every detail of vivid and vibrant imagery."
"The winning entry, runners up and every submission we received demonstrate the popularity and high quality of the digital medium in modern art. We are proud to work with Samsung to ensure these works of art are showcased on the world's most prestigious display, The Wall, to get the attention they deserve," said Rob Anders, CEO of Niio. "We are excited to see what's next for the winners and how we can continue to inspire and connect people across the world through meaningful digital art experiences."
The winning artwork, along with second and third place, will be exhibited at The Wall showcase locations in the United States, the United Kingdom, Thailand, and Korea. Each piece of art will be brought to life on Samsung's The Wall, the highest quality, large modular LED digital art canvas.
To learn more about and preview winning and shortlisted artworks, visit HERE.
Now available globally, The Wall represents the latest application of Samsung's modular LED technology which can be tailored to any size and aspect ratio, immediately enhancing the aesthetic of any space. To learn more about The Wall, please visit HERE.