Xiaomi Pocophone F1 [REVIEW]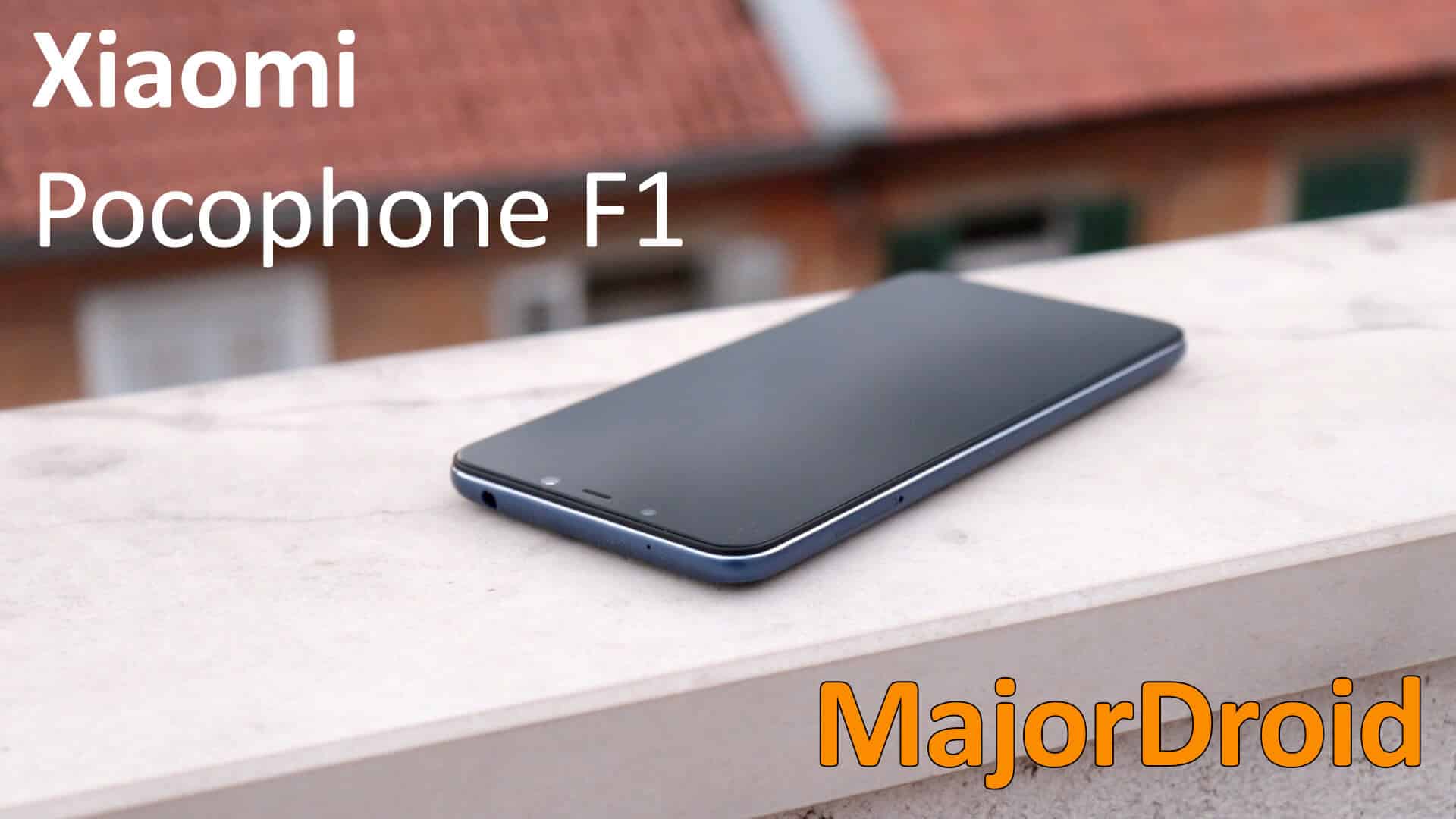 Something is stirring up the waters in the smartphone world, and who would have guessed, it's Xiaomi. Known for producing great phones at great prices and making the very popular "MIUI" Android distro, this time they're setting the bar even higher. The idea of having flagship specifications at low prices is as old as it gets, but there's always someone pushing it farther and farther.
This time we get a phone that's powered by the Qualcomm's latest Snapdragon 845, with an absurdly big 8GB of RAM and a pretty big 4Ah battery too. The special liquid cooling solution is also what sets this phone apart from the crowd, not to mention it's price. We'll start off with the build quality, and work our way up to see how this phone compares to it's competition.
Build quality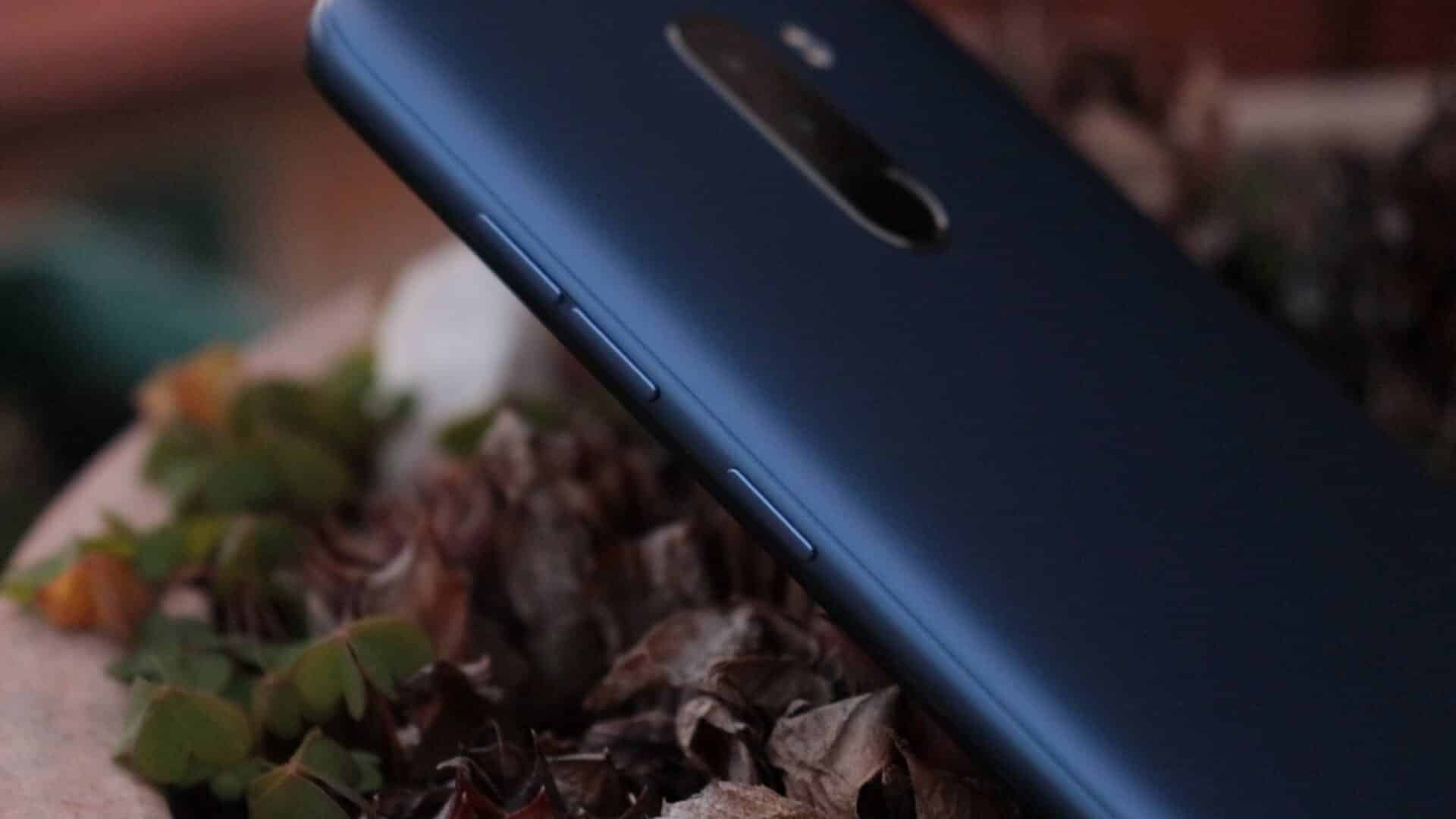 The first thing that caught my attention is the plastic back on this phone. Various materials like aluminum, leather and even glass are usually chosen to cover the back of flagships, but Xiaomi opted in for a pretty boring matte plastic. Thankfully, that's pretty much the only problem if you can even call it that. Plastic backing gives it the advantage of having better grip not affecting the signal reception, plus it still looks pretty similar to it's aluminum counterparts.
The phone itself feels pretty heavy and sturdy, but in reality you never know how many hard drops it can withstand. Thankfully, the front glass is made by Corning so it should have some protection against scratching. The power and volume buttons on the side are moderately clicky and well separated, but the power button is unfortunately still not textured. The extruded part in the middle of the back holds two cameras and a mirror-like fingerprint reader which is an another weird decision. Why put glass somewhere that's bound to be smeared by fingerprints?
Overall, this phone doesn't do any big mistakes when it comes to it's build. The matte plastic back and the glass fingerprint reader may pose a problem to some, but the rest of it is completely fine and up to the buyer's subjective tastes.
Android OS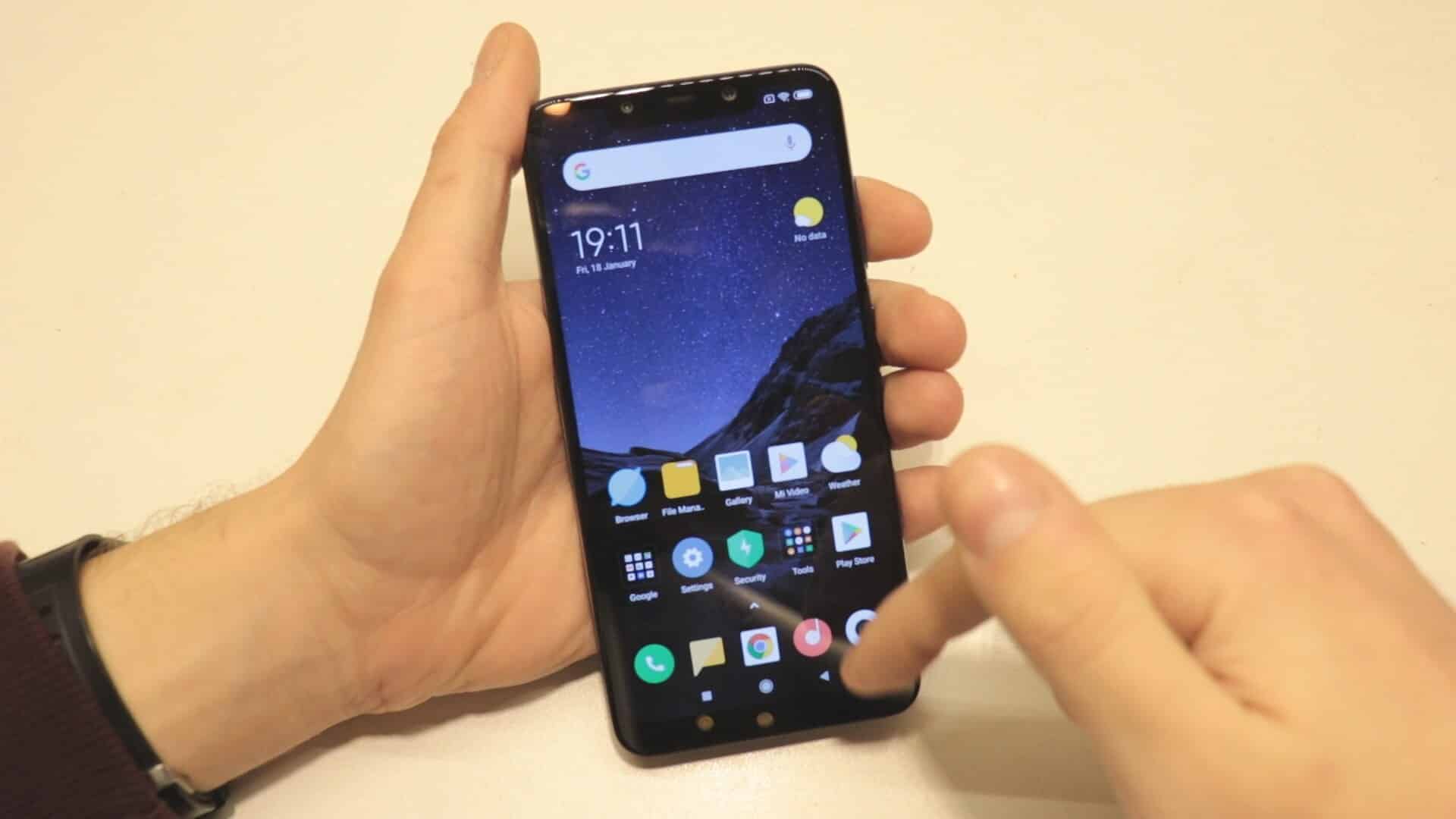 Compared to a few previous phones we had on review, the Poco F1 has a pretty complex Android distribution installed on it which is heavily based on Xiaomi's world-renowned MIUI. While I wouldn't say that it has any bloatware per se, it does have a *lot* of functions and applications. This isn't your regular, clean Android that you expand on by installing the applications you need – it's much more complex and tightly packed with features. Expect to spend at least a week getting to know the system and getting accustomed to all of it's functions.
It even has a few redundant applications like the Google's photo gallery and Xiaomi's gallery. Unfortunately, you can't even disable most of these without rooting the phone. Despite all of that, the system still runs extremely smoothly without any hiccups. Really, with the specs we see on this phone, such performance is to be expected. Speaking of performance…
Performance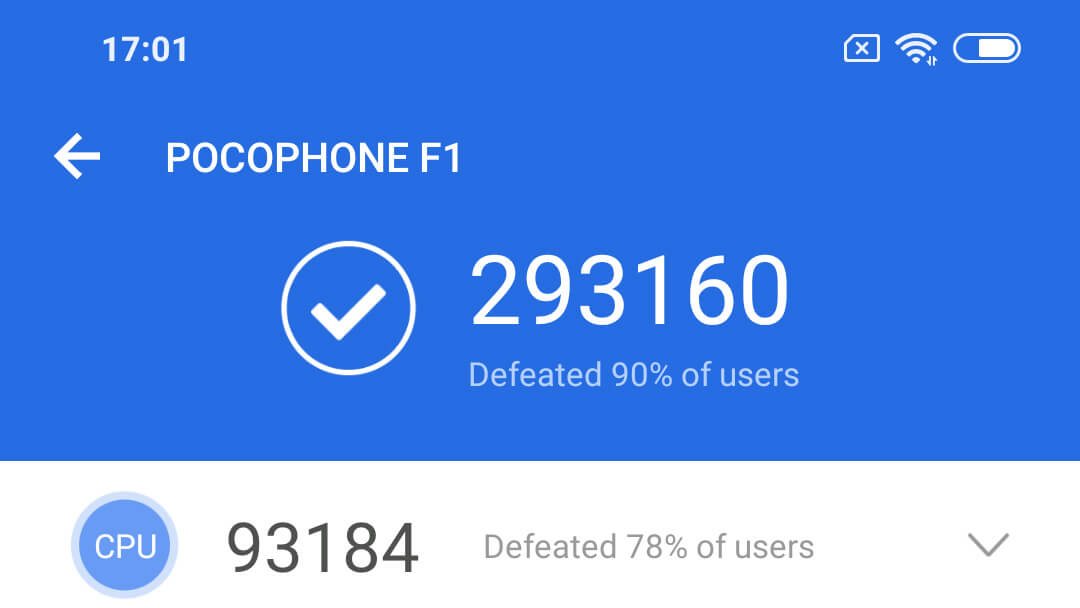 Benchmarks first! When tested with Antutu, the Poco F1 gets 293160 points. On Geekbench it scores 2396 points for the single core test and 8717 for multi core. Finally, on the Renderscript test inside Geekbench, it scores 13341 points. Getting such scores, it's currently taking the 10th place on Antutu's list of fastest phones with both the Samsung's Note 9 and Google's Pixel 3 XL scoring lower.
Benchmarks don't always tell the full story, but this phone has just absurdly powerful hardware for it's price. Of course, this means that it's performance in day to day use is as smooth as you can get it nowadays. Games also have no issue running maxed out as the F1 doesn't break a sweat handling them. Xiaomi chose maybe a bit overbearing name of "Master of speed" for this phone, but I can certainly see why. As benchmarks and real-life tests have proven, you're not going to get much faster than this. Only thing left for Xiaomi to do is provide updates and optimize their software.
Screen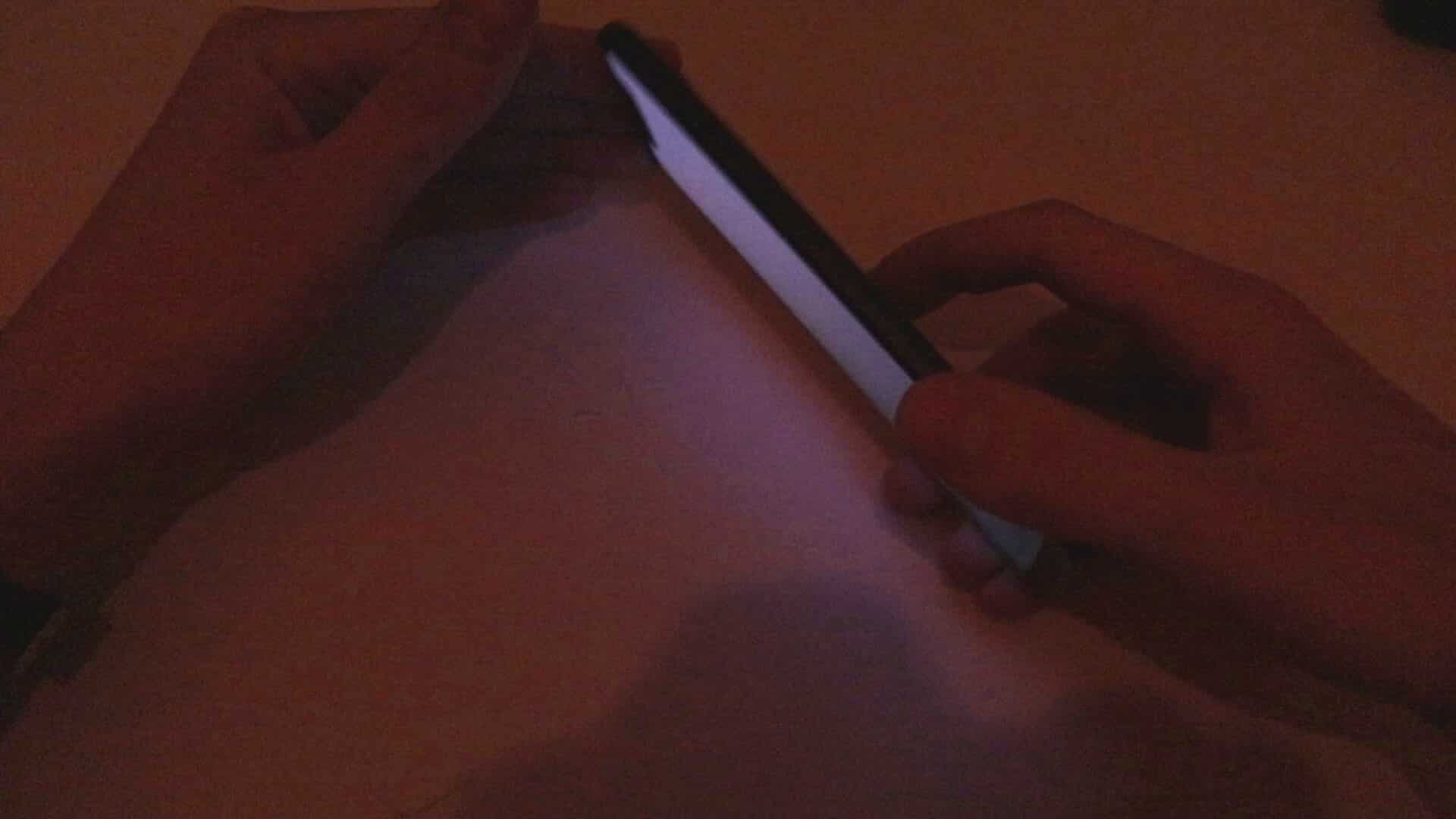 Of course, if you're on a budget you'll need to be cutting corners one way or the other. Instead of using an OLED panel. Xiaomi instead opted in for a regular IPS LCD screen for the F1. IPS panels don't have burn in and can achieve better color accuracy at such a price point, but I think those factors take a second place to the benefits of OLED in smartphones. For what it is, the F1 still has a very respectable screen.
With a pretty wide notch at the top and all four corners rounded, this phone really does follow the design trends of today. I'm also happy to say that it has very good brightness levels with the minimum being pretty dark and the maximum being bright enough to easily be seen in the sunlight. The screen itself unfortunately has pretty non-standard aspect ratio of 18.7:9 but thankfully it keeps the resolution fairly reasonable given that it's Full HD.
Cameras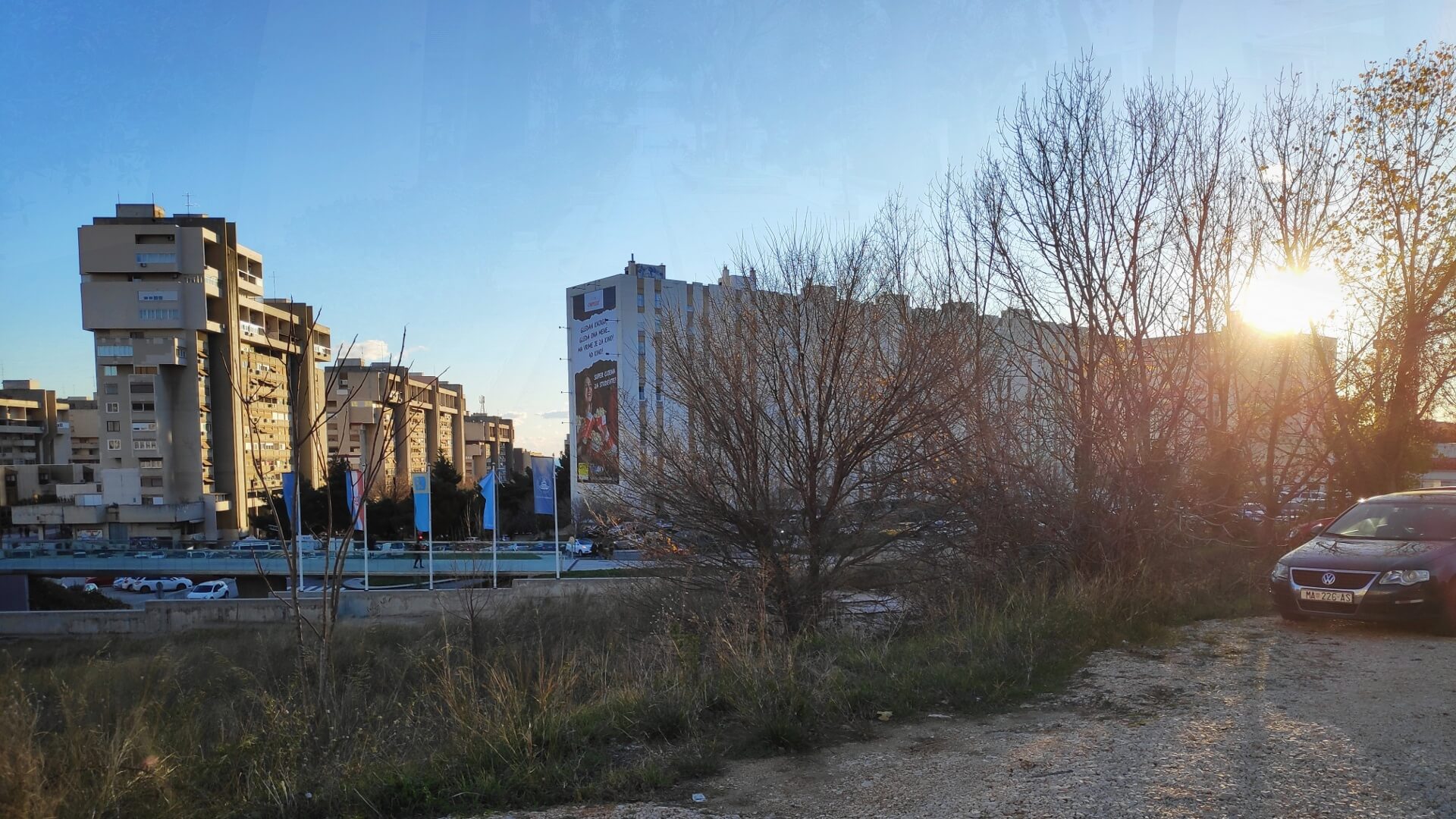 If we take the worst phone camera and the best phone camera, the F1 would probably fall somewhere above the middle. Unfortunately, that's not saying much so let's take a look at the cameras themselves. There's a relatively useless 12MP + 5MP dual camera setup on the back with the second camera being used only for depth detection and nothing else. On the front we have a 20MP selfie shooter which surely won't deliver that amount of detail at night, but during the day you'll get some exceptionally sharp selfie shots.
Thankfully, the portrait mode does depth detection admirably and with practically no edge-detection issues. The regular photos are also very good given that Xiaomi opted to use a pretty fine Sony sensor. Combined with their clever but light image processing, you can achieve some really good shots with great dynamic range. Even during the night, this camera manages to pull through and make some very reasonable photos.
Unfortunately, there's no OIS so the video stabilization has to be done electronically. Still, don't let that stop you – while the stabilization is pretty aggressive, it's also very precise! During the day or in well lit areas, you can get some absurdly stable FullHD video. Switching over to 4K recording disables the stabilization so you must choose between shaky, sharp video or a stable video with a bit less resolution. Personally, I'd just stick with FullHD.
Audio Capabilities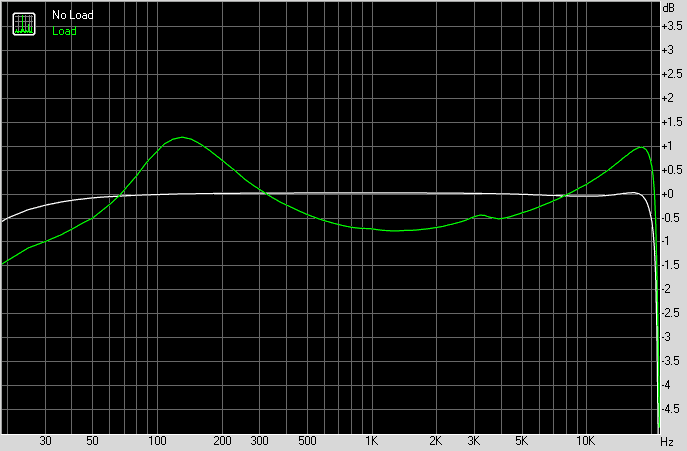 Xiaomi thankfully kept the 3.5mm audio jack, but they added stereo speakers too! In the F1's case, the earphone complements the bottom firing speaker in order to create a pretty good stereo experience without the use of headphones. The speaker itself isn't anything to gawk at, but it's pleasant to listen to, has no audible distortion even at highest volumes and it does get pretty loud! They've done a proper job on the speaker, but how is the headphone output?
The headphone output achieves even less interesting results seeing how it lacks power for large headphones and has a relatively poor stereo separation. The frequency response loses it's linearity under load but the THD remains largely the same except for small changes in low frequencies. Xiaomi was never known for their sound quality, but even the cheaper Mi A1 achieved much better results.
Battery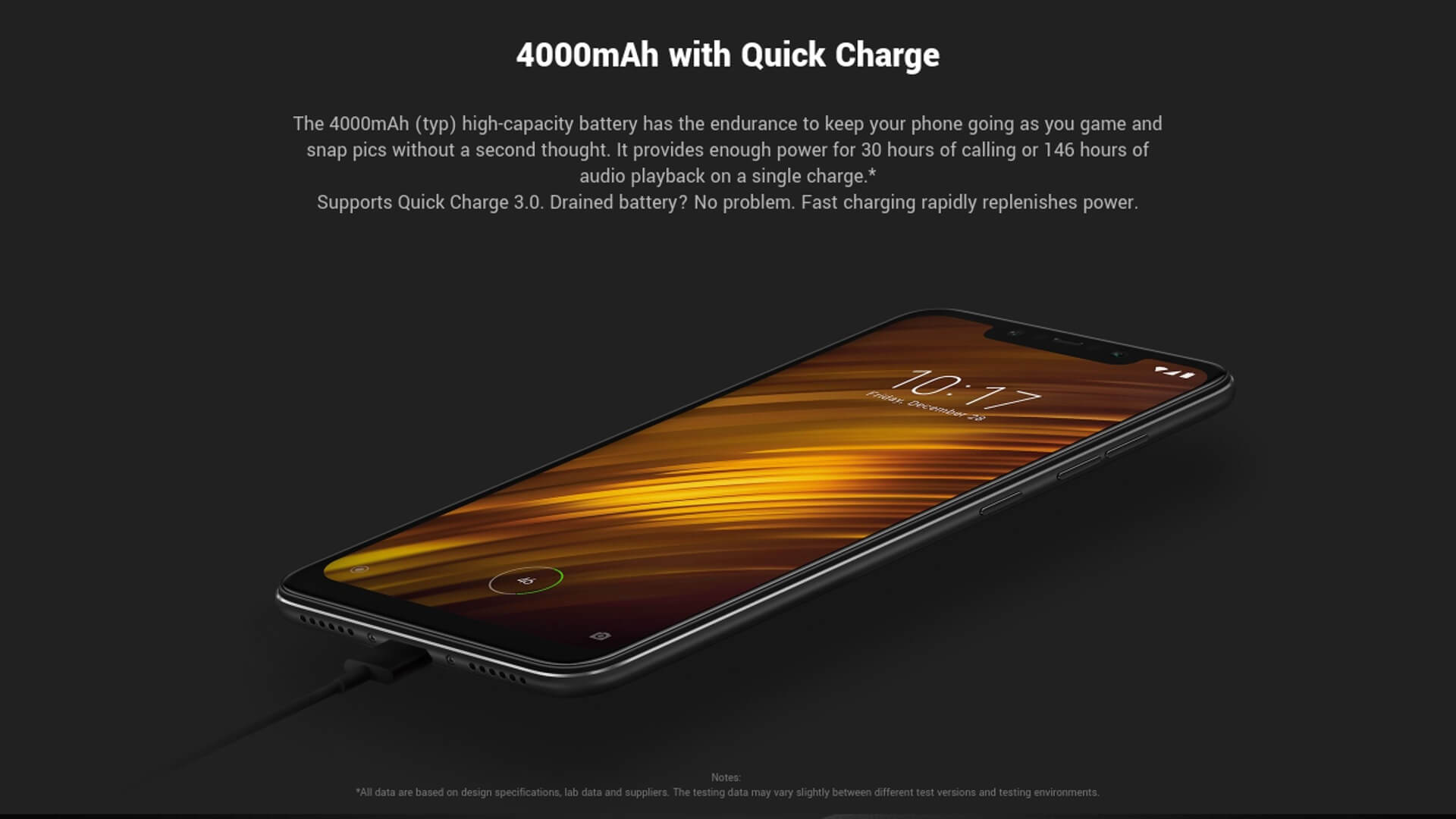 In the sea of 3Ah phone batteries that have pretty much became a norm today, seeing a phone with an extra 1000mAh in there is really a positive change! The Pocophone F1 has exactly 4Ah of battery and anything less would be unsatisfactory given it's very beefy chipset.
In the 15 minute Lab501 test at maximum brightness, the battery depleted by 4% and in the next 15 minutes that I played Fortnite, the battery level fell down by just 6%. If we extrapolate that information, we get around 4 hours of gameplay on a single full charge.
Additional features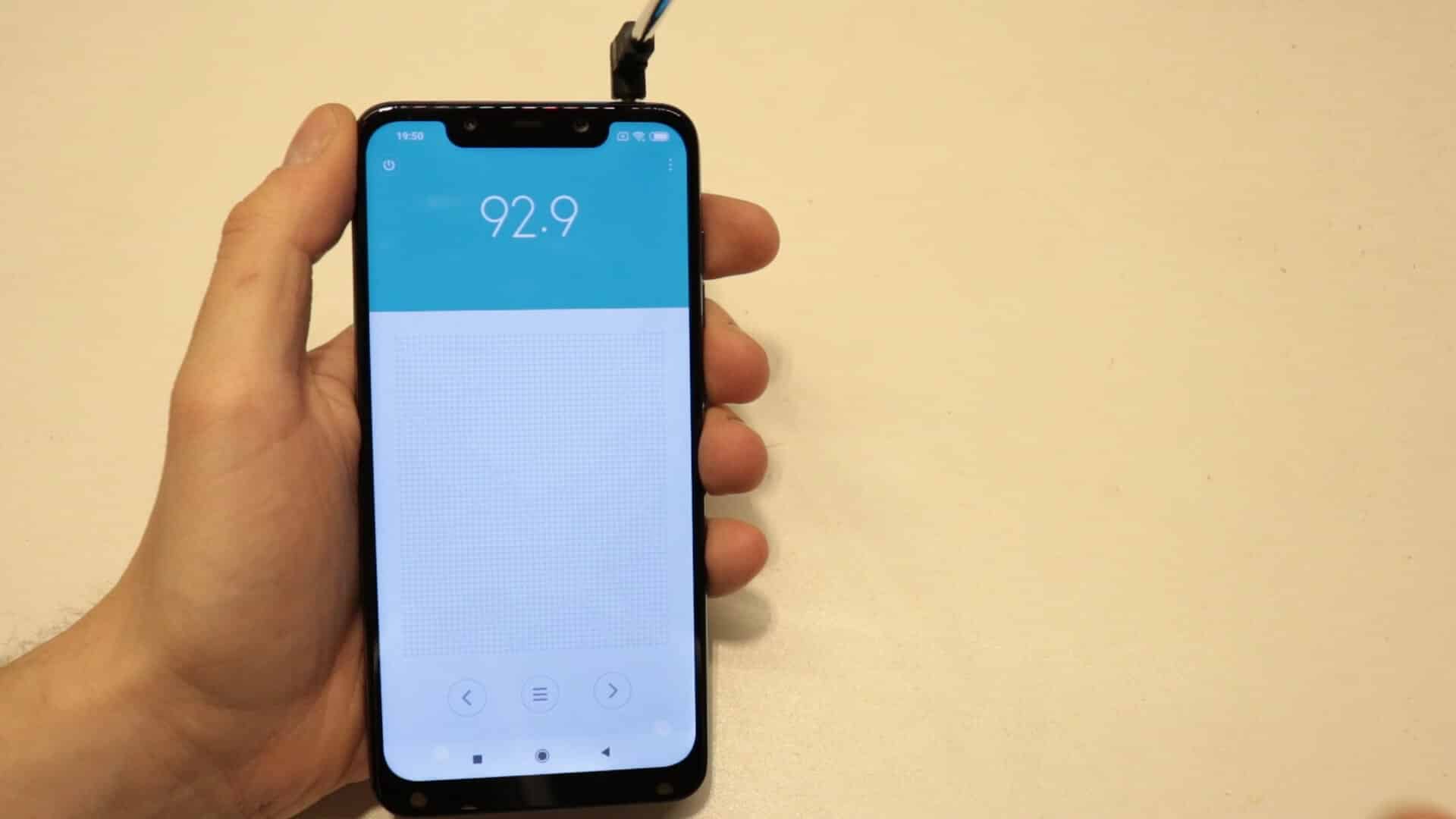 While this phone doesn't have some special features like an IR blaster or a heartbeat sensor, it does have the usual assortment of features. FM radio, for once, is enabled and can be used even without plugging in your headphones. It's true, the reception is practically non existent without them, but unlike in most phones you can at least turn the radio on. There's also a fingerprint reader on the back which is very fast and works without problems. The OTG functionality also doesn't have problems powering on anything I plug into the phone's USB port and the GPS is relatively quick to acquire my location.
Closure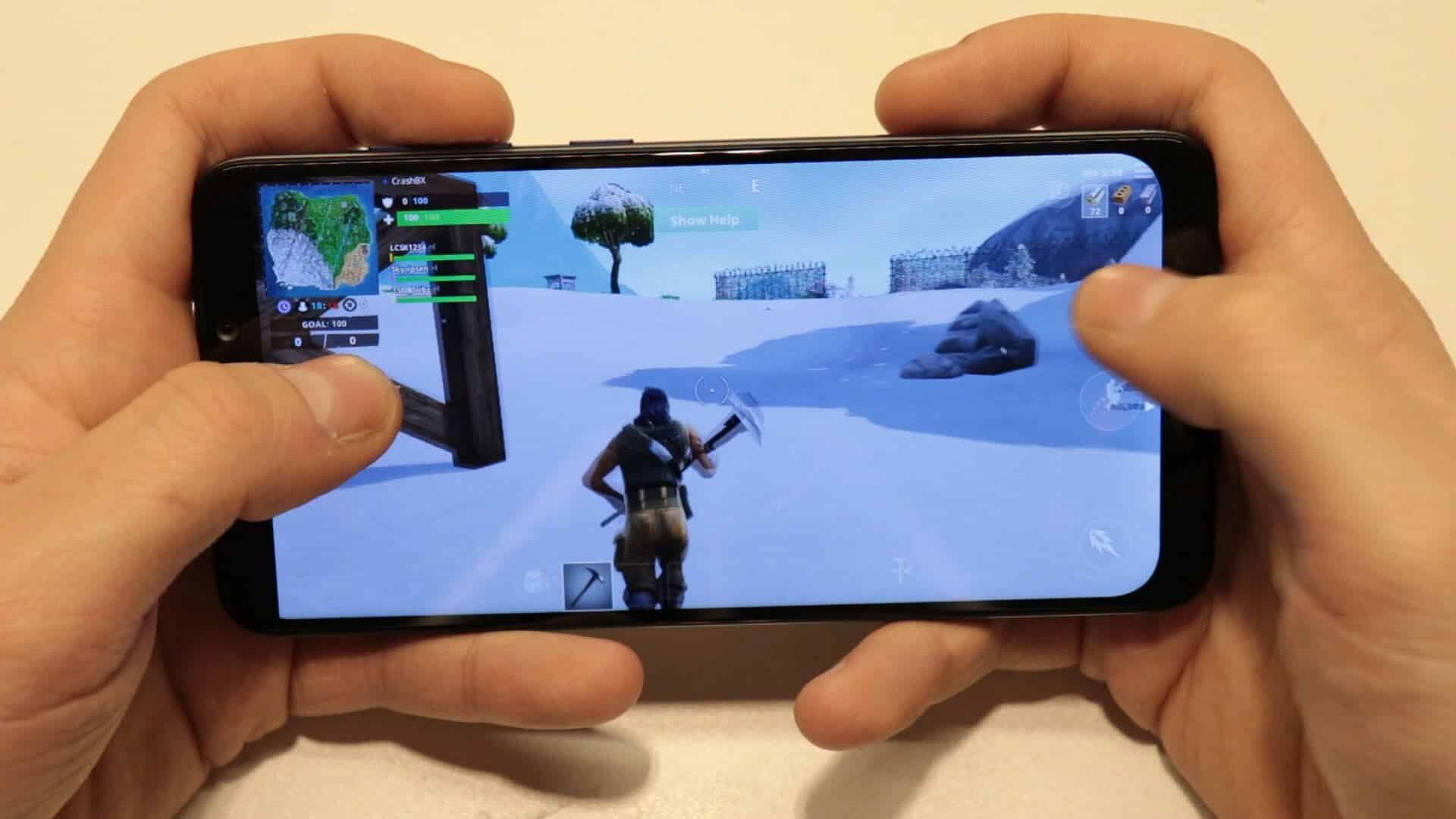 Let's not kid ourselves here, this phone is practically on top of the food chain in it's price range. Xiaomi made sure to follow the trends and try to create a phone that's appealing to people, but personally I think they could've made some better choices. For example, they probably should have sacrificed the notch, the dual camera setup and maybe even lower the amount of RAM in order to get an OLED screen in that budget. Not counting that, the F1 is obviously a spec-focused phone and if raw processing power is what you seek, then look no further. This phone is probably going to serve you for years to come since it's specs future proof it pretty well.