Huawei 5G Easy Macro Wins the iF DESIGN AWARD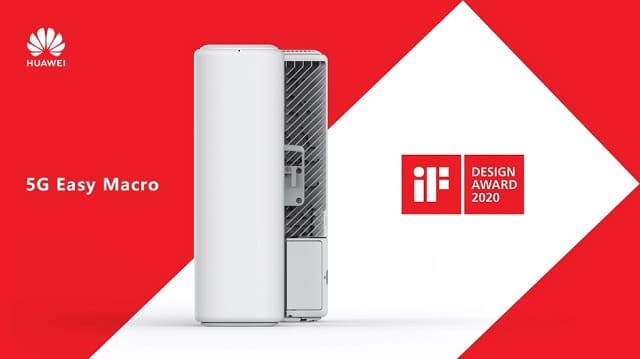 Huawei's next-generation 5G Easy Macro won the iF DESIGN AWARD at the 2020 iF International Industrial Design Forum with its innovative design, ergonomic man-machine interaction, efficient heat dissipation, and fast installation.
The next-generation 5G Easy Macro was released in October 2019 at the Global Mobile Broadband Forum in Switzerland. It is the industry's first pole-site solution that supports both 5G NR and 4G LTE. In the evolution of product design, the 5G Easy Macro adopts an appealing cylindrical shape and a matt surface finish. It is generally mounted on street lamp poles, utility poles, and exterior walls of buildings, making it blend in well with the surrounding environment and simplifying site acquisition. The ergonomic handle, smart bracket, and tool-free maintenance cavity ensure safe and fast deployment and maintenance, improving base station deployment efficiency.
Huawei 5G Easy Macro supports both LTE FDD 4T4R and 5G NR 8T8R. It is a compact and lightweight product that features multiple frequency bands, high power, and high performance, enabling operators to utilize lightweight site resources such as street lamp poles to quickly deploy 5G networks everywhere.
Ma Hongbo, President of Huawei's SingleRAN Product Line, said, "The iF DESIGN AWARD shows recognition by international design experts for Huawei's innovative design concepts and demonstrates Huawei's strength in industrial design and technological innovation of wireless base stations. Huawei's Easy Macro series solutions are designed to help operators quickly deploy 5G networks at lower costs by leveraging the large pool of resources enabled by pole-mounted deployment."
The iF DESIGN AWARD is one of the most prestigious design awards in the world. Since its establishment in 1953, the award has been recognized as a global benchmark for excellence in design. Huawei 5G Easy Macro won over the 78-member jury, made up of independent experts from all over the world, among 7,298 entries from 56 countries in the intense competition. Award winners are finalized based on design, experience and other aspects through rigorous procedures.