HONOR MagicWatch 2 Upgrading Sports Experience with 100 Workout Modes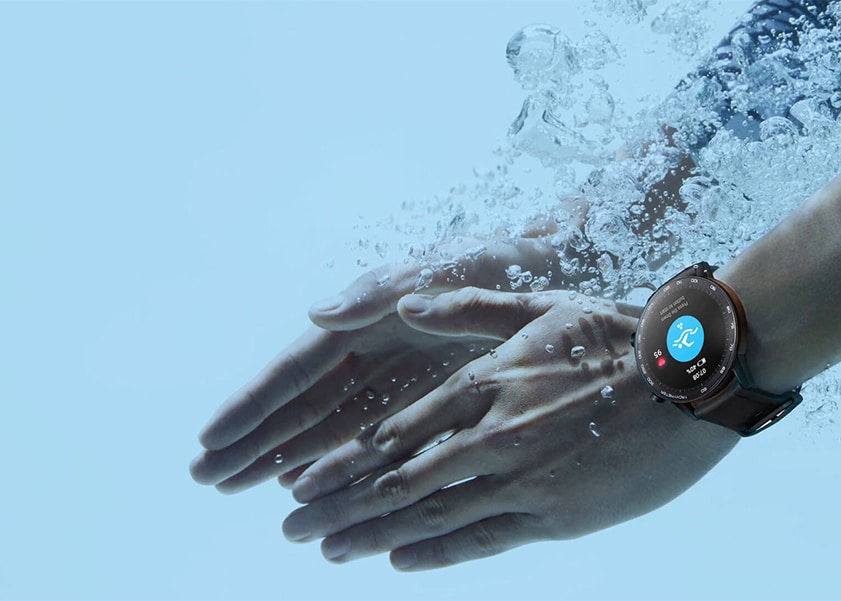 Whether the users are into mainstream sports or something a little more experimental, they can enjoy the unique perks offered through various tracking modes on the HONOR MagicWatch 2.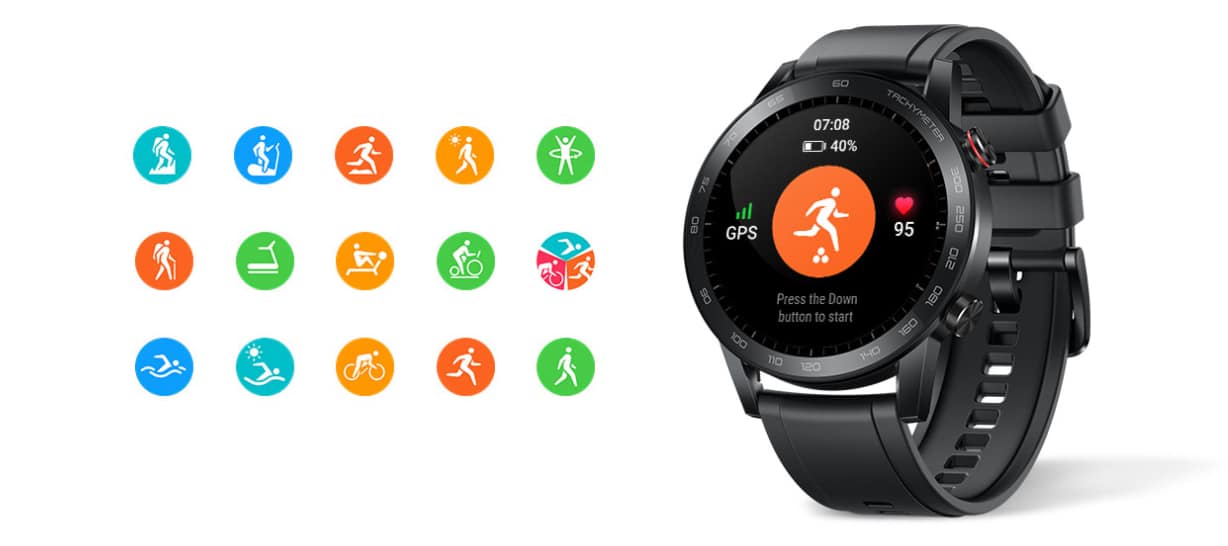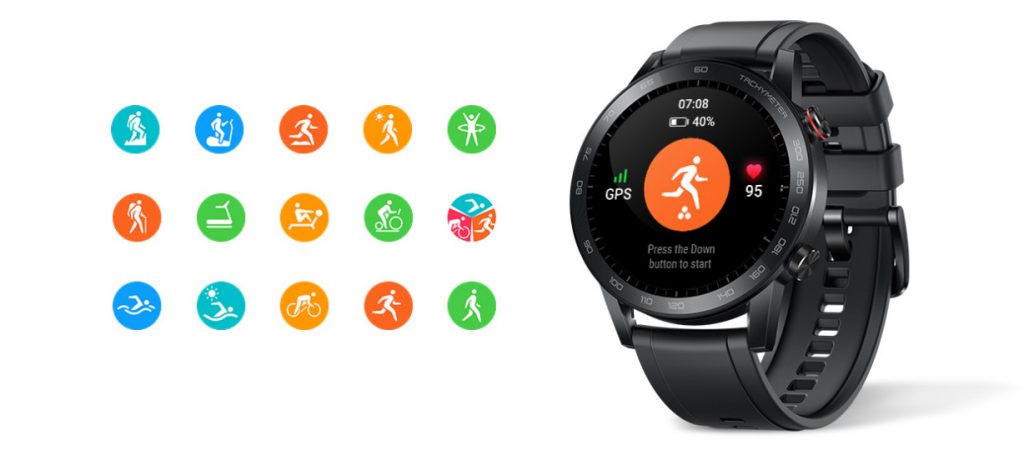 The HONOR MagicWatch 2 supports 15 professional workout modes including eight outdoor activities (running, walking, mountain climbing, hiking, trail running, cycling, open water swimming, triathlon) and seven indoor activities (walking, running, cycling, pool swimming, free training, elliptical machine, rower). In professional workout modes, the HONOR MagicWatch 2 provides comprehensive monitoring that can track 194 types of data – all to help the users to get the most out of their workout. The HONOR MagicWatch 2 can also automatically detect 6 professional workout modes, offering a smarter sporting experience.


The HONOR MagicWatch 2 also supports 85 customised workout modes that cover six categories of sports: extreme, leisure, fitness, aquatics, ball games and winter sports. The activities range from street dance to parkour, rock climbing to yoga, and ballet to boxing. While users are enjoying their favourite sports, HONOR MagicWatch 2 will record key data such as duration, calories burnt, heart rate, providing users with scientific exercise planning and generating an infographic with the data to share on social media with just one click.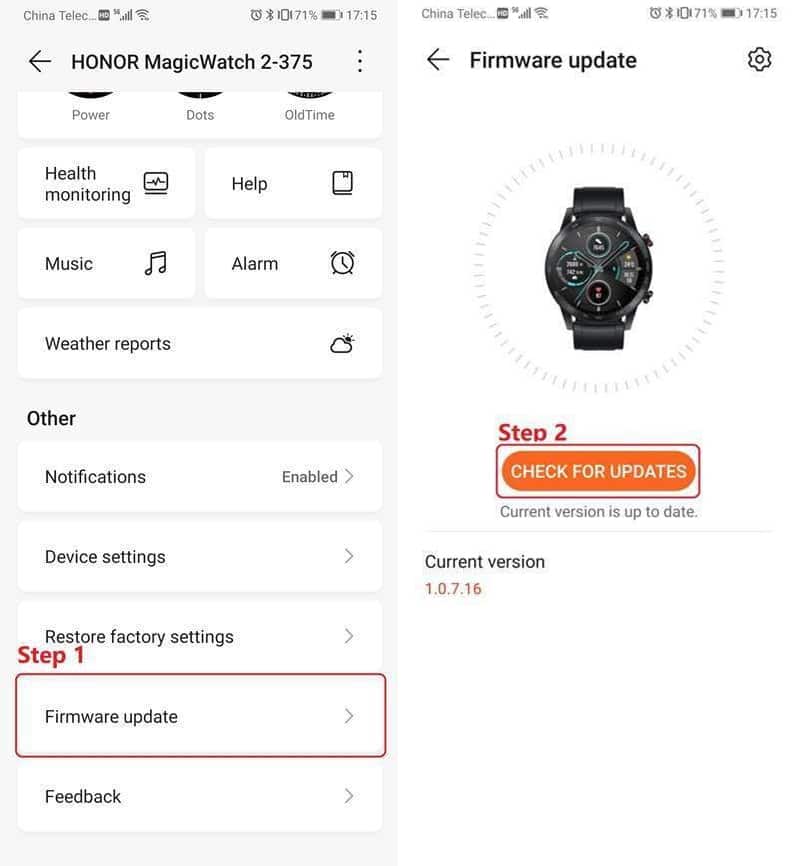 | 15 professional workout modes | Data | 194 |
| --- | --- | --- |
| Outdoor running | Trail (distance), workout time, heart rate (average heart rate, maximum heart rate and the heart rate zone), altitude (minimum and maximum altitude), stride frequency (average stride frequency and maximum stride frequency), calories, average running pace, average speed, average stride, steps, cumulative elevation gain, cumulative elevation loss, maximum oxygen uptake | 17 |
| Indoor running | Heart rate (average heart rate, maximum heart rate and the heart rate zone), average running pace, stride frequency (average stride frequency and maximum stride frequency), distance, workout time, calories, average speed, average stride, steps | 12 |
| Outdoor Cycling | Distance, workout time, calories, average running pace, speed (average speed, maximum speed), heart rate (average heart rate, maximum heart rate and the heart rate zone), cumulative elevation gain, cumulative elevation loss, altitude (minimum and maximum altitude), recovery time | 14 |
| Outdoor Walking | Distance, workout time, calories, average running pace, stride frequency (average stride frequency and maximum stride frequency), altitude (minimum and maximum altitude), average stride, steps, cumulative elevation gain, training performance(recovery time), heart rate (average heart rate, maximum heart rate and the heart rate zone) | 16 |
| Indoor Walking | Heart rate (average heart rate, maximum heart rate and the heart rate zone), average running pace, stride frequency (average stride frequency and maximum stride frequency), distance, workout time, calories, average speed, average stride, steps | 12 |
| Indoor Cycling | Heart rate (average heart rate, maximum heart rate and the heart rate zone), calories, workout time | 5 |
| Pool swimming | Swim strokes recognition, pool length, workout time, swimming laps, stroke counts, SWOLF (average SWOLF, the best SWOLF), stroke frequency (stroke frequency and maximum stroke frequency), heart rate (average heart rate, maximum heart rate and the heart rate zone), calories, average swimming pace, distance | 15 |
| Open water swimming | Distance, heart rate (average heart rate, maximum heart rate and the heart rate zone), SWOLF (average SWOLF, the best SWOLF), calories, workout time, swim strokes recognition, stroke counts, average heart rate, average swimming pace, stroke frequency (stroke frequency and maximum stroke frequency) | 15 |
| Mountain climbing | Trail (distance), speed (average speed, maximum speed), heart rate (average heart rate, maximum heart rate and the heart rate zone), altitude (minimum and maximum altitude), workout time, calories, average pace, average stride frequency, average stride, cumulative elevation gain, cumulative elevation loss, training performance(aerobic/anaerobic), SpO2 | 19 |
| Hiking | Distance, workout time, calories, heart rate (average heart rate, maximum heart rate and the heart rate zone), stride frequency (average stride frequency and maximum stride frequency), average stride, steps, cumulative elevation gain, cumulative elevation loss | 13 |
| Trail running | Pace (average pace, maximum pace), stride frequency (stride frequency and maximum stride frequency), distance, workout time, average speed, average stride, steps, cumulative elevation gain, heart rate (average heart rate, maximum heart rate and the heart rate zone) | 13 |
| Triathlon | Distance, workout time, calories, sports pattern recognition, separate sports pattern distance, separate sports pattern workout time, swim strokes recognition, average SWOLF, average pace, calories in separate sports pattern, heart rate (average heart rate, maximum heart rate and the heart rate zone), cumulative elevation gain, cumulative elevation loss, maximum speed, average stride frequency, average stride | 19 |
| Elliptical machine | Heart rate (average heart rate, maximum heart rate and the heart rate zone), calories, workout time, training performance (aerobic/anaerobic) | 8 |
| Rower | Heart rate (average heart rate, maximum heart rate and the heart rate zone), calories, workout time, training performance (aerobic/anaerobic) | 8 |
| Free training | Heart rate (average heart rate, maximum heart rate and the heart rate zone), calories, workout time, training performance (aerobic/anaerobic) | 8 |