PSP X6 handheld retro game console review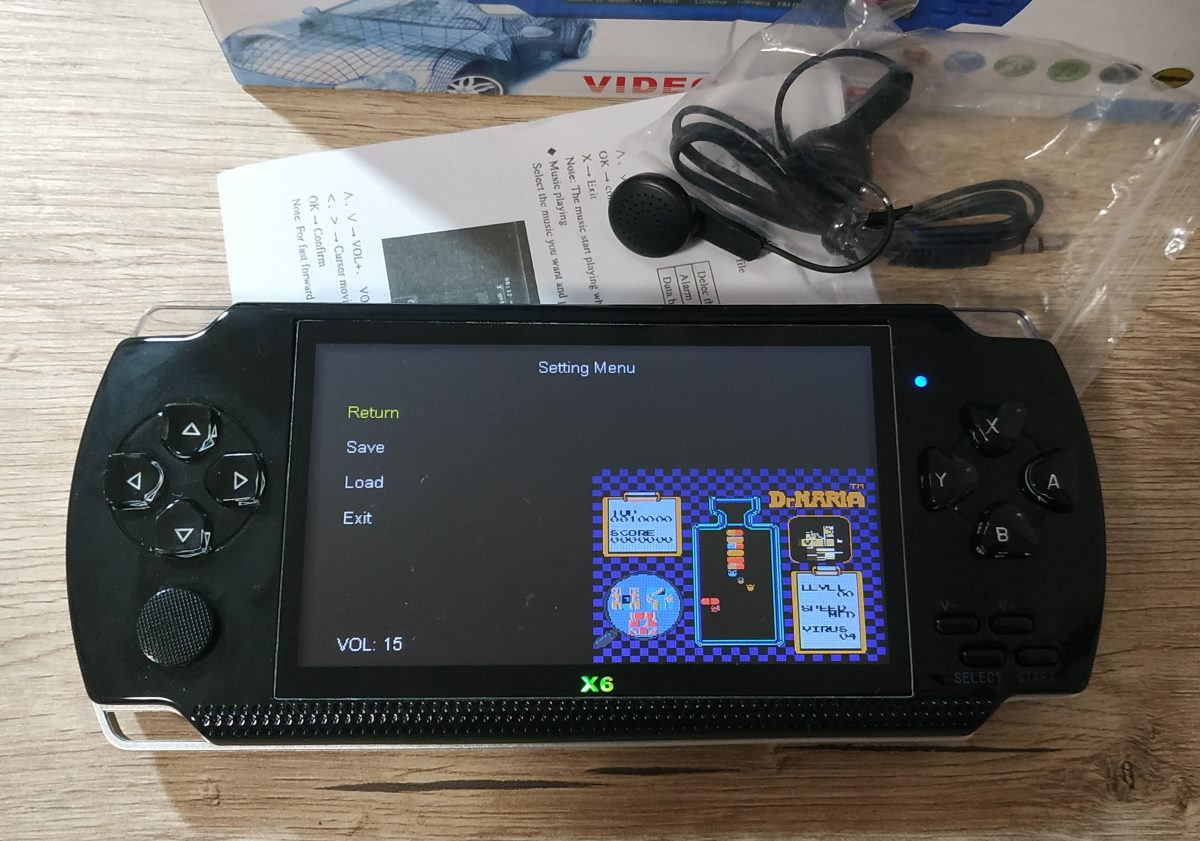 Recently I have ordered this item, used for a while now and now it is time to write a PSP X6 game console review. In the past I have written a review about another retro game console, so if you are interested read this title Gocomma Retro FC Plus.
PSP X6 retro game console review
Main design reminds me of a Sony Playstation Portable console. It is easy to hold and use buttons to navigate, and play games. PSP X6 brings a 4,3" color LCD with 480×272. This resolution is not something worth mentioning, however it is superneccesary for games you can play on it. Keep in mind, retro game console bring you game titles from '80 and '90.
Games are stored on MicroSD 8GB internal storage, and there are a lot of games. You can play games from that period, watch videos you have copied or listen to music. I don't know what kind of OS running all this, some kind of a Linux I suppose. List of preinstalled games is quite impressive. You just can't imagine a game that isn't there already.
Just some of game titles are: Adams Family, Aladdin, Batman, Chessmaster, Commandos, Contra, Double dragon, Duke Nukem, Super Mario, Prince of Persia, Tom And Jerry, Sonic, Doom, The Legend Of Zelda, Final Fantasy, GT Advance, Mortal Kombat, and many other.
Games are running in some kind of emulator environment, which means you can even port your own games on external MicroSD card.
PSP X6 retro console comes with preinstalled games. You can save game progress, for six games in total. LCD screen is good choice for this hardware, with great contrast, colors and backlight.
Not only for games, this console can reproduce video or play music files. Supported audio files: MP3, WMA and WAV. Supported video files: RMVB, RM, AVI, ASF and MPEG-4.
On the rear side there is a 1.MP camera. Shoots are not something I can write about, but it is a handy option if you intend to give this console to a child to play around. PSP X6 retro game console can open and navigate JPG, BMP and GIF pictures.
Technical specifications
Internal storage 8GB
Non-removable 1500mAh battery
T-Flash extra slot (MicroSD up to 32GB)
Integrate microphone and speakers
E-Book reader
My own impression
I find this retro game console suitable for youngers and grownups who feel childish. Games are time travelers for those who remember '80-'90. game titles. Graphics are realistic and close to game playing on the retro CRT color TV. Backlight LCD is great and gives you color tones just like you used to play on. My favorite is Contra, and I can say this game is realistic 100%. Gives me back flash to my own childhood.
After using this retro handheld game for a couple of days, I gave it to my 7y old daughter and she loves to play music videos. Child actually won't be impressed with games and graphics (thanks to Android), but still this console is cool to them.
Battery can provide hours of playing or listening music. You can charge using a wall USB adapter, or connecting this console to PC or Laptop. While connected on a Windows PC, users can copy, move, or delete internal storage content. That way you can port some other game titles, create your own list of best games, or just copy music/videos for later reproduction.
Video review PSP X6 Portable game console
PSP X6 retro game console costs around $30, and I think it is worth buying. It is cool enough and gives entertainment for most people.
Watch this video: Review PSP X6 handheld retro game console.
Handheld psp x6 console is quite enjoyable and nostalgic for elders. Quality build is great, button controls works great all together with small joystick pick. Sound is loud, and good for old games sound reproduction. Listening music is possible, but don't expect sound like you used playing on the smartphone or some other digital music player. Watching video on x6 psp is also possible, with no need for installing anything. Just copy videos you like (.mp4, .wmv …) and enjoy watching videos on a small game console.
Complete list of saved games is hard to write, and the best way to find out which titles are inside is to buy x6 handheld game console, and to check the list of games.
Plastic frame is durable, buttons are easy to navigate and the screen gives all graphics needed for games inside. Battery can last all day even if you play hard, competing with record scores. To play old and nostalgic games, x6 game consoles are an excellent choice. Game list is huge, and the best part is, you can even save your own game titles if you have some.