Gocomma 168 in 1 Retro FC Plus review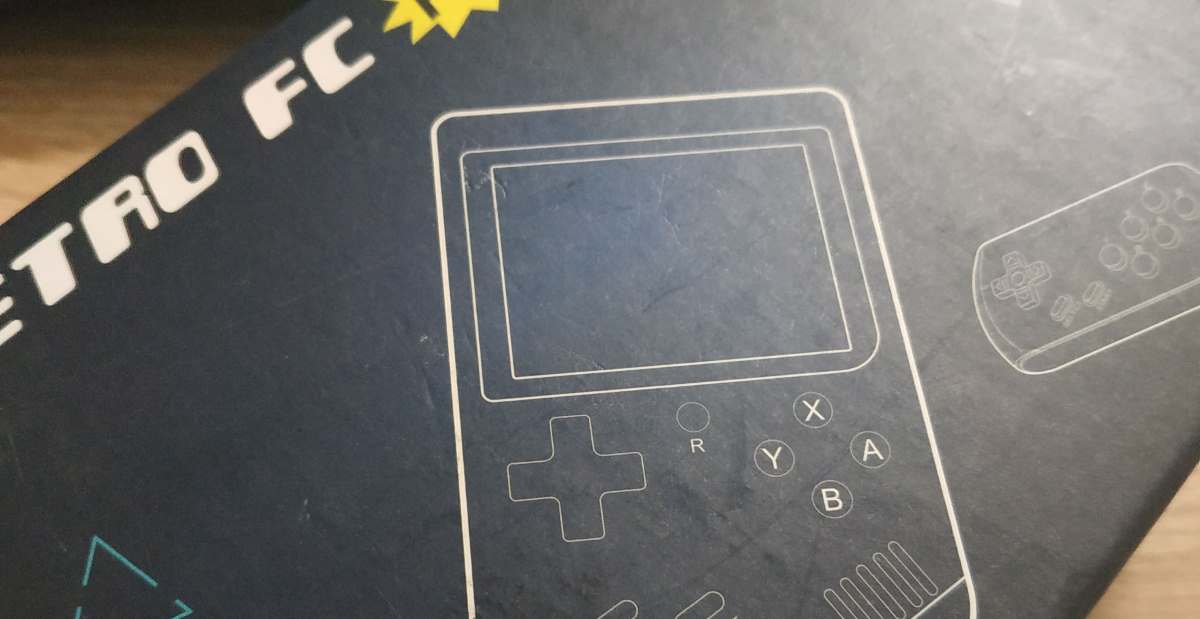 My wife says I'm a big child. Who isn't, right? We all have some nostalgic memories from our childhood. On one occasion I've saw this miniature game console with a bunch of games from 80's. All games I used to play when I was a child now available in one place. Can't beat that.
Gocomma Retro FC Plus is handheld game console with bunch of retro game titles. Only few of them are: Super Mario, Contra, Super Contra, Tetris, and so on…
Image gallery Gocomma game console
This is menu sample, and starting old but still good game title Contra. Maybe my favorite title of all…
This small size and light weight game console is more than just for fun. Handheld retro game console is suitable for long distance travel, and to enjoy at home when there is nothing else to do.
Display contrast is quite good, and resolution also. Pixel size is small enough for easy playing, without any disruption. Game dynamic is fluid, which means that you won't feel any game lag while playing.
Lithium-ion battery have 850mAh capacity, and it can run these games for about 6 hours. Battery charges with classic USB cable (included in box).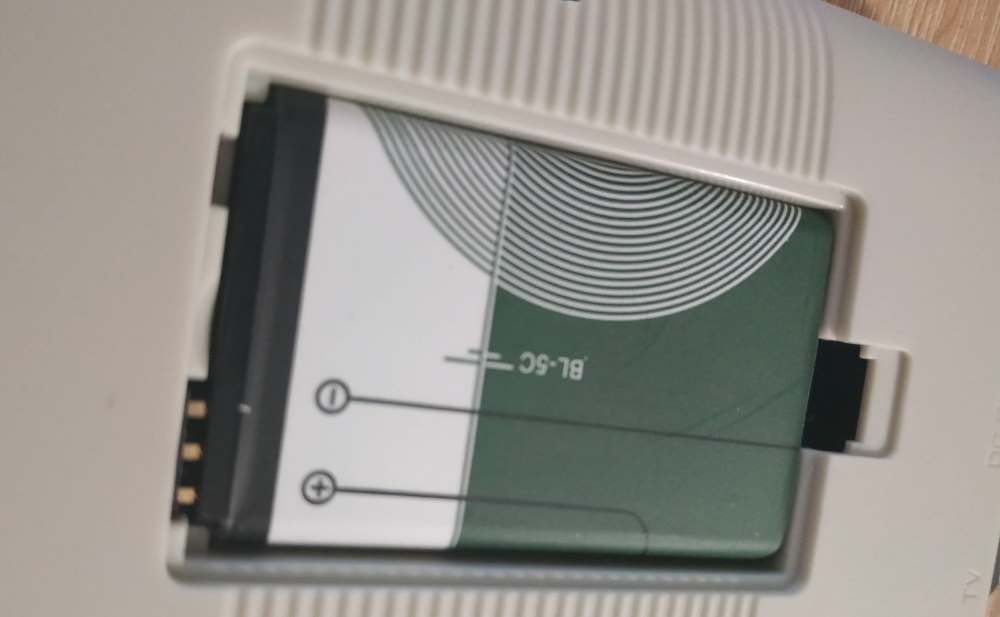 Package contents: 1x Game console, 1x AV cable, 1x Rechargeable battery, 1x USB cable, 1x English user manual.
Review Gocomma handheld retro game console
Game titles are nostalgic, all coming from period of 80's and early 90's. Controls are easy to use, responsive and intuitive. This game console gives legit feeling of playing games from that period.
3 inch display is surprisingly good, and worth to mention it comes with back-light. This means that gaming experience is even better than it is on some much more expensive handheld consoles from that period. Graphic is good also, and games runs fine without any slowdowns or interruptions.
On this model (Retro FC Plus 168 in 1) you can control volume, but there is no back-light intensity.
BL-5C battery is good enough for hours and hours of playing. On the long trip, or waiting somewhere, this game console shall do the job. My favorite game is Contra, and Super Mario is next to that. Exactly 168 game titles is more than enough for everybody to find something interesting to play. It is quite cheap piece of geek equipment, and I don't see any reason not to buy this for yourself. Especially if you are traveler, or just some random childish person.
Cool thing is it comes with AV Cable, for playing on Television. I haven't try this, and can't write my own experience.
User Manual, Care and Maintenance, Troubleshooting
English Manual for Gocomma 168 in 1 Retro FC Plus. Install instructions and accessories, with guide of how to install battery.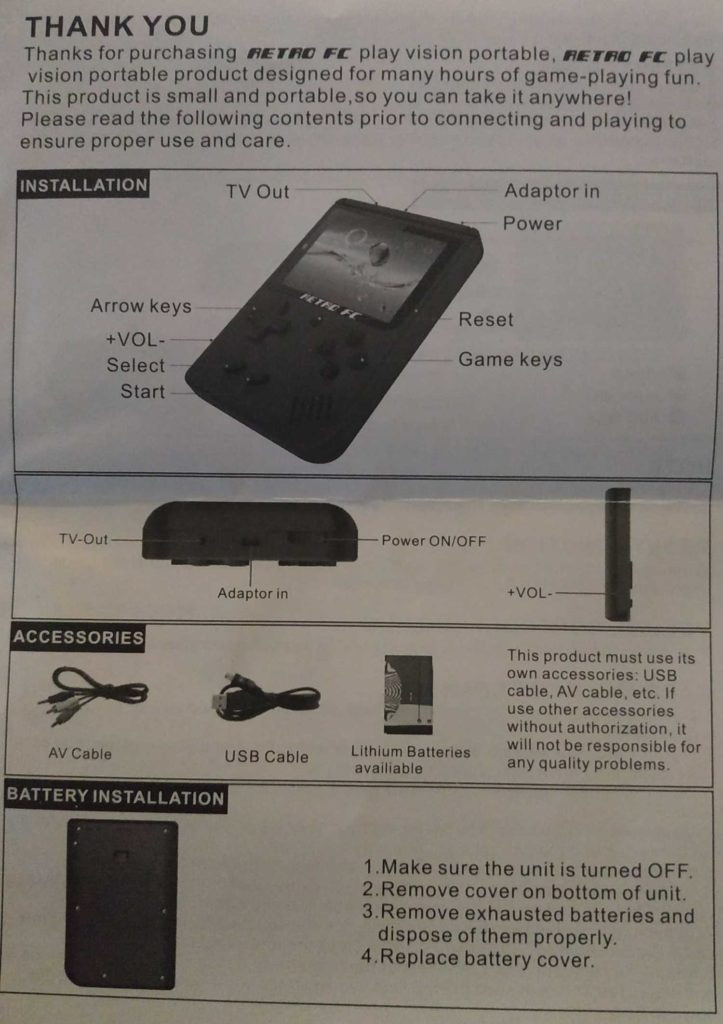 Connect this game console with TV using AV cable. See detailed instructions on the picture below.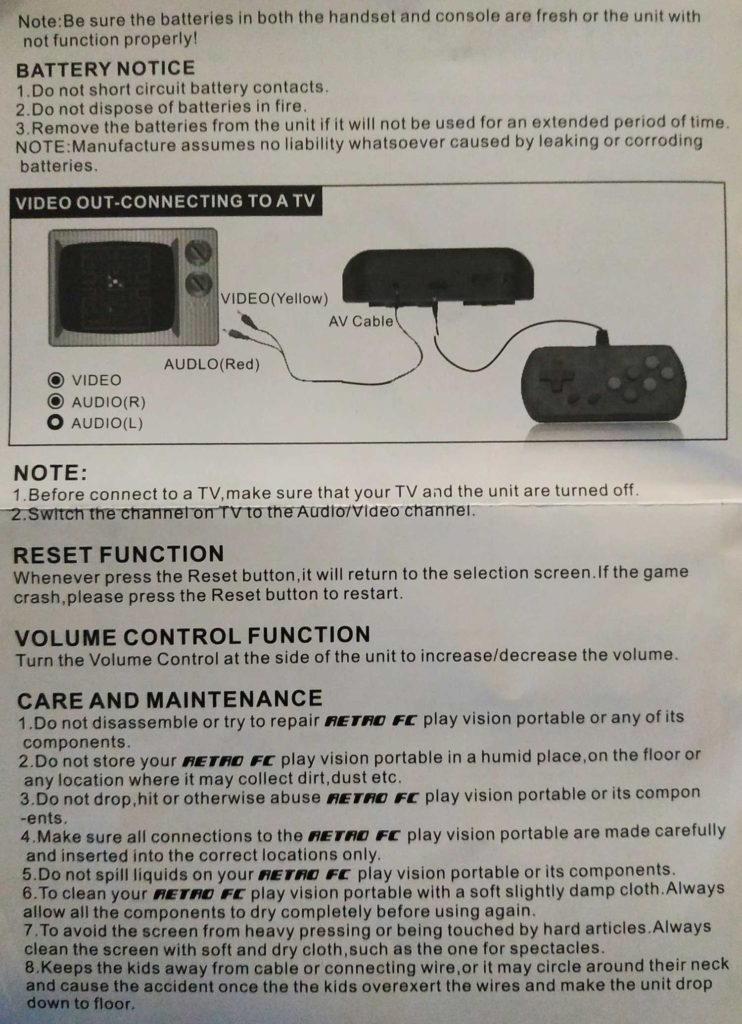 Troubleshoot problems you can run into. No picture on the LCD or TV screen, No game sound, Picture is flickering, No power…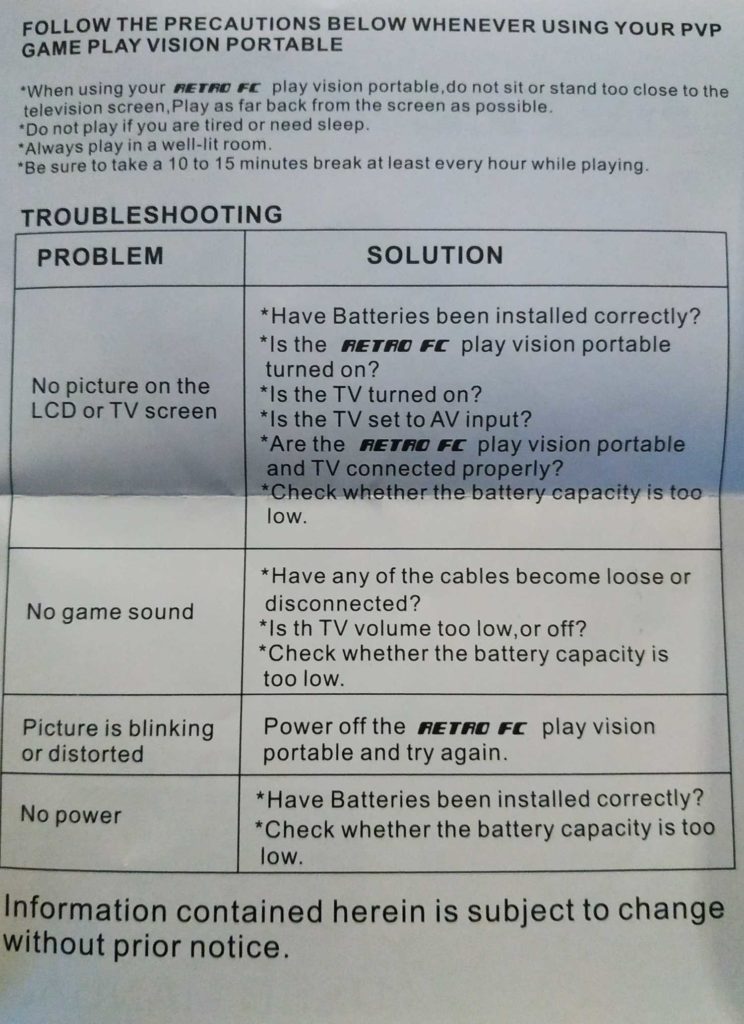 Troubleshoot: Check if batteries have installed properly. Make sure Retro FC is turned on. Check for TV, is it turned on, and set to AV input? Make sure that Retro FC and TV are connected properly.
If no game sound check for cable lose or damage. Make sure that TV volume is not to low, or off completely. Check for battery capacity.
To see more troubleshooting read the documents above.
Retro FC Plus 168 in 1 game console
This handheld retro game console is time-machine which brigs you to the 80′. We all remember those years with joy and nostalgia.
Now you can choose your favorite retro game console, and enjoy playing games from your childhood. Games are legit, like those you have played with console in your home on big TV screen.
Super Mario, Contra, Tetris … just pick a game and play. Gocomma handheld retro game console gives you 80′ game titles.
Want to buy one?
This retro game console is definitely worth to buy. It brings so much fun, and nice childhood memories. New kids won't be so happy, and that gives space for parents to play their favorite games. Everyone who like Super Mario, Tetris, or some other game from that period sure will love this gadget. You'll be happy with Retro FC Plus 168 in 1 handheld game console.