The Best Claymore hands-free LED lamp to buy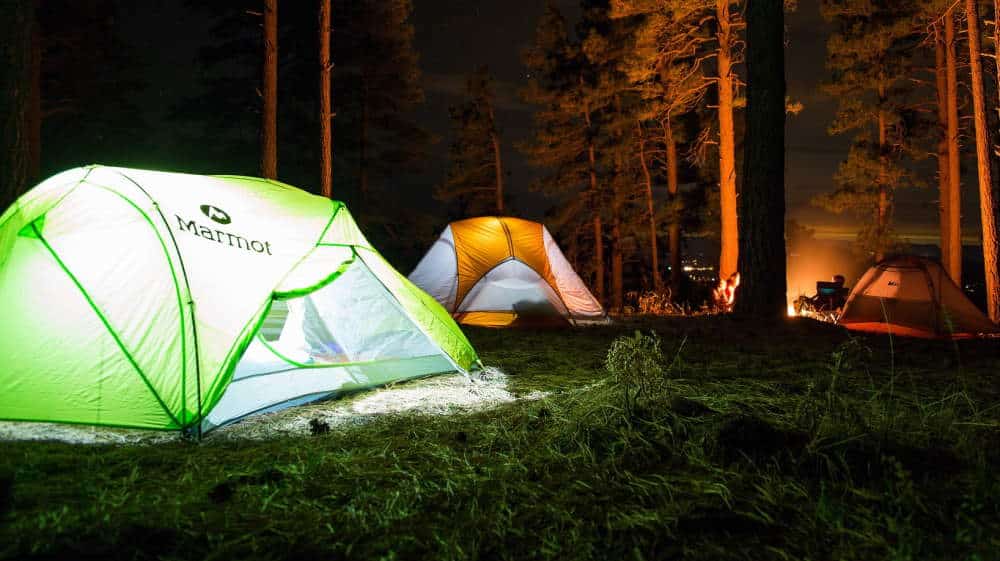 A few words on these hands-free lamps and a short Claymore LED lamps review. If you are looking to buy one of these, read this short review and choose the one that fits your needs. We are going to compare the best Claymore hands-free lamps and write our review on them.
Rechargeable Claymore Capon 65A Hands-Free Clip-On Light
The Claymore Capon 65A model. This is an ultra-lightweight rechargeable LED lamp with a clip to use as hands-free. This lamp delivers 3 lighting modes to choose from. Keep reading the Claymore specifications and options it delivers.
Claymore Capon 65A
Ultra-Lightweight Rechargeable LED Hands-Free Clip-On Light.
It has a warm yellow light with 230 Lumens. Weight only 36 grams, this lamp comes in handy wherever you need it (fishing, camping, jogging, etc…).
Designed as a Clip-On-Cap this lamp is convenient in a situation when you need both your hands. The ultra-lightweight lamp has a minimalistic design, it is rechargeable and powerful enough for any outdoor leisure activities.
Claymore Capon 65A specifications
Minimalistic design, lightweight clip-on cap, and 230 Lumens bright lamp. This product has 3 color modes, with 5 pre-set light brightness levels. It recharges via USB cable, and once fully charged it can last up to 19 hours of use.
The charging time is 1 hour and 40 minutes.
Claymore Capon 65A weighs only 36 grams, and it has a rechargeable battery with a 650mAh capacity. Its small size makes this device extremely useful on many occasions and a portable companion for any trip. It is easy to carry around wherever you want to go. Clipping it on a helmet, hat or cap, is easy to do, and once done, your hands are free to do whatever you need to.
This Claymore model delivers a 3 lightning mode with adjustable angles. You can choose spotlight/focus, floodlight (front), or floodlight/warm (up) mode.
In case of any kind of emergency, this headlamp has an SOS mode. The clip on the lamp can be adjusted up to 180° for multiple lighting angles.
The Capon 65A is a multi usable headlamp. This device can be clipped or hung onto any hat, backpack, or positioned inside the tent. It is usable s a fishing light, flashlight for camping, nighttime running, emergencies, biking, and much more.
Read this; LED light bulbs for home.
Claymore Capon 65A review
This is an awesome outdoor freehand headlamp. By using this lamp you can bring the light out to any outdoor adventures and activities. Bring your light anytime, anywhere. It is a small, but still powerful LED camping lamp.
The Capon 65A light is ultra-lightweight, with a battery strong enough to power on up to 19 hours of use. This comes quite enough to make two nights in a row without recharging the battery.
Designed so smart, for effortless and easy use. You can easily place this LED light on caps, hats, and helmets for hands-free lighting. This LED light is small in dimensions, still big in any other way. Powerful for all-night use, rechargeable under 2 hours, and lightweight for comfortable on cap or helmet usage.
Claymore Capon 40B Hands-Free LED Lamp
This model, Claymore Capon 40B is a bit lighter, comparing with Capon 65A, and it comes with less battery capacity. The smaller battery doesn't necessarily mean that light shouldn't last enough. Different LEDs are integrated, with the purpose of preserving power for the long run.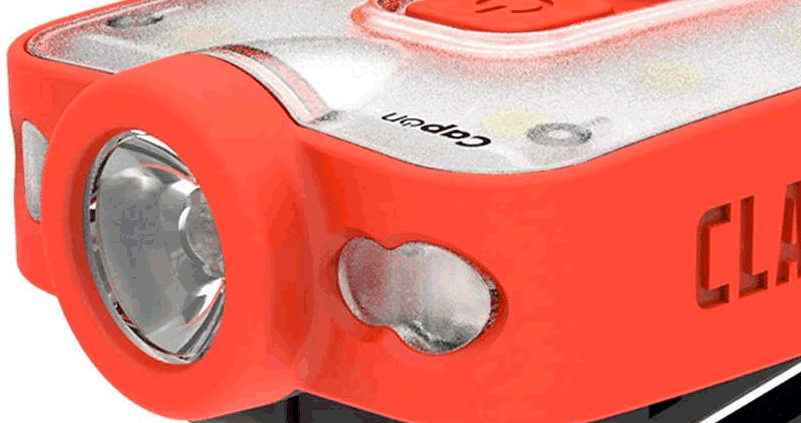 Claymore Capon 40B
Ultra-Lightweight Rechargeable LED Hands-Free Clip-On Light
Same as the unit we have already described, this one is also designed for easy use and as much comfort as possible. A rechargeable battery delivers enough juice to power up this headlamp for up to 12 hours.
Claymore Capon 40B specifications
Capon 40B comes in a minimalistic and compact design. It produces 230 Lumens, and it has 3 color modes with red LED. The battery recharges via USB, and once is fully charged this headlamp can run up to 12 hours.
Worth mentioning, this model comes with an IP54 rating. The IP54 certified device is waterproof and is foreign particle resistant.
Charging time is 1.5 hours, which is quick enough to make it ready to go at any time.
Claymore Capon 40B is a lightweight and portable headlamp easy to use. It weighs only 29 grams, with an integrated 400mAh rechargeable battery.
Designed so smart, this is an extremely portable outdoor and indoor companion. You can carry this headlamp anywhere you want to. Don't be disturbed with the usual flashlight, when you can use this hands-free cap on lamp.
Capon 40B brings you 3 lighting modes, with adjustable angles. This model has 3 lighting modes, and they are spotlight (16-230 lumens), Red LED (1-20 lumens), and floodlight (16-230 lumens). Not only that, Capon 40B has an adjustable dimming effect, simply using 5 pre-set brightness levels. There is SOS mode also.
A Multifunctional LED lamp can be used as a headlamp, or as a chandelier in your tent while you're camping.
Claymore Capon 40B review
We are so excited while presenting this wearable lighting device. Claymore Capon 40B offers a lot, in a small package and it is quite useful for everyone. This is an ultra-lightweight designed multifunctional lamp for outdoor and indoor. You can imagine how useful it can be in your garage during a power outage, or in your room before you go to sleep. Claymore Capon 40B review is nothing less than our positive feedback on this device.
It is not just a regular lamp. We prefer to call it an everyday occasion tool that everyone needs to have.
Claymore Heady+ Headlamp
Claymore Heady+ Headlamp and Lantern is a bit of a different product, but still good in its class and worth comparing with the other two models.
This headlamp is quite good and useful, which is why we decide to write this Claymore Heady+ review. This headlamp delivers 600 Lumens and it has an autonomously large 3,500mAh rechargeable battery.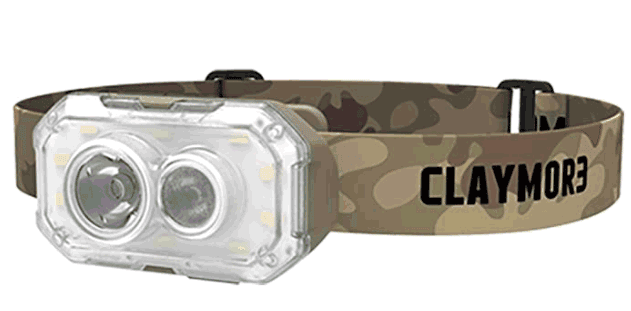 Claymore Heady+
Outdoor Headlamp and Lantern
If you don't need a capon clipping design, this is a headlamp you may want to buy. Claymore Heady+ has 4 lighting modes, with 3 light colors. A portable outdoor lamp is much more than just a lamp to pack when you go on camping, fishing, or some other activities in nature.
A multifunctional headlamp provides easy and convenient hands-free lighting for any outdoor activity you're in. Heady+ has a powerful rechargeable battery, to last long and work without any disturbance. That is why this lamp is such a powerful tool for any outdoor and indoor occasion.
Claymore Heady+ specifications
This model delivers 600 Lumens bright light, with up to 150-meter (close to 500 feet) distance. It is USB rechargeable. Once fully charged, this massive 3,500mAh battery can last for up to 70 hours. Heady+ has an IP54 rating, which means it has a dust and small particle resistant case.
Claymore Heady+ comes with a headband, hook and clip. You can use it as you wish or need in certain situations. Simply attach it to a backpack, and enjoy your activities.
The headlamp has 4 lighting modes: Focus (8°), Focus (25°), Turbo (8° and 25°), and diffused light (cool/warm/natural white).
Settings include 5 pre-set brightness levels, SOS mode, and 3 light color adjustments.
Claymore Heady+ review
This headlamp comes as a perfect outdoor companion. We simply love it. Designed with an IP54 rating, you can bring it wherever you need to. It is a minimalistic and still wear-resistant device. For those who like fishing, or camping, this headlamp is a must-have tool. Not only for them, but it's also a great device for home too.
Heady+ can be attached to a headband, hung on a tent, and mounted onto camera tripods. It is the perfect tool for construction workers, climbers, camping enthusiasts, and those who like to go fishing. 
LED quality is unquestionable, with Samsung SDI LEDs elements inside.
Read this; emergency LED light review.