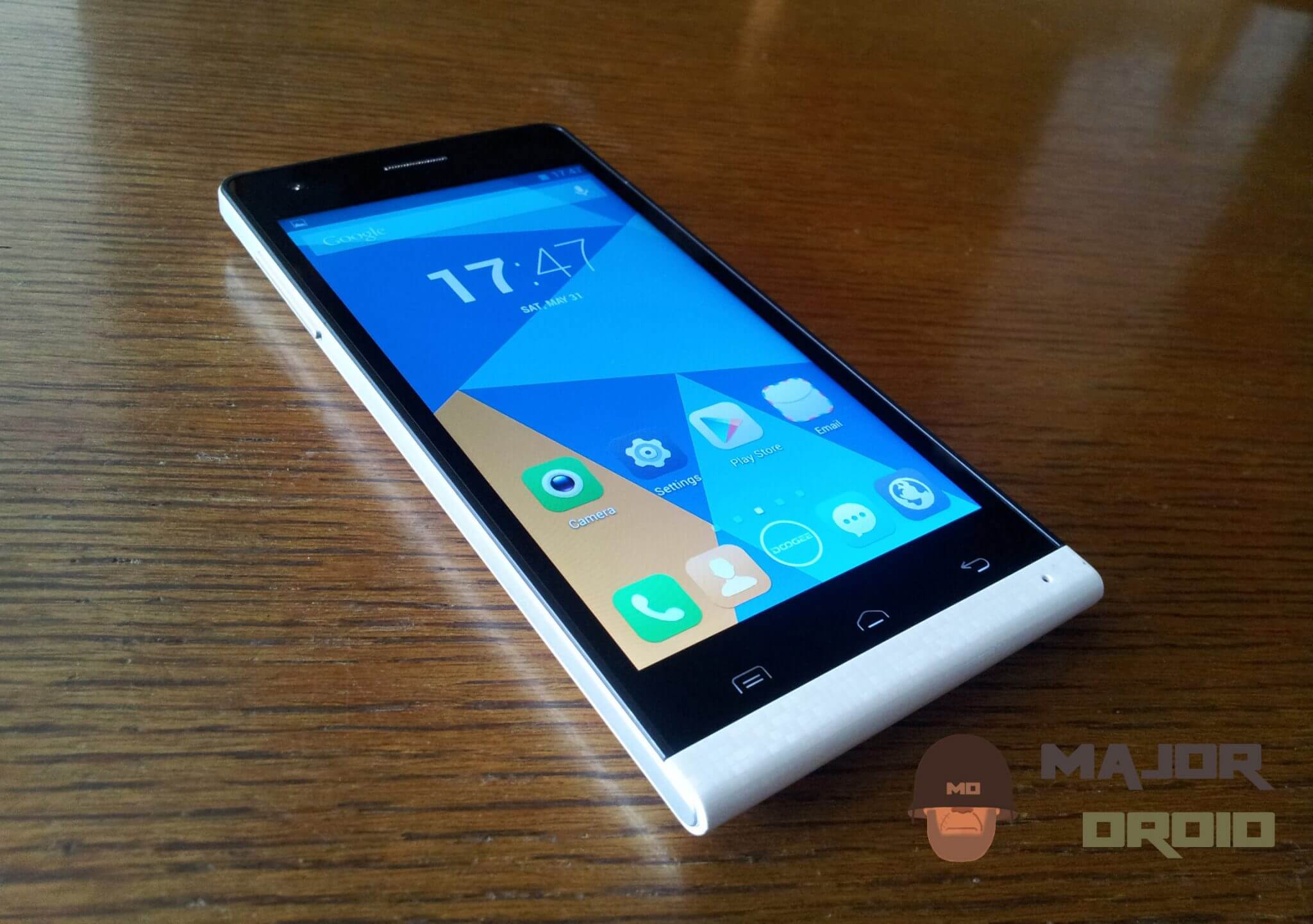 Hi, this time I have for review mid-range phone called Doogee DG350. It is really cheap phone, which offers many good features on the paper, so I hope that after testing I will have the same opinion for this phone as on the beginning. As I said this is cheap device with mid range features and possibilities, the price for this phone is approximately $120.
My first impressions are that DG350 looks really nice and in my opinion it is beautiful. This phone can be bought in two possible colors. So you can buy it in black or white color. This is the first time for me to write a review for Doogee, also this company is newer company so I don't know what I can expect from this device.
Tech specs
CPU: MTK6582 quad core 1.3GHz
GPU: Mali 400
OS: Android 4.2.9
RAM: 1GB
ROM: 4GB
Screen Size: 4.7 Inch, 1280×720 pixels
Screen Type: IPS, OGS
Band: 2G: GSM 850/900/1800/1900MHz
3G: 850MHz/2100MHz
Sim card: Dual SIM Dual Standby
Wifi: 802.11 b/g/n
GPS: Yes
Light Sensor: Yes
G-Sensor: Yes
Proximity sensor: Yes
Status Indication LED: Yes
Rear camera: 8.0 MP
Front facing camera: 2.0 MP
Battery: 2200mAh
Package contents
Anyway I need to say that you get more accessories with this phone than with for example iOcean. Shame on you iOcean :D. You get next items: usb cable, charger, screen protector, headphones, cloth for wiping the screen, one battery, instructions and of course the device. All accessories are in white. So in my opinion this is really good for cheaper phone.
Design
As I mentioned before Doogee DG350 can be bought in two different colours, so you can choose white or black model. I have a white model and I think that phones with a white colour or any other except black are more popular these days. Because in past all phones were black. Case of this phone is made of plastic including back cover. So what are the difference between black and white model?
The white model have white back cover while the black model have black cover. It has 4.7 inch screen which does not have any kind of protection like Gorilla Glass. So if you want to protect your screen from scratches or any other damage you need to use screen protector which you get in package. Above the screen is front camera with sensors while below the screen are buttons.
Buttons have backlight, the backlight  is enough strong, so in complete dark you can see the buttons. On the back side is main camera with led flashlight, also in the centre of the back cover is a logo of Doogee company and at the bottom there is a speaker. In my opinion device looks really cool, back cover is beautiful with small squares. And I think you will agree with me.
The build quality is good, I only regret because it does not have any screen protection but this is not the main problem because you can solve it with screen protector. And please take some time to see photo below.
Screen
It has 4.7 inch screen with HD resolution. It is IPS screen with OGS (one glass solution). It has five point sensitive touch so It can accept five touches at the same time. While using it I did not see any difference between HD resolution and full HD. The phone has ideal size, it is not too big or too small. Screen has no any protection against scratches or dents so you'll need to use screen protector or you can use it without, it is your choice.
Hardware
in beginning I had already said that this is mid range phone so it does not have high end hardware. Doogee DG350 has quad core cpu Mediatek MTK6582 with speed 1.3 GHz, 1 GB of RAM and Mali 400 gpu. It is just solid combination, it will be good enough for everyday use web browsing and for not too demanding applications. it has internal memory of 4 GB rear is available 1.7 GB but you can expand your memory with memory card with maximum of 32 GB.
I was very curious and I tried to play GTA Vice city and I was pleasantly surprised because the game worked perfect without any problems. So I think most users will be satisfied with hardware possibilities. I have also made several benchmark tests which you can see below, test results are okay.
Connectivity
It is dual sim phone. This is not a wcdma version so 3G network can only work on 850/2100MHz frequencies. It has all features like other mid-range smartphones like wifi, GPS and Bluetooth 4.0. Some users would love to have wcdma version where 3G network can work on 900/2100MHz. But the most of them will not have any problems because most mobile networks use 2100mhz for 3G.
All functions works as they should work including GPS. For now I have tested the GPS only with GPS testing application and I did not edit any settings or I did not use network or Wi-Fi connection while testing. I was really pleasantly surprised because GPS worked perfectly normal and it connect to 10 satellites withhin 30 seconds. This was really fast, later I will try how to see how GPS works with navigation application but I think it will be good.
Camera
Doogee DG350 has a front and back camera. So let's begin with main camera first which has 8 megapixel sensor with a led flashlight. Main camera has all standard features like auto focus, auto white balance, HDR, face detection and other options. According to the Doogee company it is the same camera as on Apple iPhone 4, camera model OV5650. It has f/2.2 aperture. About this camera model you can find more here . So I have really expected more from this camera but it is not so good as on paper. So in my personal opinion photos taken by this camera are only good. And there is the same situation with photographing in low light places or in completely dark. So for not too demanding users it will be okay. As far as front camera there is no difference in quality, so you can use it for video calls to take selfie photos :D. So you can expect the same quality. For the camera photo examples you can see below.
Battery
It has a battery with capacity of 2200mAh. It is a removable battery so you can easily change it. For this device and HD screen has enough capacity to last at least one and half day for average use.
Conclusion
Doogee DG350 is a good smartphone with several positive things but also has a few flaws. So first I will tell you the bad things about this device. Screen does not have any protection, although this is not the main problem because you can easily solve it with screen protector. Camera makes solid photos in all conditions regardless do you take photos in completely dark or with enough light. OTG unfortunately does not work so it does not detect usb flash drive or any other usb device. I think this are all bad things about this phone.
Now I'm going to tell you all positive or good things about DG350. The build quality is really good although the case of the phone is made of plastic. Design is also nice and in my personal opinion I think that the phone is beautiful and I think you will agree with me. Also the screen features are excellent although the screen is HD. GPS works excellent, so you don't need to any modifications for GPS.
For everyday use, surfing the Internet and of course for the gaming it will be good. I tried several games including GTA Vice city and games worked without any lags. So it can be also for gaming. Overall, Doogee DG350 is great smart phone for this price range. Price is about $120 depending on the shop, and I think it is cheapest on Pandawill. So if you are interested to buy it you can do that here. I hope you like my review and if you have any questions please ask. 🙂