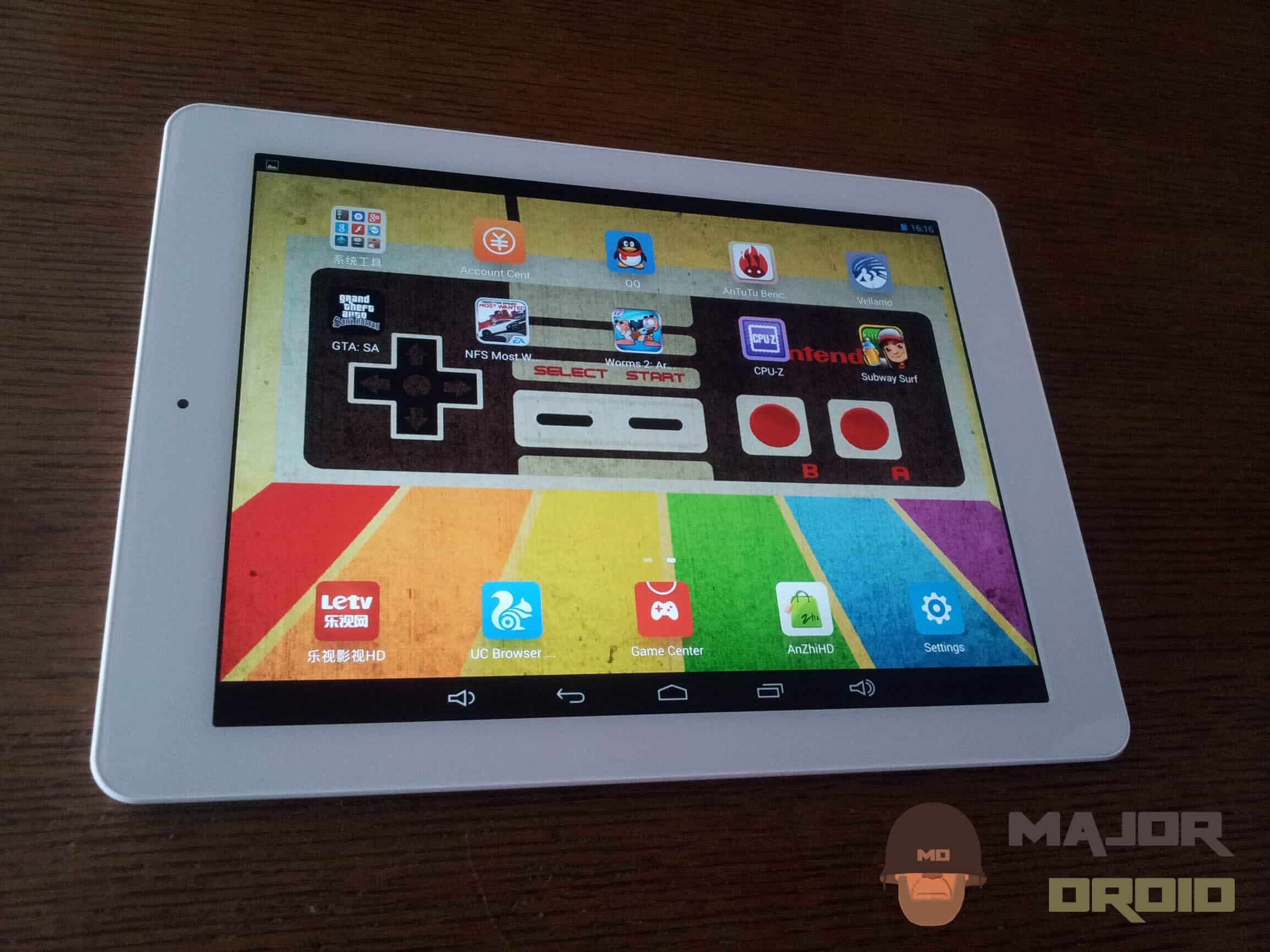 In this article review I want to present to you high-end tablet called ONDA V975M. In this article you will see how good is build quality, how tablet works , gaming or playing games and other cool stuff. So what are you waiting for? Come here and see some interesting facts about this tablet . Has a design very similar to iPad. ONDA is a very popular company which only produce tablets. First impressions are pretty good and I am very happy with this product. To find out more information stay here and don't go away.
ONDA V975M H

ardware

Specifications
CPU: Aml M802 ARM Cortex-A9, Quad-core x 2Ghz
GPU: Mali 450
OS: Android 4.3
RAM: 2GB
ROM: 16GB (there is also 32GB version)
Screen Size: 9.7 inch, 2048×1536 Pixel (264ppi)
Wifi: 802.11 b/g/n
G-Sensor: Yes
Rear camera: 5.0 MP with auto focus
Front facing camera: 2.0 MP
Battery: 8300mAh lithium battery
Package contents
So except the ONDA V975M tablet you will receive next items also like USB cable and charger. So nothing else except this. It is poor additional content, they could give more but what is done is done.
Design
Talking about build quality V975M is made completely of aluminium, so the build quality is really good. The case is made of good material, it is not a cheap plastic. You have feeling like you are holding a premium tablet or device. So completely back side including edges are of aluminium. While the front side is made of some kind glass, it does not have any protection. On the front side we have a large screen with size of 9.7 inch, above the screen is front facing camera. On the left side we have slots for micro usb, hdmi, headphones slot and power on off button. On the other edge with have but for volume. And on the bottom with have stereo speakers. On the back side of the tablet we have main camera and in the centre of back cover is ONDA logo. In my personal opinion it is really beautiful tablet which is only available in white colour.
Screen
ONDA V975M has a 9.7 inch screen with a resolution 2048×1536 pixels. It is IPS screen, so the viewing angle is excellent. The resolution is really good for watching movies, going to the Internet and of course for gaming. I'm saying this because sharpness is also great and I cant say anything negative about the display. You only need to be careful while you are wear because if you drop it then probably will damage the screen because it has no screen protection like gorilla glass. I have seen many times the tablet with broken screen because it is only one fall enough to broke the display because it is really huge.
Hardware and

Benchmark

tests
ONDA is high end tablet with strong hardware so it will be good for any purpose. It has quad core CPU with speed of 2 GHz, 2 GB of RAM and Mali 450 eight core GPU. The CPU is Aml M802 ARM Cortex-A9. Also I want to point out that this tablet is are available in two versions, the only difference between this two versions are free space for storage. So there are 16 GB and 32 GB versions. I have 16 GB version and this version has about 10 GB of free space. All other characteristics are the same. Talking about gaming you can play any game you want because I have tried several demanding games and they worked super. I have played GTA San Andreas and Worms 2. There was no any lags. I also tried to watch some HD movies, go to the Internet for example to the Youtube. And of course for everyday use like reading emails, listening to the music. In my personal opinion ONDA V975M is born for gaming. 🙂
I have also tested the device with benchmarks applications and the results are really impressive and you will see below screenshots from Antutu and Vellamo apps. There is also screenshot from CPUz for more details.
– AnTuTu  – 30818 points

– Vellamo – 2085/822 points

Gaming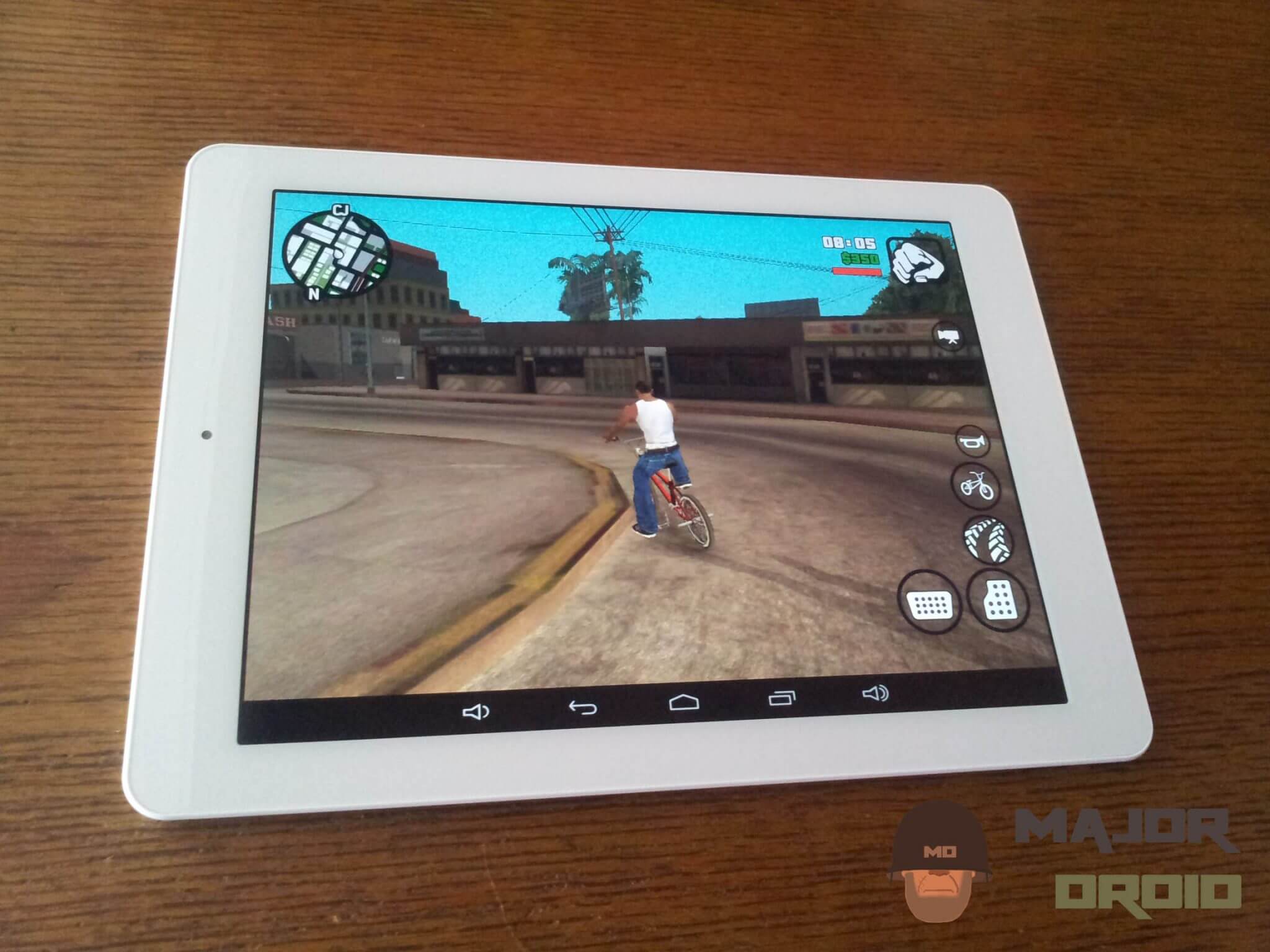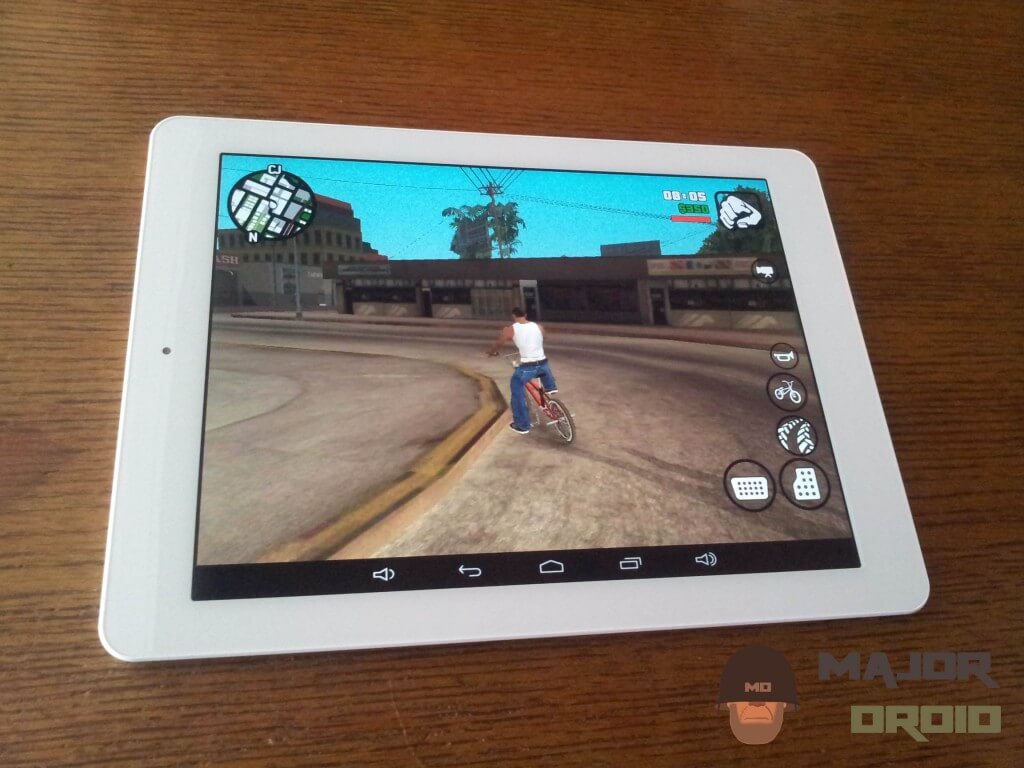 Connectivity
For connectivity it has Wi-Fi, Bluetooth 4.0 and micro USB slot. This is quite normal because the most tablets has same features like this one. I tried all and they are working as they should work. Wi-Fi has really good range for connection. I need to also say that OTG is supported so you can use external USB device like flash drive or gamepad. I personally love this function because while I am playing games I love to use the gamepad because it is much more easier to play and it is much more fun and I think you will agree with me. So this tablet is born for gaming. For this price range it could have a slot for sim card but you can also use 3G USB stick because as I already said OTG is supported. So this is not the major problem.
Camera
Tablet has front and back camera, the front camera has two megapixel sensor while the back camera or the main camera has five megapixel sensor. Cameras do not have flashlight or any other features like white balance, face detection or other. The front camera is good for video calls while the back camera can be good for taking photos but please don't expect too much. It has autofocus but is not good so sometimes the photo is not too sharp and you can not manually focus. On many tablets including this one the camera is not the primary function so potential customers should not expect something major from this. In reality they could put better cameras but as I said this is not primarily function for tablet. Because it is not practical to use such big device as this one. It is too big in my opinion to take photos or record video. It is much much bigger than other smart phones so you'll need to take it with two hands and it is much heavier so really it is much easier to use smart phone. I also think that most users use tablet for reading, going to the Internet, for reading emails, playing games and other similar stuff. Please see examples below.
Battery
Tablet ONDA V975M has built in battery with capacity of 8300mAh. It is lithium battery. With average use it can last up to 2 days, and with heavy use including gaming it can last maximum one day. So for this kind tablet it is okay.
Conclusion
ONDA V975M has a really nice design. In my personal opinion it is very robust and build quality is excellent as on other premium tablets. It can be used for home use like for fun and also for business or job. It is high end tablet which has enough power for every job you need to do. It has 2 GB of RAM, there is also Aml M802 quad core CPU with speed of 2 GHz and of of course octal core GPU. Also I need to say that display of this tablet is a great advantage because is enough big with high resolution which is 2048×1536 pixels. As well OTG function is supported so you can use any USB external device like 3G USB stick and you can go to Internet anywhere you want. Overall I have to say that ONDA V975M tablet is really pleasant surprise and I cant say anything negative about this tablet because it is enough good for every purpose. As well it is beautiful. The price for this tablet is approximately $190 depending on shop. I think it is cheapest on Tmart, so you can check here for more information. Also you can see some other information on official website.
Any questions please ask
Thank you 🙂