Oukitel K8000 review – world's first 8000mAh smartphone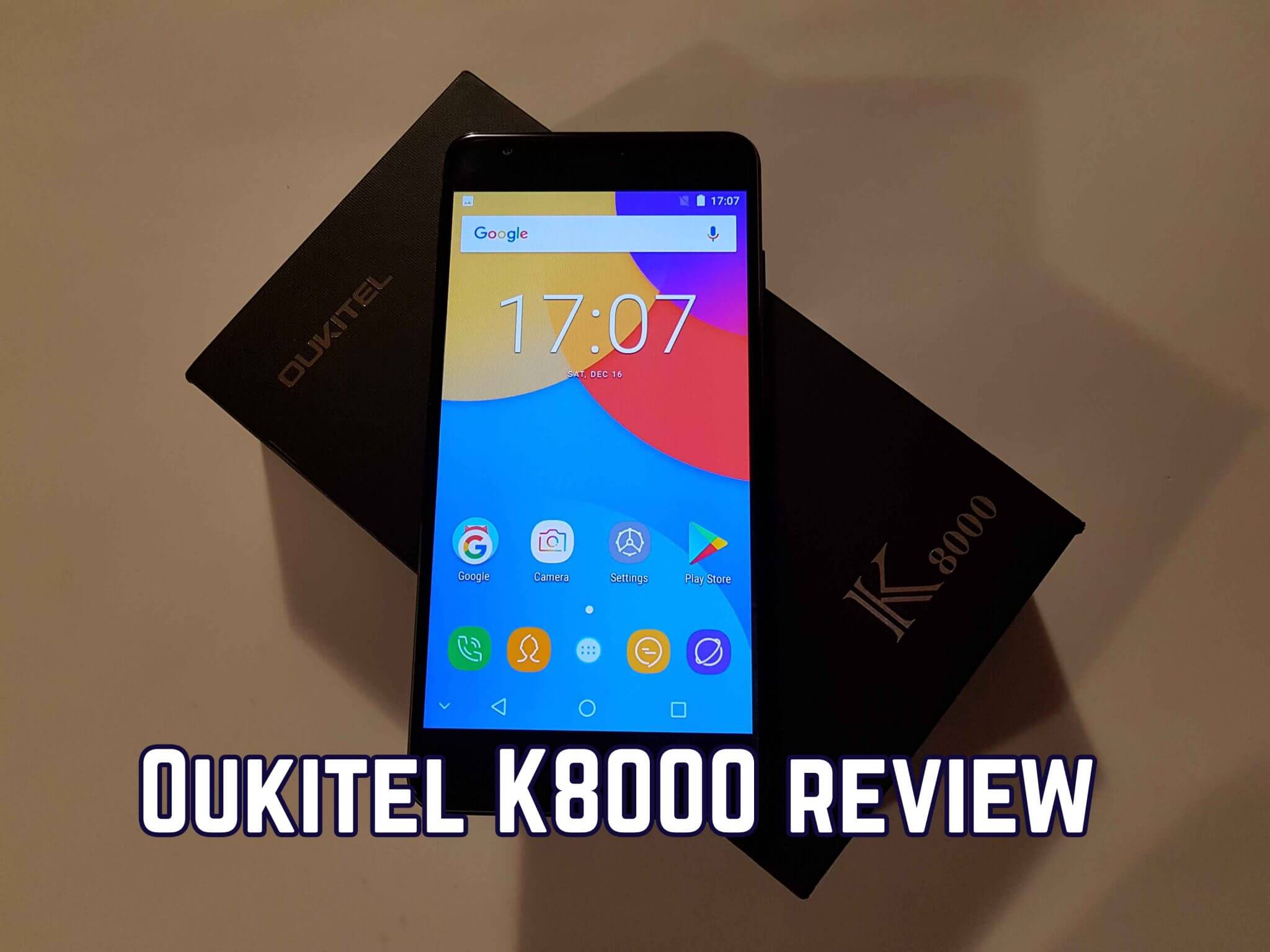 So we have a very interesting smartphone from Chinese smartphone company Oukitel. Actually we have the Oukitel K8000 which is first smartphone in the world with 8000mAh big battery. There were of course some other smartphones with high-capacity batteries, but in this situation this is something in the middle.
Nevertheless this is huge capacity for some smartphone, and besides that it supports fast charging. Normally we have tested the battery in our review which provides great autonomy. Also it is a very affordable because the price is under $200 or in other words it is really cheap smartphone with big battery.
Build quality & display
So let's say a few words about display which is definitely great. Because the Oukitel K8000 uses Samsung Super AMOLED technology for the screen, and at the same time HD resolution is enough for 5.5 inch screen. It provides 96% color saturation including much faster responding speed. Besides that It drains less battery thanks to Super AMOLED technology. Overall this 5.5 inch display provides awesome experience. Also this screen has screen protection thanks to Dragontrail glass.
But when we speak about the case then we can tell you that the case is fully made from metal including all buttons. Therefore according to the company they have also change place of antenna. The phone is not too big or too small, actually it fits really nice in the hand. Overall they have done a great job when we speak about build quality and design.
Performance and benchmark testing
On this field this big battery smartphone has also advanced built-in hardware. So the Oukitel K8000 has under the hood very powerful hardware like octa core chipset Mediatek MT6750T with Mali T860-MP2. Beside that it has 4GB of RAM including 64 GB storage space, and additionally you can upgrade internal storage up to 64GB with SD card. So you can see it has a very good combination of built-in hardware which will be enough strong for every purpose.
Of course we have played several different games, but we have also tested the Youtube, and many other things which mostly people use on the smartphone. After testing we can confirm that everything works smoothly, and don't forget that you can below see benchmark scores including built-in hardware information.
Benchmarks test results
Playing games
Youtube
Camera quality
About cameras these smartphone offers dual rear camera setup while the front facing camera is 13 megapixel with wide angle feature. So in that way you can take much better selfies. But nevertheless most important is the rear camera which comes with two camera sensors where the main camera is 16 megapixel while the second one is 2 megapixel.
From what we can se it offers very good photo quality, and we are satisfied with photo quality in this price range group which is actually under $200. Also don't forget that you can below see photo samples made with K8000.
Photo Test Samples
Connectivity
2G: GSM 850/900/1800/1900MHz
3G: WCDMA 900/2100MHz
4G: FDD-LTE 800/900/1800/2100/2600MHz
GPS test
Battery life
As we said earlier most important feature of the K8000 is the battery as the name also suggests. So logically the name suggests that the battery has 8000 mAh which is definitely something new on the smartphone market.
Besides that it supports 9V/2A fast charging. Nevertheless this battery is produced by high-quality battery company called SCUD, and according to them this batterty has min 7850 mAh capacity.
Also according to our battery tester this battery has a real capacity of 8000 mAh. But when we speak about battery autonomy, then we can tell you for example that it can last approximately 18 hours of playing games. Or for example 25 hours of watching full HD movies which are great results. Besides that it needs approximately 2 ½ hours for fully charge which is actually a quick.
Price Info
At this moment the price is only $189.99 at Gearbest online shop, which is actually a fair price for this kind of smartphone.
Buy the Oukitel K8000 at Gearbest
Conclusion
Overall if you are looking for good quality smartphone with high-capacity battery, then for sure you need to consider the Oukitel K8000. Because it offers great build quality including excellent screen, besides that it has huge battery capacity in this case 8000mAh. Besides that it has powerful hardware for this price range group.