Bestek mrj84018 8 ways & 6 USB ports extension lead review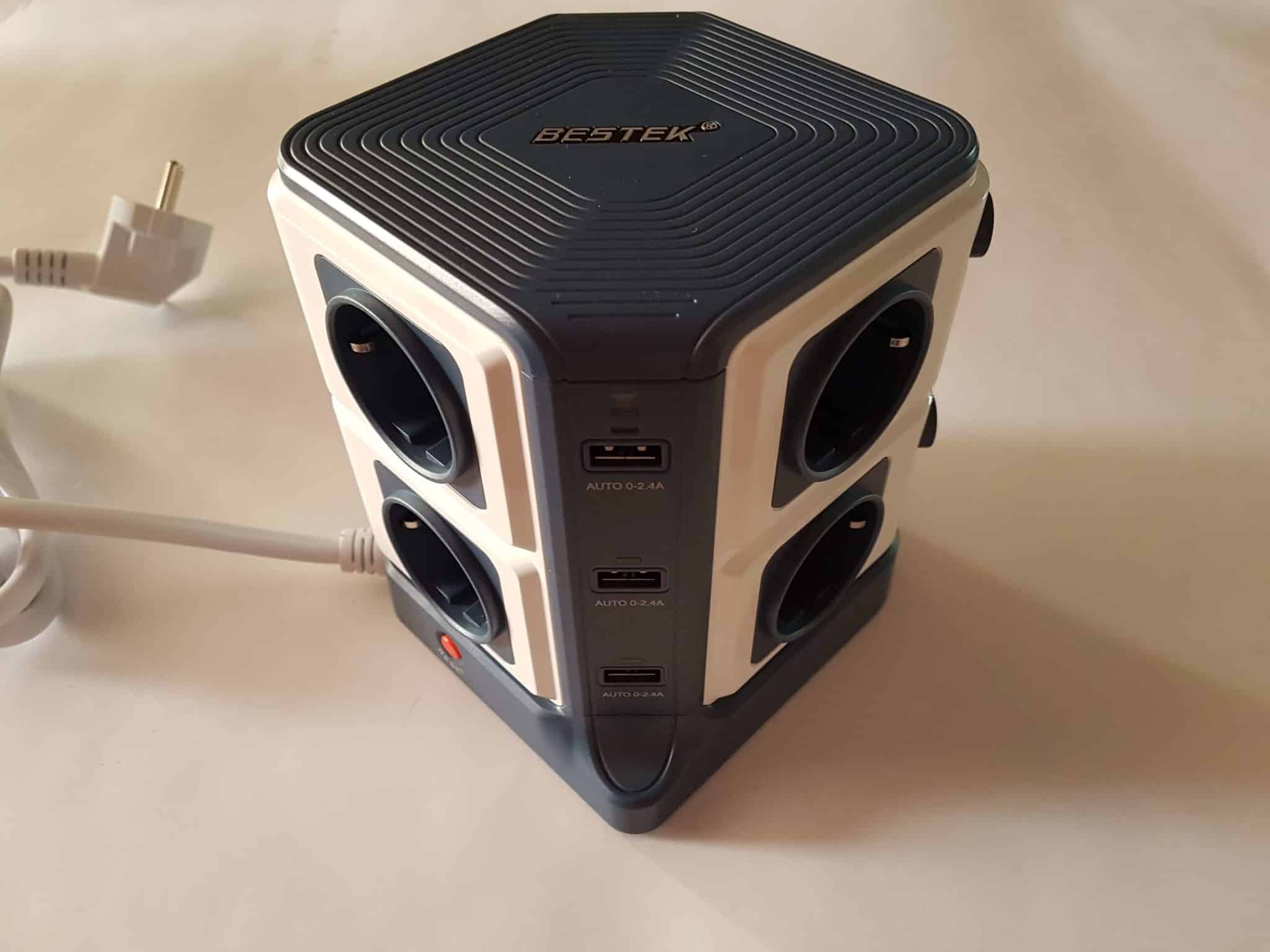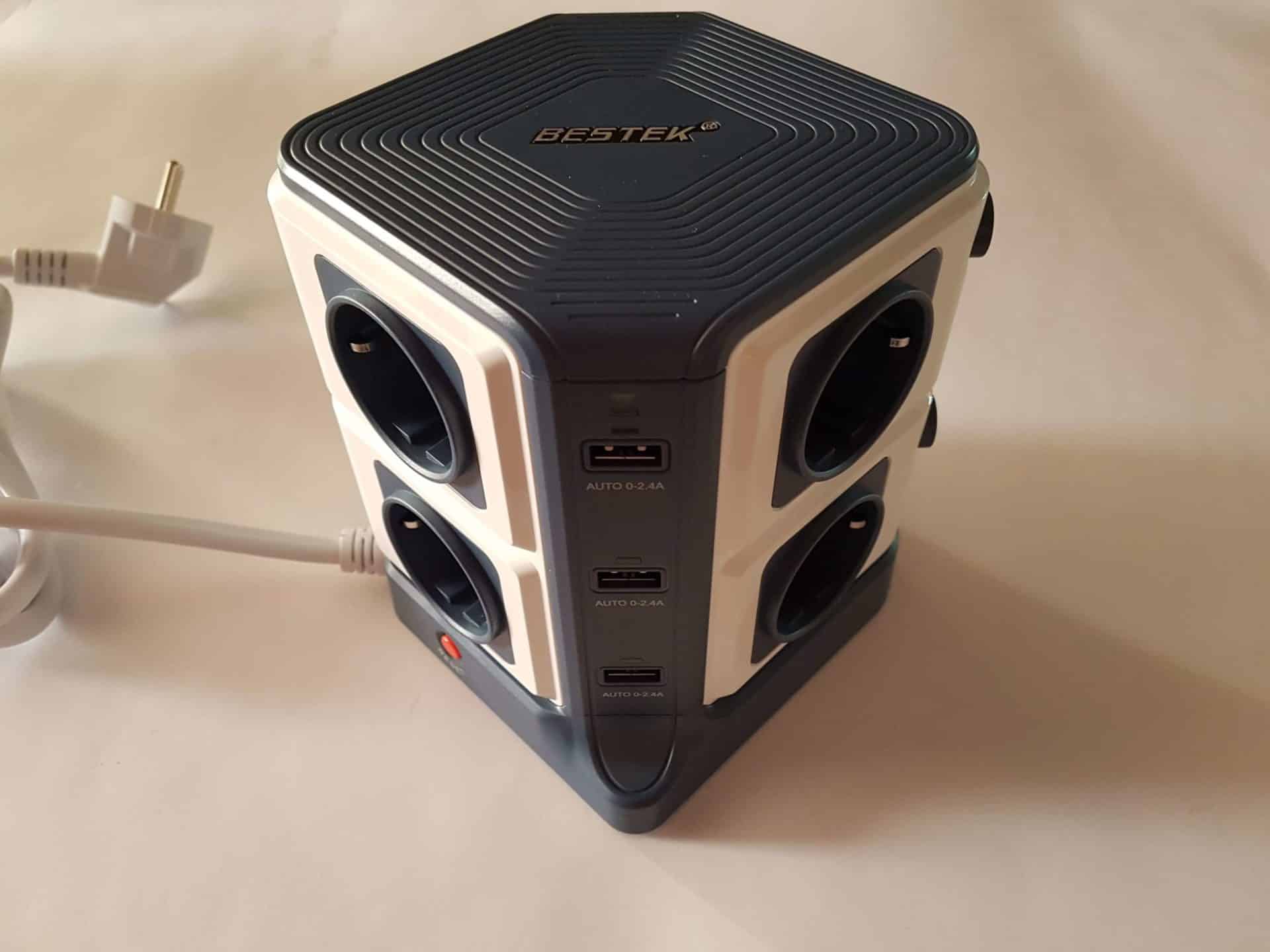 We are not surprised to see huge interest for extension leads, because actually these days people have many different products, gadgets, and other smart devices. But what is most important all these products needs power for charging or something else. We have Bestek mrj84018 for review here.
So for example if you're looking for high quality extension lead with USB ports, then for sure you need to consider Bestek mrj84018 which is great choice. And because of that we are very happy to have opportunity to introduce to you this Bestek extension lead from our review.
Specifications
Input Voltage: 180V to 250V
Rated Power: AC+USB=3600W
Surge Protector: 1500J
Max Current: 16A
USB Output: 5V/2.4A (each port), 5V/8A(Total)
Cord Length: 1.8M(5.9ft)
Size/Weight: 150*150*152mm / 975 g
Unboxing
So it comes in the big paper box, and besides extension lead you will also receive short user manual. But actually you don't need nothing else because all you need to do is connect to your power socket.
Bestek mrj84018 extension lead design and build
Actually it is very important to have good quality materials for this kind of product. Everything needs to be in the right place including all parts. So for example the case is completely made from Anti-fire V0-grade PC and ABS materials. Where the cable is heavy-duty power cable which is allowing max 16A.
Also design is very interesting, or to be precise it is completely different from other extension leads. Therefore we're talking about surge protected tower which has 8 standard AC outlets including 6 USB ports. So you can normally charge 14 devices simultaneously. These kind of design takes up less space, but at the same time you have more leads.
For every AC outlets there is a button with which you can turn on or off any device. Also there is button for reset, of course if you need to do that. Every USB port including all AC outlets have LED notification lights which show you if the power is on or off.  And last but not less important it has led indicators for protected and grounded features.
Overall the build quality is great, but at the same time design is very innovative.
Features
As title says Bestek extension lead has 8 AC outlets and 6 USB ports. So now we will say a few words about USB ports which can be used for any kind device like smartphone, tablet, and other. It is actually a smart USB port which support fast charging up to 2.4A depending on device.
So actually you don't need to have any charger, you only need to have a USB cable for connection. And what is great about that you can at the same time charge 6 different devices. It's actually very useful.
Protection
It supports and provides built-in overload protection, over temperature protection, over current protection, and short circuit protection. So actually you can see it has all advanced protection features.
Price info
The price is around $40, which is actually a fair price for these kind of extension lead.
Conclusion
So if you're looking for high quality extension lead with many features like USB ports. Then you'll need to consider Bestek mrj84018. Because besides breaking design it has many advanced features, especially protection features. But it has also 8 AC outlets including 6 USB ports which supports quick charging.