Doogee Mix Black Review : Cheapest 6GB RAM Bezel-less Smartphone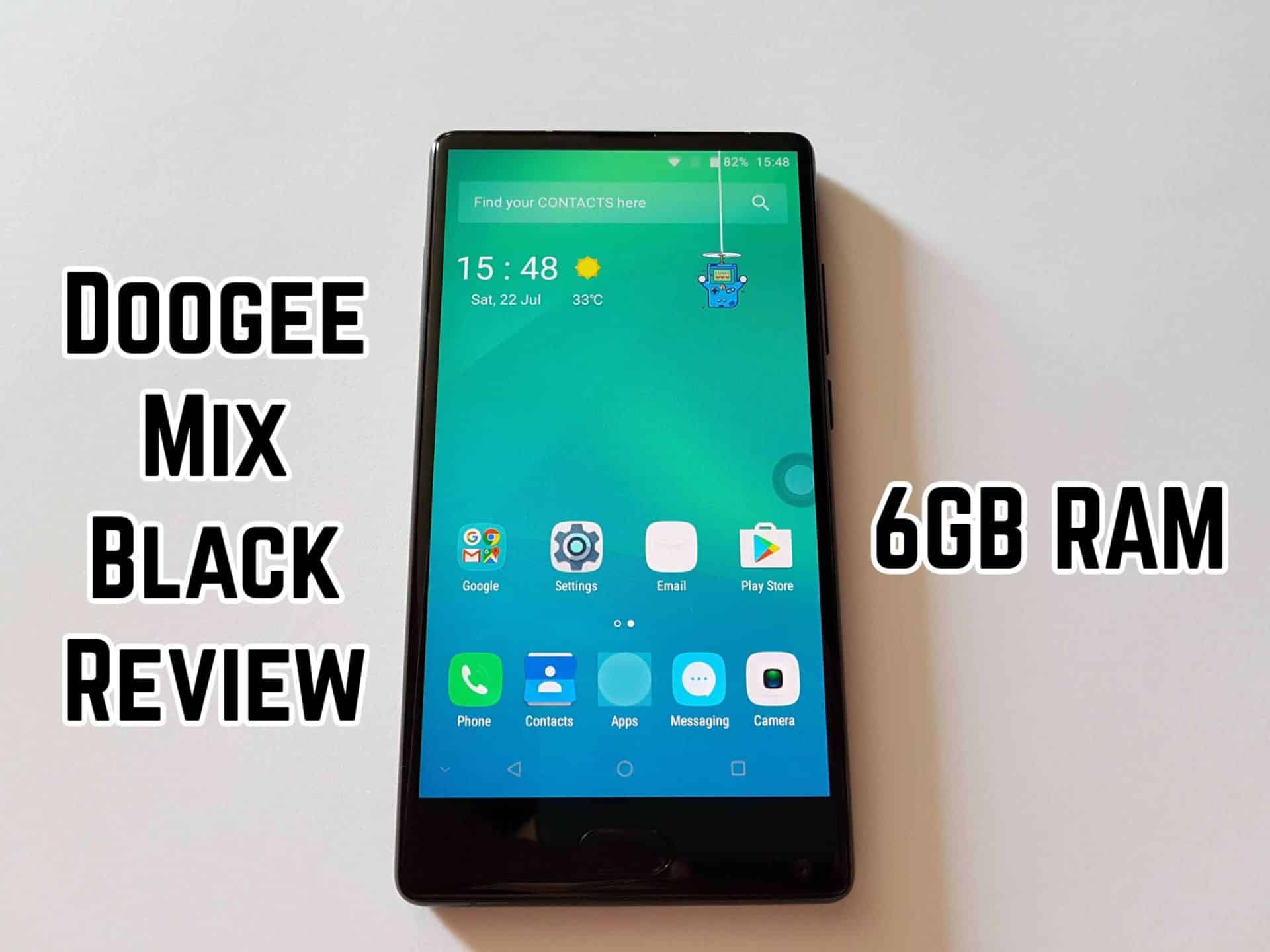 These Chinese smartphone company has made a greatest move lately including other smartphone companies from China. Actually they have introduced cheapest bezel-less phone called Doogee Mix which costs under $200. At this moment the price is only $179.99 at Banggood shop.
So you can see why we can say that these device is cheapest. But this is not all because besides unique design it has most powerful hardware like 6GB of RAM. We are very pleasantly surprised to see these kind of device in these price range. So stay here and and learn more about black Doogee Mix device.
Build quality & Display
So for sure we can tell you that these smartphone is most impressive because in these price range which is actually under $200 there is small number of devices which offer high build quality. We are really impressed with build quality, but also with design where the most important feature is definitely bezel-less.  Where screen to body ratio is 93%.
Or in other words it takes a small amount space around screen. Which is actually great because your smart phone can have a bigger display, and at the same time the case or device can be smaller. So Doogee Mix is made from high quality materials, and at the same time it gives the user premium feeling. Talking about the design it offers unique perspective, and it looks awesome also.
There was a lot of debate about screen because with 5.5 inch screen size it has only HD resolution. And for many people this was disappointing because they have expected at least full HD resolution. We had the same thoughts about that, but now after we tested the device we can for sure they'll you that the screen is excellent actually. Sharpness and other display features meet all requirements. We have also compared with full HD screen and to be honest there is small not important difference. So you don't need to worry about that.
Overall they done a great job when we speak about the build quality and design.
Performance and benchmark testing
As every other flagship smart phone these has also very powerful hardware. So we can tell you that is based on premium octa core chipset Mediatek Helio P25 including Mali T880 GPU. When we speak about memory there are two versions available. In this case we have 6GB RAM version which has also 64 GB storage space where approximately 54GB is free for user. Additionally you can upgrade your internal storage with microSD card up to 128GB.
So you can see how powerful built-in hardware has Doogee Mix. Easily said you can do anything you want from playing games to watching high definition movies. Everything was smoothly without any problems like lags. We literally enjoyed it testing it from gaming to watching favorite TV shows. Also below you can see some benchmark results from Antutu and Geekbench.
Benchmarks test results
Playing games
Watching 4K videos
GPS
Doogee Mix GPS normally works with precision of 3 m. Just for the first time you'll need to update GPS information. To do that you can normally connect your smart phone with Wi-Fi or mobile data connection.
Camera Quality
In this area it has ace in the sleeve, or in other words it comes with dual rear camera setup. Where one camera has 16 megapixel sensor while the second camera has eight megapixel camera sensor. The rear camera is a creep to meet a led flash while the front facing camera is 5 megapixel.  Dual rear camera setup offers you more possibilities for taking photos especially for wider photos. But when you take a normal photos then only one camera is active. The quality of the photos is satisfactory for these price range which is actually under $200. Below you can see photo samples.
Photo Test Samples
Battery life
Lately huge number of different smartphones comes built in battery, so the same situation is also with Doogee Mix which according to the company has 3380mAh battery capacity. It has also support for quick charging because you will receive 5V 2A charger. Therefore we have tested the battery with the battery tester and according to our calculations it has approximately 2853mAh battery capacity which provides approximately two days of average use.
74% to 100% = 742mAh
26% = 742mAh
1% = 28.5%
100% = 2853mAh
Conclusion and price info
So after all we have done with to these smartphone we can say that we we fell in love with this smart phone for many reasons. But most important Doogee Mix offers high build quality, and at the same time it looks awesome. But this is not all because it has excellent screen to body ratio which is is 93%.
Or in other words it is bezel-less smart phone. Under the hood it has strongest hardware like 6GB of RAM, and if you love to take photos then you will not be disappointed because it has dual rear camera setup.
At this moment the price is $179.99 at Banggood online shop, and if you decide you can buy it.