Oukitel K5000 review: premium full-screen smartphone under $200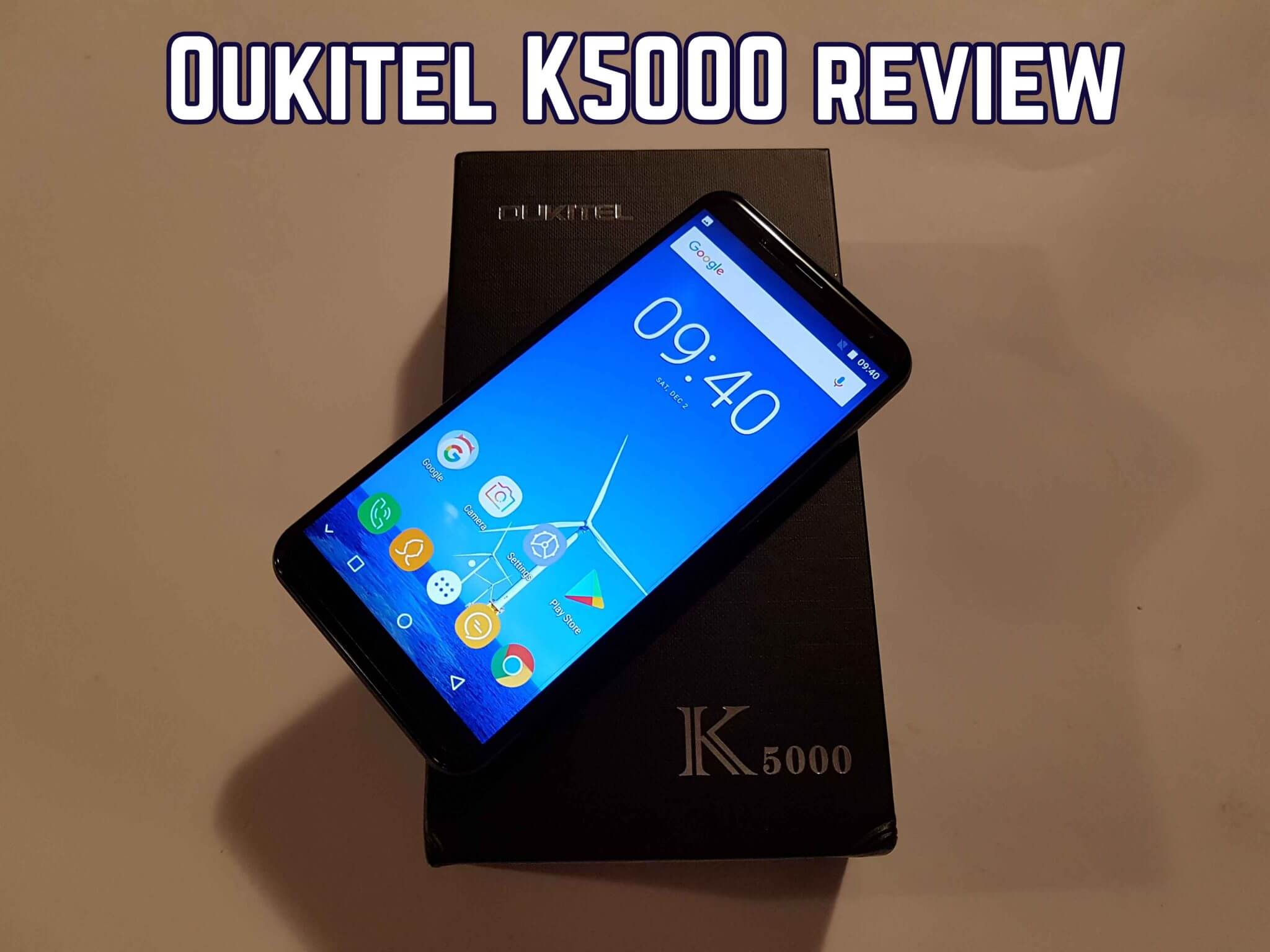 Yes, it is possible to get a premium full-screen smartphone under $200. Actually you don't need to spend too much money because you have now a chance to read Oukitel K5000 review, or maybe choose to buy the Oukitel K5000 which costs only around $150.
Also this is the first full-screen smartphone with high-capacity battery. Also, do not forget to read review for the Meiigoo S8 which has similar tech characteristics.
For this money you will get a great smartphone with many most advanced features like 18:9 infinity display. But this is not all, and because of that you can stay here to read our review about these awesome smartphone from the Chinese company Oukitel.
Oukitel K5000 smartphone review
Anyway before we start we can suggest you Gearbest shop where we actually bought our device.
Build quality & display
We did not write for no reason that the Oukitel K5000 is a premium smartphone. Because in reality this smartphone or to be precise the case is completely made from metal including all the buttons. Besides that it has excellent 18:9 infinity display which provides awesome experience.
The screen is 5.7 inch big with resolution 1440 x 720 pixels. These kind of resolution is called HD+ resolution. Nevertheless the screen provides good visibility from every angle including the touch which works precise. Also we need to tell you that this display uses Asahi glass, and the screen is made in LTPS technology.
Smartphone is not too big or too small, you can normally hold it in one hand. Not to spend your time we can overall say that the device can be proud because everything about build quality and the screen is done in proper way.
Performance and benchmark testing
If you believe that these smartphone has a week built-in hardware then you are wrong because the Oukitel K5000 has a very good built-in hardware combination. Under the hood it has octa core chipset Mediatek MT6750T including 4 GB of RAM with 64 GB storage space which you can additionally upgrade with microSD card up to 128GB.
Maybe it does not have a flagship built-in hardware but still you can see it has a good and powerful hardware. These kind of hardware will be enough strong for every job, but of course for fun also like playing games or going to Youtube.
Of course we have been curious how this full-screen smartphone works in every condition. Because of that we tried several different games, Youtube, and of course every day use like emails, Facebook, and other. After testing we can normally confirm that everything works just fine, and don't forget below you can see benchmark scores including CPU-Z information.
Benchmarks test results
Playing games
Youtube
Camera quality
Maybe it does not have a dual rear camera setup, but still it has a very good rear camera which comes with 16 megapixel Sony IMX135 camera sensor, while the front facing camera has 21 megapixel Samsung 3P3 camera sensor.
These actually sounds great for these price range group. So we have been very curious how actually photo quality is good. From what we can see the K5000 provides good quality photos, and photo samples you can see below. Besides that camera application has more or less the same functions like any other smartphone.
Photo Test Samples
Connectivity
2G: GSM 850/900/1800/1900MHz
3G: WCDMA 900/2100MHz
4G: FDD-LTE B1/B3/B7/B8/B20
Besides support for 3G, 4G LTE network it has also connectivity functions like GPS, Bluetooth, and Wi-Fi. GPS works with precision of 7 meters, and it does not require mobile or Wifi connection. While the Wi-Fi and Bluetooth offers good and stable connection with pretty good range for connectivity. Below you can see GPS best.
Battery life
Chinese smartphone company Oukitel is very popular and probably the most famous on the smartphone market because they have been the first company which introduced smartphone with high-capacity battery.
Today they are working in same way so the same situation is also with the K5000 which actually has 5000 mAh  battery capacity as the name suggests. It also supports quick charging, and because of that you will receive quick charger 5V 2A. With average usage, it provides two full days, which is truly an excellent battery result.
Price Info
At the beginning of this article we have already wrote how the price is very low, so at this moment the price is only $149.99 which makes him really cheap. Also if you want to buy it you can do that at Gearbest shop.
Conclusion
We believe that the Oukitel K5000 is great choice under $200 because it offers great build quality, full-screen feature, strong hardware, excellent screen, but what is most important it is really cheap. Oukitel K5000 review has shown a good smartphone to buy for cheap.