Universal Garage Door Remote to Choose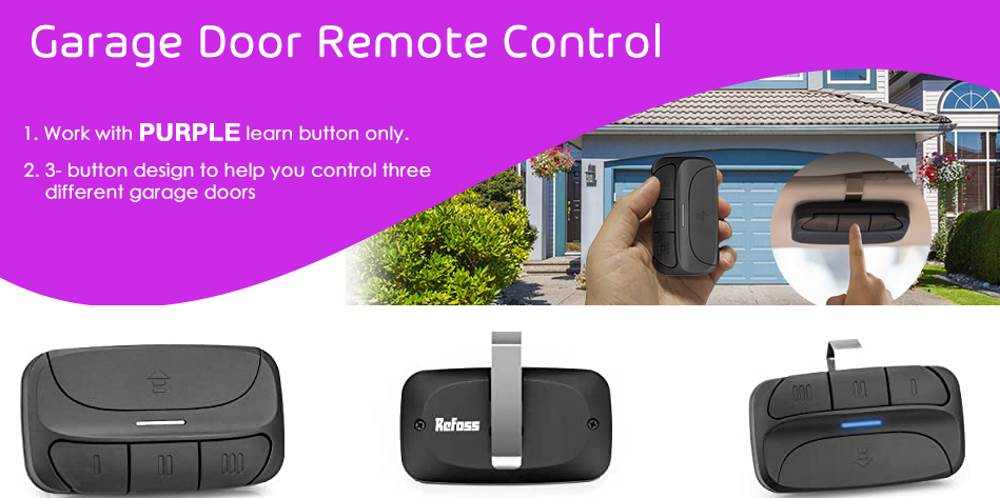 If you are looking for a replacement remote to operate your Garage Door opener, take a look at these models. We are going to present you a few Universal models, to choose from. Make sure your receiver can operate with Universal remote, to keep your home safe and secure.
Whatever reason is, lost remote or you just need one spare remote, this can be a cheap and safe option. Find an appropriate universal remote transmitter to open and close the garage door.
Universal remote Refoss review
First we are going to write a few words on this remote Refoss. It can be used as a replacement remote for Liftmaster or Chamberlain garage door opener systems. This universal remote works with most popular garage door opener models like: 371LM, 373LM, 375LM, 375UT, 971LM, 973LM, with frequency of 315MHz. If you choose to buy this model, you'll get 2 pieces in pack. Few words more on universal Refoss remote review.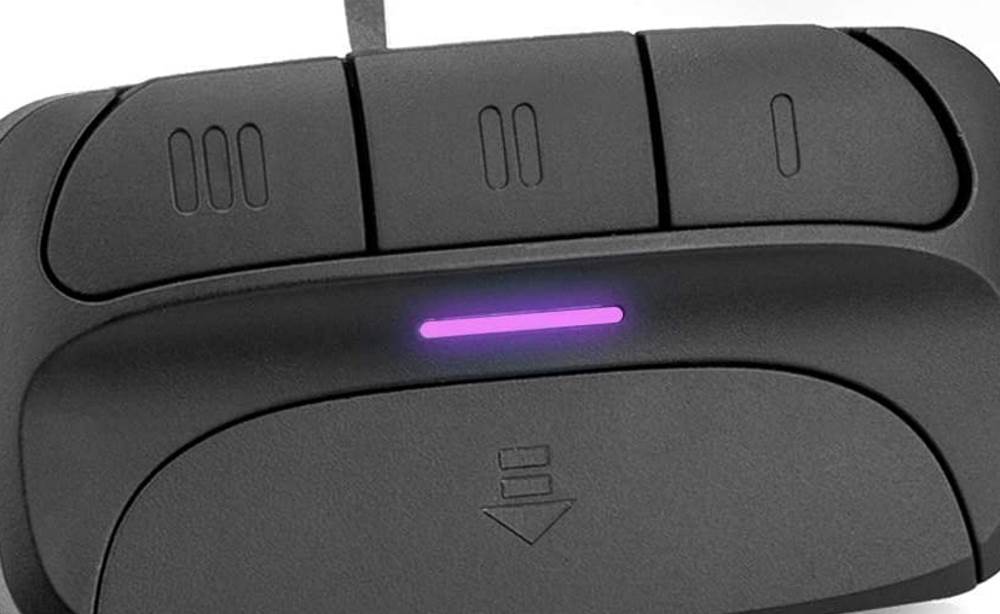 Compatibility: Universal remote Refoss is compatible with most popular brands. You can pair remote with Liftmaster, Chamberlain, Genie, Stanley, Moore o matic, and Linear. Universal remote works with a wide frequency from 300MHz-390MHz. It uses smart security technology and has undergone a lot of testing.
Caution: Keep in mind that this model is NOT compatible with garage door openers manufactured by Allstar, Marantec, Hormann, or the Newer Liftmaster MyQ type openers.
These models are compatible with universal remote
Chamberlain/Liftmaster models:
1345, 1355, 1356, 3220, 3240, 3265, 3270, 3280, 3800, 3500, 3850, 3585, 3595, 950CD, 953D 139.53753.
Craftsman models:
HBW2028.
Liftmaster remote model:
370LM, 371LM, 372LM, 373LM, 374LM, 375UT, 971LM, 973LM, 893MAX.
Chamberlain remote model:
KLIK1U.
Two channels to operate 2 different garage doors with one remote. Universal remote Refoss can operate with very old remote systems like multi-code, DIP switch remote. It is easy to pair with your garage door system.
Remote is designed to best fit in a car (with a visor clip).
Programing universal Refoss remote
To pair a new remote follow these steps: Start with your door closed. Now press the program button to enter into configuration mode. Press the learn button on your existing door opener. Choose one button to pair, press correlated times of the button to match your brand. Garage door opener responded, PRESS the PROGRAM BUTTON to CONFIRM (This step is mandatory). For detailed explanation see manual instructions.
XIHADA universal remote review
Our second brand is XIHADA, and this particular model can hold up to 4 different remote controlled systems in your house. It uses multi frequency to operate and can be programmable to a garage door opener, alarm systems or some other kind of remotely controlled system.Frequency range goes from 280MHz and up to 868MHz.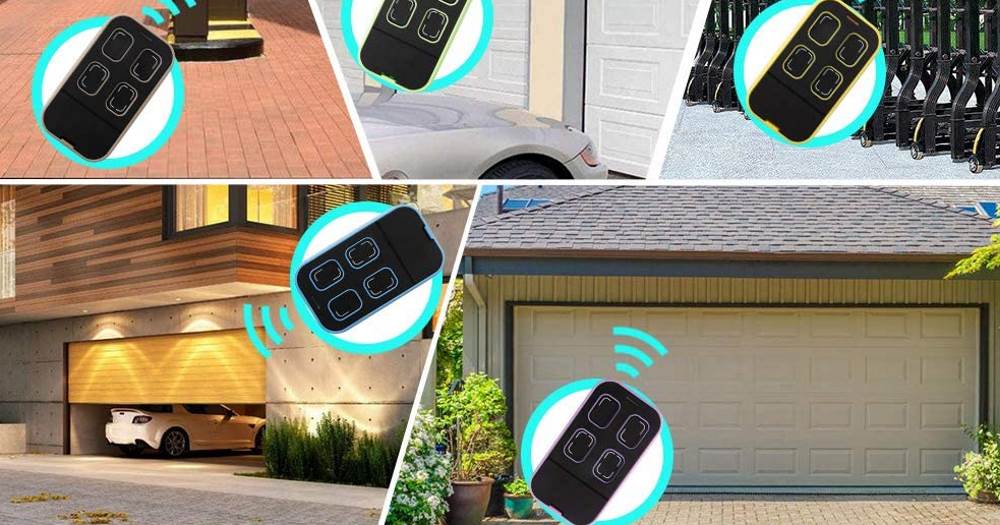 You can purchase this remote in 5 different colors: Blue, Light Brown, Yellow, Green and Purple.
Caution: Before purchase I suggest you to read carefully and to make sure this remote can work with the garage door system installed in your home. Some brands are not supported, and that's why it is important to read specifications before deciding to buy your piece.
Brands NOT compatible with this universal remote XIHADA: Allister, Amarr, Atoms, Doorking, Lynx, Merik, Stanley, Skylink, Wayne Dalton, Martin, SACO Gate Opener.
Universal remote XIHADA (#ad) uses CR2032 lithium battery (comes inside the remote).
Good to know before purchase
To pair your new universal remote, you need your original working remote present. Programming mode needs to be initiated with the original remote. The XIHADA universal remote can not be programmed without your original remote. Move on, XIHADA universal remote review.
This remote is designed to work with most famous brands like: Chamberlain, Liftmaster, Craftsman, Linear, Homann…
It is simple to operate and easy programmable: Remote duplicator can be paired with 4 existing remotes via quick, easy programming. You need to activate the proper learning mode and it will communicate with your remotes, so it's possible to clone up to 4 different remote controls, even if they operate in different frequencies.
XIHADA remote is small and super compact. Designed to fit a keychain.
Solid remote KIT review
For those people looking for remote KIT, this option could be the one. Writing a short Solidremote 12V-24V KIT (#ad) review.
This KIT can be used as a garage door opener, remote car unlock, Light control and much more. Works with a 2-channel 433MHz receiver.
System is using rolling code combinations for better security. Solid remote KIT works on higher RF sensitivity -113dBm for better long range and more stable performance.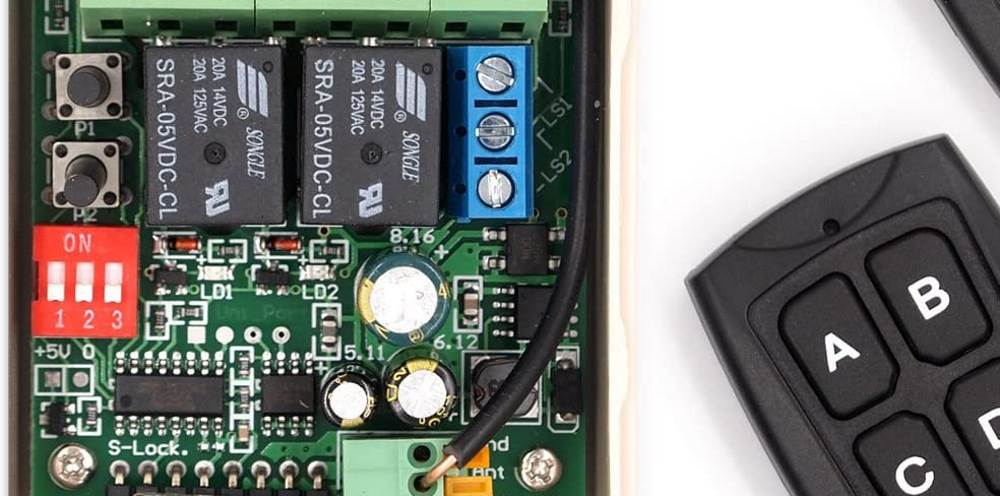 It is easy to install and use. Two independent relay channels can either work together (in latching) for polarity reversing or individually (in pulse/hold) to control different electronics.
Easy programming & easy to use DIP switches working mode selection between pulse/momentary, hold/toggle and latching mode.
Worth to mention: It is designed to work indoor and outdoor. Receiver has protection from rain or other tough weather. To make it even more safe, after installation, users can use chemical glue or epoxy adhesive to seal the wiring holes after setup.
Mounting holes are placed in a way for easy installation to walls etc using screws.
202U receiver board can work on 12V-24V AC or DC wide supply voltage range (min. current rating is 110mA@12V DC). Each relay can switch up to 10A @14V DC or 10A @125V AC for resistive load (6A @14VDC for inductive load).
Where this KIT is applicable? This system can be used in anti-theft alarm control panels, home automation systems, short and long range turn devices on/off wirelessly, lifts, boats, marine, winches, motor-driven curtain, roller blinds, overhead garage door & gate barriers, motorcycles, vehicles, cars, truck, industrial and agricultural electrical control such as water pumps & sprayer, electric door release locks, windows, manual switches extender, LED lighting lamp bulbs and strips, entrance and access control etc.
Read more: BFT MITTO transmitter